As I've said many times, it's not the manufacturers that decide what we get to see, it's the store buyers.
No forward orders and the left field, the interesting and the expensive get dropped and we're all left bitching about what we do find in the shops, and then then logo attached to it. 
The North Face are one of the brands that come up for criticism for somehow lagging behind, or having sold-out and are happy being a dog-walkers or fashion brand. I'm finding out that such notions are wide of the mark, the exciting samples get made, but the assault course they have to cross to get to us is very slippy. The store buyers and the established media have been building some of the obstacles on that assault course, but things are changing.
So, although I'm looking up at the sign in disbelief, I did indeed spend a fine afternoon with the girls at TNF's UK kit bunker.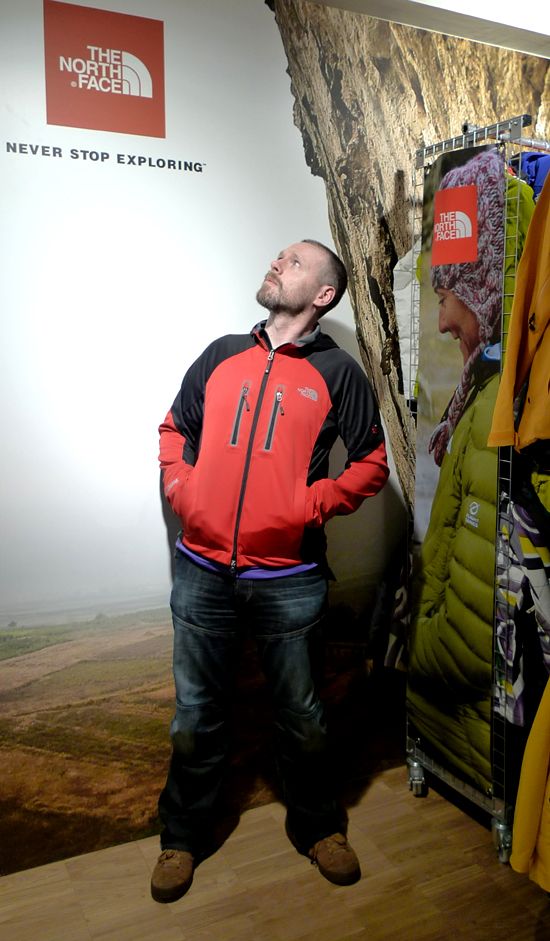 That red and black affair I'm wearing is the new-for Spring Aero jacket. TNF makes samples in a size medium, so everything is a little neat on me, but this was soft and stretchy enough for it too feel good on.
It's got a low profile permanent hood, four pockets and soft inner cuffs with thumb loops. The advertised weight is 480g which is bloody good for what you're getting. Interestingly it only comes in colours with black, no plain black option. The other colours are the green seen below on the shell and a nice bright blue.
It's in a light Gore Windstopper, which having used all year on another jacket, I've found to be much improved over the sweat boxes of only a few years ago.
I'm coming the TNG gear completely fresh, and I have say I liked this instantly. It was light, the cut is perfect for being actively mobile, the the features were good. Proper mountain wear you could say.
Below is the 370g Heathen in Gore Tex Pro Shell. The fabric has the woven backer and is a new version which feels very supple, the days of crinkly shells really are fast disappearing.
It's a minimalist bugger this, there's not much to talk about, water resistant zips, two chest pockets, laminated peak on the hood which has good adjustment, the articulation is good and the fit is slim, so the detail shows in the wearing rather than a list of stuff on the swing tag.
I'm going to say it again, I like this a lot. It's the classic configuration with those two chest pockets and proper hood, it's a winter jacket but it's still properly light.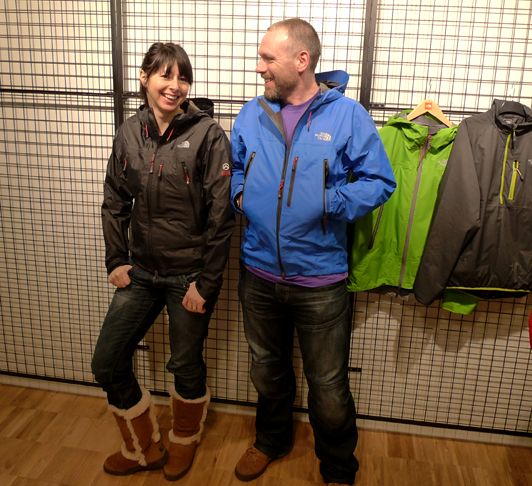 Above we have TNF's Penny in her new Ugg boots, and the both of us in Meru Paclite jackets. It comes in at 400g and has that extra Napoleon pocket over the Heathen which will account for those extra grams.
The fit is the same again, it's that Summit Series thing, slim with great free movement. The Paclite performance debate is an eternal one, but the features and fit of the Meru are good.
Below we have the eyebrow lifter, the piece that said to me that TNF weren't just spinning their wheels. This is the Trajectory Hybrid.
We've seen a few bits of gear made from different fabrics front and back, but the pattern is always the same weather resistant front and breathable back. It's not new either, I had a Karrimor Kalahari way back for the bike, a fleece jacket with a Pertex shelled front and arms. The Trajectory though sticks its neck out a little more with a waterproof front, arms, shoulders and hood, with a light stretch fabric where your pack sits and where you want heat to escape.
The shell fabric is the 2.5 layer Hyvent DT and the poly stretch sections have a bit of bamboo in there for bit of freshness retention. It's 210g, has a Napoleon chest pocket, adjustable cuffs, glow-in-the-dark zip pulls and that hood is a proper adjustable type.
Winter running or biking? It's ideal for it, and whether or not folk "get it" and it sells, it was enlightening to see that TNF had actually made it and were showing it.
The gormless man above is wearing the Zephyrus Pullover, a 286g smock lined with 40g Primaloft One.
One chest pocket, lycra hem and cuffs and a nice neat fit. The outer is a 40g/m² nylon which puts is somewhere between Pertex Quantum and Microlight. It has TNF's PU "kiss coat" (which says to me it's like Gene Simmons' bat cape thing) which is their super DWR treatment.
It's going into an area with a few models vying for supremacy, Rab, Berghaus, Haglöfs and soon Montane and OMM, all have contenders. The Zephyrus is looking good though, I've tried all of the other versions and this isn't going to struggle at all. The LIM Barrier Pullover might be dead this year, but the fight to be the new king of Primaloft jumpers is going to be good for us punters.
Below I'm wearing the familiar Redpoint Optimus while TNF's Helen is trying to fill in the huge gaps in my knowledge.
The Optimus has been about for a while, but I'd never tried one. It's nice kit, heavier fabric to the Zephyrus and many more features, but at 600g is compares well to other hooded sythetic insulation pieces.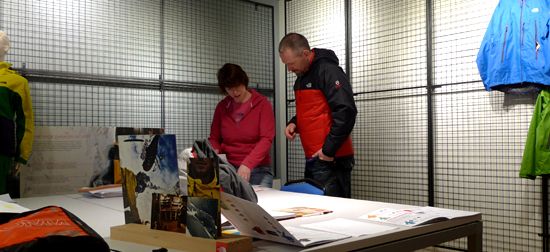 Another current model is the Apex Zeitgeist below. It's a softshell pullover, the subject of which is current talking point on here, and is a basic functional bit of kit. The medium sample was pretty good on me, the single pocket is well place high-up, and I really liked the high collar. Too many collars out there are doing half a job.
I don't know the fabric never having used it, but it's quite robust feeling ( weight as advertised is 465g), but still with a good bit stretch in there. It super breath wind resistant from what I can tell, and if it wicks and breathes as you'd like it to, then it's simplicity would be boon I should think.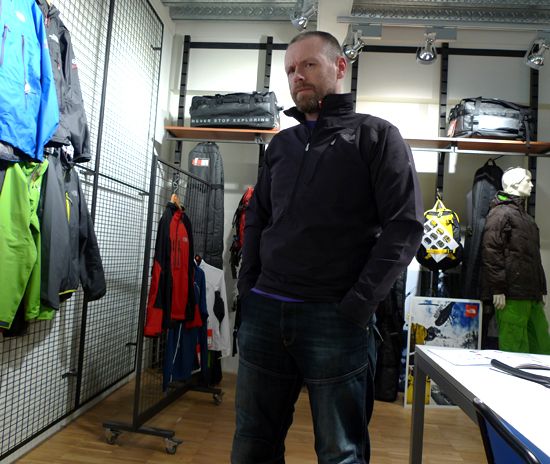 Penny and I are wearing his and hers Refraxion jackets, new for this Spring. They're basic full-zip wind shells with softshell panels (the grey bits on Penny's), there's a chest pocket and handwarmers pockets as well. It's 400g, so I see it as a trail or road runners wear-from-the-house jacket in winter, although it does have a Roll-N-Tie system (demonstrated below) for sticking it around your waist with out getting it all muddy like I used to do with my cagoule in the 70's.
The polyester fabric of the main body was soft and pleasant to wear, and beefy at 98g/m². I'd like to see a mountain smock cut from it.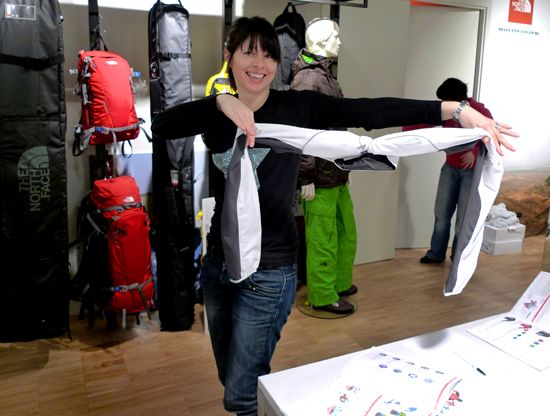 There's a stack of great stuff in the Flight Series and Performance range, and it's all the light, minimalist stuff that we' need to see and the shops frustratingly don't stock. There's a gilet with a windproof front and mesh back, a 166g waterproof smock and baselayers aplenty like the Ultra GTD ¾ Zip below.
It's got a lovely smooth fabric, a wee rear pocket, more glow-in-the-dark zip pulls and would be at home on summer trails at speed at leisure or on 26″ (maybe even 29″… ?) wheels.
Footwear is another unknown so I had a look at a couple of models. The Assailant Mid WPs are 916g per pair, have a decently aggressive Vibram sole for all-round use, and interestingly have a HydroSeal waterproof liner. Given the amount of reports you hear of Gore Tex liners giving way in footwear, I'm not seeing own-brand liners as a weak link at all.
Lots of mesh to let the steam out, a nice ankle height to keep the crap out and toe bumper for when you're looking at the view and not the terrain.
Below is a single 493g Vindicator, a chunky trail shoe. It does have a Gore Tex liner this time and a nice blocky Vibram outsole.
There must be about 200 TNF footwear models across the mens and wummins ranges, and it's the same across the board when you look at the workbooks, there's huge depth in there.
Penny is hiding behind a Kilo down bag above, which does indeed weigh just under a kilo at 975g for the regular length.
Clara, Helen's four year old wee lassie who came along and joined in the fun had a great time pretending to be a caterpillar in this and dragged it around the showroom all afternoon. By the time we had rescued it, it was bogging, had been snagged on stands, furniture, the door and extensively abrasion tested on the wooden floor. When we got a hold of it, a quick buff up and it was as good as new, so whatever the bumff says, I know that the Shadowlite SL nylon outer can take a bit of abuse. I think all gear should be child tested, I know at home jam is applied to most of my gear by Holly and getting jam off a down bag is a very good test of both it and me.
The Kilo has trapezoidal baffles which I like and a wee draught baffle below the neck line, which I'd forgotten exist in sleeping bags! There's a lot of effort gone into this bag, there's a lot of extra construction touches that's knocked the weight up a little, but it's well shaped and robust, and for the current price of £150 (goes up to £169 in Spring), any bitching is misplaced.
Below we have some more wackiness in the shape of the Mercurial Bag Liner. It's reversible for different temperatures, meant for carrying if you're travelling and want to try to minimise of kit.
Keeping the square baffles inside is warmer that putting them outside as it allows more heat out through the gaps. Facing in, the squares close up and keep more heat in. the bottom is just a smooth polyester, no fill in there. It opens right up as a blanket too.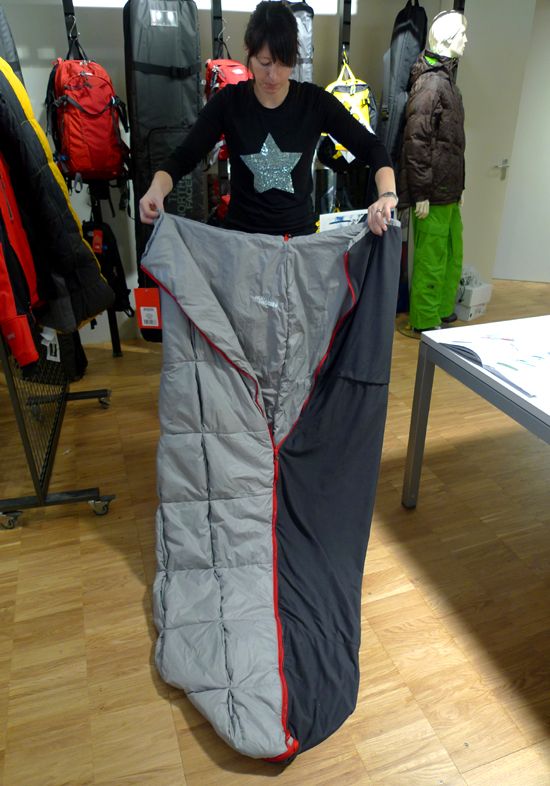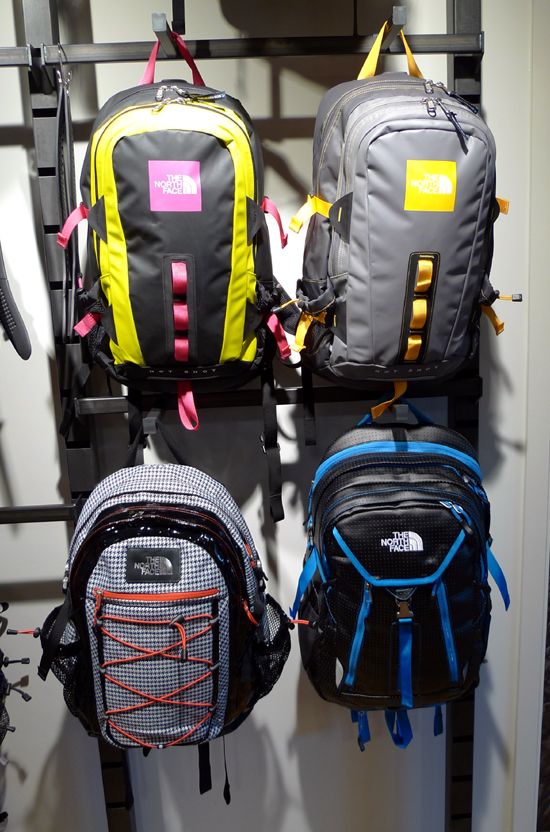 Above and below are just some items that made me smile, a hounds-tooth pattern rucksack, luggage in the colours that make the world go round and at the bottom, Penny in a mental Europe here-we-come ski jacket (check the duvets behind her as well though, and there was other half down/ half Powerstrech madness, so much kit…).
What we have is a brief glance through the range, and now I've got the workbooks for the next couple of seasons I'll know better in the future. But, it's like I suspected, there's kit in there that is made of freshly baked uncompromised technicality. And, that what we get to see on the racks is the more mundane stuff in all those shades of black, is a source of as much frustration to TNF as it is to us.
I'll have stuff coming in for test so It'll be good to see if it lives up to the first impressions.