"Aye, I'm still on for tomorrow, see you about lunchtime" said I. But, you know me and planning.
I phoned and phoned, Joycee's phone was ringing out and there was no answer. In between these attempts I rummaged, and eventually ransacked the place, room by room in attempt to find it. I know Joycee had it, she'd taken pictures on Monday before she delivered the new sculpture she'd done (more of that later), but where the hell was the camera?
In a box on a shelf let's say, and we'll leave it at that.
Two hours after I had planned on leaving I finally left to go precisely nowhere. A crash on the A82 had diverted traffic into the village, and as always when this happens it's like trying flush a pallet of bricks down your toilet, nothing's going anywhere.
I trundled onto the M8 eventually and spent the next few hours neck deep in accidents, roadworks and torrential rain. As I shot past Penrith I gingerly cast an eye to the clock. From the original plan of breakfast in Keswick, to a cuppa at a pals house to a trot around Ambleside before a leisurely drive to Staveley the see the girls of TNF, I was now two hours late and hadn't eaten or drank anything since I'd got out of bed and my focus was leaving me. I ran into the take-away counter by the door at Tebay services and flew down the last stretch of M6 spilling coffee and egg mayonnaise all over myself.
It was with shall we say, mixed emotions, that I stepped through The North Face door to see Helen sitting on the couch where I launched a barrage of apologies then waited to see what the reaction was.
They let me in, which was a good start, brought a cuppa which brought my pulse rate back down and with my story of shoddy personal admin and misfortune told, I tentatively moved onto why the room looked like an expedition stock room.
Turns out they're doing a product training wild camp for Ellis Brigham Staff. There were more sets (pack full of kit) being readied than you can see above, so that commitment of time and resources, both kit and people as TNF staff will be out there doing the training, impressed me.
There's a lot of this kind of things goes on to varying degrees with a lot of brands and distributors, so we should probably remember that when we go into a shop and think of disrespecting the assistant because we've read something on the 'net, maybe they know stuff we don't because they've used it and are too polite to slap us with it.
So, with us all on speaking terms, it was into the room with the rail, where the hung the multi-coloured delights of a selection of kit for this winter and next spring with some eyebrow raisers right though it.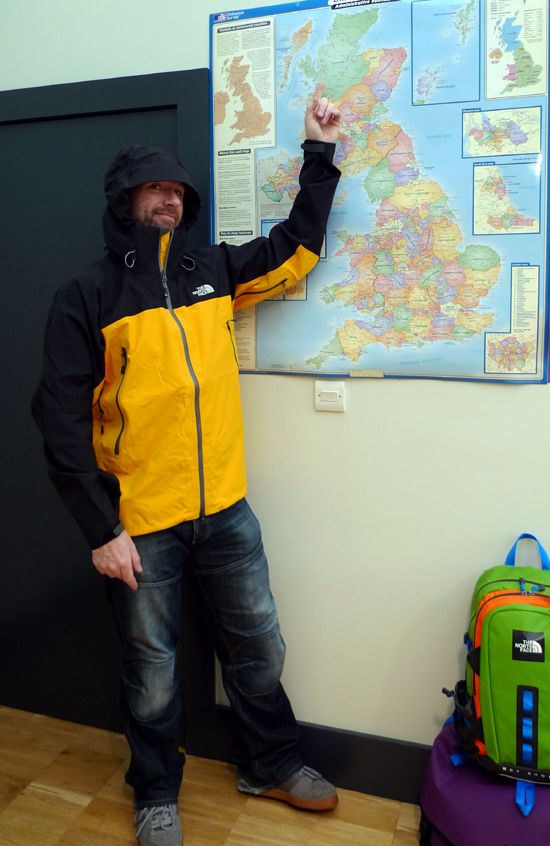 Starting with the new winter kit that;s coming into the shops just now, above is the new Point Five Jacket in Gore Tex ProShell, a comprehensive update of last winter's version. It's a mix of brand new fabrics and modern construction wrapped in a huge wallop of retro styling. This looks like the jackets I used to see on what seemed like hardened mountain types back in the day when I was just getting into technical gear. There's huge chest pockets and the hood has a stiffened and wired peak. It's got a classic UK design, even the name gives away it's intentions (I was hoping to point at Point Five Gully for the photie, but I think my finger's up Knoydart's nose).
 This one is a large, and there's room for a light synthetic insulated layer under there so it should be a fine winter jacket. You'll see a lot of these around in shop windows and reviews in the nice new Gunnison Green colour, but the only test sample left was this taxi yellow model. Win! Proper close-up in a bit.
Below is TNF trainer Jim (the man who will be accompanying the packs above on their trip) in the Lockoff ProShell Jacket. It's kind of a slimmed down version of the Point Five, 490g, a lighter grade of ProShell and a little shorter at the tail. Looks like a nice all-rounder.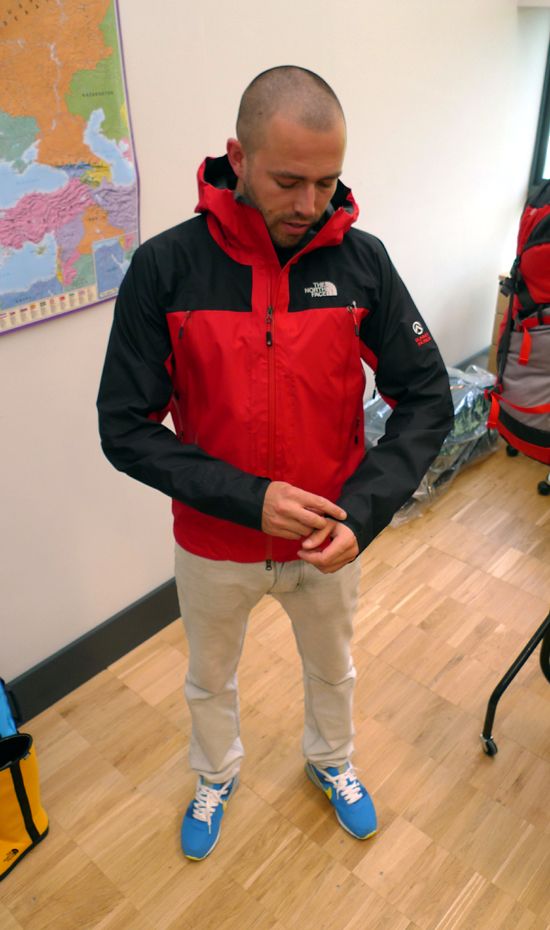 The Kishtwar above won the ispo Outdoor Award in the textiles category. But, the truth is in the wearing, and after seeing Jim in it, the consensus was that I could well make a new life in size mediums as although Jim's slimmer (be quiet, I'm old now) we are of a similar height, so I have done just that. It's a slim fit, just nice over a baselayer, great cut for movement, nicely fitting hood with a proper peak and three usable pockets. It's cut from the new Polartec Power Shield Pro so I've got high hopes for the fabric performance, both weather resistance and breathability. I've got the Kishtwar on test (in medium!) and I'll have a proper look at it soon.
Below is the Gritstone Jacket in Polartec Windbloc. Now, this not the Windbloc of my youth, it's soft, lighter and thinner with a nice stretch and a soft tricot backer. Good pockets, velcro cuffs, nice high collar, feels like a good general use piece. Like everything here apart from the Point Five, a medium too. I'll be a 28″ waist again at this rate.
"Proper" fleece has dropped off the radar a bit in recent times with the popularity of lined windproofs and ever lighter synthetic insulation, but I immediately felt cosy when I slipped this new Scythe below. It's a nice trim fit, the medium is long in both body and sleeve, the TNF Red is a joy and the mix of Polartec Thermal Pro High-Loft and Powerstretch can't be faulted.  Hopefully I'll be bimbling through the snow in this in a few weeks time, proper look at it in a wee while.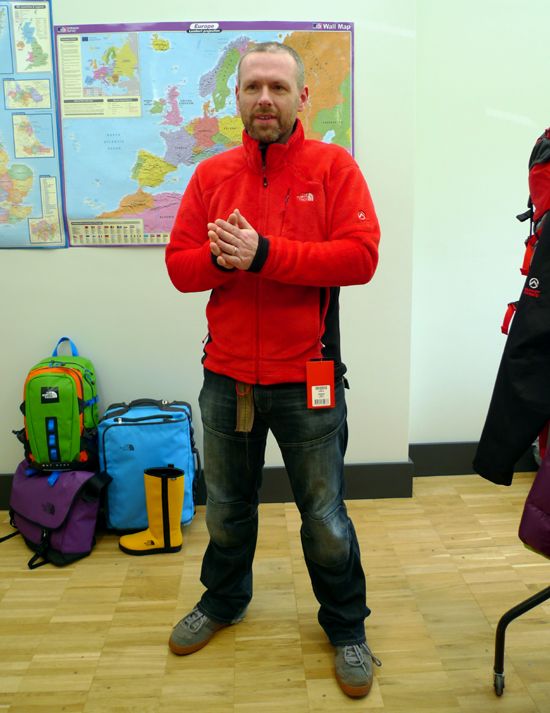 Here we have Helen in the pink and Penny decyphering the front-only brace attachments on the new Eurus Pants in HyVent Alpha fabric. 
Jim sorted us out, the braces have attchment points at thr front of the hips where they're accessible and body movement won't pull at the waist of the pants. I've had front-onlies in the past and it dioes make a differece, god to see detailing like this on own-brand fabric kit.
Own-brand fabric is a flag I like to wave, as economics sharpen accountants pencils and designers want to stretch themselves, the best options are to buy-in or develop fabrics. HyVent has being developed by TNF, and the new 3-layer Alpha is being used on top-end kit.
The Eurus pants are well featured, long leg zips, hip and leg pockest (all with water resistant zips), drop-seat for exotic toileting and Keprotec crampon patches to take the sting out of front-point mishaps.
There's a matching Eurus jacket and mens equivalents, all made for your badass winter mountain adventures.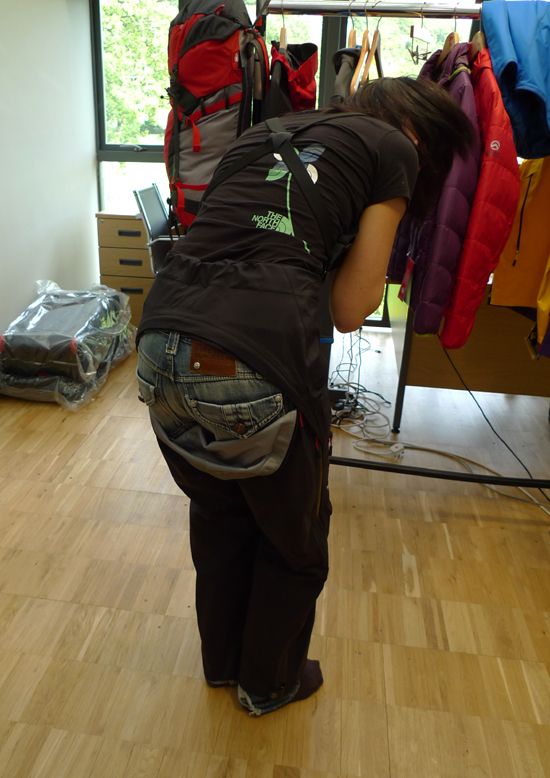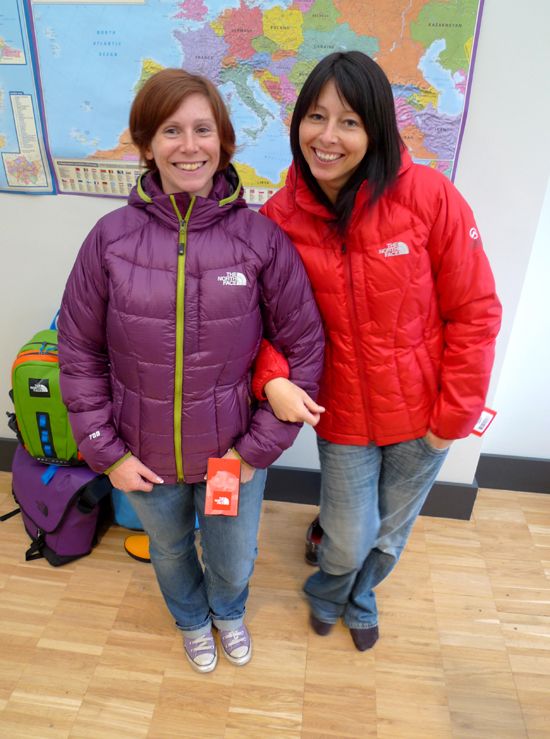 The girls look pleased to be in their Hooded Elysium Jackets. And that's because there's Pertex Quantum shell and a mix down fill with Primaloft One in the hood and behind the pockets to stop wet hands or gloves spopiling your fun by saoking the down. Nice.
The cut is nice, a little nip-in at the waist gives the jacket a nice shape when worn and I liked the fishing detailing on the inside below. Colourful and not ashamed of it this lot.
Now a wee look ahead to 2011. Help ma' Boab, is that purple for men below?
This is the Half Dome in stretch Gore-Tex ProShell. This is a top-end alpine shell for next year, and that means that it's light and functional, but the technical DNA in there means you have a full range of movement in it. The multi-adjustable hood has a wired peak, there's four chest pockets, huge pitzips that will vent and give you easy internal access and velcro cuffs. "It's all about the fabric" they say, and this flavour of ProShell is indeed worthy of note. It's light and soft, with a good stretch to it. The deep purple and taxi yellow of this sample brings me nothing but joy, but the fit is good as well. I've got this very sample on test, we'll be seeing more of this one.
Nice and simple looking is the Halo above. It's cut from Polartec Power Shield Pro at the front and has a Polartec Powerdry blend back, so the plan is that it's a fit-and forget piece over your baselayer and under a pack. There's two hand pockets and a napoloen chest pocket for niknaks and velcro adjustable cuffs.
I liked this, feels nice on, and the clean looks might draw folk into the zoned fabric idea who don't like the aesthetics associated with it, such things are usually somewhat jigsawesque looking. Yes, I'm saying that's a real word.
On my shoulder is the Base Camp Messenger. I've been using a courier type bag of late, well two actually, one for cables and stuff for the studio and one general carriage and handiness, and I think they're a great idea. Bored of carrying a rucksack on one shoulder around town to try and stay stylish? Ditch it and get a techno man-bag.
That's Cipher Hybrid softshells below (that purple with blue zip right at the top is another wummins colourway). Gore Windstopper softshell, and very nice on. These original softshell (or windproof fleece as there were in the old days) fabrics really have developed from their cardboardy youth.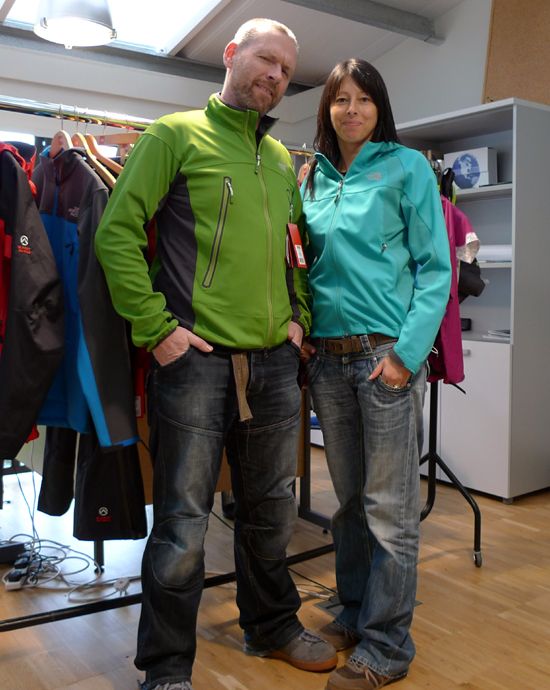 8ujn467
The Pumari Crew Tee above is of course your familiar branded lifestyle piece, but look past the polycotton tage and you'll see that the fabric is a bit fancier that you"d expect. The cotton in on the inside for casual comfort, the polyester is on the outside for a crease free presentation of your person to the world. So, step from the car after that journey from far away looking fresh and smooth. Me? I like it 'cos it's purple.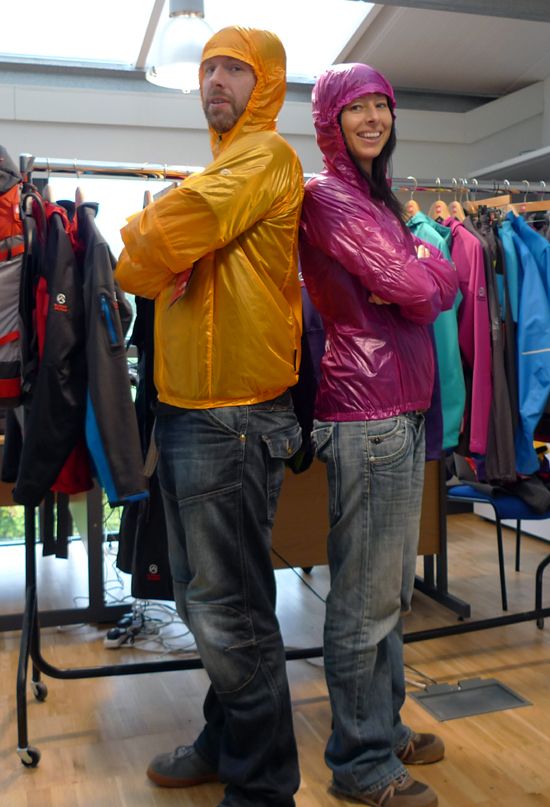 That's the hims n' hers Verto Jackets above. They're in a rainbow of colours cut from the new superlight Pertex Quantum. There's a full zip. a little pocket that the whole thing packs into, a hood with a neat little skip at the front for a little venting and forehead relief.
You can't even feel this thing, it was like wearing a coating of amber coloured air. It folded into my wallet as well. But no, I didn't make it out of the door with it in there. Bummer.
Penny and I are sporting Better Than Naked Jackets and Shorts from the Flight Series (I'm saying "Did you take the hanger out the shorts?" there above). These are running kit in a wacky lightweight fabric. mostly ripstop nylon with more open mesh panels where you want stretch and venting, body-mapping as the saying goes. It feels somewhere between wearing nothing (as advertised) and having micro-softshell on. The shorts have nicely soft and stretchy inner pants and a wee pocket (see below).
There's a crew top as well, the logos are reflective and the cut looks good. The weight is low and if the fabric performance is up to muster these could be pretty sweet.
The Xenon Jacket is the Gore-Tex Paclite waterproof shell for the bike, Penny shows the good arm length below and above was a little detail that I liked. The collar is lined with a very light fleece and flares up a little with that extra crescent shape, this I'm thinking will stop rainwater running right down the centre of your back. The cinching option on most bike jackets just pulls the collar into my throat, so I hope this tiny detail does its job.
The rest of the fit is good, well shaped and the length is good for me even in the medium sample.

We're looking slightly odd modelling the He's and She's Muddy Tracks Tee's for the bike. The fabric is a polyester/polypropylene blend which should mean fast sweat admin. The darker panels on mine (white on Penny) are a much lighter fabric where you need it to lose heat and moisture faster.
I think if I hadn't pulled it one over an Iron Maiden t-shirt the medium would be spot on.
The Muddy Tracks Short is a clean looking trail-style baggy short with a matching liner short and a decent looking Coolmax chamois in there.
Having tested Smartwool and Montane bike-specific kit I think the outdoor brands can show the bikewear folk what time of day it really is. Funny how bike technology is so advanced as to be almost sci-fi, but the bikewear catalogues are a horrific collection of lazy design and tasteless (even for me) aesthetics.
This the Enduro 18. It's built around a low-profile harness which feels like it been painted on when you wear it, the shoulder straps velcro at the chest leaving your arms completely free of any contact or even any notion of having straps nearby, the waist is side-fastening with pockets and easily accessed bottle pockets.
The compartment has space for a bladder and gear enough for minimalist adventures on foot or bike. In fact, if the harness plays as well as it poses, this would be a killer mountain biking a trail running pack.
There's enough external attchment points to add some extra gear, but think: hydration; lightweight shell; snack fuel; biketool; Go!
I like the fact that it's niche kit for a specialist market with that mass appeal madness logo on it.
That's the Zephyrus Vest below. Pull-on super-packable insulation in nylon-shelled 40g Primaloft One. I've had the regular version on test for months and it's great, this vest made me sad because Trail had first dibs on it and I wanted it bad.
I've said it a million times, insulated vests are genius. We all need two (one down, one sythetic).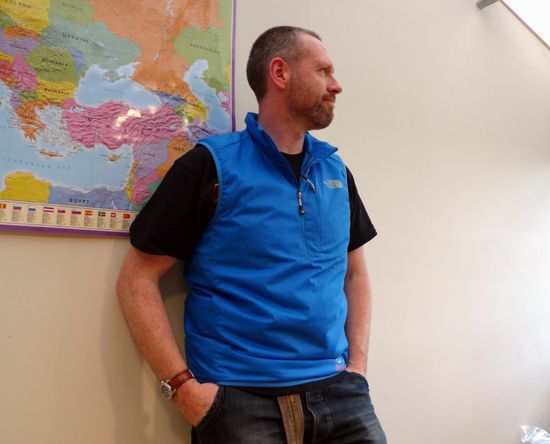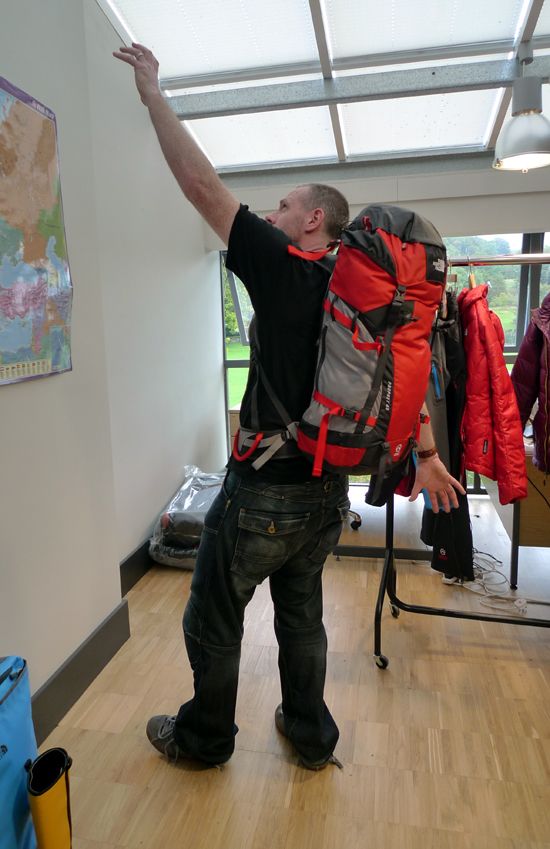 The new-specProphet 40 is light, I picked it up and went Whoa? The fabrics are why, Cordura Bombastic (what car airbags are made from), Superfabric (stabproof and weightless, I've used it on footwear) and old favourite: Hypalon. It's a proper alpine pack, it'll take skis and your other hardwear and the aluminium back stucture is unobtrusive, the pack does flex with you and movement is easy.
The closure has a nice wee touch, the cord below pulls the compartment in and the lid down at the same time, so closure and compression in one move.
Penny is deserting me with the Rolling Thunder above.  It's a 32L wheeled and handled luggage shifter, but it's small enough to be hand luggage too. Badass fabric and daisy chains will keep your self esteem intact pulling this around looking for the check-in desk.
The Base Camp boot below was thinking of launching itself into the ever-rising river running through Staveley. Wummins-only winter wellies, damn I want some.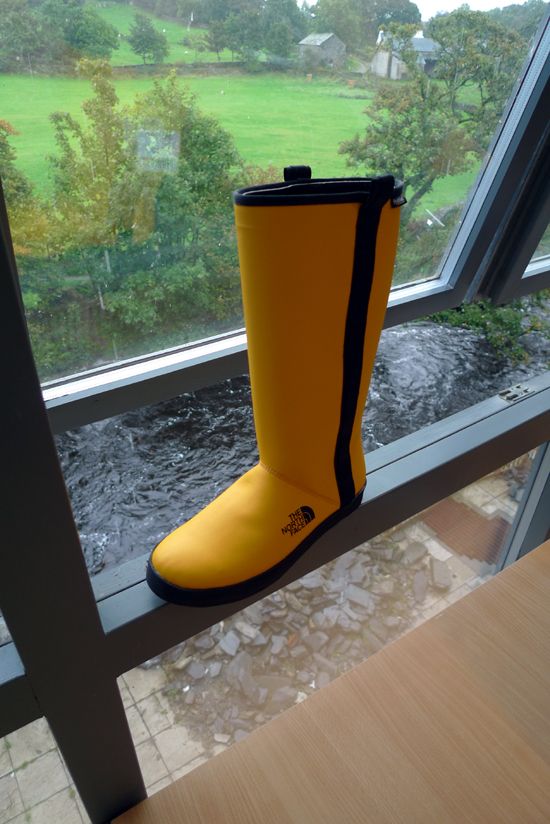 Above and below you'll see the madness that are some of the colour-schemes of the Base Camp Hot Shot packs. General purpose, tough, well-specced, cheerful buggers they are too.
There we have it. There's more to TNF that you think, or the store buyers let us see. The Summit Series, from which all my test samples come, is compromise-free technical kit. The shells are more UK-friendly that I've seen from these guys for a while and I'll be hiding in them this winter.
The bike and running gear is a gamble, they've really gone for it here with no half measures, in fact they've let the designers stretch themsleves, we just have to hope that folk stock it.
It's a huge brand with a huge range, but there are real gems in there. As ever this frustrates me, the notion that the big brands don't make the best kit niggles me, it's just that it gets lost in a sea of uninspiring sell-through family favourites.
More on the samples later, I forsee much grinning from inside those brightly coloured size mediums (and one large).