It's been a wee while since I'd been down at The North Face, but it was worth the wait as there's some neat kit coming out around now and I've got a sneaky peak at some killer kit coming for the winter.
Thanks to Helen and Penny for their patience and humour and also for taking the photies with me in them saving me endless fannying about with the tripod.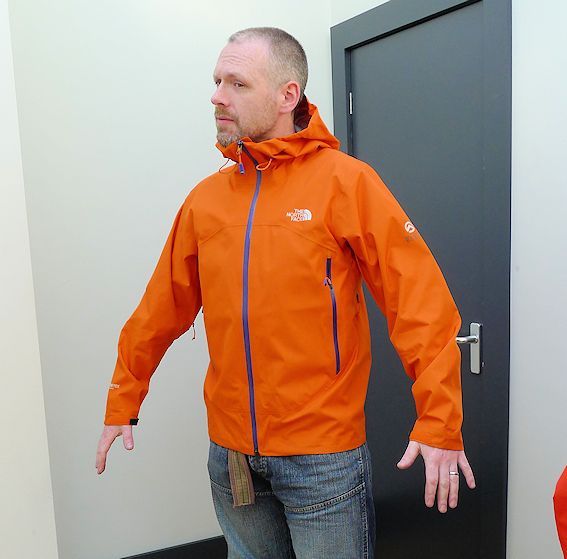 Let's start on a colourful note with the Alpine Project Jacket from the Summit Series (all the kit here is from the Summit Series) above. It's a mountain shell in Gore-Tex Active Shell and has some unusual features for an Active Shell including pit zips, two big chest pockets and interestingly it has nylon in the face fabric which should increase durability. I've got this very jacket on test so I'll do a more detailed write up in a wee while.
Penny is wearing the women's version below, same features and fabrics as the men's with a revised cut for girl shaped people.
The Apparition Anorak (love the name) above is pull-on version of the Alpine Project. The sample comes in at 382g for the medium, which fits my usually size large frame just fine. The fabric is the same Active Shell as above which I know from experience is excellent and the design is in keeping with all the Summit Series kit, it's properly techy. There's a proper peaked and adjustable hood, velcro cuffs, a half length zip, pit zips and there's the pockets, no, not pockets, pocket. It's a single pouch pocket on the front there which was both a surprise and a delight. The zips are all water resistant, the cut is neat but with good free movement and the anorak has a wear-and forget air about it which is a neat trick if you can manage it.
Smocks are cool, don't be afraid of them.
 The Alpine Project Wind Jacket is something different. Imagine an insulated anorak (I'm not allowed to say smock) with no insulation in it, you're left with a double skin wind shirt which is exactly what we have here. It's fully featured, above you can see the inner wicking scrim on the chest and below the hood and pocket layout.
I can see it being an all-day top worn over a baselayer in all but the warmest mountain days, so should be good for Spring. I'll report back with a closer look on the jacket on just that scenario as I've got one on test just now.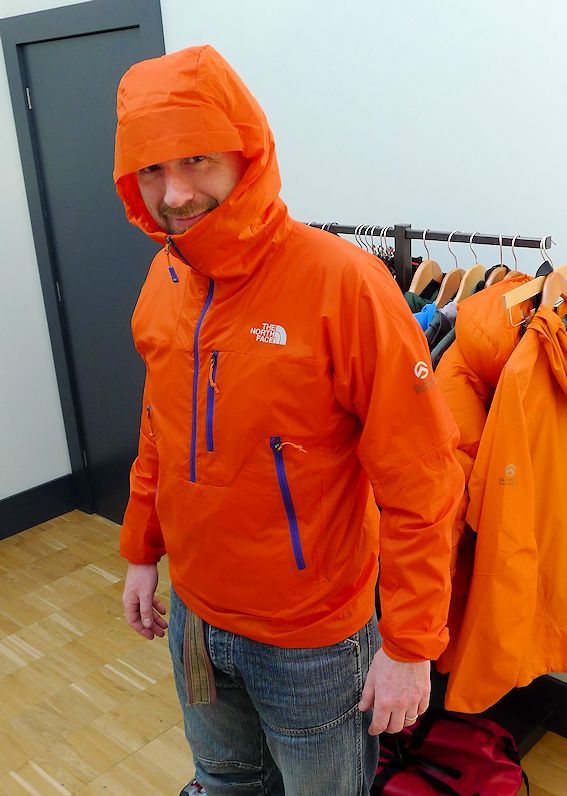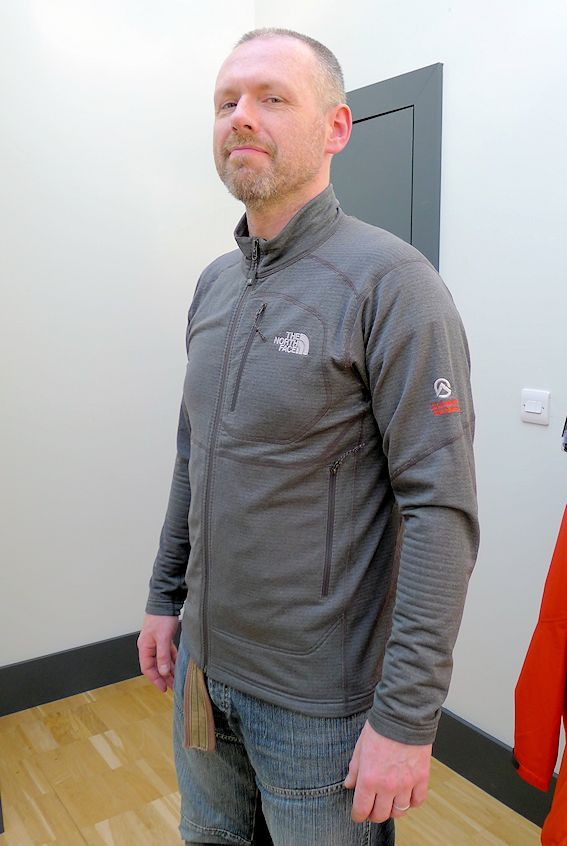 My first reaction was that it was a nice school jumper, but upon closer inspection the muted palette disguises the full functional Snake Eyes Full Zip Jacket cut from grid-backed Polartec Powerdry.
It's the ultimate hooded thing! Declared the girls, but rather more boring actual name is Alpine Project WindStopper jacket. It's a bit purple, the fabric is soft and stretchy and the like the Snake Eyes above the cut is slim and ready for movement. I've got both on test and I'll be having a closer look soon.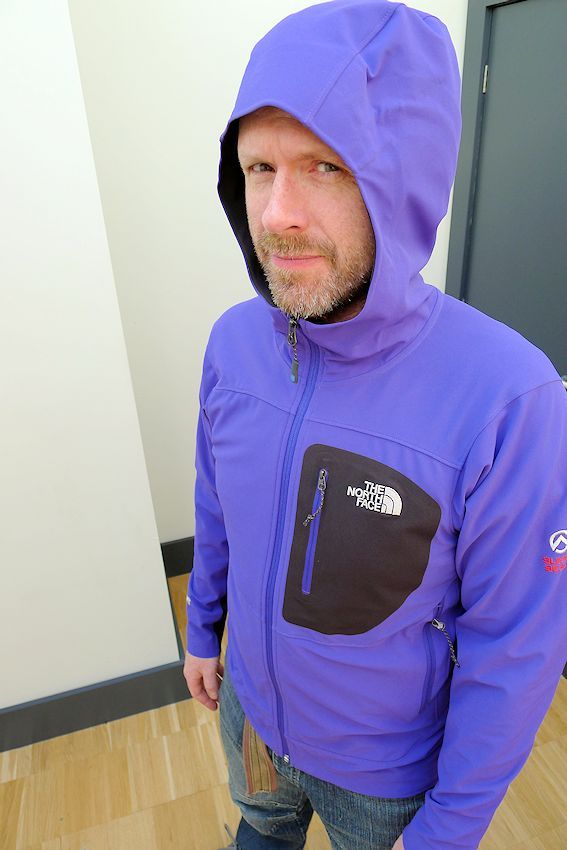 You'd think a big brand like TNF would have the full range of accessories, but these are their first ever gaiters. As a born-again gaiter wearer this past winter I gave them a proper look-over.
Above are the range topping Gore-Tex Gaiters which take their name from the upper section which is cut from 3 layer Gore Tex. The lower half asymmetrically shaped for a good fit and is cut from ballistic nylon with Cordura trim helping keep it all together. The Hypalon underfoot buckled straps are attached via Hypalon patches and everything is bar tacked or multi stitched so they look tough.
Detailing is excellent, there's a a big lace hook on a tab, a velcro tab at the foot to capture laces, which also matches the red attachment at the top, the red is so you know what to undo when you're at camp and all tears and snotters after a hard day. The upper adjustment has a slim aluminium hook similar to those you see on rucksacks now and again which is probably an unnecessary fancy, but is a lovely thing nonetheless. The front closure is the simple and reliable solution of a wide super-sticky length of velcro. Nice.
Below are the Hyvent versions, the ones on the left have most of the features of the Gore Tex versions, just swapping one waterproof fabric for the other and these are fastened at the top by a more regular but less sexy plastic buckle. To the right is their more basic gaiter which is also a bit shorter in length.
Nice wee range this, the GTX one's are excellent and the Hyvent are just as good in design, just with the own-brand fabric, with the basic model being fine if you don't need that alpine level of performance.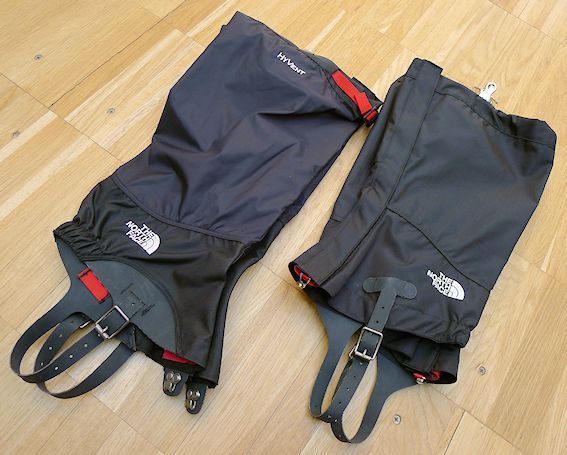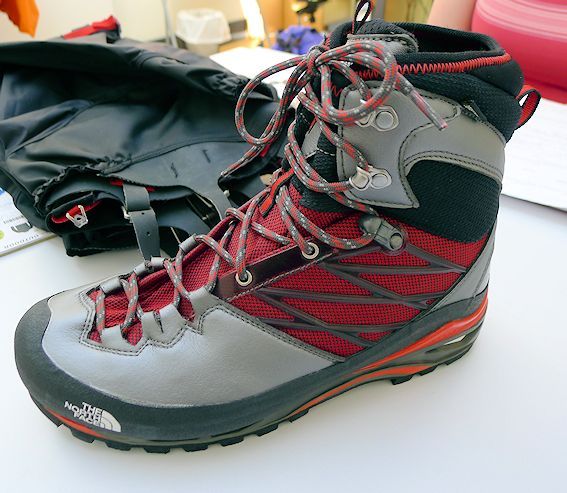 There's a new range of footwear which is all linked in design and concept, it goes from trail shoe to an almost alpine boot. I say almost as it's very much a matter of opinion just how winter compatible the Verto S4K GTX is.
It's in the two big photies above as well as with some stablemates below and it's got all the alpine flags waving, high (but flexible) ankle, scrambling Vibram Mulaz sole. lots of protective materials like a big rand and overlay on the fabric sections, but it's got a rather nice flex to it so you could walk in it quite happily.
So, all that makes for a lightweight type's winter boot as you can fit your more beefy flexy crampons on there (like Grivel Airtech aluminiums etc) and get some protection from the frozen nasty around you without the pain and suffereing of regular boots.
If my size can be found I'll be getting a set of these on test, so more later hopefully.
 Below with the Verto in the middle is the Verbera Backpacker GTX. It has a leather upper protected by a big rand made from Smartlite like the Verto. What you can't see is the "Cradle" which is a X shaped support/stiffener with the centre of the X just above the centre line between the level on the footbed and the ankle cuff. The bumff says stuff about stability and support but what I found is that it looks like it keeps the heel cup stable while the ankle cuff flexes around it. Did they mean it to do that? Who knows, but if it does feel as free on the foot as it looks, it's another option for trainer wearers who sometimes like to have dry feet at camp courtesy of a waterproof boot.
The Vibram Masai outsole of the Verbera is shared by the Verbara Lightpacker GTX next to it, as is the Gore Tex lining. The Lightpacker is a little more different to the regular Verbera than the name suggests, it shares like the alpine-esque looks of the Verto. Maybe it should have been the Verto Lightpacker?
Anyway, I liked the look of this, it did feel light enough in the hand, with the same mix of solidity and flex at the heel and ankle, with that fabric upper it should breathe well and dry fast, plus it looks cool. The whole TNF footwear range has an aesthetic lift with these models, very European looking which is probably because they are, being both designed and made there
There are many women's equivalents to the models above, unfortunately not the Verto's, and here we see Helen and her two left feet modelling some fo us.
The specification is the same, we're just looking at different lasts and different sizing. The models here are the Woman's Verbera Backpacker GTX on the left left foot on the right of your screen and the other on Helen's right left foot on the right of your screen, I think, is a women's version of the Verbera Lightpacker, which isn't in the workbooks or my notes. Answers on a postcard please.
Here we have the Havoc Mid GTX and the Havoc GTX. The upper is a mix of leather at the front for durability and mesh panels for breathability which I like, we need more leather in this style of footwear to wave in the face of folk who whine that trail shoes are environmnetally unsound with all their plastic.
Another nice thing is the clean design, not much to catch on the shrubbery and rocks so longevity might be good. The Gore Tex ling in the mids is a good call, dry feet at camp like I mentioned above, in the shoe version I could live without it.
The Vibram outsole has a good pattern to it, lots of edges to find grip, but it's on the shallow side for use in very wet or muddy terrain without keeping your wits about you, a compromise always worth making if a shoe fits well. The sole has some underfoot protection in it for rocky ground too, something that can make your feet tired if you're boulder hopping in trainers all day.
I like the concept of these a lot, I hope it's something TNF develop. Might see one of the Havoc models in for test too.
I liked this, the Waterproof Duffle L(70). It's welded together from a thick, tough and waterproof fabric with shoulder straps, daisy chains and handles to make it a little more useful and manageable.
The zip is neat, a rubberised affair with a giant puller which slided onto sort of docking area which seals it watertight (see above). I can vouch for it's airtightness under moderate attack, as much as I squashed and twisted it, no air would come out.
This is the Verto 32 pack, 644g of summit-dash rucksack. But, it looks and feels like a race pack to me. The cargo chute nylon fabric is soft and pliable, the harness is low profile and molds into your shape. Features are few but the ones you need, compression straps, top tension straps, axe loops, zipped lid pockets, one external stretch pocket (right side, see above and below), a single main compartment is fastened sensibly by a single buckle for a classic look. There's also a cinch cord included in the lid pocket for attaching to the external loops so you can lash gear on the outside.
Not sure about the backlength for my height, I'd need to try it with weight in it, but it ticks all the boxes elsewhere. Worth a look if you want a change from the usual suspects.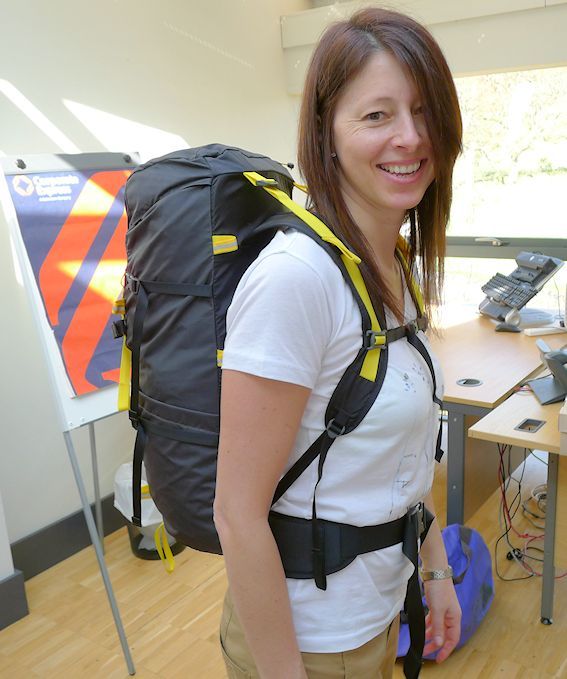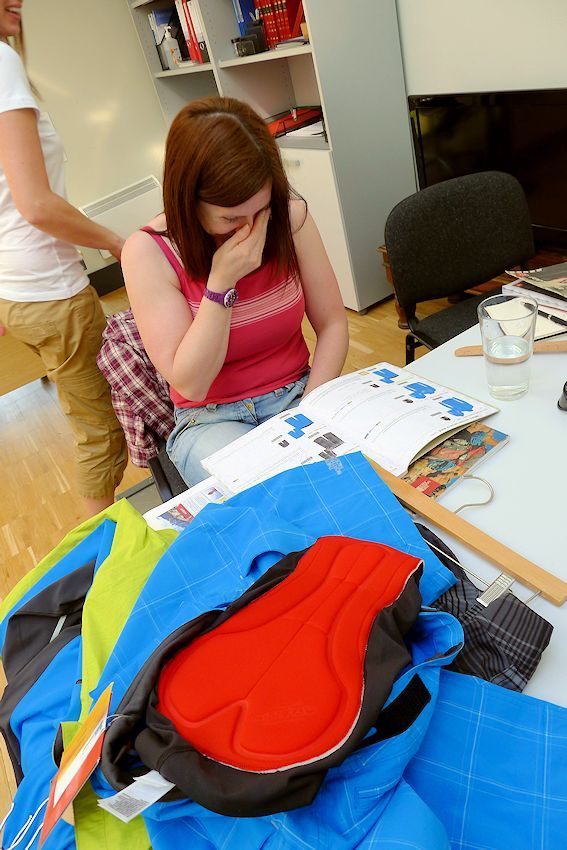 TNF bike wear has been doing well and I had a look at some of the range. Above and below are the Storm Track Shorts, Apex fabric softshell outers with a nice amount of stretch and a liner with a proper pad, treated for antbacterialism (?). A lot to talk about here, not least Helen's reaction to them, I've got these on test so I'll do a proper look at them later.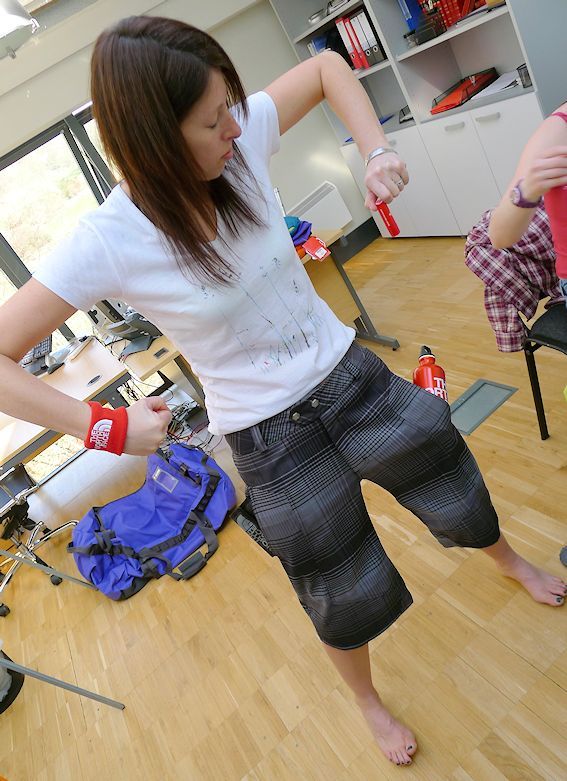 Less dazzling, but with brilliant big pockets on the thighs are the Muddy Track shorts above, Penny's got a bottle in one pocket and a wallet sticking out of the other.
They've got a nice thick waistband with an offset snap-closure, the same quality liner as the Storm Tracks and nice soft-touch fabric. Monochrome tartan too, cool.
The Muddy Tracks jacket below is a bike specific shell jacket, so long tail, long arms and no hood. The cut is brilliant, the 2.5 layer Hyvent fabric is an unknown as I've never used it, but I've got it on test so I'll be back to it soon enough.
We're going forward in time a bit now, here's a preview on some new models for this winter. The first few models are from the Meru Kit range and have come around as a result of an expedition to the Shark's Fin of Meru by Conrad Anker, Jimmy Chin and Renan Ozturk. They burst their asses for three weeks trying to get up it only to get turned back 100 metres from the summit. Now, when reading the press release my interpretation is that they were stuck in a tent for days on end and had nothing better to do than design some new outfits on their notepads in-between noughts and crosses tournaments, but I'm sure that's not quite how it went. However, they got TNF to make them some Meru kit as seen here and they went back and finished the climb with it last October.
The Meru Gore Jacket is the shell seen above and below. It has a tapered cut, slim at the hips and roomier at the shoulders and chest (partly to allow storage in the internal pockets) and it only has pockets that a climber needs, two big external napoleon's and the two big internal stretch mesh versions for unfrozen drinks bottles.
It's a very clean design with great arm articulation and it's cut from Active Shell for maximum breathability and low weight, it comes in at 462g. The hood is a proper mountain hood and any adjustments are concealed out of the way apart from the basic velcro cuff tabs.
The shoulders and hips have a printed overlay to protect the Active Shell, which also has a high nylon content in the face fabric to give it the best shot at longevity.
It's a proper expedition jacket, but that just makes it a perfect lightweight winter shell for the mountains of home too. Living proof that all you really need is actually the most basic, functional and well designed kit. Plus it's orange.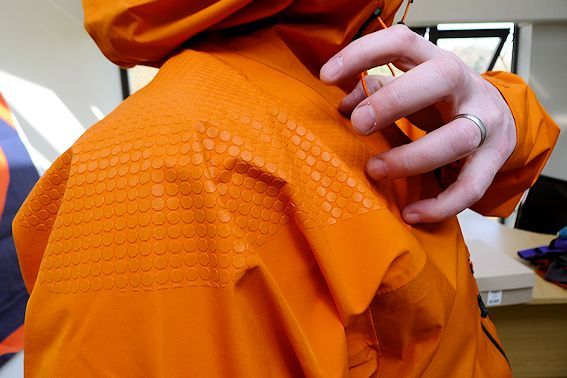 For your lower half are the matching Meru Gore Bib's. These are in the same Active Shell fabric for the main part with Keprotec overlays to keep crampon points out of your ankle bones and a Flash Dry stretch upper section to guarantee a good seal with the jacket and hopefully keep you dry as well. The braces have a good bit adjustment to them, with a little coaxing as seen above Helen managed to get a good fit and vertically she's somewhat below the estimated altitude of the expected occupant of the size medium.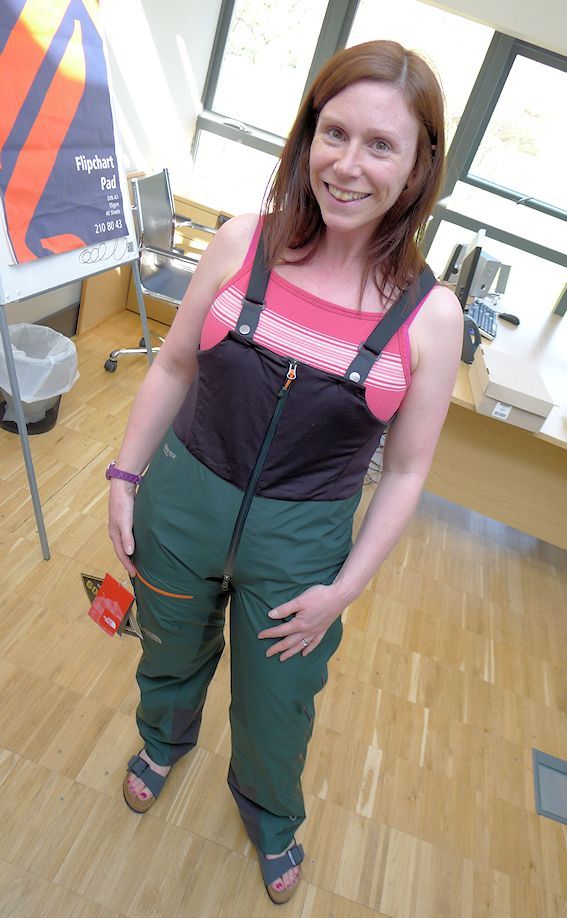 The Meru Bibs are designed to be worn long-term, the legs have full length zips which meet to give you a rainbow drop-seat. There's a zipped thigh pocket and the main front zip has three zip pulls for any combination of peeing and ventilation you want to think up.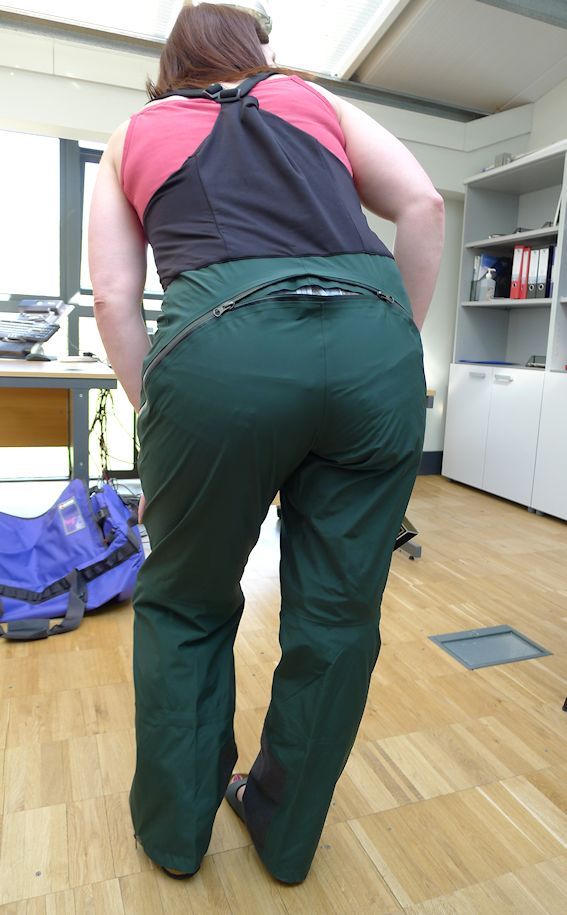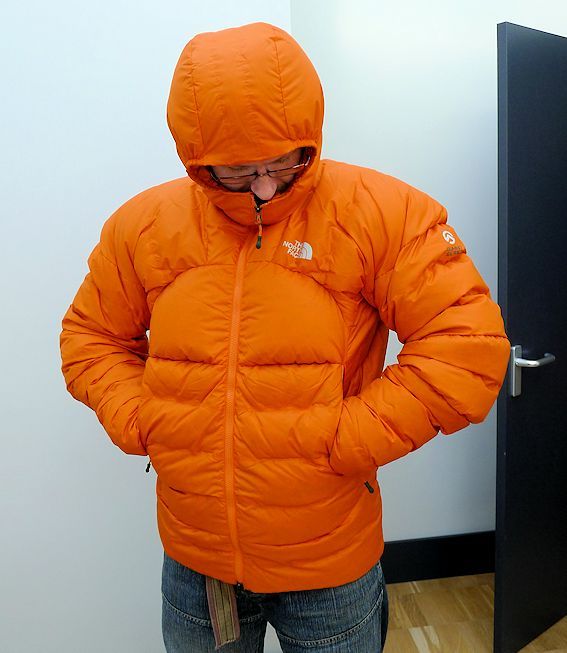 The Shaffle Jacket is the Meru insulation and it's a beast. The down filled baffles are very complicated, they're body mapped, chasing areas of heat-loss and movement around your shape in a noticeably 3D fashion. When I pulled this on, if felt like it was tailored for me, the shaping is quite remarkable, most especially on the arms where the baffles are designed around your elbow movement. The baffles don't flatten or compress, it's like the jacket floats over you and hugs you tightly at the same time.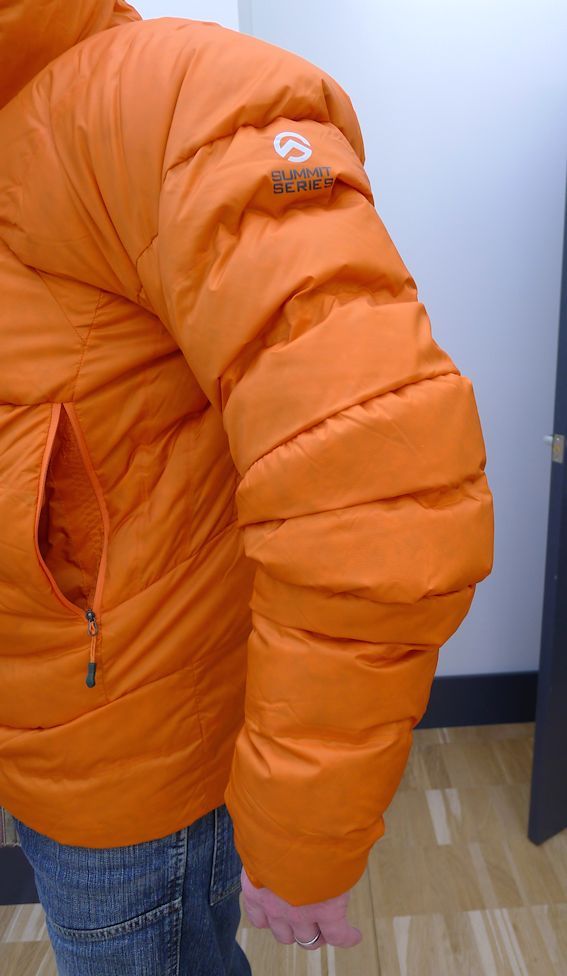 Big hood, big pockets inside and out, internal cuffs that mean the sleeve ends overlap gloves instantly without any faff. All these features push it's weight up to 808g with a 200g of 700-fill of Hungarian goose down inside it.
The shell is hard-wearing nylon and it does feel like a go-to jacket. The down fill looks low on paper, but the efficiency of the construction might maximise the insulation available, so I'm liking the look of this. Purely from a body movement perspective, it's very good indeed.
Last of the Meru kit is the Radish Mid Layer Jacket below (very literal titles from TNF this season) which I adore after wearing it for only five minutes.
It's a slim and simple hoody made from Pontetorto hard-face stretch fleece with Flash Dry treatment, basically liquid spreads out super fast so it can dry quicker. The inner face is brushed for wicking and comfort, the hips and shoulders have printed reinforcement like the shell jacket, there's thumbloop cuffs and the fitted hood zips right up to your nose for great protection. The cut and fit look good to me, there's a stretchy welded-on chest pocket and that's it. Nice.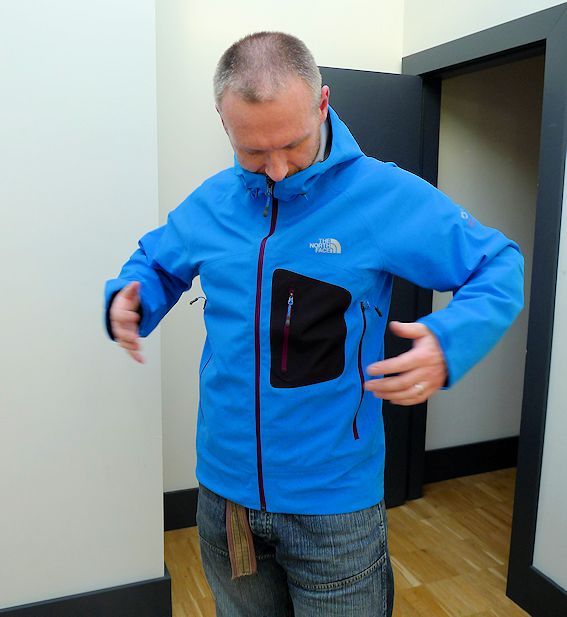 Alos coming this winter is the Jammu Jacket above (other colourway at the bottom of the post) in Polartec's Neoshell waterproof fabric. It's a nice jacket and definitely feels more softshell than shell with the Neoshell.
Good pockets, proper hood should be a good winter piece as the fabric adds a little warmth and has a brushed inner, but it is a little beefy because of the fabric at 717g. A wear all-day jacket rather than one to carry in your pack I'd say.
Here's a bit of wackiness, first seen at the top of the post, it's the Polar Hooded Jacket. It's a mutant hybrid if ever there was, mixing softshell and fleece with shagpile and technical styling. The main fabrics are Polartec's Thermal Pro and Powershield, zoned and layered to make a close fitting and warm jacket which over a baselayer should keep you comfy when the temperatures drop but hopefully dry as well as the fabrics have been positioned to wick and breathe too.
The quilting effect is from the gridded Thermal Pro and fits right in with current street fashion, but the pockets and hood are properly alpine, as is the athletic cut and freedom of movement. It'll come in plain black too, TNF know their customers.
There we go, a run through some highlights of the current and the coming soon. There's two TNF's, the one you see too often in the shops and the one that I visited above, I like the second one with its purely technical kit, uninhibited colour palette and progressive design ethic.
I've got a very varied bunch of kit on test and I'll be doing close-ups on it all over the next few weeks as well as updates when it goes on trips.