It would be easy to write this up in a nice slick fashion, snapshots in prose of a night on the roof and an evening of stories told in film and conversation. But, although those two things were kinda the point of it all, the bits inbetween, before and after are just as important to me, so that's where I'm going with it.
I had one foot in and one foot out of my comfort zone, surrounded by new faces in a city that used to be familiar and turned out to be the biggest stranger I met. I changed my mind about a lot of things as I went along too.
It all started with a very familiar feel though, it was late when I left…
Roads were closed, there were three separate car crash incidents around the village and there was no way I was getting into Glasgow for the train south. We took a U turn and parked at the local station and found to our surprise that the local trains were flood-proof for once. It's not the weather that causes chaos, it's people. Stay at home people. Thanks.
I caught a later Virgin train, left Joycee behind to gad about town on her own, got a pair of seats all to myself and got down to the business of killing time with unreliable internet for my laptop and chatting to the neighbours across the aisle over a cuppa and a roll on bacon. Amusingly the old boy I was chatting to had been downing cans from the buffet which was a just a few feet away (great carriage choice) and was getting slightly slurred and animated by the time we pulled out of Preston. Where he was supposed to get off. Ha.
London was sooner than expected, Branson's sideways lurching express isn't bad at all, and I followed a familiar line from the dismal Euston station platform to the escalator and into the  tubes below which brought a smile. I've always liked this bit, popping up miles away from the concrete box of horror. Is there anything actually outside Euston Station?
Highbury and Islington station is a hop away from Union Chapel where the gig was. It's a busy wee corner, but the gardens and carpet of leaves soften the hard city look and through the bare branches the chapel tower could be seen. As I got closer I could see that they were pretty well set up, the top of a yellow dome tent could be seen on the flat roof next to the tower and ropes were running from the entrance to the tower where a portaledge swung in the breeze.
I found Helen from The North Face Staveley office, who's been on here before, and asked her the most obvious question "What's happening?" Dropping kit at the tent was first up and I was in familiar territory immediately, I've worked in churches since I left school, running pipes around, under and through them, but the narrow wooden stairs to the roof were more awkward with a pack full of kit than with a pair of stilsons and a shifting spanner. The tent was a good one, The North Face's 2-Metre Dome, an expedition shelter for eight. Here it was set out for half that number of bodies, never seen so much space in a tent.
The roof wasn't flat though, we had ridges, air vents and a step down at one side. This made walking around on the floor much more interesting as you tried not to trip or put a sharp metal edge on the roof through 6 grand's worth of tent. Which by the way, never happened. It's tough.
Tough is good but tough is also hard to shine a light through as we tried to illuminate the tent with little camping LED lights and various headtorches. We ended up with Helen wriggling around between the fly and inner while I dropped lights down to her through the central vent inside. Worked just fine.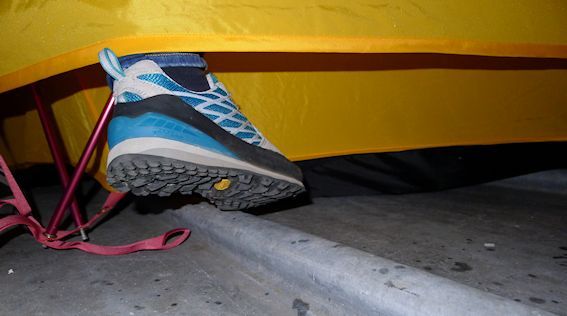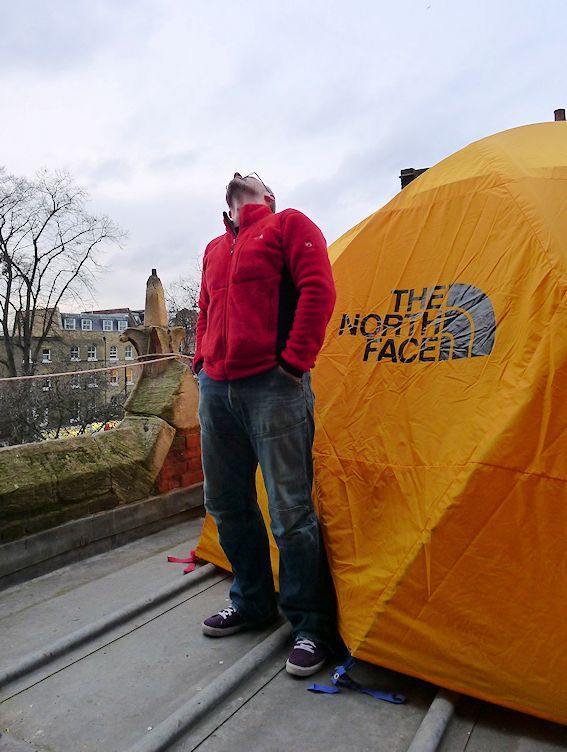 By the time Conrad Anker arrived it was properly dark and the photoshoot on the roof became an exercise in fancy lighting. Conrad arrived in good humour and maintained it for what was the longest photoshoot known to man including a spell back in the street where he climbed the tower for more photies in the portaledge. With my purple titanium mug hanging off his harness.
I already knew about Conrad. I don't think he's quite like other sponsored athletes, a look at some of what he's done tells you a lot. Finding George Mallory's body on Everest is one, I don't care how contraversial some may see that expedition as being, to me it reached across the years and gave Mallory a chance to speak to us. He became a man as well as a myth or a legend, and whether he made it to the summit or not, that he tried in the face of so many obstacles speaks much of the human spirit. No one sets out to be a glorious failure, although they might accept the possibility, Mallory was planning to come back to tell the tale, now he's finally done that.
Mallory's first real climb was on a church tower which had a nice resonance, something that Conrad is well aware of  having made The Wildest Dream.
Shackleton's Antarctic Adventure, the film Conrad made with Reinhold Messner and Stephen Venables about Shackleton's epic journey from Antarctica to bring help back for his crew shows another look to the past and is yet another event that strikes a chord with me. I was finding myself ready to listen, looking forward to the gig the next night, I knew it wasn't going to be a "Look at me!" film. I still wasn't ready for how I did feel about it when I did see it though.
Conrad and the rope access boy/photographer finally came back down to the pavement, followed by the portaledge. It was the right move, we'd been attracting all sorts of people as we stood around gazing upwards, there was a music gig in the venue that night with the doors directly below the portaledge and the wind had lifted, bouncing and scraping the portaledge off the tower, accumulating some damage in the process. Which it didn't need as it was the actual portaledge from the Meru trip.
Conrad had a day of interviews followed by the gig the next night, a hotel was the only place for him.
Me and Helen however had no place else to go. Except dinner.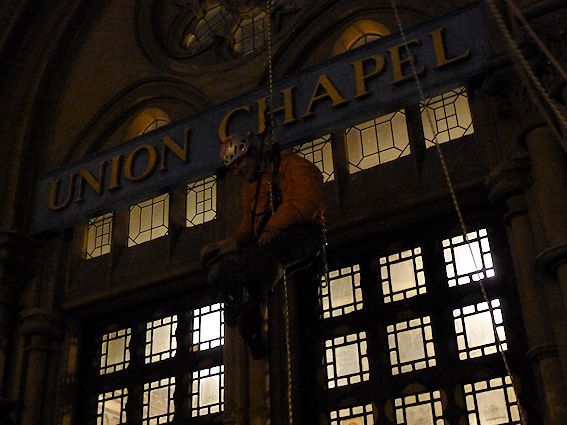 Camping dinner is sitting cross legged and wrapped up against the cold, its waiting for snow to melt in your pot while you pull your mitts back on. Tonight it was Dim Sum and a glass of wine on the south bank. London can be a lovely city at night these days, not the city I used to visit and maybe that's a good thing.
When we got back to the Chapel, Wendy from The North Face nearly stayed with us on the roof, but she had a morning meeting where we didn't and made the right choice given what followed.
The musicians and audience had left and the building was empty of all but a few staff. Who had to put the alarm on. That was fine, but the roof access hatch was alarmed. On realising this, so were Helen and I.
A compromise was reached, we'd be bolted onto the roof but the padlock wouldn't be fitted so that I could kick the door in easier in an emergency. The door was shut, we heard the bolt slide and we were on the roof for the night.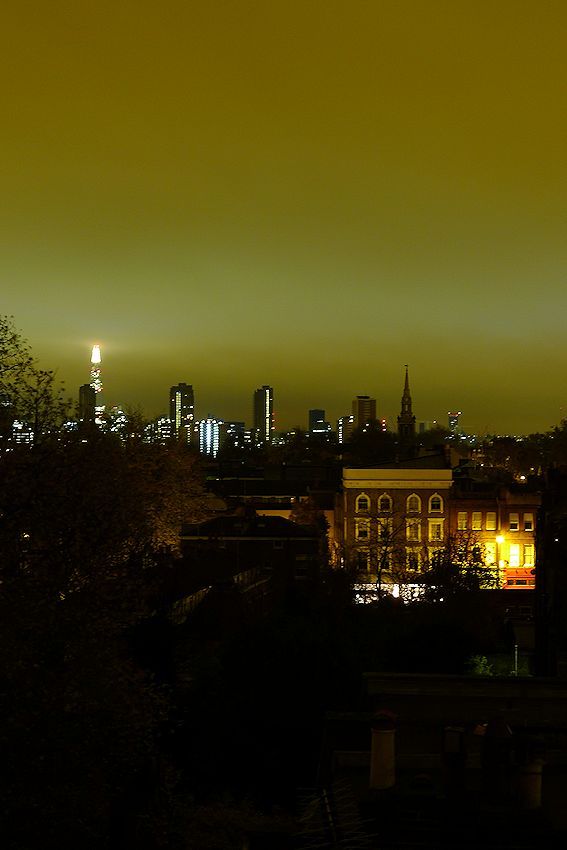 The stove went on and a deck of cards came out. Snacks were eaten and I climbed what ladders I could find to take some night shots. A bit damp and dismal, but the city lights were pretty.
Back in the tent we were getting tired, Helen's a bad loser at cards which kept me awake as I was chuckling away but we had to make an attempt at sleep. Plenty of room in that big tent, we were warm (me in a budget synthetic The North Face bag borrowed from the showroom just for a change) and that's where I run out of positives. It was bright, even though we were above the streetlights, London just streams light all about itself. People were shouting, it's 3am on a Tuesday, what's to shout about? Then of course there were the bin lorries, not the ones emptying the bins, no, the ones racing towards each other and then crashing head-on at top speed as the Cowboys and Indians on their roofs fight it out with Winchesters. All bloody night.
Full volume, the whole city, all night. There were moments of levity though, Helen sat bolt upright at whatever crazy time it was and accused me of eating toffees too loudly which just cracked me up. Exhaustion claimed us and it looks like we grabbed a couple of hours at the bottom end of the clock.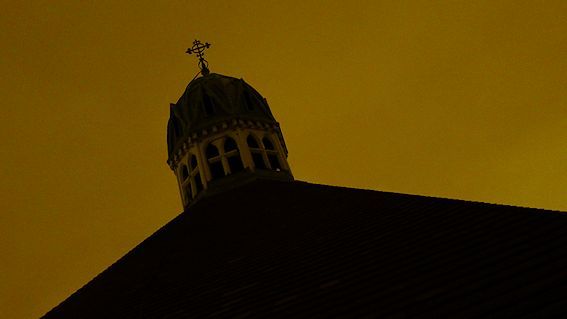 The hardest night I've ever spent in a tent was ended by cuppas on the roof during which I tweeted #TheNorthFaceEU to get someone to let us off the roof. The staff had forgotten that they had folk sleeping on the roof. Easy to do.
A hotel room, a shower, clean clothes and I was ready to get on with the next thing while I wondered about the last thing. Why were we camped on the roof? Bringing adventure to the city or something maybe, with Conrad doing the sensible thing it might have been a bit superfluous, but what the hell, with a couple of weeks distance now, it was fun and it's a night I won't forget in a hurry.
I grabbed breakfast with Morten from the The North Face's Danish PR folk in a lovely little cafe in Soho while we waited for our interview slots to come around. This is a much changed place since my last visit although nearby Oxford Street looks really low rent now, it's lowering the tone of Soho these days.
The Soho Hotel is a nice quiet corner for interviews. I was in first which was great as Conrad was fresh and chatty and I swear I could have bantered all day, my 20 minutes just evaporated. I covered some stuff that should see print next year and I left with my first impressions reinforced, Conrad almost seems like a man out of place in the time stream, an old-school explorer with present day capabilities and equipment. I really was looking forward to the gig now.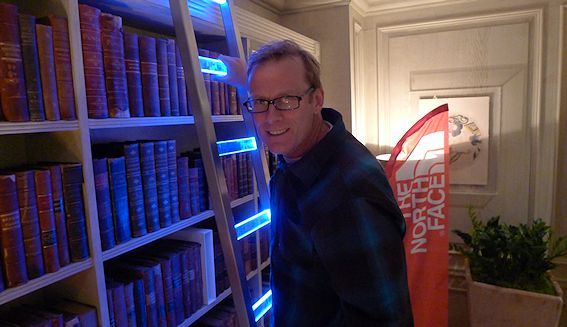 I had a whole bunch of time to kill. A cuppa, a spin around the riverbank and a snooze back at the hotel. I was as rested as I was going to be.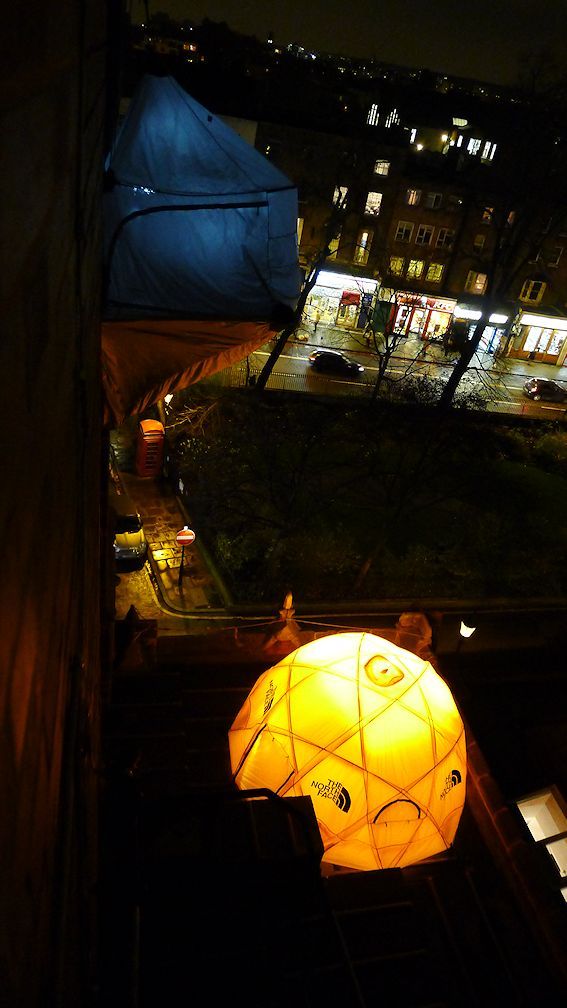 It was great getting back to the chapel. The portaledge was back up in a better position around the side, the tent had an arc lamp inside and was glowing merrily. The doors were decorated with lights and sponsor's banners and products were displayed inside and out included a Jeep jauntily parked at the door. I met up with some folks I knew and took a seat on the front row.
This years The North Face Speaker Series was a short international tour with different sponsored athletes presenting their stories and tonight in London was the last date with the Return to Meru expedition as the subject matter.
Climber and writer Ian Parnell , well respected in his own right, was the mc for the night and played it very well, just nudging things along without intruding at all. This allowed the stories to come though and it made for fascinating listening.
The film followed the first talking section and it's here that everything changed for me. It's a film about a climb, three men returning to try and climb the unclimbed Shark's Fin route on Meru in the Himalaya after stopping 100m short of the top on their previous attempt in 2008. Except, it's not a film about a climb, it's a film about people.
Conrad had made the attempt on Shark's Fin with Jimmy Chin and Renan Ozturk and you get the impression it was like the band splitting up at the end of a three year world tour, still friends maybe, but the experience had burned them out of ever doing it again. After days sitting immobile on a portaledge, who could blame them.
Another attempt came around and the original team committed to it and started to train and equip better from the previous experience. But, Renan Ozturk was badly injured putting him out by any reasonable expectations. They decided to wait for him.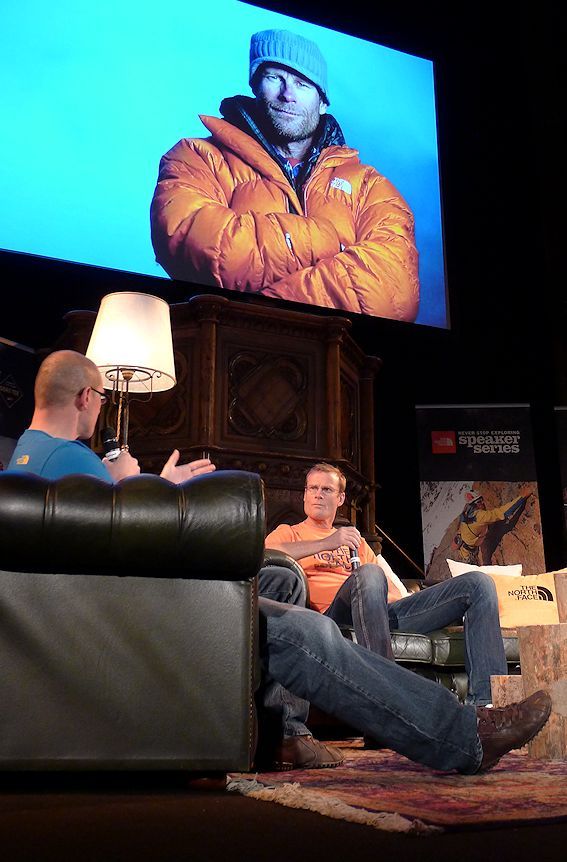 His recovery was remarkable but his physical condition was still a risk, on the climb it looked like he'd had a stroke at one point. But, and I'm not giving the game away here, the team were triumphant. Not only that, Conrad took the summit last, as he said, he was passing on the baton to the next generation. The ascent of Shark's Fin had been the dream of Conrad's mentor , Mugs Stump, and Conrad felt that he'd claimed it to him. It felt like Conrad was saying My work here is done.
There were grown men through the audience discreetly dabbing the corner of their eyes at the end of the film. It's hard to put into words, maybe it's because I'm getting older, I'm a dad or I'm more aware of my own mortality than ever, but so many actions or decisions in that film came from the heart, from the humanity of the people involved and it felt like it was that bond that brought them their success as much as any practical skill.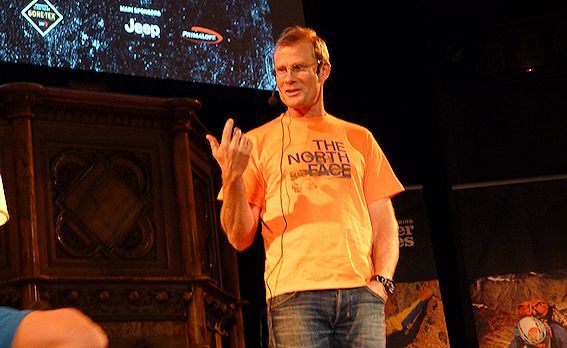 I'm a huge cynic when it comes to this stuff, how many times have lobbed sarcasm at athlete sponsorship on here? This has changed my mind, for some of them. The movie didn't sell me a brand, it sold me on what I already believe in, the potential of people and their ability to try for better.
Shackleton went cap in hand to try and fund his voyages South, today you can be a professional climber and concentrate on the task in hand while someone else does the admin. If that allows us to reach higher, to find firsts when we thought there might be none left, I'm happy with that. I think we're all clever enough to spot the difference between feats of endurance and skill and feats of marketing.
Conrad talked after the film and I see a man at peace for the moment, his foot is off the gas, maybe not forever, but attaining a life goal, looking after a family and working on projects outside of making ascents seem to be enough. I wonder?
We were joined by special guest Simone Moro, an Italian alpinist with 8000m winter ascents to his name and a blaze of energetic enthusiasm to go with them. I was a little torn with Simone's appearance, Conrad hardly got another word in for the rest of the night and we took off in another direction. Simone is a lovely bloke with some fascinating stories and an evening with him would be a breathless wonder, he is brimming with positivity and some very good ways of explaining how to approach a perceived failure as a delayed success. His exploits in high altitude helicopter piloting in the Himalaya deserve a night all on their own.
But, I still wanted to hear more from Conrad and the night was over all too quickly.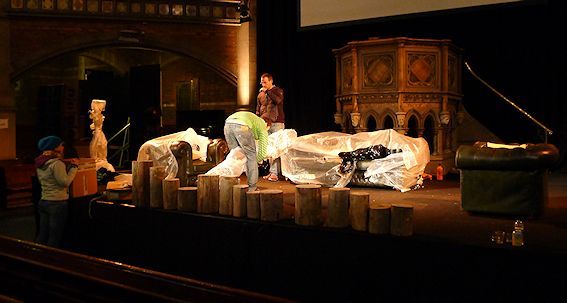 It was a lovely venue. Churches light so well internally, especially when you go for the vampire castle look we had for the gig. Happy faces filed out, with most picking up a signed book on the way as Conrad and Simone sat and signed for anyone who wanted one. By the time it was all over and the couch was being carried from the stage there were only a few organisers and journos left, all tired looking, only Conrad and Simone were bright and energised. That's why these buggers are doing what they do and we all do what we do.
I had a head full of new stuff on the way back to the hotel, via food. I can marvel and wonder at it, but the high mountain stuff is beyond me, I'm a Highlands man, but if you can't empathise with the human element of what's in the film then I feel a little sad. Under duress the best and worst is brought from people, it's where we stand or fall and because of that watching Return to Meru is an uplifting experience.
Also, I lied about one thing. It is a climbing film too, the sequences of the team high on the route will have you on the edge of your seat.
A great trip, I learned something new too. Thanks folks. And I didn't say TNF once.