Despite getting sent the wackiest colour in the range to test, The North Face's Nihon 1/4 Zip Top has been worn plenty.
I've got a size medium Nihon which is a perfect fit on me. The Nihon sits inbetween casual outdoor and racey stuff in its intent, so the medium is a relaxed medium, or if you're me it feels like a slim large. Does that make sense?
High adrenaline hiking wear they say, whatever that is. Hiking after being spotted by a bear? Trapped on the West Highland Way while being pursued by neds wielding poly bags full of carry-oot? I think really it's general purpose outdoors with a slicker sporty look and tweaked fit, and why not indeed.
Like I say, the fit is good, the length is very good too and it doesn't ride up and jam in a rucksack hip belt. The shoulders are neat but have a good length to keep the sun off your shoulders. Good range of movement too, no restriction evident reaching for holds on a scramble.
The zip is a good length, it reaches just below my rucksack chest strap and has a low profile puller with a chunky rubber gripper, and it's also one of those locking types, when the puller is flat the zip locks in position. The zip's also got a flap behind it so I don't snag my chest hair and a zipper garage so I don't snag my beard.
Just makes me sound hairy doesn't it.
The zipper garage is part of my favourite feature, other than the general ability of the Nihon to make me not-naked, and that's the collar.  The collar is tall and is of double-fabric construction so it stands up if you want it too, but it's still soft so it doesn't annoy or chafe. It keeps the sun off and the wind out and when fully zipped it's still comfy and it layers well under mid layers of shells.
The collar is well finished inside too, a nice taping over the seam gives if an extra bit of plushness against the skin and will give it extra durability too.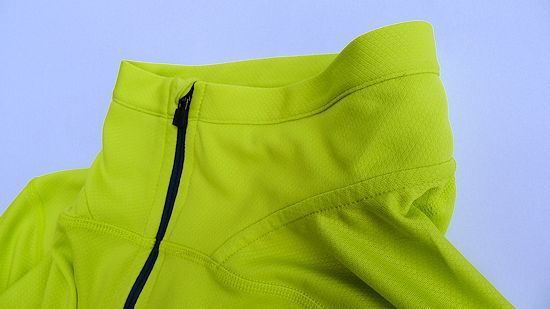 The fabric is Polartec Powerdry which is an excellent performer, it wicks well and dries fast. They say it's got anti-odour treatment which I do believe as it's very good for a day or two, but it's not so good for longer durations, your efforts do build up i the fabric and become apparent to your nose after a couple of days.
It's a nice fabric against the skin, very pleasant for general use and surprisingly comfy when it's very hot, it's been a good summer shirt. The seams are all soft, positioned away from pressure points like the top of your shoulders and are flatlock stitched. The construction in general is very neat and after many wears and washes I haven't seen any shrinking of the stitching or any other real damage or unacceptable wear to be honest.
What can I say, aye it's just a zip neck t-shirt, but it's cracker. That I wear it so often when it's this colour should be testament enough to it's joy inducing properties.
Coming soon, a matching midlayer in the same colour…