The North Face Alpine Project Pullover Wind Jacket, it's a long name that, very descriptive and sounds somewhat bureaucratically phrased. However, behind the weighty name is something a little different.
Ludwig Blue they said, no it isn't, it's teal. Good to see yet another trad outdoor colour making a comeback and it here it's in a nylon ripstop with very a small grid indeed which gives it a nice almost non-tech texture. It's a nice handling fabric, still rustles as you'd expect, but it's soft with a mid range weight of 39g/m². It's got a DWR which seems good enough so far, I'll do updates on that when summer's past. Next week probably.
But behind that fabric, there's more fabric. I shall explain, it's a double, and indeed in places triple layer jacket.
Above, the look is that of a nicely technical jacket. The lower pocket is a straight-through pouch (which it folds into) and the upper pocket is handy wee stash for niknaks. The half length zip has a rear wind flap and is reversed like the pockets zips to minimise abrasion elsewhere from the zips. The cut is slim and it's well articulated, I can get into a medium and I've got a full range of movement.
The cuffs are elastic bound and I can roll them up my forearms, although not right to my elbow. Body length is an "active" length, so it's quite short, but the good dsign means no riding up so I don't think it's an issue.
Below is front and back of the jacket outsides-in which shows what it's all about. The whole jacket is double layer nylon, two windshirts in one. This in itself is quite a good idea, nylon shells work across a wide range of weathers, anyone who runs or bikes will know that a single windshirt over a baselayer will be fine on a windy wet day if you stay on the move. Stick two layers together and you've got something that's going to stop wind, slow down moisture ingress and deal with your own moisture output. Stick this on over a baselayer on a cool to cold day and you could be laughing in a little microclimate of joy.
It's maybe something like Diet-Paramo or Buffalo-Lite, and that shelled insulation reference is actually relevant as there's an added extra in there, a fine polyester lining, the lighter colour you can see on the torso and shoulders. It should help with moisture management, keeping dampness away from your skin, as well as maintaining warmth as it adds a little insulation, I'd say a baselayer's worth, which means you could wear this over your bare skin, or a vest which is a safer bet if you want to take it off and there are people likely to be looking at your pale torso. Although, those fears may just be my own and not a universal concern.
This does make the jacket a cool weather affair though which is fine, but I think I'd like to see a double nylon version without the polyester lining as well.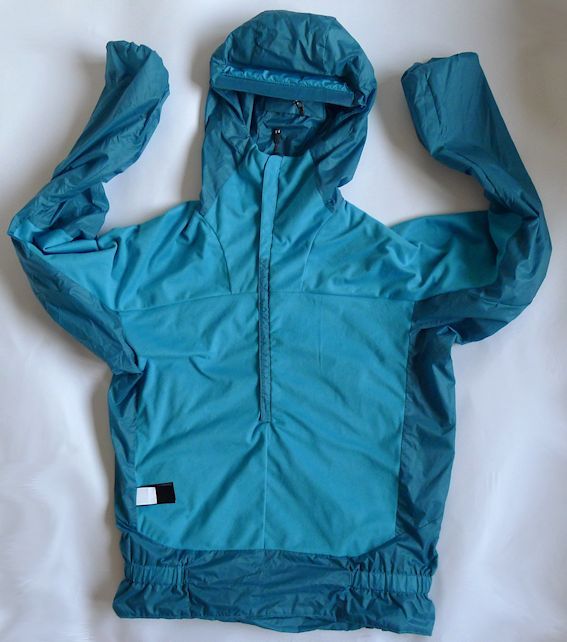 It's got a proper hood, neat fitting but not tight with a good sized stiffened peak. There's a one-handed adjuster at the back which cinches the whole hood in as the bungee runs through the peak. It works very well and doesn't pull the hood away from my face as I'd originally expected it too. The hood stays put when cinched in and it doesn't pull in around your neck and chin when cinched, so it's maybe an unusal feel but it works and it feels light to wear and it's comfy.
Talking of weight, the jacket comes in at 330g for a medium which probably puts it in the wear all day rather than carry in case category, although with the weather protection you get from this you'd probably only carry the most minimal of shells if you do take one, so it'll all depend on you and your own er, stuff and things really.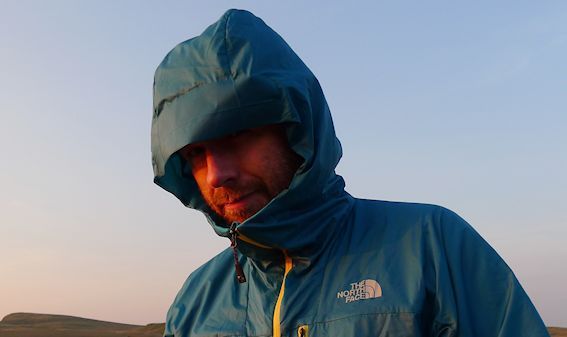 Looking at that shot above I forgot to mention the big zip-pulls, nice touch. But, there is more quirkiness as well.
Below is the hip area from the inside (you can the same feature from the front and back ootsides-in shots above), it shows the elastic waist band. There's no hem adjuster, because there's no hem as such. What we have instead is an 1″ elastic band that runs around your waist at the back and pulls the jacket into you. and keeps it there. It's odd at first as the initial reaction is to pull the elastic band down as you're used to the feel of an elastic hem on a shell, but if you just wear it you quickly get used to it and then don't notice it. It does help the jacket stay put and there's a little drop tail of sorts to keep the worst off the wind off your backside.
I like the Alpine Project Pullover, it's different and it's had a lot of thought put into it. It all works too, it's not fancy for the sake of it. The weight makes it a stand-alone all-day jacket for me or as a midlayer replacement, in the same way as any of its lined pertex cousins are. Softshell, windshirt, alpine jacket, all of the above. It's comfy and hey, it also comes in orange.