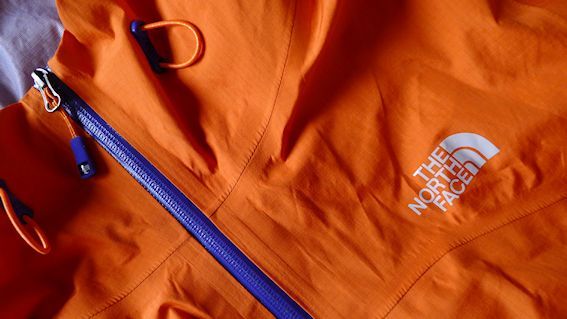 Been on a couple of trips, but not been pushed hard yet is The North Face Alpine Project Jacket. It's an alpine jacket in a race-weight fabric, Gore-Tex Active Shell.
As I've said before the performance of Active Shell in moisture management is brilliant and it's good to see the fabric creeping into areas where its durability will be under pressure. This is a proper mountain jacket and TNF are either keeping their fingers crossed or they're confident in their fabric which has some stronger nylon in the weave for toughness.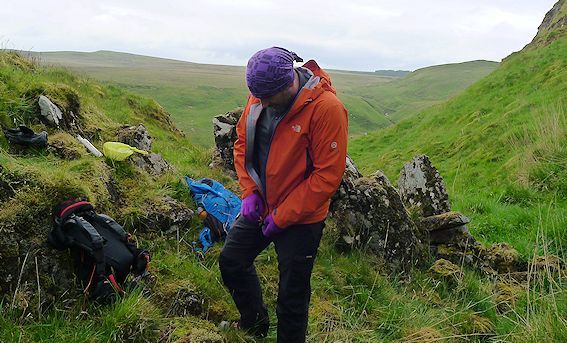 It's around 500g apparently (my digital scales are in the workshop, I'll check it for the update) and feels light in your pack. It's soft to wear with that light fabric and it's got some features going on. There's two big chest pockets with water resistant zips, one with an extra inner zipped pocket, and there's no mesh in there, it's Active Shell inside and out. The rules that Gore set down for maximum double fabric area etc have been thrown oot the windae it seems. Quite right too.
The main zip is water resistant with a rear storm flap, the velcro adjustable cuffs are shaped to protect the back of your hands, and as you can see below there's two-way pit-zips, unusual on an Active Shell. They work well, I can reach them easy on this neat fitting medium. The hood is front and rear adjustable with a stiffened laminated peak and gives good protection.
It's got good articulation, I can move around well in it and not lift the hem up, I just get a little pull at the cuffs. The water repellency is good so far, rain beads and runs off, but time will tell on that. The chest pockets are big and it's actually quite nice to have no mesh, you can fire wet gear into them and not worry about getting your vest all soggy.
Ha, look at that colour.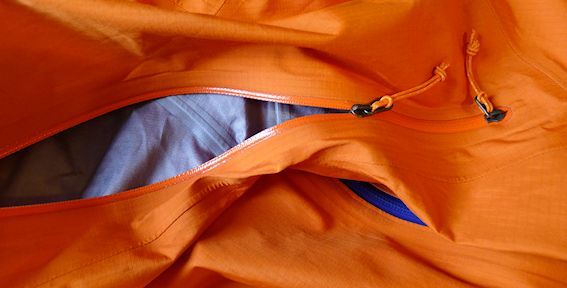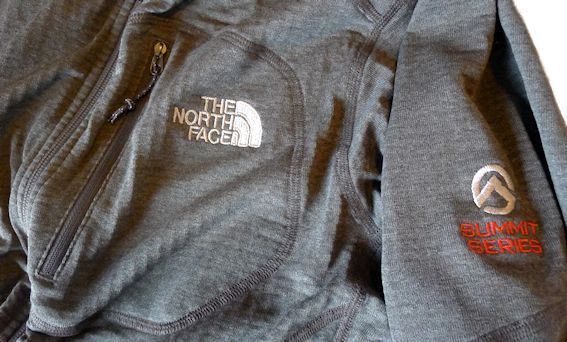 I do like midlayers, light ones that is, big fleece or heavy softshell just upsets me.  The Snake Eyes Full Zip Fleece Jacket (gallus name) isn't just a school jumper, it's a techno school jumper.
I like the grey would you believe, nice to have something different, but the understated looks hide it's tech spec I think. It's light (how light I shall confirm later when I bring my scales home, TNF's 279g seems right though) enough to carry and light to wear as well. The fabric is soft and stretchy, it's grid-backed Polartec Powerdry, so a slim fit medium is comfy and unrestrictive. The fabric is a cracker, some insulation and very good moisture management with a durable outer face. I've always liked this type of fabric, it layers well and is great at camp as it doesn't hold a lot of moisture.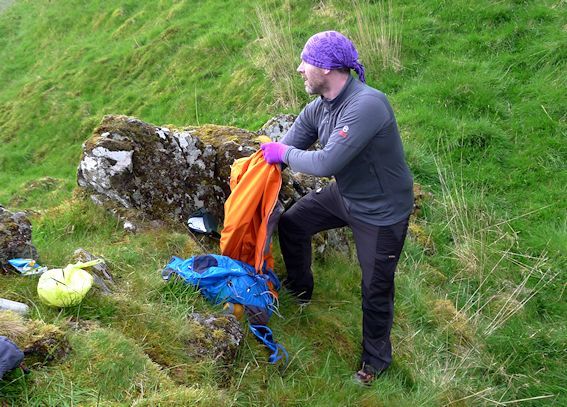 Features are good, handy wee chest pocket and two good sized hand pockets. The full length zip is handy and it's not pushing the weight up here, it has a flap behind it which is nice on your neck and means that the reversed zip won't abrade your baselayers.
The cuffs and hem are doubled fabric with no adjustment at the hem, it doesn't need it as the fit is so slim and even with high reach arm moves the fabric stretch and good cut means the hem stays put. The neck is middle height, I'd probably have stuck an extra half inch on it, but it's not a deal breaker.
It's very wearble and I'm chosing it over brightly coloured stuff, so it looks liked we've bonded.
The Alpine Project and Snake Eyes are both from the Summit Series, ie TNF's good gear, and are looking rather nice so far. Updates to come and there's more TNF test kit coming soon too.