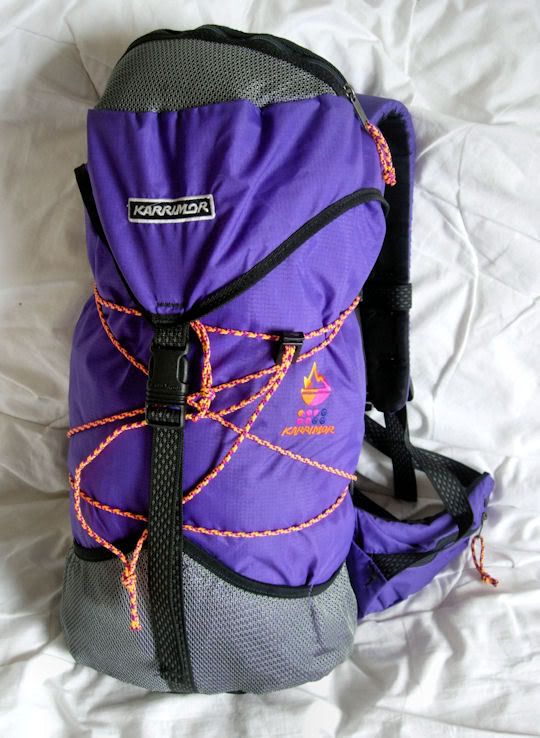 As I continue my indoor odyssey I pulled this multi-coloured delight out of the cupboard to play with. It's an old Karrimor Kimmsack. You can still buy it today, it's called an OMM Classic. Much refined, with better features and adaptability, but essentially the same pack.
I was walking about the house wearing the KIMM stuffed with kit and it was very good indeed, I had forgotten how much kit it'll take. It's kind of retired these days as it's irreplaceably purple, but it's great for overnighters so I think I'll take out out for a careful retro spin.
It's very light at 480g, having no back padding accounts for a big slice of that. But it still has zipped hip-fin pockets, lid and mesh pockets, and a compression system. Years ahead of its time, and like the Alpinistes, still a benchmark.
Other indoor delights include the telly. I was watching Axe Men,  it's a reality telly programme following the fortunes of loggers in Oregon in the US. I like it as it reminds me of my days as an apprentice, but with trees instead of pipes, chainsaws instead of stilsons, but the same physical comedy and swearing. It's set in some beautiful country and I kept wanting to be wandering along one of those forest roads looking at the tops of the clouds and tree covered peaks far below.
Then there's Quincy, The Professionals, The Sweeney and more. Being indoors is like being in the '70s it appears.