Gateway to adventure? Ha.
The blue sky was no less alluring when viewed through my dirty windscreen as I spun around the bustling metropolis of Dumbarton.
Mother's car wouldn't start, Holly was having a home lunch, there was a control engineer on his way to meet me on the other side of Glasgow. It was a nice day for everything to go wrong.
An hour later, it was all fine. Jump leads, truck redirection, phone calls and lunch. It was all resolved too quickly, I now had an afternoon where what I was supposed to have been doing I was now doing the day after.
That blue sky though.
I got the last space at the side of the road, even this late in the afternoon folk were still up there. On a Monday too. Good effort people.
I got ready nice and fast, more familiar kit, no chances were to be taken. My pack was light, it was comfy, every drawcord was where I'd left it, my bottle was just where my hand went to find it. Oh yes, this is the way to do it.
I stuck my camera and tripod on my front pouch, in recent times this had felt like an inconvenience, not anymore, it was time to play.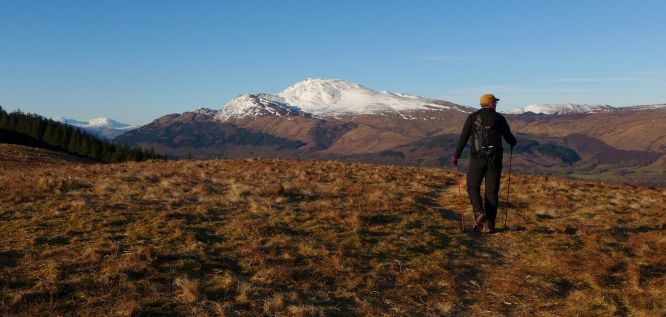 The sun was a little lower than I expected, the softer light was draining a little of the blue from above and it felt warm, in tone and in temperature. I sweated up the track on a wide, windless ridge.
I paced myself, I rested and sipped from my old oval Sigg, I examined every footstep for a twinge from a knee which never came. I just took it easy, I stopped worrying, I stopped overthinking and I just looked around me as I climbed, step after step, breath after breath.
Walking is just a simple mechanical motion, so why was I feeling brighter with every step? I could feel my lack of hill fitness with every vertical metre claimed but it didn't hurt at all.
A paraglider arced above the loch to land in a field at Luss. Silent and slow, over too quick, it must have been beautiful enough to not feel the long climb to the launch.
It got a little colder, a little darker and the air was now moving past me fast enough to be noticed and it was going through my top as well, so I pulled on a windshirt and beanie.
The snow was creeping slowly from white to something else, a wash of pink and gold, a hint of sunset. The frozen grass sparkled in jagged shapes all around me, I think if I'd kicked through it as I walked the air would have been full of chimes as the long iced blades swung against each other.
The summit was cold. The sun was nearly down and the eastern horizon was a strip of pink fading into indigo. Ben Lomond was showing me it's widest aspect, a block of shining pink reflecting the last of the day back across the loch. A scattering of lenticular clouds formed and hovered, sucking up the last of the light and sending the sun over the ridge to the west.
I was late when I left, but I'd still caught it. The grin was wide, the little voice inside was shouting at me. Yes, yes, I hear you, I know, I know.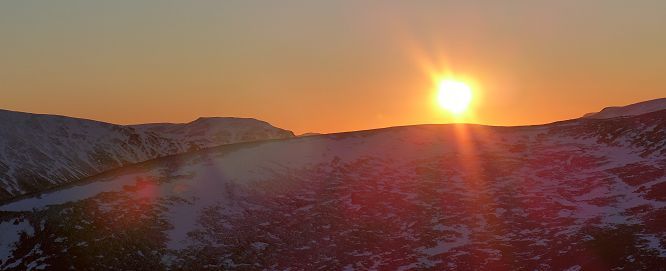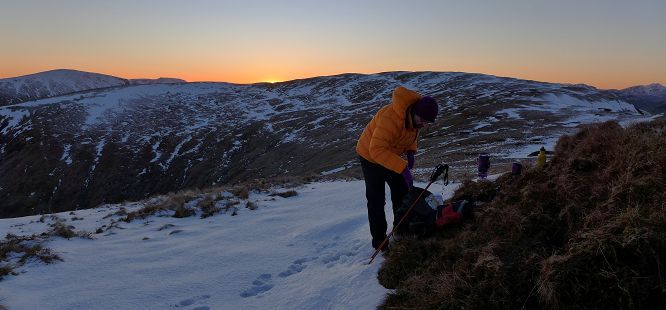 I'd descended north to find shelter, hunger had suddenly moved past the view in order or priorities, I need a hot drink. A hot drink, insulation and bigger gloves. The temperature dropped sharply.
My dear old mother had thrown me together some pieces (sammidges, for google translate) as I'd passed through and as the stove came to the boil I tore into my cheese, ham, apple and stawberry jam on bread. The utter joy of it.

My little corner was good, out of the wind with a view north to the Arrochar Alps. There were some northern lights a bit further north the night before and I know there's a chance this far south but the sky went to black and stayed that way. All this was enough anyway.
I could feel the gap between my 3/4 longjons and my rolled down socks, it was getting really cold. I pulled up my socks. So that's what lower leg zips are for.
I pulled down my hood to have a proper look around and instantly regretted it, the cold felt like a solid, physical object as it hit my head. I put my hood back up and it stayed there until I took my down jacket off when I was nearly back at the truck.
Another cuppa was made and the ridge was paced in circles to keep the heat in my toes. The wind was strong but not strong enough to push me, it felt calm and quiet, it was peaceful here in the dark.
I packed up and I still lingered. I looked at the dim horizon, a jagged line from west to east, a line I have walked every uneven angle of, every top I could just make out has personal bookmark, a memory, a face or a moment in time long past and it drifted back on faded waves of joy and melancholy as I stood there in the dark.
As my crampons crunched me homewards over the last rounded top before the long descent I found my head fuller than it was when I started.
They say you can go to the mountains to lose yourself, but then they also say you can go to the mountains to find yourself. It's also been said that "The soul of the gael is on the summit of the mountain". Maybe it's a little of each.
My headtorch cut out, the little flash had warned me and I was ready for it but I wasn't ready for the way the sky picked up the slack. The crescent moon and riot of stars in crystal clear air was stunning. I looked up and spun slowly around until I was dizzy.
So close to home but so far from worry and oh, look at the time, Holly would be coming home from guides. I smiled at that as I picked up the downhill pace. I'd showed her my base layer before I left, she looked at the orange and purple stripes for a while and issued her statement "Hmm. Dad, never wear that in front of me again".
The ultimate parental superpower, the power of embarrassment. Awesome.