"You know, I don't think any of my friends dads sit and sew".
We're sitting on the sofa watching IT Crowd on Netflix and Holly's contemplating me hand sewing the webbing back onto the back of an old battered pouch that I wanted to use for my camera the next day.
I thought this over. I could mention gender stereotyping, older men's difficulty in accessing skills such as sewing when they were younger for fear of peer persecution, the struggle of men to break free of the bonds of generations of strict adherence to the unspoken code of how to be a man. But then I realised that most of the men I know sew by hand or machine, many of them professionally and creatively.
"The other dads are rubbish then".
"Yea" said the girl.
The pouch was good to go, I slipped it onto the hipbelt and secured it with a carabiner to a side compression strap. It was just like the old days.
Everything else was laid out and ready to go. Dear god, is this what it is to be organised? Oh, to see how the other people live.
It was late morning and really rather nice when I hit the road. The sky was blue, a pale icy blue and cloudless because the gauze between me and the sun was a high, thin veil, it was never a cloud in its life
As I left the Arrochar roadside winter felt awfy far away. It was bright and it was warm on the move although the air was cool, especially when I got up into the trees. I kept my gloves on though, bare arms and gloves is just fine, I was being careful this time.
The zigzags mask the height gain and the occasional window view through the green onto an increasingly visible Ben Lomond is the only clue that progress is being made.
But then you're suddenly there. There is good, there is familiar, there is my happy place, there is snow on it, right up there.
I pretend that I might climb the Cobbler, just to see if I can fool myself, but I'm not that good a liar.
I love the Cobbler, but Beinn Narnain has a pull on me, it always has had. Every visit strengthens that and while I can't explain it, I can feel it.
The broken, shapeless tumble of crags pull my eyes as well as my feet. The Cobbler is flashy, but it's kinda solid, what you see is what you get, Narnain has secrets, it has dark corners, it repays time spent and there's a wee bonus too, you get to look at the flashy neighbour from an excellent angle.
There was a smear of spring in the air, deer in the coire, birds in the air, a caterpillar on a rock and three walkers from China wondering why the hell I was lying on the ground.
They weren't the first victims of banter this day, I'd accosted several parties already. It being the school holidays and decent weather had brought out several dad and lad parties which was nice to see.
One of these parties also had a dug, a pannier dug at that. It had a jacket with webbing and velcro like a military molle vest, it also had two grab handles for launching the dug over burns and gates. Great bit of kit.
I never got to the Narnain Boulders, I cut right a bit early to gain a little easy height and stop for a drink.
My 25+ years old pack was supremely comfy and stable, but it doesn't have a bottle pocket. I'd attached my little pouch but not a bottle pocket, partly to see what effect it had on my drinking habits. Sure enough, once I got onto steeper and frozen ground I didn't drink, too faffy and higher up it was just too cold and windy.
Point proved, although I knew it would go this way. Next day, I went hunting for an old Lowe Alpine insulated bottle holder. 
It was only mid afternoon but the sky thought it was later. The predicted coastal clouds were bubbling onto the high ground here and there, some tops were shrouded while the light was diffused into a warm glow. It was evening a little too early.
Two ravens chased each other around the crags, their croaking the only sound in the lower coire. As I climbed higher rushing water below the rocks and snow went from a whisper to an occasional roar, a thaw was on.
I sat on a rock for a bit to cool down. Not a whisper of wind here.
From somewhere up behind me came the unmistakable chuckle of a ptarmigan with a shuffle of feathers right after. I turned and quickly scanned for it, no sign dammit.
I did start picking out howffs though. So many mini caves or sheltered ledges in this coire for a fine night out. There's a big one on the right under Cruach nam Miseag with a short scramble to get into it. Hmm I thought to myself, I'd be safe from wolves in that one. Too much Netflix will do that to your mind.
At the coll I stopped and got my crampons on. The snow was consolidated and I was shinning up the regular route which has a few wee steep bits.
I used my axe, I used the spikes on my feet and I was happy, secure and safe.
I was also amazed to see the signs of previous passage, especially in the steep gully by the spearhead crag. Many boot prints but also many long troughs made by fingers scrabbling for purchase. Not so many signs of axes or crampons.
I'm not judging, I have done stuff that makes me wince thinking about it, but it would not have been me today. There have been deaths on this part of the hill.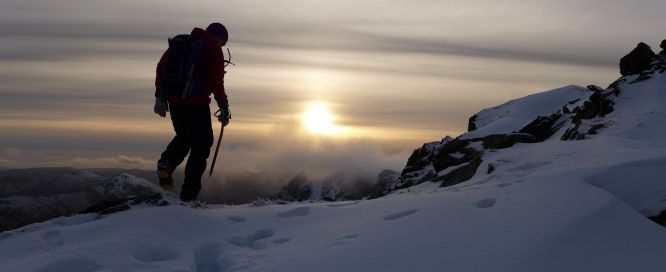 The little splash of colour on a rock felt like stepping on a twig in the forest when the monster is right there and looking for you, all sudden and startling.
The sky started to join in too. The Cobbler was catching some cloud and the sun was sinking into it. This, this is why I don't get up early.
I hadn't seen a soul since I left the path, I was alone up here. Dammit people, you should have waited.
Lui and friends had proper snow cover and the finger of cloud that crept in from the sea gave a splash of drama to the view north.
The snow was crisp and I'd found some proper wind, and it was cold. The temperature dropped so fast, it was drop which had to be expressed by a Whoooaaaaa as I paced the summit quickly.
Onto the spearhead, across to look at Ime, back to the best trig point in the land and a quick decision on descent. There's maybe five different descent routes I take from here, but only one dropped me out of the wind for a chance at a warm dinner.
North to the ridge then a hard right into the coire down hard frozen, steep virgin snow. My grin was so wide I didn't need my headtorch yet.
I found a corner under a crag, a grassy ledge with a view into the quickly thickening darkness. Coffee, rolls and a donut. I was warm, hell even my hands were warm after wearing insulated gloves almost all day.
The sliver of moon shone weakly, the jagged edge of Narnain softened and disappeared into the sky above and I sat in a torchlit circle of snow, scared to take my down jacket back off.
I packed everything, put my bottle in the camera pouch and reluctantly took off my duvet and stuffed it into the top of my pack. It wasn't too bad, the wind was masked by the crag and I was still warm when I set off into the dark.
The topography is a little haphazard in here in the dark, I had several oops, not that way moments. But it was awesome, pole swinging, song singing fun as I tripped over grassy mounds on my zigzagging way to the big track that cuts across the hill horizontally.
Arrochar looked rather sweet from here and if my phone hadn't been in my pocket I'd never have the evidence of such a thing as I just couldn't be arsed finding the camera again.
I took to the old concrete block path which has deteriorated further since I was last on it. Many of the blocks have broken up, some are sinking and following their line in the dark wasn't as easy as it used to be. I think if you want to see these relics, do it soon. In the 30 years I've been climbing this route it's changed dramatically.
Still though, some tree pruning is keeping the route viable so you can do a loop without retracing a single step and it's a fast, fun descent. I didn't get lost either, last time I did this in the dark I was all tears and snotters in the trees behind someone's house in Succoth. Local expert?
There was a real joy to this wee trip. I spent a lot of my time on the ascent looking at the textures of the rock, the sky and the snow. It all felt so fresh and new, like a new coat of paint in your favourite room, fresh socks on tired feet, fresh baked apple pie and coffee? That's not an analogy, that's for real, the home made apple pie is just cool enough to eat. Back in a minute.