I'd been searching online for some information on old Karrimor packs to help with the recent Tote-Em clean up and rather annoyingly it's my own pages that kept coming up. While it's nice to see some of these old pages, it's not that helpful.
However, the Karrimor Whillans story that kept coming up is actually quite interesting not least for Mike Parson's input to the text back in the day. There was also the redux version made recently that was based on my original which I though was a great story.
I've edited it all together into a mini anthology of sorts. Mike Parsons was still the prime mover in OMM's develoment at the time and the words reflect this, so that's another added element – a what if? What would we have seen at OMM with Mike still at the helm?
The Real Villain, Part One. The Karrimor Whillans Alpiniste with Mike Parsons
Originally published January 2009.
I recently got a hold of that original Karrimor Whillans Alpiniste above. The three words that make up the title are iconic and legendary for different reasons, but if we look at the pack from the point of view of it being a piece of classic innovative design, there's a name missing. Mike Parsons.
As Karrimor owner until '96 Mike designed and manufactured kit the names of which are as famous as the names who used it: Whillans and Haston Alpiniste packs, Karrimat, KSB's, Jaguar SA, Hot Ice, Hot Earth, Alpiniste fleece and more. Karrimor gear often seemed set apart from other companies, looking back that's because they were ahead of their time. Design cues from Karrimor's heyday can be seen in packs and clothing from most other brands to this day as many of the innovations became the standard.
It's not all about nostalgia though. Mike is as active and enthusistic as ever with OMM, having created and evolved a vital range of equipment in only a few years, and is set to expand the pack and clothing range with some fresh thinking over the next few seasons.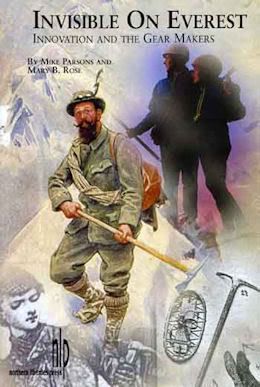 Mike co-wrote a book with Mary B Rose called "Invisible on Everest", a history of gear with detail to spin the head. There's still an awful lot of stories and information unpublished, both on the gear side and from the names involved, including Don Whillans. It's going to be interesting to see them so we can fill in the blanks and get the real picture.
As regular listeners will know I test OMM kit, and when I got the Whillans Alpiniste a couple of weeks back there was as much excitement from the folk there as there was from me (see, it's not all bean counting and aiming for mass market appeal, some companies still love their gear).
Mike Parsons supplies some inside info on the pack below, and also how relevant the principles are to what he's doing today.
A wee look over the pack.
I've used the pack a couple of times, and although I miss features like bottle pockets it was a revelation how comfortable it was. The leather and felt shoulder straps are low profile and supple, the metal rings that attach them to the pack give great freedom of movement. I didn't miss a chest strap which surprised me, it's stable and secure. The thick canvas appears to be pretty much waterproof, it wets out and water doesn't penetrate, even if its windblown rain. There's no snowlock extension, you just pull the lace tight at the top of the pack and the wide lid keeps the weather out, and very effectively too. The lid has a huge zipped pocket underneath as well.
It's a great piece of kit.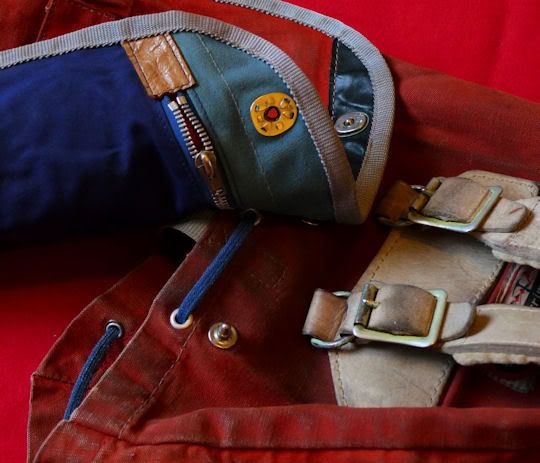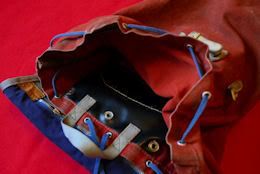 The lid is removable, with three press studs mounted through leather reinforced patches. Mike remembers the five pronged punch that he used to make the holes for the stud assembly, and also that they used to have to make extra flaps because folk would lose them. Not an easy task, the studs are maybe a little worn now but the lid is still secure on there.
The buckles are all prong type, very secure but faffy with gloves. Metal buckles of different types stayed on the packs for some years as Mike recalls insisting on keeping certain metal buckles because of need for absolute security, crampon straps were metal prong/woven slotted web = zero chance of losing crampons through a buckle opening.
It's interesting to note a Karrimor tradition with the Whillans, two spare straps were included. They could be used to extend the lid opening to secure gear under it or legthen the shoulder straps to accomodate cold weather layers or Brian Blessed. Every Elite series Karrimor pack I ever owned came with two spare straps.
Mike Parsons Q&A
The pack is surprisingly lightweight. Was this an important factor at the time, to make it as lightweight as possible?
"We didnt even talk about weight, but such a small pack (27L) indicates how light the alpinistes of the day we going. Don Whillans was the leading Brit alpiniste through until late 60's, and as Dennis Grey has quoted this is completely under rated in the 'Villain' book.
The pack was upsized when Dougal Haston came on the scene – he had just done the Eiger in winter ( 3 yrs previously) and bigger packs were needed, and that also coincidentally fitted the needs of the Brit- Scots (camping) weekend climber.
So HOW MUCH does it weigh? "
On my kitchen scales, 1300g with the two spare straps included.
Natural materials are used throughout. The pack is in fine usable condition after 40+ years, what's your feeling on the fabric choice versus what's being used today?

"I can feel the incredible amount of work in it from 2 perspectives; we were very small at the time so I physically did myself some of the operations on your pack, its part of me. But each part had to be individually cut using several different processes, selecting the leather carefully and using the correct part of it (yes all parts of the beast's leather are not equal!) and all the products that followed at Karrimor over many years were the subject of process innovation which is what the user does not see or think about, but its what contributed to Karrimor's great success as much as the product design."
How much did Don Whillans influence the design?
"In 1963 a guy arrived in our retail store ( Karrimor was a small upstairs workshop with 7 people including me!) and said; "I see you are making a pack for a mate of mine, Joe Brown, could you make one for me?" Yes what do you want? He gave me one example pack for size and asked for 3 or 4 key features, the rest was all mine. I made all patterns, sewed first samples complete etc."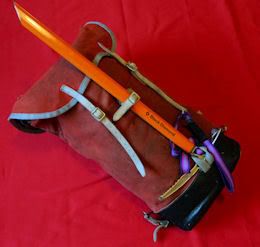 All the regular recognisable features (tall, narrow shape/lid crampon attachment/aice xe loop/ zipped lid pocket etc) are there for an alpine pack. Did you have a sense at the time that you'd got it just right and were setting a benchmark, or did you just design what was needed?
"No in short, but that came later, ie the need to set the standard again for the next generation; was the first time around luck or…could I do it again?"
The design was refined throughout your years as owner of Karrimor, through the Haston and other Alpiniste models, and you continue that same evolutionary line at OMM with the Villain. Are you still pushing for that perfect pack, reacting to what users need?
"Every generation of pack reflects the needs of the sport in that period and the sport always moves on. Thats why I wanted to call my latest pack the Villain because it represented not simply the start point but a journey.  Yes the quest for the definitive pack for today's alpiniste continues, but it is no longer the focus of the market place; but that gives me more space to innovate!"
The Karrimor logo is sewn on where you can't see it, unthinkable in today's brand obsessed culture. When did highly visible branding become important?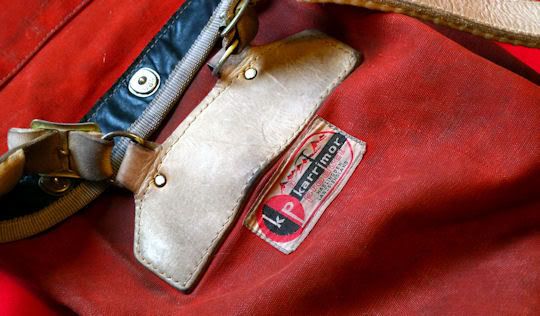 "Well, what everyone did was put labels on the back.
One day we asked ourselves; would it be acceptable to put it on the front? A bold move then, which seems amusingly simple now."
There's more classic Karrimor kit for reference here.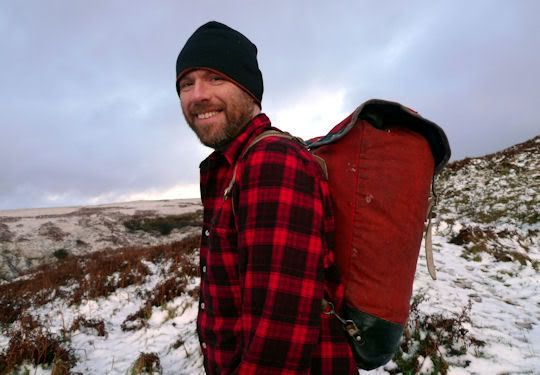 The Real Villain, Part Two. OMM Villain MSC 45+10 2009 with Mike Parsons
Originally published January 2009.
I reviewed the OMM Villain MSC 45+10 way back when, and it's been a constant companion since, only being put into the #2 position when I got the updated version to test a few months back.
It's a time of change at OMM, with new investment in resources from ARK Consultants and an expanding range of gear for racers and mountain activists alike. Mike Parsons tells us a little about what's happening.
Villain MSC 45+10 2009
There's no sweeping changes here, just some tweaks which address some little issues I found as the miles racked up (the same updates have been applied to the Jirishanca).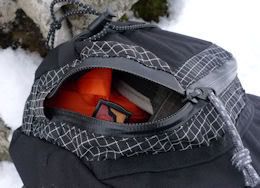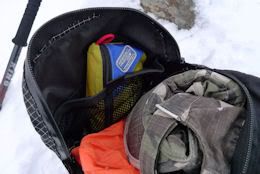 The lid pocket is different. Its opening isn't as wide so it's much more secure, and it now has a water resistant zip. Inside the lid pocket there's now an extra wee mesh pocket with a velcro closure. This has been worth it's weight in gold, which unfortunately is only a few grams of course, but still…

The side entry now has a water resistant zip as well, and both of the new zips have garages for the pullers to make as good a seal as possible.
The ice axe attachment points have been rejigged and there's no exposed stitching now for better durability.
A big change is the chest strap, the whistle-buckle is still present, as is the elastic section that lets you breathe, but the rest is new.  The two piece sliding attachment is gone and a more reliable and traditional webbing and slider buckle arrangement had been fitted. I never had an issue with the original, but this update will be easier to repair in the field.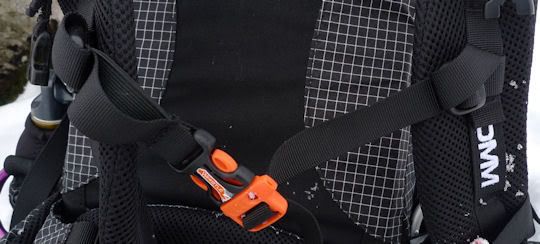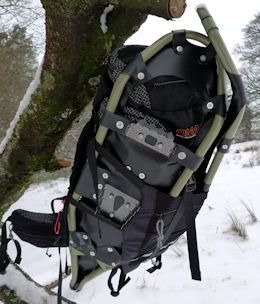 Performance and comfort are still the same I'm glad to say, it came out of the wrapper, got packed and was out overnight the day after it arrived. I was walking uphill still adjusting the straps to the rigt length. No issues though, and it's still my go-to pack for short backpacking trips in the mountains, even in winter.
This winter the camping gear I'm using is smaller packing so I'm getting my full winter kit inside no problem. Indeed, the MSC lets you strap pretty much anything you want onto the outside as well.
Mike Parsons Q & A
The Villain is the obvious successor to the Alpiniste 45+10, but also an improvement in materials and functionality. Did you feel that there was unfinished business?
"Yes, definitely unfinished business, and I'm thrilled to get the opportunity to do this. This is because of the ARK team not only undertaking sales and distribution, but now committing to share ownership. In practical terms this means I can focus on new product development and hand over the myriad of small jobs that need doing in a small business like this."
The evolution from the original orange dyneema RL model to the current updated black dyneema MSC version has been very fast. How much does user feedback influence development, and what gives OMM the ability to react so quickly?
"Working online with such an enthusiastic and really committed Lead User Group (of which you are a member of course) definitely has an amazing and exciting influence when linked with my mentality of driving continuous improvement. When I was leading Karrimor I had a 'think tank' which was similar and ensured that our products were always well 'grounded' or well thought out as a result of long debate, which first highlights problems, which I love the challenge of, and then creates a well balanced consensus."
The Villain's appeal has been wider than it's alpine roots would suggest. Backpackers have taken to it as it's light, carries well and has the OnTheMoveAccessible features. Was that part of the plan, or do you think the pure functionality of the pack just struck a chord with users of different needs?
"That was all part of the plan, partly because I do a wide range of activities myself, but also because I think equipment is expensive and should do more than one thing. However there must be no compromise on any function and that poses really exciting design challenges."
The MSC is a great concept, and the Trio chest pouch adds to the Villains versatility and capacity. How important is this adjustability and modular approach to OMM's philosophy?
"The MSC ( multi-sport compressor) is actually at the the core of the leanweight philosophy. Parts can be added or taken away to either lose weight or increase capability. Leanweight design isn't just about making the packs lighter, its about making packs more versatile."
Are current fabrics and technology allowing you to realise previously impossible ideas, or do they inspire new ones?
"Frankly we havent really scratched the surface of new technologies yet, but the extra resources I talked about is opening doors for sure. I spent 3 days in Munich last week looking only at new fabrics, components and processes."
The name, The Villain. A wee stroke of genius.
"Perrins book on Don Whillans use his nick name, THE VILLAIN for the title. But there wasn't more than 2 sentences about the gear which Don was involved with and I thought this was a huge omission. I am writing up the Whillans product stories together with my book co-author Mary Rose at Lancaster University, and its not only filling a very important historical omission it't also really funny. Unlike the image the book portrayed, Don was not an unpleasant person at all, and these stories are certainly amusing."

What are the future plans for the evolving Villain?
"We have a new product coming up, which if all goes well might be available before this year is out. The inspiration for the product comes from the exploits of Alex McIntyre, who was leading the world in lightweight Hymalaya alpine style mountaineering until his untimely death in 1984. However I thought that a better name was THE REAL VILLAIN."
What else does the future hold for OMM?
"I have been an innovator in 4 different eras of technology – leather and canvas, alumnium , and polymers and was market leader in all of those periods which is unusual because when technology changes so did the leadership, but I always held it. With OMM we are a very small player in the market place but there is a wonderful opportunity to link my innovation experience with a new but very experienced sales team at ARK. It's an open road and very exciting not withstanding the horrors of the recession."
Last time I asked you about the micro detail of the label; but what about colour, were bright colours normal at the time of the first orange and black Whillans alpiniste. The orange Villain and Jirishanca look bold even today.
"You could get any colour you liked at the time as long as it was grey or military green, so this was like super bold. In the first year I hedged my bets and made some grey ones but no-one wanted them!"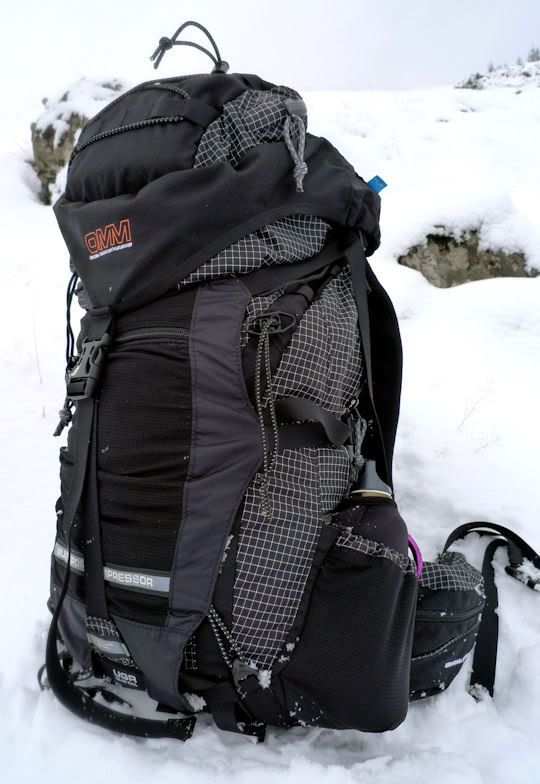 Karrimor Whillans Alpiniste Redux
Originally published February 2018.
A while back Karrimor started making some heritage themed gear, some vintage looking clothing and gear that probably fits the legacy of the name better than the generic tat filling a Sports Direct near you at low, low prices.
The heritage gear is still aimed at the high street though, it looks every inch like the wardrobe of a mountaineer or adventurer from back in the day*, but it's fine fabrics will be rubbing against the seats of a Range Rover Evoque, not the wooden bench of a bothy.
There's disdain in my tone of course but also a grudging respect. As much as you might expect the designers to just look at a few old photies and fudge together some gear that looks the part, they didn't, they went to the source material for some of there new gear.
The "Karrimor K100 Whillan's Alpiniste by Nigel Cabourn" pack turned up in stores I'd never been through the door of such as Van Mildert with a RRP of around £700 (good grief) and it was done right, exactly right. I know this because they used my original 60's Whillan's pack as the pattern for it.
I trusted the man I sent it to, he had made it himself back in the 60's after all so I wasn't worried when my Whillans was gone for a good wee while to be poked, prodded and mostly likely stretched a wee bit.
Thread counts, exact dimensions, textures, materials, construction detailing, everything was inspected and modern equivalents were sourced, sampled and tested to make the reissue as close to the original as possible. In same cases they found the obscure original manufacturers, look at the studs that attach the lid.
They did all this in the Glasgow workshop of Trakke too, itself as historic as the goods being recreated inside.
Metal, leather and cotton. It speaks to me more than any synthetic.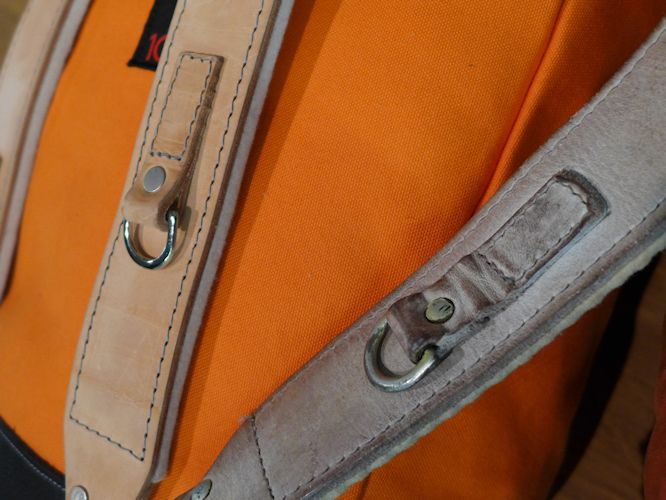 The geekiness that comes off the depth of rightness that the redux exudes is totally joyful. It's the joy of me getting to play a song on stage with Black Sabbath, the joy of Brunel coming back to life and seeing the Millau Viaduct, the joy of Holly already knowing all the facts in their new Victorian class topic because she's got a head full of Horrible Histories.
The Whillans redux will wear in like the original, the construction and fabrics are right. You'd need to work on those leather straps to get them form-fitting like mine, but they'll do it eventually. You'd have to use it though, it needs dirt, sweat and spilled flasks to season it. Leaving it on the back seat of your Range Rover would be a travesty.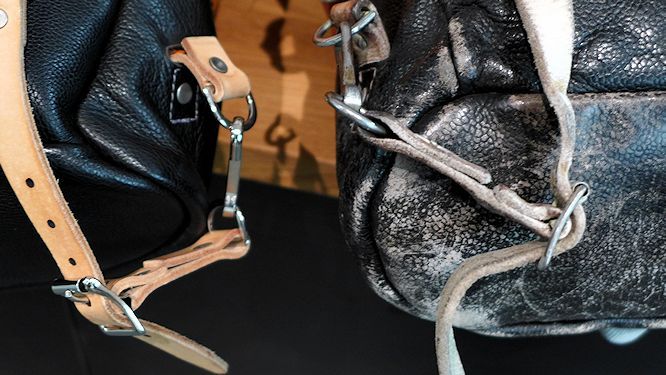 This post is part full circle story and given the years since part one was first published part historical document.
Folk often wonder why gear fascinates some of us, "it's just product" or "you don't need it to enjoy the hills". Well, yes and no.
When I look at gear I see sharp minds at work, skilled hands at a bench, inspiration and innovation, a desire to make something better so that you and I have more fun in the hills.
The best ideas don't have to spring from a desire to sell you something, they can come from the simple desire to create, product can have passion sewn into it.
I think that's why some gear resonates with us, because we can feel it.