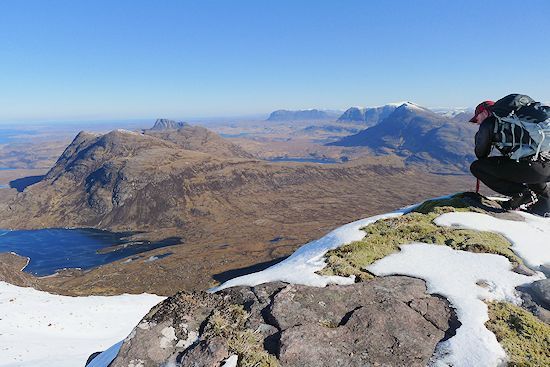 It was late when I left. I'd been packed for nearly two days, I was out of bed on time, I was ready. But then mother took a flyer in the Asda car park and it all went up in the air.
I took to saying "mother" years back, it might look a little twee, maybe even sound a little lame to some, but spoken in my accent it sounds like I'm addressing a commanding officer, so mother it is.
The x-rays were okay, a sprain which was all strapped up, go to the hills, I'll be fine, Jimmy's here.
I took to saying Jimmy years back, shouting "Dad" at work made me looking like Pike from Dad's Army, so Jimmy it is.
Turns out after I got back, it was dislocated, I guess you should always x-ray from different angles in the first place.
My first stop was Pitlochry to nip into Escape Route for a gas can and grab some food from the local baker and deli. It's not even half way and the day was grinding ever onwards. I should never plan for anything, I should just get out of my bed in the morning and see what happens.
The sun was bright, the sky was clear and snow was everywhere. It was a delight. The Cairngorms looked like a set of dining room chairs with a white blanket thrown over them. Come on north, where are you.
No delays on the Kessock Bridge this time, I can't remember an easter with quieter roads. Ben Wyvis was shining white, a huge lump it is and An Teallach always looks like a glimpse of some greater range as it sits in the middle of your windscreen. The road in front of me was empty and I flew towards Ullapool. Early evenibg, I was a wee bit hungry with a few miles to cover on foot and some steep slopes to tackle with it.
The top of the climb over to Ardmair is a favourite spot, it's where Ben More Coigach comes into view. For all its diminutive 743m height, it looks huge stretching straight from the sea. I turned into Blughasary and trundled through folks gardens to get to the little car park for the Postman's Path, a route where I was planning to have some fun tomorrow. It's a coastal route and was indeed used by  a postman to take the mail into Achiltibuie before there was a road. Not so long ago either.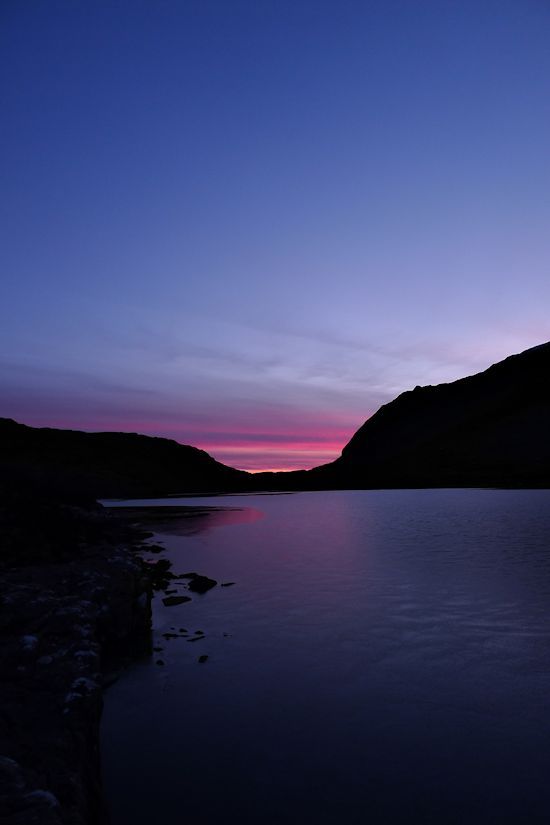 I changed clothes and sorted out the last few bits and pieces for my rucksack. Where was my gas… rummage… rummage… It was on the counter in Escape Route. Northwest Outdoors would be shut by now, the garage in Ullapool? That would take time, I rummaged some more, two nearly empty cans in the boot. Not enough to keep melting snow, but enough to do me if I took plenty water to camp. With reluctance I packed my two extra water bottles and took the bridge over the River Runie to start the trail. It was cool, the sun was slipping down and I was changing my plan with every footstep.
It was very quiet, almost no wind and no bird song. When I left the river and started to climb around Meall nan Clachan is was actually a little eerie. The sky was turning pastel, the ground was growing indistinct without direct sunlight, dusk was here whether I liked it or not.
The track just stops dead I the middle of nowhere by a little two foot high stone built wind break. The loch was nearby, Ben More was up above, it was late, I needed my dinner. Mountains later, time to find somewhere to kip.
There's a lot of bare rock here and inbetween is peat with jaggy heather sticking out of it. Still, got a spot a few feet from the loch and I pitched the unfamiliar tent pretty quickly for its first time out of the bag. I sorted my kit out with a triangle of sunset to the west. Maybe a little frustrating, but looking up there was no way I was anywhere near the summit before dark, I'd made the right call.
I took my cook kit and foodbag down to the lochside where the sandstone had been worn into the shape of an armchair. The loch was frozen hard save for a few small gaps near the rock where the sun had been and I felt the temperature fall as the darkness thickened and my pot came to the boil. Then my phone rang.
I sat in my own little pool of light in the darkness, watching ice form in the lid of my stove while I read Holly and her two cousins a bed time story over the phone.
It really was getting cold, the tent was frosted, my rucksack and boots too. The ground sparkled under my torchbeam and I crept into my sleeping bag. I lasted half an hour and then had to go out and see what was happening. The stars were out, not too bright, but there was a sky full of them. I had a play with camera and lights, but I was tired. Hot chocolate and bed.
It wasn't the best nights sleep, but don't know why, I was warm, there was no wind, just one of those things. Bugger.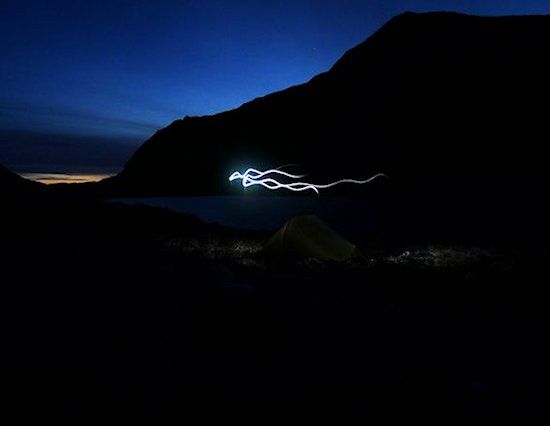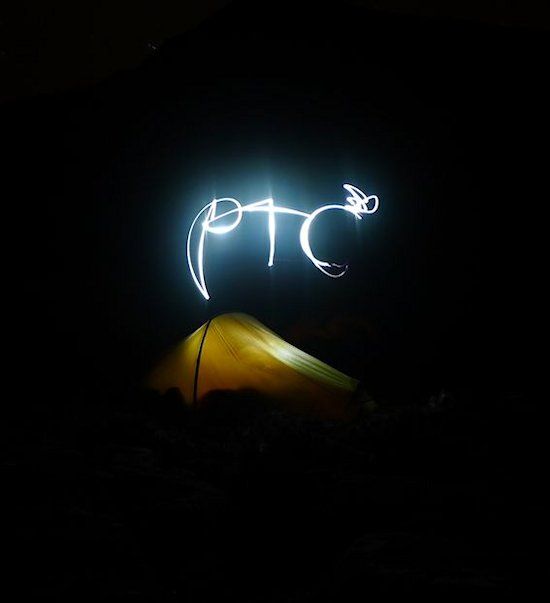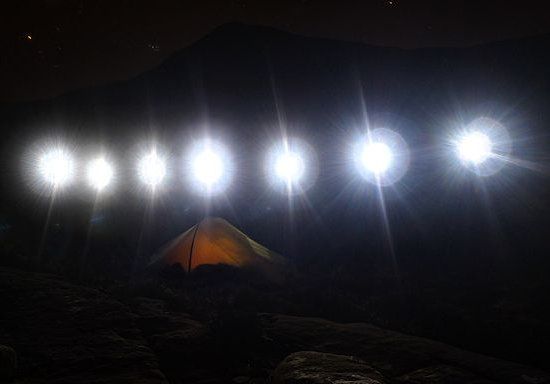 I'd set my phone alarm and it was bright in the tent when it woke me, probably during the best bit of sleep I'd had too, bloody thing. Still, sunrise is where it's at so I sat up, showering myself with frozen condensation, pulled on my down gear and crawled outside.
Not spectacular, just nice. The sun rose and the light spread down Ben More and caught the top of the tent. The frost clung on, there was no warmth in those rays yet. Porridge, a cuppa and a plan.
The Postman's Path could wait, I'll head up with a light pack and come back for lunch. I got my shit together and skipped away, in a manly fashion, into the sunshine.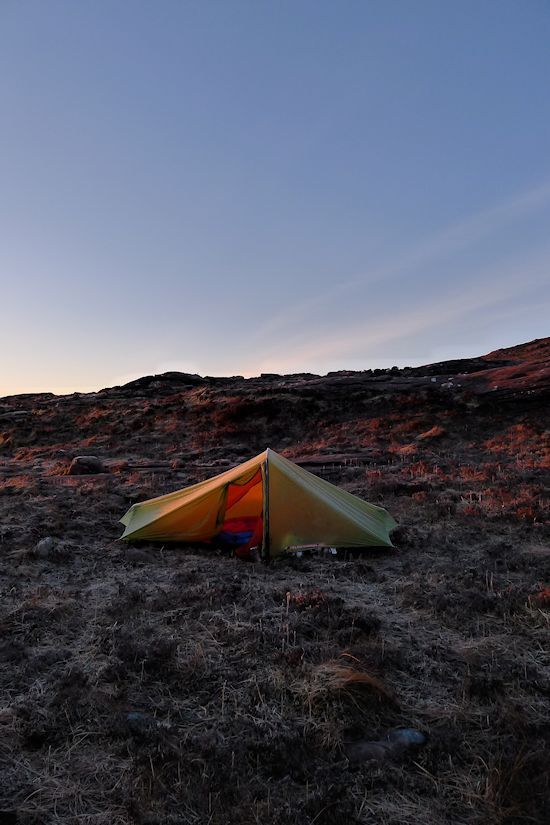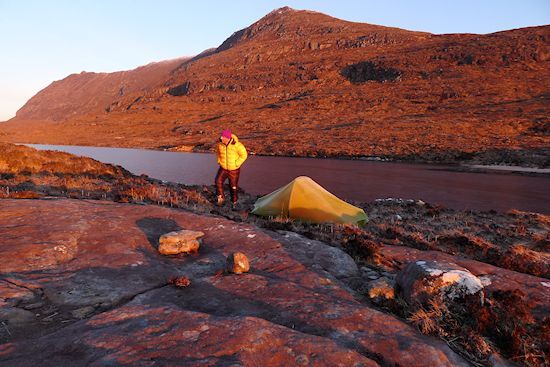 The loch had re-frozen during the night, there was no open water at all and it was an inch thick at the edge. Winter's grip isn't getting cramp quite yet.
I started to get views south as I climbed, an alpine horizon with some of the newsworthy hill fires starting to show maybe? I certainly saw them on the way home, one was raging by Slocht Summit.
I'd forgotten my shades, they were in a poly bag of CD's back at the motor. I spend the next few hours squinting from under the brim of my tartan cap. I was squinting at visions of joy though and hitting the ridge brought the first of many on this hill.
Bare pink sandstone littered with little boulders, fluff from the glacier's pockets. It's a wonderful place, it made me smile, you could say it's a little other-worldly, but it feels too much like it was built by a primary school art project, it's fun.
The peaks of Coigach, Inverpolly and Assynt rise into view to the north as well now. There's nothing quite like it.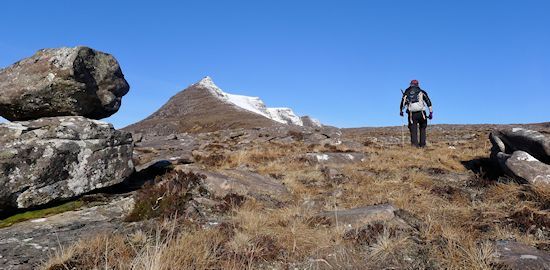 I couldn't see much of the ridge or the summit from below, I knew there was some snow, but I did wonder about leaving my crampons behind to gain that extra tenth every lap. That would have been really stupid, the ridge narrows, the snow gets rock hard and then I was on an arête, treading carefully while squinting sideways at views that just made me want to sit down and breath out really slowly.
Ahead there was a plateau of white, the crags were buried in snow and as my points dug in in I was glad the sensible old head chose the packing list at camp.
Speicein Coinnich needed to be visited right now, not last night in a breathless scrabble with a full overnight pack, this way it was total and utter joy. It's much airier than I expected too, aye, I haven't been on here before. I'd been saving it for a perfect day and by leaving late I'd engineered just that by accident.
The views are beyond explaining or describing, the peaks are all there, but the tumbling land of the northwest that links them and the sea ahead of me, blue and infinite. I've said it before, but here the landscape is alive, the passage of time and the evolution of the earth laid out before you in motionless motion. You have to come here, touch the rock, you can feel a heartbeat.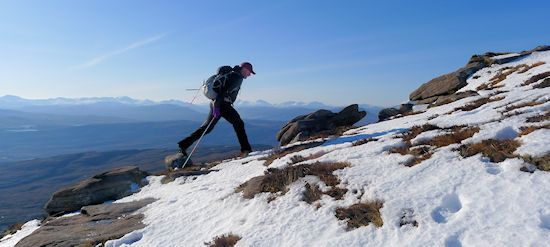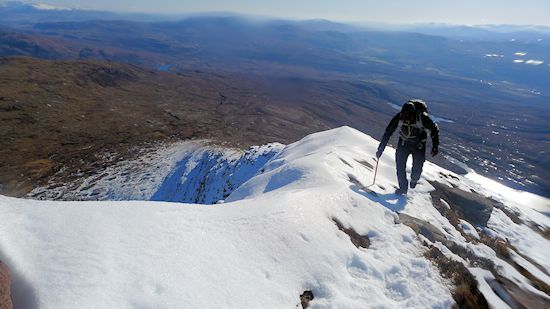 The ridge is over a little too soon and a snow softened col is turned to reach the edge of the gully scarred slopes so well seen from the south. It's deceptive though, the ridge slopes gently north into a plateau of sorts and rises to the other tops including the summit itself and the fine angular thrust of Sgurr an Fhidhleir. The snow was mostly solid and the going was good, my eyes watered at the blinding brightness as the wind tried to chill me, not knowing I was dressed for it. So many contrasts for so many senses, only smell felt left out, I fixed that by pulling out some Austrian smoked cheese. There, everyone was happy.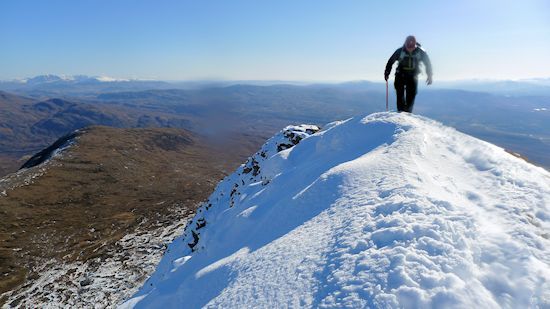 The summit looks out to sea and so did I. The wind was howling around me and the stone shelter was buried deep in snow, I waited as long as I could, as long as my fingers could stand it.
I took a swing north on my way back, found some snow to fall into up to my waist and looped back towards the col. There was a big long slope running northeast, doable I thought, and the snow was hard enough to make it enjoyable too. A descent by the buttresses overlooking Inverpolly, out of the wind and with crags to hide in at the bottom for a quick snack.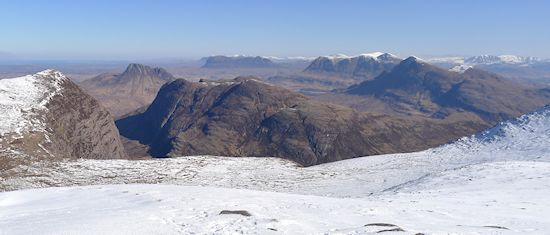 It was all over too soon, I was in the heather again, I was back on the sandstone slabs and I could see the tent far below. My face ached, the sun, the wind, the eternal grin. A short day with more mountain joy that I had in the whole of 2012. I'm glad I paid karma for this stuff in advance.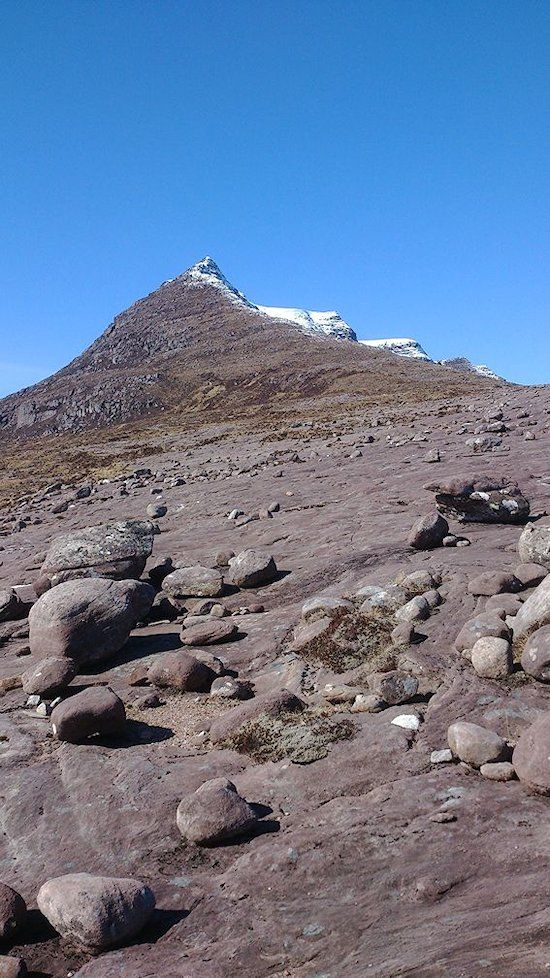 Back at base I had a cuppa and some noodles with oatcakes and a Cadbury's Freddo. The ice on the loch sang and twanged and creaked at the sunlight stressed it. The figures on its surface were frozen in mid flight but might soon be free.
Coming home is a blur. I did stop at Ullapool for something else to eat, it took me a while to break camp and walk out, I was dragging my feet. The hill fires were burning all over and then I was looking at the Cairngorms directly ahead, exactly like a row of wedding cakes, thick with icing.
I always go west given a choice and for the first time I think I know why. I love the Cairngorms when I'm there, and even if it is epic in every way, the level height, the blankness of it today when I'd already seen geological chaos bordered by land and sea, it doesn't call to me in the same way.
I'll be on the A9 so much in the next couple of months, I hope I've got time to stop by and talk it over, my neglect makes me feel guilty at times.
I fuelled at Aviemore and headed home with all sorts of arseholes flying past on the wrong side of the road in expensive cars with snowboards on their roofracks trying to kill me and everyone else who was just trying to get home.
I didn't care. I was floating, I wasn't even tired, my head was full of the day and the night before it and it bubbled away like the dozens of newly hatched frogs I saw in a burn on the walk out. Crazy wee buggers.
#2 in an ongoing series of title explanations: Coigach means Fifth.