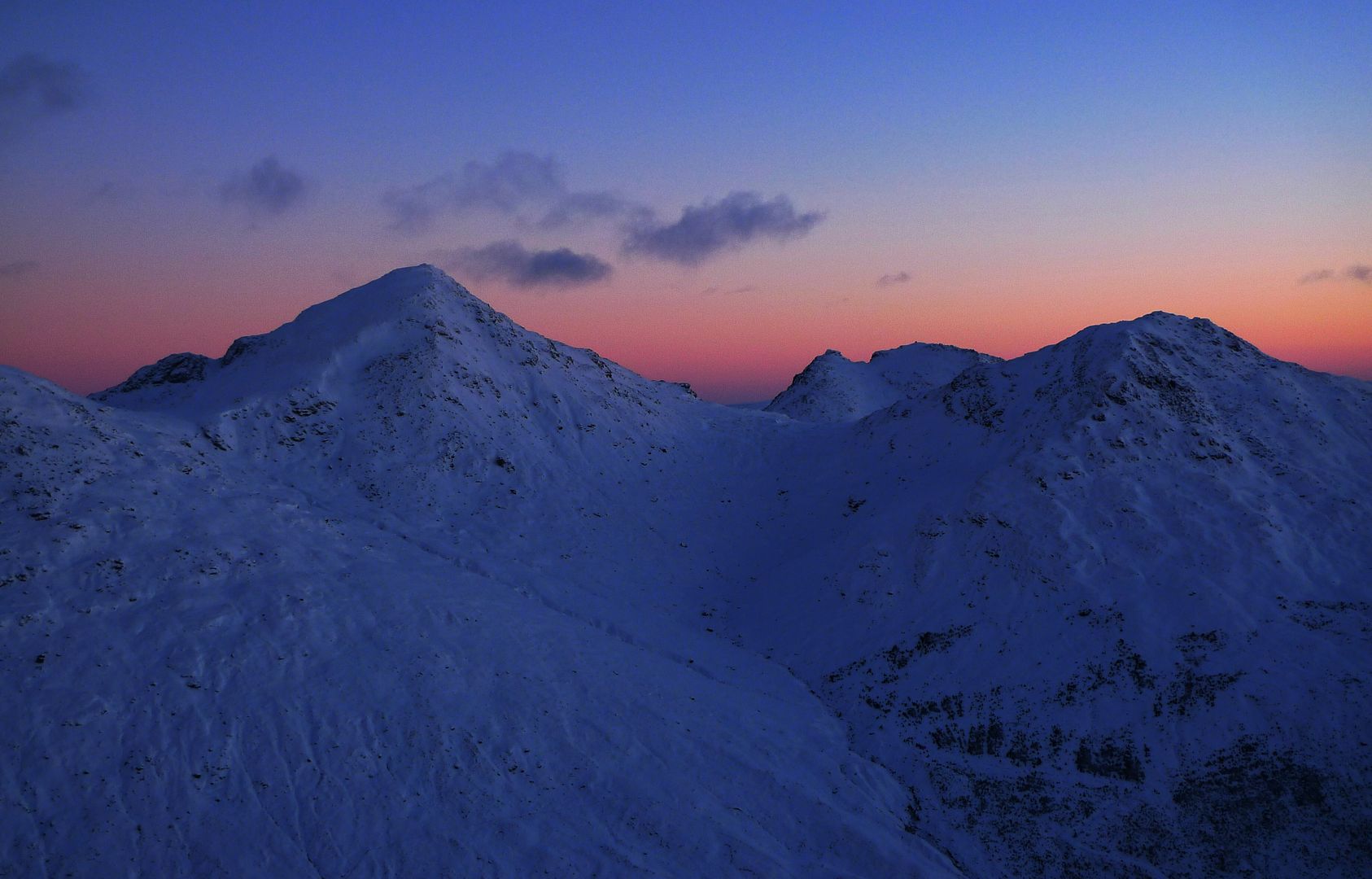 After I posted the photies I took down the harbour I noticed it said Posts: 999. "Oh" I thought. I kinda like that number, I have no idea what it all is on here, but there's a lot of it. I decided that #1000 was going to be anything but gear or me complaining, there was a possibility of some fiction stuff, but, have you seen the weather?
I took a detour to peer over the fog slooping around over the Clyde, lovely as ever. But on the drive back to the A82 I saw something I'm sure I've never seen before, a perfect ring, somewhere between a brocken spectre and a rainbow, projected by the sun onto the surface of the fog. The ring was thin and complete, but where it hit the edge of the fog it glowed. The air was full of ice particles fluttering down and the whole thing was as surreal as it was beautiful, folk were coming out of their houses with cameras and slippers to catch it.
It faded and I was away, Ben Lomond? The road after Balmaha might be ropey on the way home after dark, Arrochar? Aye, let's see.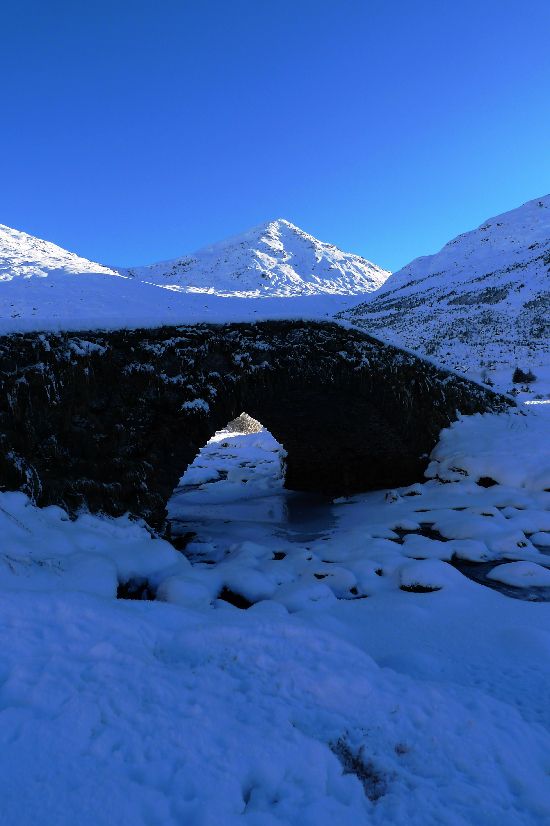 I found myself bypassing my favourites and parked up at Butterbridge. Even Beinn an Lochain didn't grab me, but Binnein an Fhidhleir did, it's quiet slopes and crags sprawling away from me with sunlight soaking every inch of it's snow-bound flanks.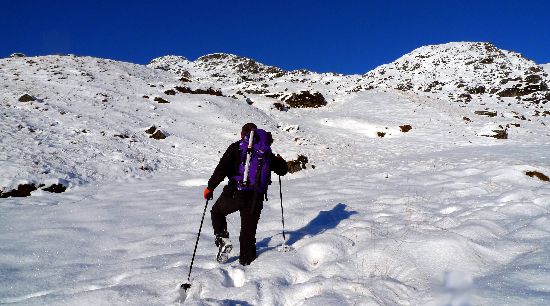 Oh, it was hard going though. The snow was feet-deep and I was in no fit state to be doing this. Sweat dripped from my brow, I wheezed in ice cold air and leaned on the post holding up the deer fence that had proved as difficult to pass as an anti-submarine net in a 1940's fjord.
I was caught up be a fella who'd abandoned work for a "quickie", the poor bastard had the fear when he realised I had a cold, and then fell through the snow into a burn snapping a trekking pole in half in the process. We chatted away as we climbed, he seemed like an intersting sort, but our paths diverged, the temperature fell a little and I climbed through virgin snow towards the cobalt skyline.
I stopped for a rest, I was close to being gubbed. So steep, too steep for snowshoes, so difficult, the snow just wouldn't support my weight and every step was a trial. It was brilliant though, the surroundings, the sky, my frozen moustache.
I nearly never climbed the last stretch to the summit, it was nearly dark and I hadn't spotted a descent route, and being an Arrochar Alp, it's badass all day long, steep and craggy. But "return by route of ascent" gives me sleepless nights so I pushed on to the top and past it, finding the footsteps of my erstwhile companion. The gully they slipped into was steep and the snow was oddly consolidated here: crampons, ice axe swapped for poles, headtorch, fat gloves.
It was a fine descent, and as it turned out, done with some spells on my arse, by design though. The footsteps turned into a chute a few times, and it would impolite not to take advantage after someone had gone to all that effort. Glissading in the pitch dark by headtorch is a scream.
I took my crampons off at the roadside in the bitter cold. The bank of cloud out to sea had stayed out there and the sky was clear, frost and ice crept across everything, my ruckasack, my jacket, the windscreen, even the packet of wetwipes on the dashboard had become a solid block of ice over the past few days.
I sat and had a quick snack to get me down the road, there was home-made soup and apple crumble waiting. The old motor started first time bless it, we spun 180° on the snow and returned home by route of ascent. Ach.
It's funny, I was nearly home and the trees by the roadside were thick with snow and frost, stark against the black sky, there were no cars, just me, Iron Maiden was beating out and I got a little well of emotion as I was heading back to the girls. The cold was harsh, the hill was tough, it's nice to go away, but it's always nicer to come home. Ah, silly old fool.
My already rough throat has been shredded, eating and drinking has me making a funny face, my not-yet recovered chest is heavy. Was it worth it? Hell yeah, it's always worth it. It's when I make excuses to stay at home I'll worry.
Here's to finding another 1000 things that inspire me into using two index fingers on a keyboard.