I've used one of these on almost all the trips I've been on for the last couple of years. It has performed above expectation, and beyond it's remit from Terra Nova. It's small footprint, weight and usability transformed the scope of what I felt was acheivable when wild camping in the mountains.
There's an awful lot of whining and moaning about these tents from folk who are apparently trying to pitch them whilst wearing socks on their hands and their balacalvas on back to front. They're easy to get right after a couple of practise pitches. It lives in it's stuff sack in one easy-to-use lump, you just add the two carbon rods, the pole and the pegs. Aye, the pegs. The carbon pegs are fine. I've lost one brass tip and plastic top (inconveniently on different pegs), and one whole peg is still stuck in a summit up north. Folk pulling off the plastic tops are doing it because they're pulling them out of the ground by the tops, grip the carbon shafts instead… I do supplement the pegs with two long stakes at either end which makes tying up the three guys and bungees here a piece of piss. In snow I'll take a mix of V pegs and stakes.
Pitched, it is surprisingly stable if fastened up right. I've had it in winds so strong that the fabric was pushed down so far it was touching my face. No sticthing popped, no poles bent, no pegs pulled out. The pole-channel cover does add a bit of tightness and stability to the outer if you tie it up tight, so I use it. Inside there is plenty of room for one to sit up and move about without contsantly touching the two skins together causing drips onto yourself. Condensation is not a problem anyway as the ventilation is very good, worth taking into account when picking your kit for winter nights.
The porch is huge. I store all my gear easily in one half, the other half is fine for cooking, some storage and you're still able to get in and out without kicking your cup over.
Experience teaches you a few things. like pitching it pointy end into the wind. I don't care what Terra Nova say, it works better. Carry earplugs just in case, if the wind really gets up it can be a rattly bugger, especially the pole cover (keep it tight). The lowest I've ever pitched it is 807m, it lives on Munro summits when it's not in the house. It sheds snow, rain, takes the wind very well in it's own way and it's comfortable to stay in when it's dreich outside. It's more durable that it looks, it doesn't get the same UV exposure as you're not leaving it pitched all day. You're in it for the night and away after breakfast again. Don't pitch it on sharp rocks and you won't tear the arse out of it. Honestly it's not difficult, it's not a test of endurance and discomfort.
You don't need any more tent than this 99% of the time. The detractors are just feart of it and should stay on their couch, or just carry that 3kg "mountain" tent, just in case the monsoon comes or the end of the world happens while they're out.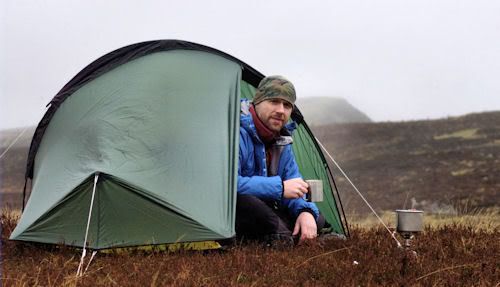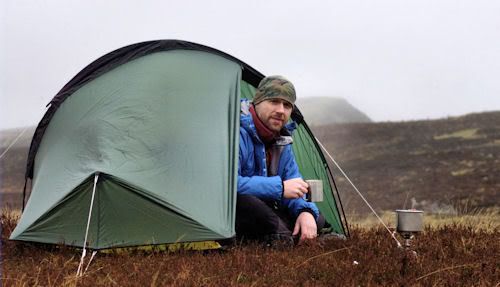 The proper info and spec from Terra Nova is here.