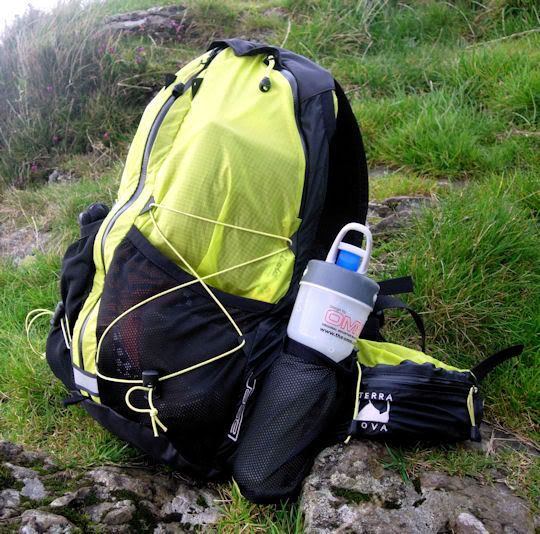 A lot of the stuff I use is "multisport". It just means that you can run, cycle, walk, climb or whatever using it with different degrees of success. Adventure racing is where the development comes from, but the real benefits are to ordinary Joes like myself because I can get a hold of gear that's faff free, light, stable, has real-world usable features and it's made of the best materials.
Some of the big brands are coming out with adventure kit trying to cash in, which they will through brand loyalty. A Berghaus adventure racing pack? Away and gie me peace. The best stuff is usually to be had from those at home and abroad who aren't jumping on the band wagon and having been at it for a while.
But. Inov8 launched a successful range of packs from a standing start showing that fresh thinking (and brand loyalty again…) gets you a foot in the door with a new product.
Now we have well respected UK tent (yes, yes, and other stuff) manufacturer Terra Nova coming out of the blue with three ultralight multisport packs.
You'd think it might be a half arsed attempt at grabbing a market share, but after I saw them at the KORS show they certainly stuck in my mind. You don't expect a shoddy bit of kit from Terra Nova, I've used their tents for many years and trust their Lasercompetition well past it's supposed operational window without hesitation.
So actually having my hands on one, what is it saying? "I'm really light" for starters, and at 328g it's not lying. The fabric is like a tent flysheet, thin, see through, super tough and looks to be very water resistant if not proof.  The harness is very low profile, well shaped and comfortable, the chest strap has a whistle and a nice hypalon attachment. The hip fins have pockets and there's plenty of other storage, two bottle pockets, two mesh pockets, bungees and a zipped access external pocket.
Internal access is through a vertical water resistant zip and inside there's a sleeve for a hydration bladder, there's also exits and elastics for the hose.
The ingredients are all standard, but it's the execution that makes or breaks a pack. And, I like this one. The basics are right, the shape, the carry, the harness and the minmal but effective back system ( just some well placed mesh, no padding or stiffening). I also like some of the detailing. Any niggles I have are down to it's pre-production nature, when I get a production version out on the hill next Spring that'll be the biggest test.