I squinted into the bright sunlight as the icy air prickled my cheeks and skated over my fillings. The sun was up and picking out the snow capped tops and ridges in pink, the wet snow of last night had shrunk into a carpet of crystals and although the shapes of the landscape were the same as before, the atmosphere was so different I felt like I'd came out of hibernation. And a little early too, as it was bloody freezin'. I pulled on some layers and got the stove on. With a hot cuppa and some grub inside me I felt surprisingly fresh, and with a hint of cloud on the little bit of western horizon that I could see, I decided not to fanny about this time, and get packed and get going.
First I had to check over my feet for wear and tear, it's not often I wear big muckle boots, but they were looking okay. I hadn't cut my toenails, which I usually always keep on top of, and my wee toe on my left foot gave me cause to purse my lips. It's a weird toenail that one. I bust it years ago and now it grows in two bits, like Bugs Bunny's front teeth. It was rubbing my other toe a little, but "Ach, it'll be fine…".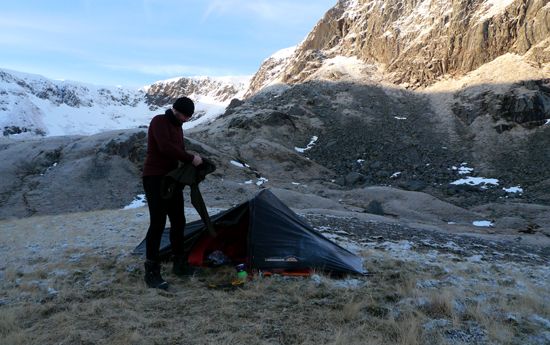 I emptied the tent and started to bag up the gear, leaving my softshell and waterproof over the top of the bits and pieces. The tent was iced up and the pegs frozen into the ground, but it was away in its stuffsack in no time. Much of my gear was iced up, even kit that had been in the tent, my sleepmat was pure white at one end. I think it showed me how much condensation there had been early in proceedings. I lifted the jackets up and was amused to find them both as stiff as boards after sitting there for just ten minutes. It really must have been properly cold.
I finished packing, got kitted up, scanned the campsite for something I might miss later and I was away. The snow above me was now gleaming white against a sky of a dozen shades of blue.
The sight was one of those things that gets me all excited and has me starting off up the trail too fast and getting out of breath. So it was good timing when the track ended abruptly in a very steep slope of unbroken iron-hard snow. I stopped and swapped poles for ice axe and rubber soles for crampons and took the slope straight up the middle. It quickly became so steep, and the snow was so consolidated, that I had to swing the pick into it to get any attachment to the slope at all. I was also glad of having my Grivel Airtech's on, I would have been sobbing into my Buff had I been wearing Kahtoolas, and the guilty pleasure of an old-school ascent was one which I revelled in.
I broke into the sunshine on the ridge and views down Glen Affric past my old pal Sgurr nan Ceathreamhnan, it's so wild, so beautiful and so familiar in there now. I turned towards the summit of Beinn Fhada, just up and around the corner. Ahead of me was just over 1000m of rock hard snowslope, covered in a few inches of fresh flakes from the previous night, a virgin slope rising only 250m in height from where I stood to the cairn.
Every step was a joy, clouds arced across the sky above in wisps, stripes or cotton wool balls, but none threatened me at all, they briefly visited some of the other tops but my top stayed clear.
The view to the south grew with every step, the Five Sisters, The Saddle, Knoydart and beyond all slid into view and from the summit I was adrift on a choppy sea of white crested waves while the sun beat down on me with a warmth which didn't belong on this wintery perch, but was oh-so welcome.
I stayed on that top for a long time, hours in fact. I had soup, coffee, some snacks and wandered around with my hands in my pockets in what was a perfect day, a day to absorb, to relish and remember.
When I left it wasn't because I was cold, or tired, had stuff to do later, or the weather was turning, the cloud bubbled and ebbed at the edges of the scene but came no further. No, it was just time to go home.
The descent down the ridge towards Meall á Bhealaich was a crunch down that same long slope, where now my own tracks had stamped a little bit of humanity into a wilderness scene. I went past my line of ascent and picked a less steep alternative further along the ridge. It had seemed like a good idea, but as the temperature rose, the snow was melting and the hillside was a grass-covered mudslide, where it has to be said I performed some amazing moves several times in a bid to stay upright, which was achieved. Nine times out of ten.
The river crossing was easy, the waters were much lower, and I stopped for a drink and a snack. It felt very much like the time I was here last summer, bright and liovely with the sounds from the water, only the winter camouflage on the scenery gave the game away. It won't be long 'til it's alive again, you can see buds on branches, hear birdsong from the trees. In fact, I 'd heard ptarmigan on the ridge but had seen none, I'd followed the tracks of a mountain hare but I hadn't found it (I wonder if what looked like a fox had fared better…). Best of all, I saw and heard a golden eagle for the first time in a long time. So long in fact that I had to google the eagle's call when I got home to check that my memory was working.
My mind was wandering on the last part of the track although a little niggle on my toe was starting to creep into the periphery, not enough to stop me though. I noted that the sky was clouding over a little more, and I felt happy with my lot. Sometimes you can't wait for the weather, you have to take a chance. I'm glad a found that wee window and fell though it.
I pulled my boot off followed by my big woolly sock, I rolled off my liner but could see there was something amiss as it got towards my toes and stuck. That would be the blood then. I eased the liner off of the sticky mess and watched half of my toenail go with it. It wasn't sore, and it was my fault for not keeping up with personal maintenance, but I did feel a blow from the hammer of inconvenience land on the back of my head. Keeping it clean and not bursting it any further is going to be annoying for a few days.
However back on the road and heading south was trouble free, empty roads and and sunshine 'til Ft Bill, and from there on increasingly dark and pishy horror until I got home in the midsts of a storm.
Lame adventuring it is, but what joy from something so accessible in this magic wee country.