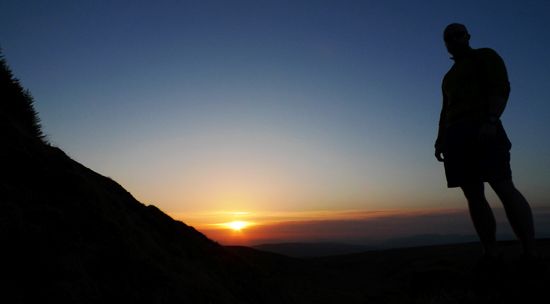 It's been a while since the last time, but Bobinson, Craig and I set up an evening Kilpatricks run/ride and got Ange to come along on her too-clean new bike.
I sat in the sun all ready to ride as Phil pulled in with his truck, with Craig in the passenger seat somewhat casually attired. They adjusted themselves to trail-spec and Ange appeared soon after.
The new bike was as clean as feared, but with her kit transferred into a wee pack, we were on the move in a trice.
We took the riverside trail while Craig hoofed it up the tarmac. The trail was dry after a weekend of sunshine and a cool breeze kept it all very pleasant until we hit the climb through Old Kilpatrick and up towards Loch Humphrey. None of us rode to the top, but Phil got the furthest. We caught up with Craig too and he held the gates open which meant I didn't get to stop and rest as I lifted the bike over. Bugger.
We were soon on the trails through the forest keeping a regular pace as Ange dialled into the rough terrain, which she did with increasing confidence. When we got to the downhill run to Overtoun House the four of us picked up the pace and with the trail great condition we breezed down in the fading light with wide grins and cold hands. It might be sunny, but it's still bloody cold under that clear sky when the sun slips down.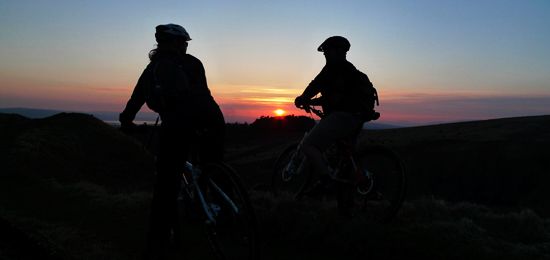 It was a glorious sunset, and a lingering one too. I don't know if it was something to do with the volcanic activity in Iceland or if  it's too soon for that to be a factor yet, but if this is what we' re getting without the ash in the atmosphere it's going to be eyewatering when it does get here.
We pulled into the BP garage for cuppas, and it was supper I suppose. A jolly time indeed, and some entertainment was provided by the bloke who'd filled his motor with fuel but had no money on him and was being held hostage inside as he phoned friends and relatives to come and bale him out. Which they did with some heckling from us.
So what did we learn today? Craig enjoyed being back on the trail and will be there again soon, Phil is getting further up the hill and is looking good for his event training, Ange got her bike dirty and handled the steep and tricky stuff increasingly well as the evening went on and well be tearing up the trails now. Me? I like my bike again after a long period where we didn't speak and I lost my sunglasses. Humph.
Magic, more please.
A quick word about kit, one person at supper was dressed for the weather at that time of night. Three were dressed for the sunny weather for earlier in the day… It was freezin'.
I liked those Lizard shorts though.