Just finished Tom Weir's Highland Days, another new reprint from Steve Savage Publishers. Just as it was after reading Weir's Way, it's got my mind bubbling over.
It's the story of Tom Weir's discovery of the mountains as a teenager in the late '20s to being a more accomplished climber in the '30s and finally the mad dashes north when he was home on leave during the war.
It's a compelling read, and some of it is so far removed from what we know about the Highlands today that it seems like another world. The ruined houses we find in remote glens were occupied in Tom's early days, although he talks about the young folk leaving and the Highlands slowly emptying. He talks about locking horns with keepers and I realise just how far we've come in 70 years regarding access. To put any problems we have now into context, this is worth a read.
The use of public transport, of a bike, of distance being no object, of being soaked to the skin and looking for food and shelter, but it all being part of the game really puts into perspective our currently easy outdoor life.
His early adventures with a chancer called Richie, stealing eggs and sneaking into barns as they walk the glens remind me of family tales of relatives during the depression, getting out of the city and making the best of it outside in the countryside. It's a world which is gone, thankfully for a lot of it, but sadly too. The Highlands aren't meant to be a theme park, but for 150 years until WW2 that's exactly what they were being moulded into, the clearances were still active, just in more subtle ways. So, we may decry the hydro schemes and the vast conifer plantations, but as Tom points out it kept people in the Highlands, made jobs and strengthened existing or built new communities. Perhaps without these events, north of Ft Bill would be one vast shooting estate. A sacrifice worth making then?
Tom's change from enthusiastic youngster, to focused and selfish climber and then standing back a little on his journey to the older and wiser Tom Weir that we're more familiar with is hearteningly human.
I can identify with some of his little revelations, observations and lessons learned. I think it's because trips to the mountains stand as little landmarks in time and you can track changes back though them.
I felt that the writing style changed through the book, I think as he wrote he found his rhythm and by the end I could hear the familiar voice narrating the chapters to me.
Historical, inspirational and a joy once again.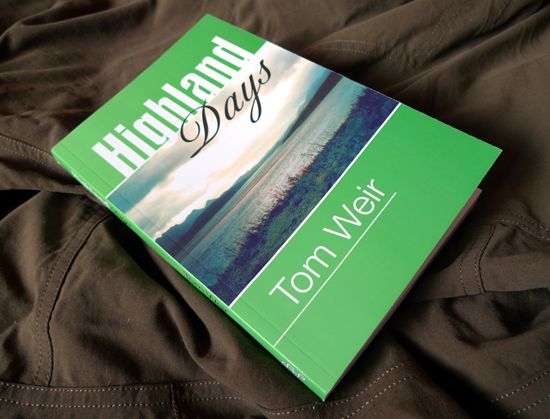 Just stuck my bookmark inside the cover of Hamish's Mountain Walk. New version with colour photies and everything.