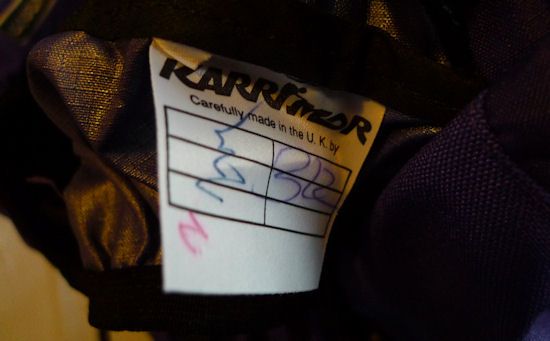 Carefully made in the UK by… That's something you took for granted at one time, these days it means either valiant independent or old.  In this case both apply, the former at the time of its manufacture in 1995 and the  latter as I'm taking it's photies.
Old it may be, but amazingly this pack is new and unused. Indeed it was likely review kit that never got reviewed (I bought it unawares from a well-known freelance writer on ebay, which also means that the safe waiting time for selling test kit on ebay is around 15 years… ), and I am overjoyed to have put a ludicrously large bid on it to make it mine. This is the one area where the inner geek takes the controls without conscience or consequence.
I know these packs have been a common sight on here, but never this shiny. So, once again: the classic Karrimor  Alpiniste 45+10.
It looks like i've just taken it off the rack in a shop, and the dilemma is, do I use it this winter? How cool that would be to use one again for "the first time".
The OMM Villain may well be my favourite pack, but this is my favourite pack of all time.
I forgot how tight the elastic edge on the lid originally was, how rigid the webbing was when new. The colours are so bright as well, not just the purple, but the mini rainbows of the Elite logo and the cord and zip pulls.
Some of the wacky features that disappeared can be seen above and below. The side-fastening buckle above was brilliant, out of the way and low profile and didn't ice up.
The ice axe holders below are usually missing, so they obviously had a more scattered fan base, but for short technical tools they work fine. I once spent half an hour stuck on a slope jammed between my pack and the snow with a 70cm axe being the rock upon which I was grounded as I could neither get it all the way out or back in. Well, it is the Alpiniste 45+10 not the Bimbler 45+10, so it serves me right.
Below is the chest strap which had an elastic loop to give free movement and expansion, a feature still missing from a lot of packs.
You can see the basic padding as well there, just a lumber pad, much like the Villain. It really is all you need on a pack this size.
In '95 the pack still had those little extra features that vanished over the next few years. The extra inner lid pocket and the internal snow shovel and handle/probe pockets, and of course those ice axe holders.
This has brought me much joy in it's glorious purply newness, and has also given me pause to think. I have er, a fewof these in various states of repair. I might take one of the most dogeared examples and sew some mesh/bottle pockets onto it in place of the wand pockets. Pretty pointless aye, but I wonder how many times I would lift it to use if the on-the-move-accessibility was better for my bits and pieces.
Ach we'll see, it'll put on the to-do list. Maybe I'll just pack this one with gear, attach my old Lowe Alpine insulated bottle pocket to the hip fin and pretend I'm still 27.