It's good to know that I can still manage an alpine start. We were supposed to leave on Friday, but there was too much barbed wire to cross so we had to wait for the weekend to turn up and throw a plank over the obstacles. I probably should have seen it as an omen.
I met Phil and Sandy at 0600 and once the gear was sorted we headed North in my motor. Nice for a change, I haven't done much of the driving of late. The road was empty and we made good time through the rain, the cloud never far above us. We passed Buachaille Etive Mor, normally a landmark, today it had the merest hint of pointiness.
We found ourselves pulling over and trying to find somewhere to get breakfast and some supplies before 0800 via Sandy's iPhone, but as Phil pointed out, Morrisons in Fort William was warm, dry and had available to us; the breakfast of kings.
We dined well, had cuppas, more cuppas and looked over the map (I'be been over to see Harvey's at their Doune HQ, more of that later).
I needed some food, Sandy was looking at two days in cold, wet feet, so we went shopping. Ellis Brigham is just round the corner so we headed there first. For a chain store it's actually got some good kit, probably one of the few I could walk into naked, get kitted out and walk back out prepared and happy. Sandy got into the waterproof socks and then the footwear, we spotted some new Keen Targhee Mids (now with a two-year waterproof guarantee, more later) and those new Salomon boots that look like the XA's.  We looked at them and the three of us immediately remarked on the height of the ankle cuff, it's almost knee-high, it's a helluva thing. It looks like Salomon have dropped the ball, and also therefore, it looks like the Fastpackers are going to be as good as it gets from them.
"Yes, but they've got great support" Fired in the assistant.
Phil straightened up to stay out of the line of fire, Sandy put his head in his hands quietly muttering "No no no no…".
"Support? On an ankle? Restriction you mean?" I offered after a little thought as to whether engaging the boy was a good idea as customers were squeezing various boots in their hands mere inches away,
"Yes, you need support, what, are you going to wear trail shoes in the mountains?".
You can see where it went from there, and ironically the whole conversation took place next to the Fast & Light stand with all the lightweight cross functional gear looming bright green in our peripheral vision.
"There was even a thing in Trail magazine with this guy saying you can wear crampons with trail shoes…"
I paused and thought about how to tackle that one without looking like a dick.
"…yeah, I probably wrote it". (Feb '08 Lighter column).
One Achilles tendon cut, he went down onto one knee,
"Yeah, well, what crampons can you use…"
"Kahtoolas, either type, any Kahtoola gear in fact, Grivel's AirTech Lite's, they're bendy enough".
Now, I'm not saying folk should like, or approve of anything that doesn't fit with what they personally believe, but the fact that Fort William's leading technical store doesn't appear have the product knowledge or awareness necessary to give cutomers the full picture is really bloody annoying.
There's still a battle to be fought here, folk need to be armed with all the options before they chose. Maybe I've gotten complacent in recent times, but that visit to EB's has lit a fire under my arse.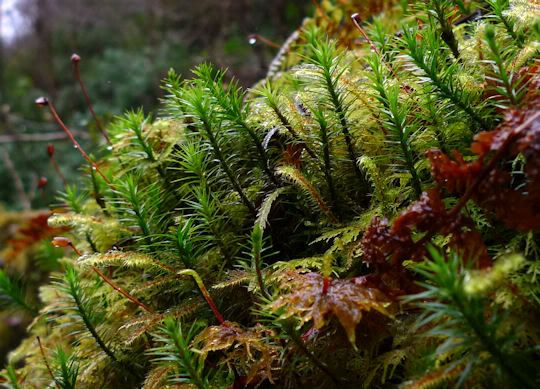 We laughed all the way to Nevisport and soon enough we were back at the motor; Sandy with his Keens, Phil with his mini gaiters and me with munchies.
After more driving through the rain we were soon parking up opposite the Cluanie Inn. We stood around the open tailgate door changing footwear, tweaking the packed kit and finally donning waterproof trousers. All the time the rain changed from light to heavy to sleet to wind blown sleet. By the time we left the motor we were wet, our packs were wet and there was none of the excitement that usualy accompanies setting off. There wasn't even a grim determination, there was maybe just an air of inevitability. We were there for fun, but also for a reason, I had to photograph the route.
It was too wet to take the camera out, never mind see any hills to take shots of. The track into Glen Affric was a shallow burn, water running past us like the contents of a burst attic storage tank exploding through the ceiling and gushing down the stairs. We were camping, taking in the grandest of mountains, crossing swollen rivers.
We stood at a high point on the track and blinked through the freezing rain down the length of An Coarann Mor. Indistinct shapes rose steeply at either side into a blanket of grey. Misery, pointless misery.
Even if we went in, I'd still have to come back and do it again when it was clear. To climb the fantastic hills we were heading to in this weather is a waste, and none of us had the heart for it.
To quote myself "We folded like a damp cardbord box under the weight of a falling wino".
We stumbled back to the Cluanie, relieved, disappointed and wet. Heading South there were some gaps in the rain and after telling tales of the Mile Dorcha which we passed on the other side of Loch Lochy on the way up, we decided to take a detour and see it. It's a stretch of the road to Loch Arkaig in a steep sided glen which never gets direct sunlight and consequently is covered thickly in a spongy moss. It's a wonderful spot and we pulled up at the Eas Chia-aig waterfall at its end, raging with fresh water and snow melt.
Taking advantage of the lighter rainfall we set up the stoves at the picnic bench and had dinner. This was punctuated by Sandy repeatedly burning his hands on his cooking gear, I still didn't get the "why" of this, but the "how" was most amusing.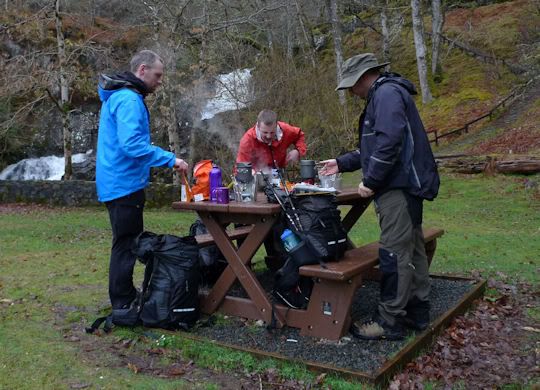 The bridge is famous as the stand-in for the Bridge of Orchy in Rob Roy with Liam Neeson, it's where the redcoats tried to hang Rob Roy and he showed them a clean pair of heels and a bare arse.
The road back to Fort William from here is a joy, on the North side of the Caledonian Canal and devoid of traffic. It takes you back into the usual nonsense at Banavie, where on many other days we would have had a stunning view of Ben Nevis & Co, but not today.
Ft Bill was left behind and over Glen Coe the cloud lifted just enough for us to be persuaded to stop and point cameras at it. It was nice to see it looking a bit brooding, a bit unfriendly, it's a wonderful place that suffers from accessibilty and familiarity. They should divert the road, or put it through a tunnel or something.
Our hearts sang as we pulled into the Real Food Cafe. Pints of coffee and bit of cake made for an ideal pitstop. Sarah filled us in about what's happening as well, you'll notice some building work going on when you're in, it's being extended and there'll be new lower seats in a new area, and even leather seats by a fireplace. We'll fight about who gets those later.
Holly had gone to her bed by the time I got home, and Joycee was pleased if a little surprised to see me back so soon.
An odd day, plans are for the birds and this proves it. Still, I was hanging out with my chinas, I saw the buds starting to open on the branches, flowers bursting through the winter carpet, we were chased up the A82 by a rainbow, we ate and drank plenty and drove nearly 300miles through the Highlands.
That has to be some sort of victory?
Aye, and I've got to get back up there. And soon.