…where the hell is my purple spotty Buff..it went in the washing so it should be here somewhere…
Riiing Riiing…Riiing Riiing…Riiing Riiing…
Yes? Yes?
"What are you up to?" Came Bobinsons understated tones.
"Packing my rucksack, bugger this, I'm off."
"Bastard!!"
I nearly didn't, I nearly just sat down. The morning had gone really well, a days work done by lunch time. I went into the folks for lunch, played with Holly and felt myself slipping down in my chair, a blanket of warm apathy soothing my worries.
But I knew these days of sunshine and snow aren't going to be here forever and it would worry me if I missed another chance like I hd been doing.
I went home and packed, made a wee flask, and I was out the door and heading North.  My plan was vague, I was thinking Beinn an Lochain, a fine Corbett with huge crags to its NW side, I hadn't seen them under snow for years. I know I passed a snow capped Ben Lomond but I didn't even look, the metal was loud and all that was in my mind was that blue sky above as I stepped into fresh snow, one foot after the other, no agenda, no strange gear, just me and the hill.
When I saw the Cobbler, I realised it's been a while since I was up there and I planned to stop at the big carpark and head up, but the carpark was endowed withn a smattering of cars and I just sped by, today was not a day for meeting and greeting, it was just for me and the hill.
I drove up the Rest and be Thankful and marvelled at the ring of white tops all around me, this is the business I thought to myself as Beinn an Lochain drew nearer.
I was passing the familiar laybys on the uphill side of the Rest, and they were all empty. All that's here is the dull way up the back of the Cobbler and a rather annonymous peak called Beinn Luibhean. It's no wonder the laybys are empty.
All the regular access points to Beinn an Lochain had cars at them, I was crestfallen. I stopped at Butterbridge and considered my options. The empty laybys I had passed were calling to me, it's the only peak I'd seen all day that I haven't climbed. I spun around and booted it back down the road to Beinn Luibhean.
I pulled into the layby with the little quarry set back from the road. The rock had been used to make the embankment for the road, but it's still a notorious landslip area, and as I headed up the steep hillside over ground that was peeling away like the pages of a book balanced on its spine, I could see that landslips are going to feature for some time to come.
As I passed my first spot of snow I stopped and took a breath. All the Arrochar Alps are steep and rough, and wet. Snowmelt ran everywhere, but the sun was beating down, the winds were light and I was seeing more and more of what was to come as I gained height. Angular crags and dark jagged rocks, sticking up through fresh snow like mini Cadbury Flakes thrown randomly onto a bucket of ice cream.
There were no footprints. I was making the first, breaking through the thin crust and into the virgin snow. I was grinning ear to ear and I climbed the ridge, passing knolls and crags and peering down the very steep hillside to the road below.
I stopped for a drink and gazed around at the oh-so familiar scene, but the shapes were slightly different because I was somewhere new. I reaquainted myself with trips on the hills around me going back years. It feels like home.
The Cobbler looks odd from the back, a big dome with only the hook of the North Peak hinting at its hidden spikiness.
I reached the 858m summit of Beinn Luibhean too quickly, the ridge was such a joy, the snow was deep and I was coasting along, music loud, top down, shades on and hair blowing in the wind.
For a daft wee hill it's a cracking viewpoint, Ben Cruachan, Ben Lui, Mull, Arran, Ailsa Craig all right there in front of me.
The sun was getting low and I resolved to wait for it to set, it would be rude not to after all. There was nobody else around to appreciate the effort it was putting in as it selected it's colour pallet for the day's cliffhanger ending.

My mate Craig phoned me, and after I broke the news of where I was, I had the interesting addition of the urban chorus of traffic and the like from his phone as he walked through Glasgow as we talked. An unexpected soundtrack to such an occasion indeed.
It was getting really cold, so I dug myself into the snow, made a wind barrier and got myself comfy in my AMK Bivy2.0 with my pack's foam pad underneath. I got my cuppa and some grub and I was happy as I watched the shadows creep up the side of Ben Ime. It wouldn't be long to go.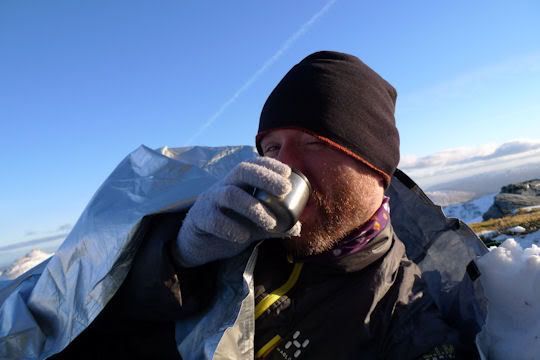 When the sun went down it lined itself up with Beinn an Lochain and a cloud so it looked a bit like a volcano erupting, I'm sure the sun thought it was funnier than it actually was but still, well done.
I packed up and started to move, my thumbs were numb and there were mince and tatties to be had at home.
The ridge was just as much fun on the way back down, I didn't retrace my steps and found more dramatic rock, more snow slopes to run or slide down and I realised that I adored this hill. It's trackless, it's deserted and it's wonderful. I'll be back again. Especially as I found a cave, there's icicles in it just now, but you'd maybe squeeze two bivy bags in there. and the view out of the entrance? Crivvens!
My meandering scared the pants off of a mountain hare as well, I'm sure it had to go back and get its ears once I was out sight.
The moon rose as the sun disappeared, and it moves bloody fast across the sky as well for an old timer. It gave enough light that when it went completely dark all I needed was a single red LED to descend in confidence.
Soon the cars were becoming intrusive again, their lights and their engines prodded at my bubble of joy, but they couldn't burst it.
Scattered cloud started moving in and sticking to the summits, but inbetween, the dark sky was full of stars.
I found the quarry and the motor again thanks to the passing cars picking it out with their lights, and once down sat with the last of my flask looking at the sky and the moolight catching the snow on the tops. 
And I was apparently unnerving passing motorists, as they braked and were probably wondering exactly what the hell I was doing, always a bonus.
A small day on a small hill, but the happiness was this big. It was just me and the hill.