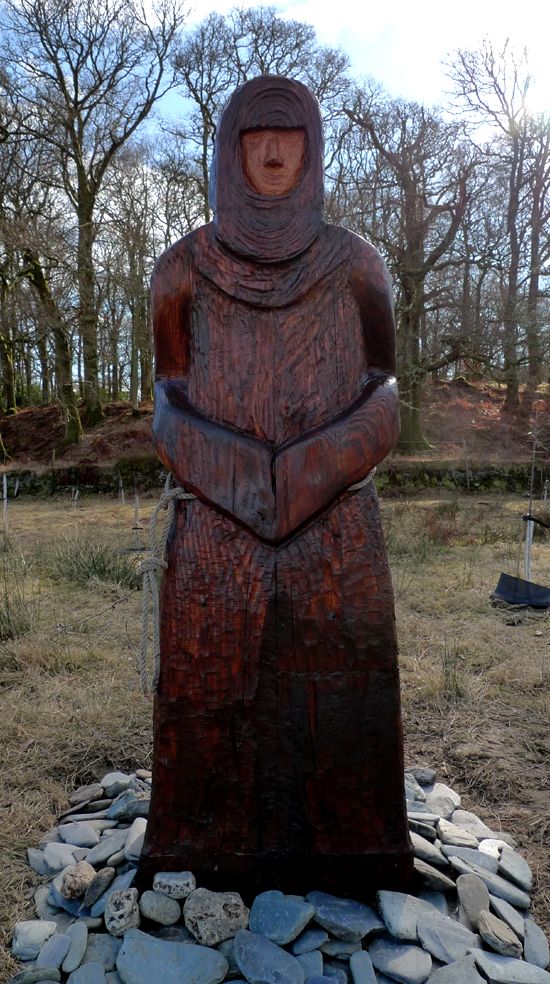 Joycee spent the day in Luss finishing off her sculpture in time for it's dedication at 1500hrs, and in true Macfarlane style she did it in the nick of time.
The 10th of March this year is the 1500th anniversary of St Kessog's arrival from Ireland to the Luss area where he was a missionary until his death ten years later death at the hands of druids. He trained under St Patrick and was the patron saint of Scotland until the 10th Century.
He played an important part in our national and local history and it's good to see an effort being made to raise his profile. We've got so much else to learn about our past beyond the popstars such as Wallace, The Bruce and Rob Roy MacGregor.
Joycee was commissioned by Dane Sherrard, the minister as Luss Parish Church to make a sculpture in time for the anniversary.
And like so many of my stories on here, it has a familiar opening line. It was late when I started…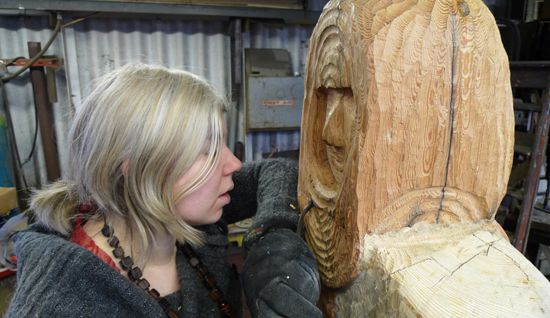 Joycee tries to use reclaimed and recycled materials where possible, and our workshop has that stuff in spades. Three ex-Clyde shipyard keel blocks were picked out (our workshop used be part of Scotts shipyard, these keel blocks are old) , chalked up and chainsawed into rough shape.
Jimmy lent a hand with some of the rough stuff, and indeed at one point that hand got a little close to the action resulting in it needing six stitches, which he got out yesterday, and immediately burst again when he got back from hospital by getting straight ack to work. You can't stop the man.
Over the past two weeks a 7 foot tall pile of rough wood has become a figure, and the tools used to do it were often over 100 years old, belonging to a carpenter from Dumbarton who used them back at the turn of the last century.
How many of us will be passing on our Argos battery powered drills onto future generations to benefit from?
Dowelled and epoxyed, St Kessog went in the pickup and we took him up the road to get him into place. He is a heavy boy indeed, even chiseled down he's still a six-footer, and he went by sack barrow and cart to his spot by the trees, and there was welcome help waiting from the church folks too.
The soft pink evening light lit him up and he was suddenly, starkly, red and white, the red pine and douglas fir looking highly contrasting. Joycee and I both knew that by this time tomorrow it would look very different, but I'll bet there were some worried thoughts in Luss last night. It just goes to show that you should never view an unfinished job!
By the time Holly got to say hello to him today, St Kessog was the right colour and was standing there in the sunshine looking quite pleased with himself.
The dedication was well attended by local folk and school children, the press were there too, even a fella over from Russia to film the days events.
It was a good day, there had been more on besides the sculpture, lots of smiling faces on happy folks. I got to meet some folk I don't see too much, including my headmistress from primary school in the 1970's! 
Good on the organisers for doing something when it's easier to do nothing, but most of all for me, well done the wife.