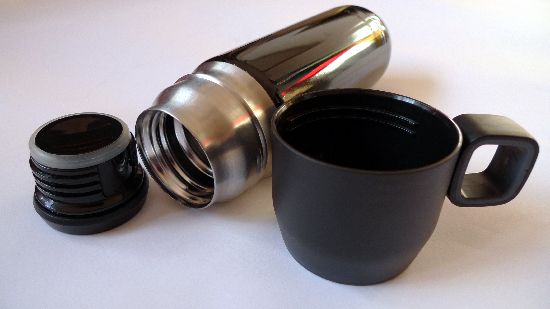 It's a flask surely? No, it's a Stanley Vacuum bottle.
I did wonder about this one, I actually wanted to test Stanley's new stainless water bottle with the leak-proof sports cap, but none were available, so with a shrug I went for this instead. I took out out on the Ben Vane trip last week and now I know why it's not a flask.
Flasks are well insulated, when you unscrew them and look inside, the smaller ones are usually only a little wider than the neck, all that space is the vaccum er, "filled" gap. On the Stanley bottle, the vacuum gap is much less, closer to my Snow Peak twin-wall titanium mug than a regular flask. This does a few things, the overall size looks like a regular mini-flask, but the capacity is much greater at 472ml, but it will cool quicker with less of a gap to the outside world. In the freezing temperatures last Sunday I got hot cuppas four hours after filling it.
I reckon it's a good trade off for day trips, more beverage is no hardship. And whether you believe Stanley's 6-hour hot cuppas deadline or my own 4-hour winter test result, it's plenty I think, any further out than that I'll be packing the stove anyway.
A wee happy accident this one, a nice bit of kit.