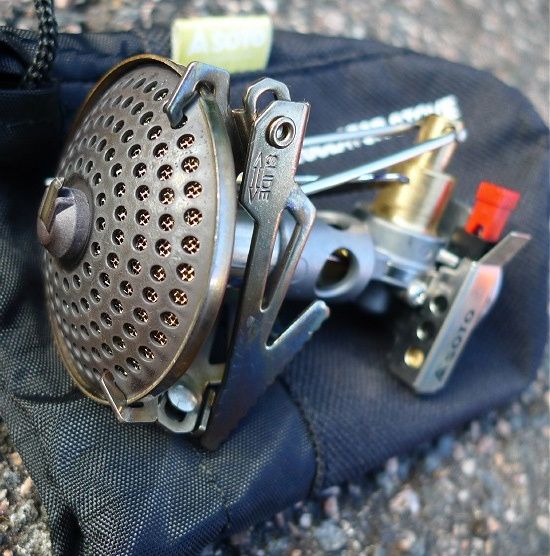 After a couple of months off, gear reviews are back. Here's something new: Soto.
The OD-1R has been getting positive noises, winning awards and whatnot, and as someone who always struggles to find the perfect winter stove, the thought of a canister-top stove that's been pimped up to work better in a frozen tent porch raised an eyebrow along with my hopes. I was keen to get one in to test, and when it did it went straight from a padded envelope into a rucksack.
It's small and very light at 70g for my sample (they say 73g), and fits into all my regular pot and gas canister combos very well, including the pretty small Evernew Titanium Solo set. You could say it's a little fatter around the middle with the way the legs fold down, but with no firesteel in beside it it's not an issue.
The legs have a nice folding action, pins slide in little slots and the legs locate firmly open when you want them to and also stay folded for stowing unless you shake it about a bit. For the light weight the legs feel quite robust, but I'd always keep the OD-1R in a pot on trips, I wouldn't like it to get squeezed too regularly in case somthing got bent or popped out of position.
The piezo ignition is the best I've seen at the burner end, it's centrally placed for an instant flame and it's low-profile design will be very hard to damage. The button end is a little more vulnerable as I found myself distractedly tightening the stove onto the gas canister using the piezo button assembley as a gripper. A bit of concentration removes the button from the danger list though.
The burner is a cracker, wide like Optimus etc, but with extra rings of holes in the centre, which are smaller to help keep the flame level constant and avoid heat spots that corrugate your lightweight pot base. The burner and the wide, stable base provided by the legs take a 1-litre pot no problem. The power is up to it too, this is a speedy cuppa provider, in several unscientific observances (?), 800/900ml was bubbling and steaming in under 3 minutes.
The regulated gas supply is the talking point of course. Regulation can only good, almost everything with gas is regulated except our stoves, they rely on injector (the little hole the gas comes out of on it's way to be burned) size to set up a flame which will do the best it can in all conditions. Regulation will, and as I found out does, try to keep a decent, dare I say optimised, flame through temperature changes, but as the canister empties right down the flame will eventually suffer just like any other canister top stove.
Mind you, on a trip I ran this against a remote canister stove with a pre-heat coil on it which allows you to turn over the canister and vapourise the liquid at the stove and the OD-1R beat it both in boil time and fuel efficiency. That I didn't expect at all.
Longevity I don't know yet, I have a feeling this is going to be my go-to stove now, so through the year ahead we'll see what happens to it.
But, from windswept hillsides to cold bothies the OD-1R is standing with it's arms folded looking at me saying "Nae bother, I can dae that".
Nice, more as we go.