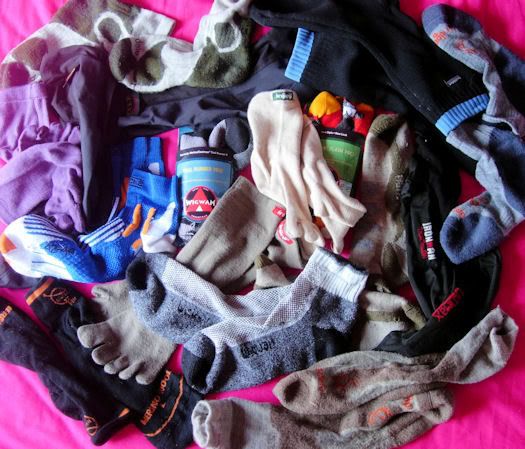 Going to trail shoes meant that footwear started to fit me and I didn't need a fat sock to take the slack or fill in the gaps. I still wear fat socks in winter, more for warmth that cushioning these days, but we'll come back to that.
The sock drawer was rebuilt from scratch, and I've had the above lot on test for many months. Some are spares in the packets (as yet unused, a pointer to thinner socks not wearing out quickly), and others have done the west Highland Way. There's a few missing as well, but I'll cover them all a brand at a time in a bit.
We've got Wigwam, Chocolate Fish, Injinji, X-Socks, Sealskinz, Bridgedale and Rocky.
Other brands didn't suit my feet as well, Thorlo's I wear in winter but their lighter socks aren't so good on my feet and Smartwool gave me blisters.
It's an odd feeling heading up the hills in a tiny triathalon sock for the first time, but if your shoes fit there's nothing to worry about. If it is wet and cold I work a combo, the other day I had on my LaSportiva Crosslites with X-Socks' Run Speed Metals and the Gore Bike Wear stretch Gore-Tex socks and I was a happy boy playing in the mud. On Ben Lomond a couple of weeks ago I had on Wigwam's Cool-Lite Hiker Pros which got wet on the way up but I never changed them as they dried completely while I made my dinner. A big thick sock would be still be damp now. Well maybe not, but still.
Materials and construction are diverse, synthetic is common, even wool socks have synthetic in there to hold them together and give them stretch. Coolmax I like a lot, in socks it's a joy but in clothing I think it smells. Merino is second and works well, it'll always dry slower and hold onto moisture longer, but if the fit is good, then so is the comfort. I've got some bamboo in there too, which is very nice against the skin.
Design is diverging as well, huge areas of padding being cut out to give breathability and quick drying. Right and left specific socks are multiplying, and the Injinjis have toes on them. It's not anything like as weird as it sounds either.
Reviews coming up.
The sock is vital and we must speak kindly of it, for surely it will smile upon our feet in return.