Went to the Snowbaw outdoor trade show in Edinburgh during the week. It was a strange one, it's almost a secret show as there's no website for it, no registration, no advertising and as it turns out very few store buyers or media folk coming through the door. So, by the time Bobinson and I got there a good few of the exhibitors had given up and gone home, including Terra Nova which is a shame as I had stuff to see with them, but I'll catch up with them in a couple of weeks.
Elsewhere there was a lot of the same old same old from the likes of Rab, a bunch of brands I haven't featured on here and will be soon, brands new to the UK and some brands who still view me with suspicion, that would be Mountain Equipment. We saw a lot of kit that got us enthused, saw some pals, made some new ones and had a good day all in.
First person we saw was Ollie from 9point9 brandishing a Granite Gear shopping bag. It's light, it's technical, it's a shopping bag. I want one. The Granite Gear stuffsacks suddenly clicked though, they're oval where everyone else's are round. Less wasted space in your pack whether you're stowing one or a couple side by side, it's a no brainer making them this shape.
There's the eVent version above with which Ollie nearly herniated himself whilst proving it's air permiability by compressing it while it was fastened up. Point proved, let's take a rest in the sub-kilo 2-person Big Agnes Fly Creek UL2. Nice, and if you want to try it, come to the meet in February, more on that next week.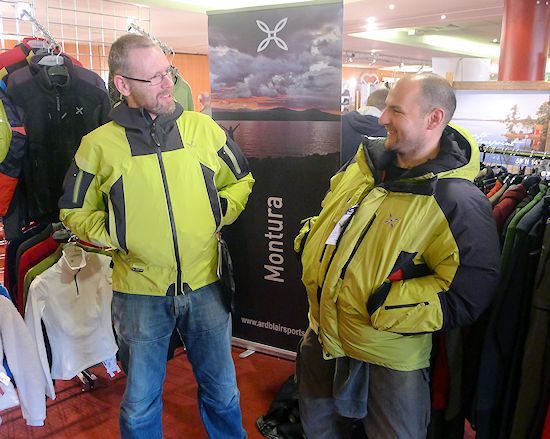 It's in the UK, it's on display for the buyers to see, but will we see it in the shops? Who knows, but we were quite taken by Montura and it's mix of super techy kit and wooly jumpers.
I'm in a softshell above and Phil is wearing the expedition down jacket that Ollie's being crushed by below. Well featured and very individually designed, a thread through the whole range.
Shelled insulation is in most folks gear cupboard these days but the model above has a few more features than most while still staying light. The powerstretch cuffs/thumbloops are brilliant and the hood is a mix of shell and the cuff fabric, feels a bit unusual at first but it's going to fit perfectly every time.
There's a range of pants, softshell with cargo pockets? Yes please.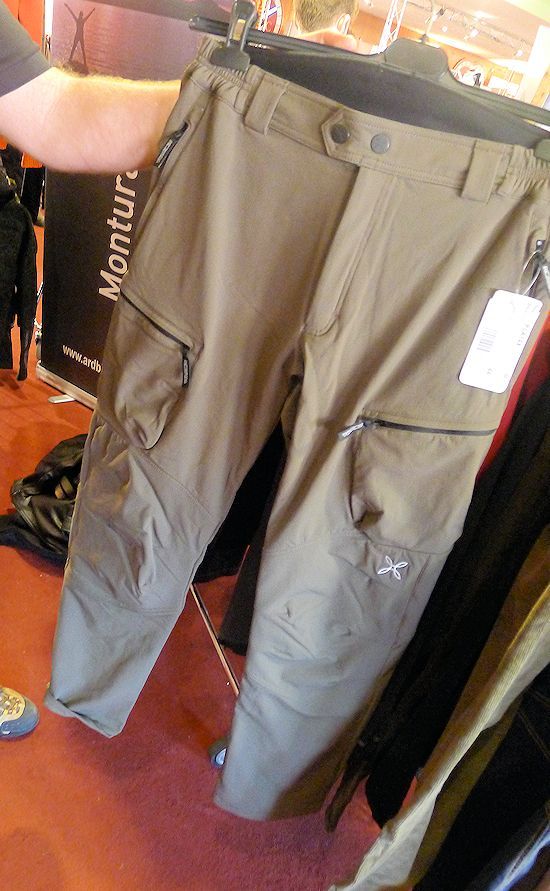 The gloves are excellent, up there trading blows with the fine sculpting on Marmot and Haglöfs top-end models. There's white leather (alright!) and a mix of shell, softshell and insulation varieties. The orange headband is a wonderful unnecessary.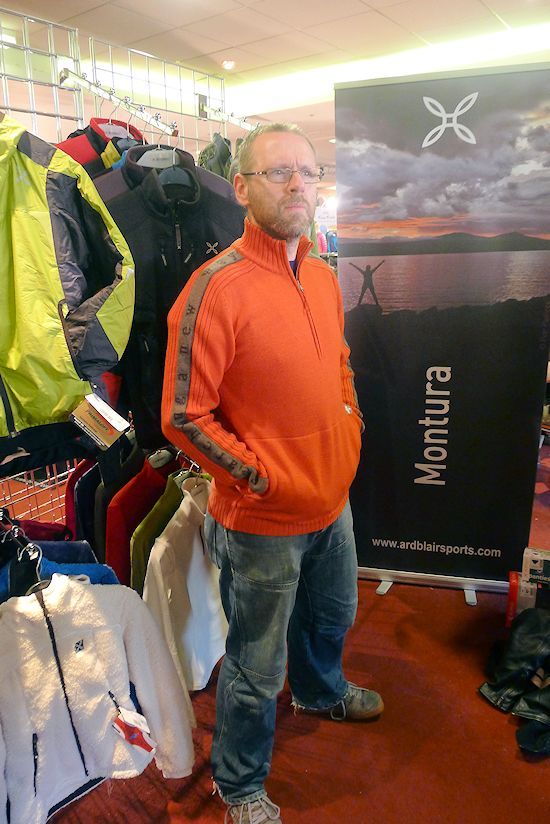 I cried when I had to leave that jumper with the pouch pocket behind I'm wearing above. Merino comfort and a perfect fit, I'm in love.
The jacket below is wonderful madness, wool shelled technical lifestyle practical coolness. With a hood.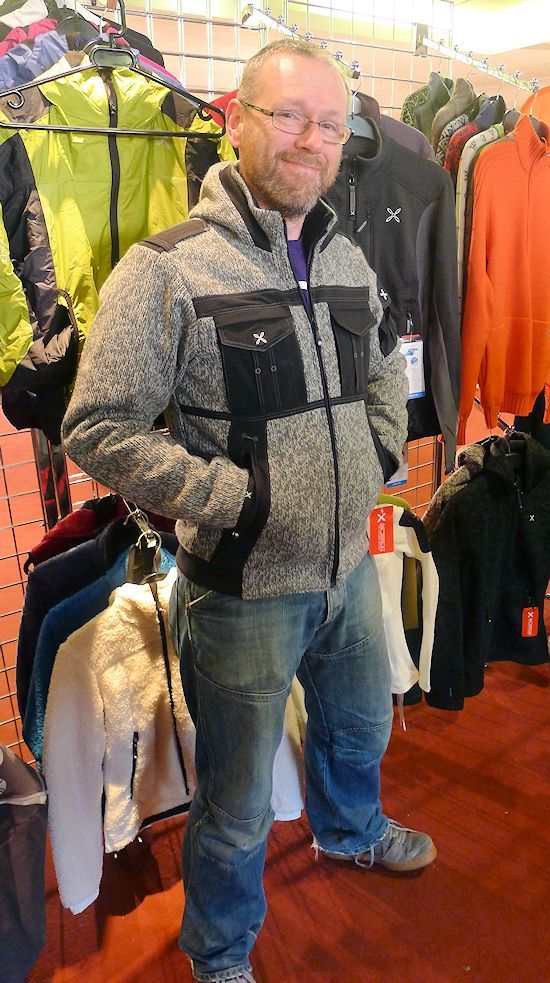 More softshell above, this time for girls and denim-a-like stretch bouldering pants below. The looks are very convincing and the styling is spot on if you look at what's in the young peoples emporiums.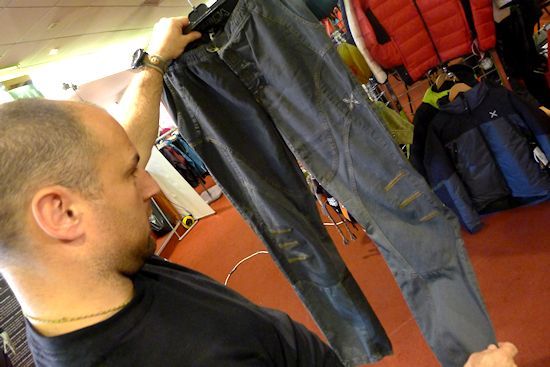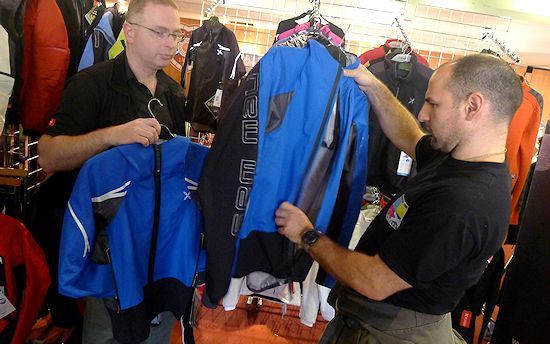 Phil's trying a Gore-Tex ActiveShell jacket, stripped down for running or biking. Good hood and fit and like a lot of Montura, covered in reflective detailing.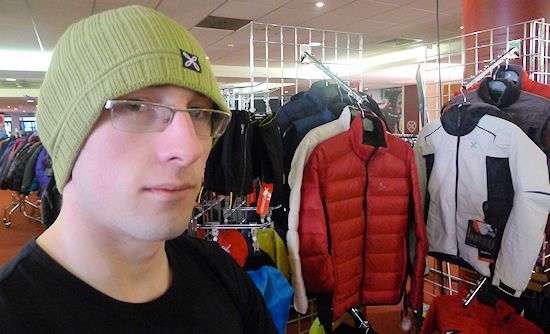 And, in keeping with the regular tone of these pages, they have nice beanies and underwear in a box with panties printed on it. Interesting brand for sure, I hope we get to see some of it over here.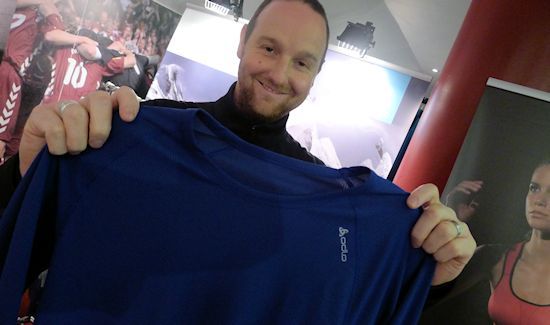 Gareth from Odlo was pleased with the new baselayer above, it has to be the lightest baseleyer I've ever seen, the label is the same weight as the shirt. Very fine and soft fabric with an open weave, should wick and dry fast.
The top below is a baselayer with bonus extras, it has a hood and a Buff-style roll neck so you can go from regular rambler to rather garish ninja in just a few seconds. Nice thumbloof cuffs on there too.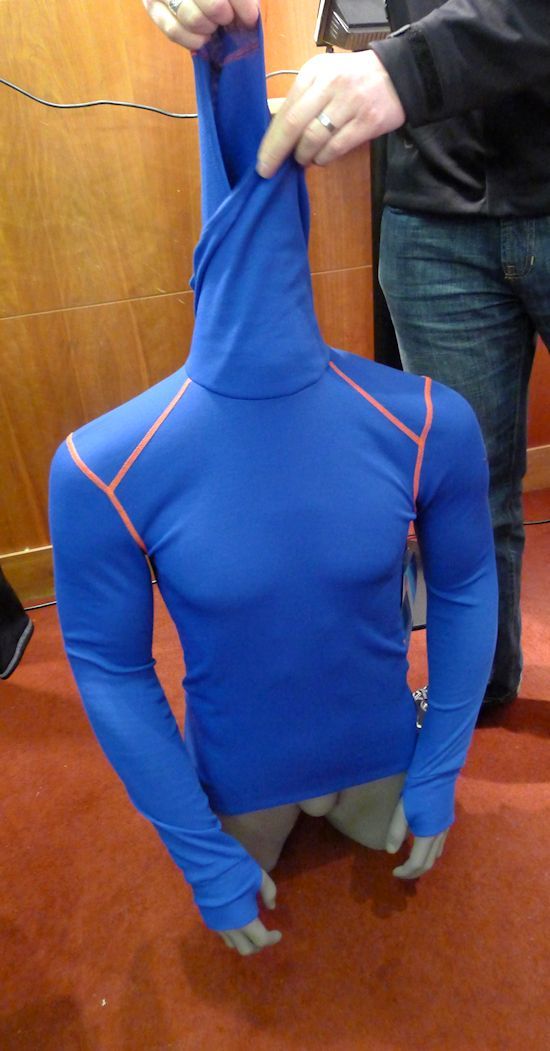 More X Bionic madness with this orange bike jacket with the techo-sausages inside. The fit's good, but the sausages taste awful.
Hillsound are making a lighter weight Trail Crampon which is a bit more like the Kahtoola Microspike in spikatronicness and layout. Looks good I think.
Carn is a brand I haven't had a close look at until now and the footwear is all pretty individual looking. There's some very different fabrics in there too, I'll talk about this some more when some samples arrive.
On the same stand were Woolpower which I took no photies of as we got blethering and I forgot, so again more on those guys when samples are in.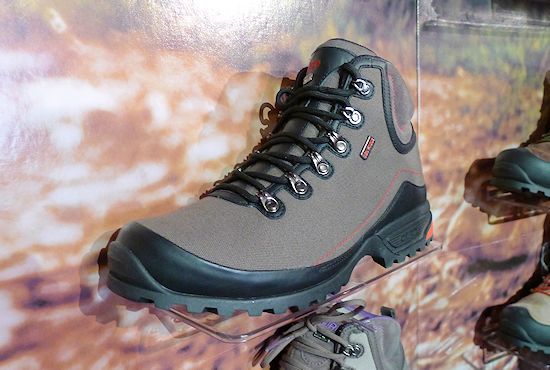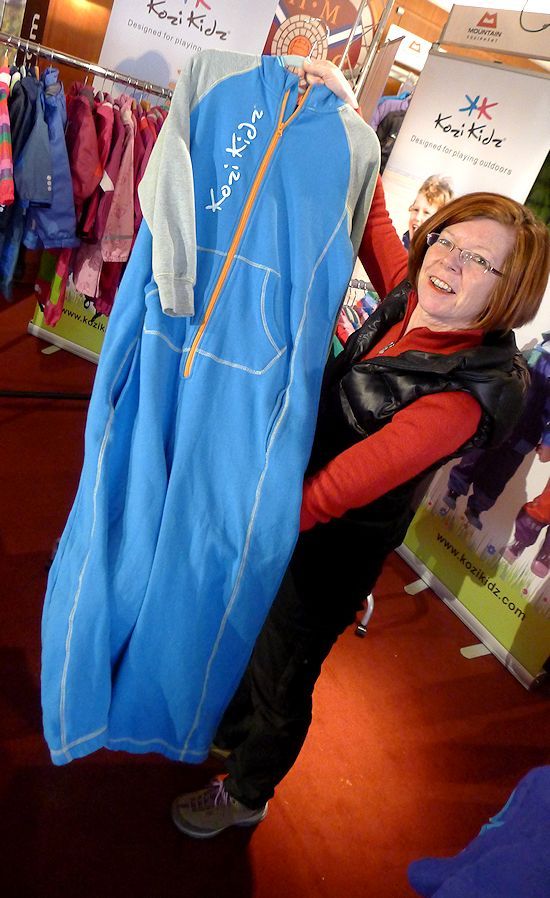 Kozi Kidz are already a favourite here and they're still developing the range. Hoods now have adjustment, you can get the wonderful onezie above (could I squeeze in there…) and in the shots below you can see the new waterproof models for girls and boys. The green jacket will come with yellow zips when it hits the shops, and the blue version will have orange zips. There's a  real joy to the Kozi Kids stuff, a lot of the brands could learn something here and have a look at their po-faced posturing and pro climber obsessions that nobody gives a shit about.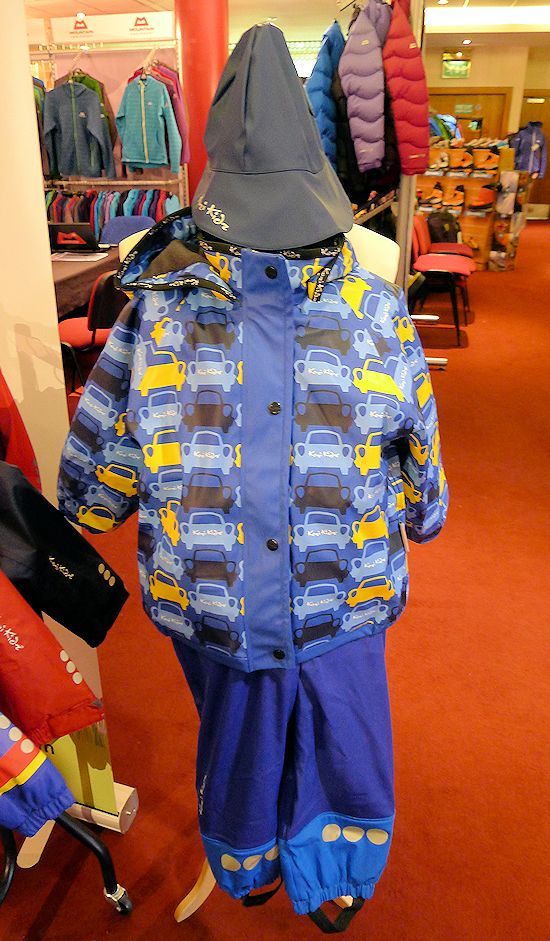 A couple of things on the Mountain Boot Co stand caught my eye, a lime green rock/alpine boot from Scarpa that was very light and an unintentionally matching Deuter pack above. The ACT Lite has some very un-European features like external pockets and feels like it has a good weight for its 45+10 capacity. I'll see what I can do about a sample, something new.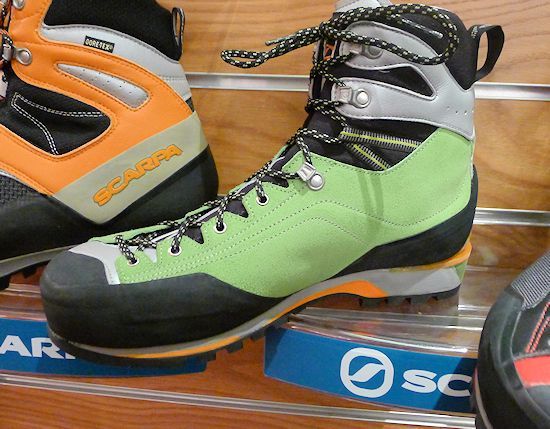 Said hello to Mountain Equipment and they were very nice if a little confused to see us. Looked at the K7 jacket above and below, box wall construction with EXL stretch seams for a close fit and the new EXL hood which I've got a close up of below. It's basically a stretch hood, so it adapts to a bare head or a helmet with any adjustment. It's gives unrestricted movement too, looks good.
There was some talk of the baffle behind the zip, it's like the zip baffle on a sleeping bag, not stitched-through so it stays fat and the zip never becomes a cold spot. Had a wee look at some other kit too, it is all nice enough if familiar shaped.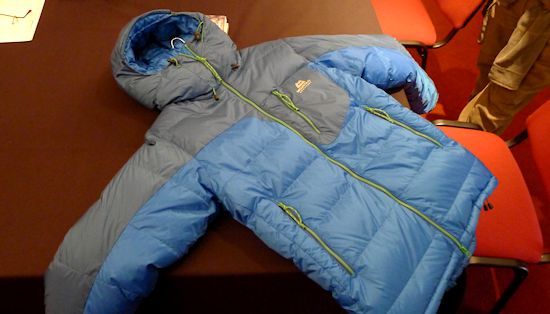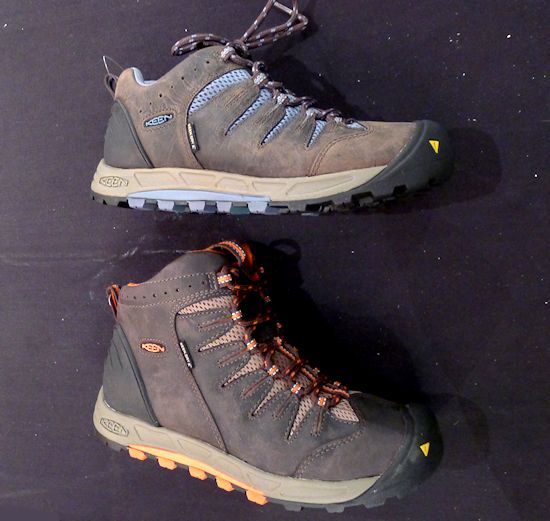 Keen's got plenty newness on the way. Above are the Womens' Bryce and Bryce Mid's. Waterproof, light and with a new patterned chunky sole. Yes, I know I shuild have taken a shot of it.
Below are the Santa Cruz street shoes, suede uppers and skate shoe style outsole. I love these.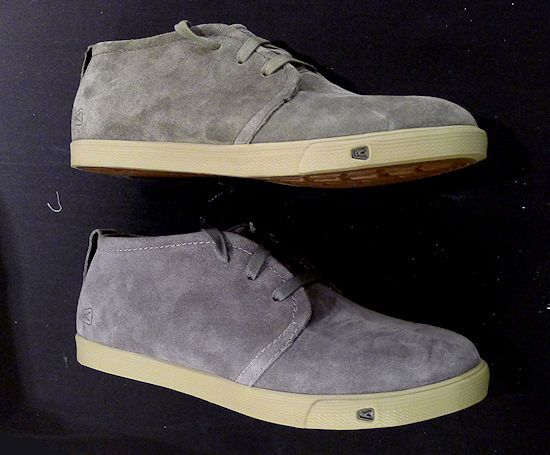 Icebreaker, never been seen on here but was the first merino brand I ever wore and my Oasis crews still get worn. Graeme was happy to show us the range and there's awhole bunch of stuff in there that raised an eyebrow.
Above are woman's 200 weight Oasis crews, ah look at the colours. Below is a Sierra Full Zip, a 260 weight midlayer. Nice detailing.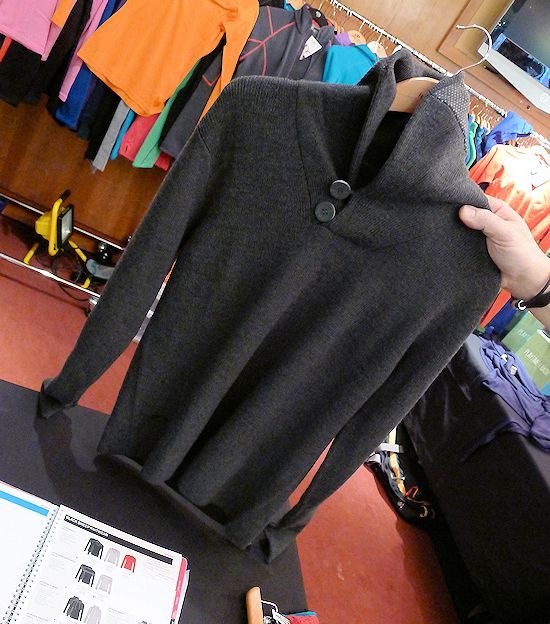 The Orion Sweater above is straight of  fashion store but with a better fabric and thumbloops. Below is the girls Quantum Hood in 260GT weight, GT being the top end tech fabric. Fitted hood and thumbloop cuffs with a niknak chest pocket.
The black and blue top above is a girls LS Pace Zip, afitted sport top in 200weight and the pruple (yes!) one is either another one of them or maybe an LS Quest Zip in GT200 weight. Nice whatever.
Below is the show stopper, Icebreaker bike wear. There's small range of bike gear and these are SS Circuit Jersey's, back and front. Good shaping, brilliant pockets and cool 70's sci-fi styling. Merino is nothing to fear on a bike, Smartwool got it so right with some of their bike gear and never followed through, here's hoping Icebreaker stick with it.
The Circuit Bib's are below and there's short's, 3/4's, arm warmers and three other tops with a full range of woman's fit versions. Nice.
Finally, at the bottom of the page it seems appropriate to have a selection of pants of all colours in merino flavour. I've got some Icebreaker on test, it's kinda orange and I'll get back to that soon.
Not a bad show all in all, there was plenty stuff to get excited about, but a lot of wheel spinning too, brands just fiddling rather than really developing. It's probably the pressures of seasonal selling, having to produce something new for a certain time rather than when you've had a great idea. It's probably one of the biggest flaws in the whole process, it's not easy to be inspirational on demand. 
Anyway, I'm all enthused about gear which is nice. Much more soon.