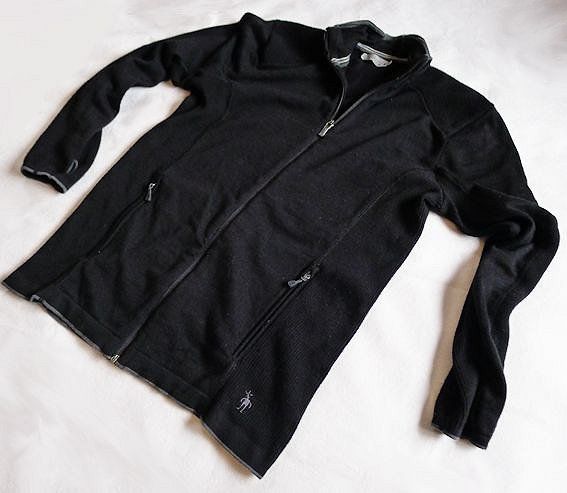 Now, this is late, very late. But there are reasons for this, which I shall explain. I looked at the Smartwool range, ordered a technical hoody for test as my winter midlayer and some time later a black cardigan appeared. Humph I said, it fitted okay, but in my regular Smartwool medium it was a little neater than the hoody of the same size, the collar was a little low, the arms a little short, so I put it to the side to use next time as the hoody I was after was out of stock for winter so it was this or nothing.
I was going out and couldn't find a jumper that I liked that wasn't already lying crumpled on the floor, so I pulled the tags off the cardigan, zipped it up, through on my jacket and headed out. It's been nearly a year since I did that and the cardigan has either been on me, in the wash or on the the top of the pile ready to go ever since.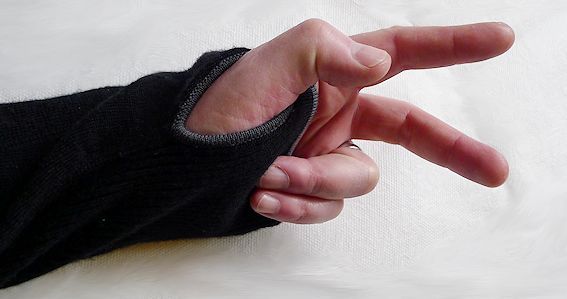 It's got mountain features, thumbloops that give good hand coverage as seen above, and the from the elbow to the cuff the fabric is a heavier weight to help it keep shape and extend its life. The shouders have a heavy ribbed knit to protect the fabric from rucksack abrasion, this knit continues through the collar to give it standing up power too.
Also here are a nice big zipper garage to guarantee a scrape-free chin.
The two zipped handwarmer pockets have light mesh pocket bags, and the big zipper you can see below is the locking type, if the puller is lying flat, the zip's locked.
The fit is lean, but movement is unhindered as the fabric although a heavy merino mix, there's 4% nylon and 1& elastane in there too, has good stretch too it, helped by the vertically ribbed side panels you can see in the top photie which have real stretch to them. The closest comparison I can think of is a microfleece top with powerstretch panels, same idea, same result.
All this makes it very comfy to wear, and I've worn this constantly. It's been washed dozens of times, not always with care either. The photies here I took this morning after it came of the drying line (I'm waiting for the cavity wall insulation guys to arrive) and you can see some light bobbling, a few slightly hairy edges and some fluff stuck to it, and that's it, it still looks great. The black makes it perfect for casual wear, the grey highlights are subtle and it doesn't clash with all my purple shoes.
So why have I never reviewed it? Mainly because it never made it anywhere near a mountain, and that's because I was always wearing it the day before  and it had stuff in the pockets or it was in the wash, and then my attitude changed to where I wasn't taking it to the mountains in case I put a hole in it meaning I couldn't wear it as my regular top. Which is daft really because the cardigan has proved itself tough as hell.
Merino is a great fabric for general use, its single drawback of slow moisture management isn't a factor, stick this on over a merino t-shirt and you are in a permanent zone of joyful equilibrium as you drive about, visit cafes, play guitar etc
The TML Mid Sportknit Full-Zip isn't on Smartwool's website right now so I can't link to it, hopefully the heavier weight gear will be back on there for winter. Talking of that, the weight? Heavy, don't know how heavy exactly, I never weighed it and my scales are in the workshop, and I don't care anyway because I'm sitting here wearing the thing. Awesome.