There was stress, then frustration. This could easily lead to panic or angry outbursts, but I chose denial instead, denial and car keys.
I felt better on the road, a road which passed a Greggs for supplies. It was still bright, a warm autumnal brightness, and the road was quiet.
I hadn't climbed Beinn A'an for ages, I used to be here a lot until the Kilpatricks became to easy and too much fun for evening jaunts. It's a little big mountain, six inches shorter and you could fit it in a snow globe and stick it on your mantlepiece.
So many memories on the climb, faces, voices and times long gone came at me at every familiar turn of the track or glimpse of a crag. I was reflective but happy at the thoughts as they came and went while watching the sun dip closer to Ben Venue's ridgeline. If it was a race I was going to lose, cloud was moving in anyway, and moving faster than me, damn this is a steep wee bugger.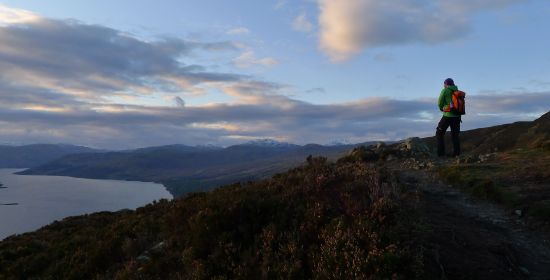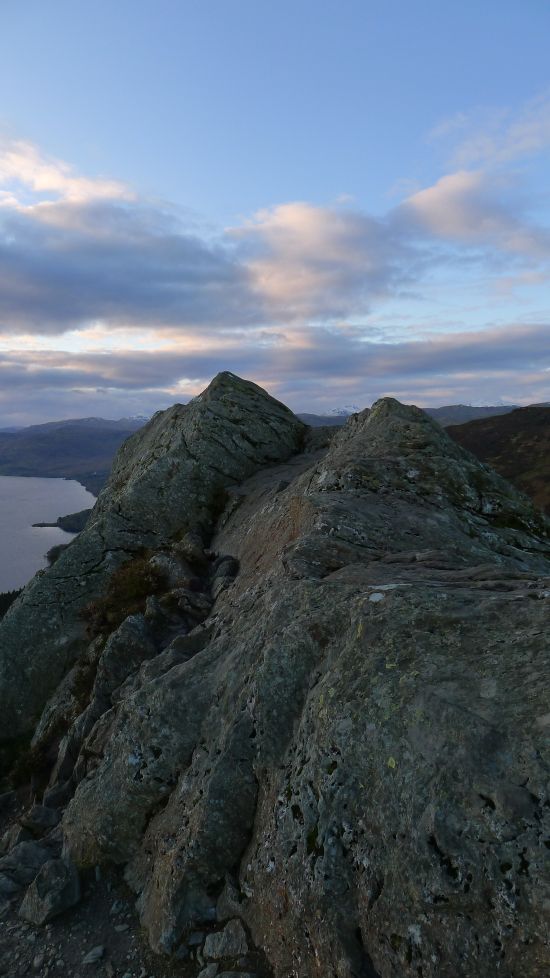 I had bare rock while every other top had snow, proper snow too, stretching over a thousand feet down the slopes of the Munro's and Corbetts all around the horizon. It's like standing in the middle of a sweetie shop, you can see everything but where to run to first?
Well I'm older now so I just sat down instead and got the stove on as the wind flicked an icy finger across the end of my nose. The best cuppa of the day and the perfect partner to the Mexican Chicken baguette in my rucksack. A big sigh, a lean back against the summit rocks as the mug thawed my fingers and just for a little while the bastards were most definitely not grinding me down.
The trees got darker and darker but my night vision was tuning in so I didn't dig out my head torch even as the descent got rooty, muddy and I got a bit dancy along with it.
The road was deserted and the once Trossachs Hotel looked every bit the fairy castle across the loch. Tired eyes and bright lights skimming off the scenery took me to my folks for a surprise sausage casserole. Timing is everything.
The girls were still up when I got home and making artworks of great splendour with anything that could be glued to something else. There were cuppas, bedtime stories and sitting on the couch watching the telly with the wife. Something of a rarity it feels like.
I have a cold scratching at my throat, but damn I feel better.