After 13 years of this place I think it was time for a literal post title.
Timing is everything. We should have been here two weeks ago but after the "Trossachs Incident" with the torn ligaments, the tears and snotters, the hilarious walking stick and velcro and metal boot etc we had to reschedule.
We were lucky and got the last slot we could use the voucher. Aye, Linda is a voucher ninja. We eat and now sleep for nearly free quite a lot and this was a belter, £79 dinner, bed and breakfast a night instead of £280. Yes please.
However, timing being everything and karma also being a bitch, we missed the northern lights which were splashed across the horizon the previous night.
What the hell man.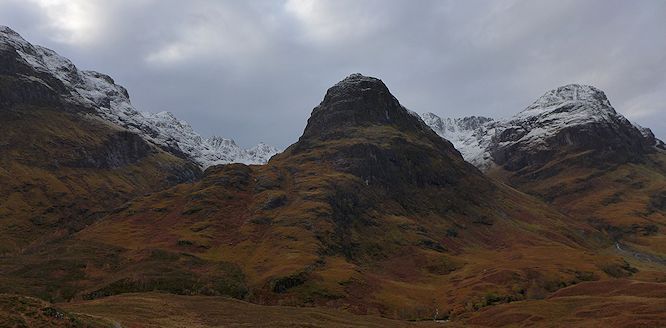 The weather had looked ropey. Ferry plans were cancelled and I think the road to Mallaig deserves more time than we had anyway. So a familiar road it was to be.
But, fresh snow brought out the grins and the giggles.
There's something about that first light dusting that inspires and terrifies. The height is stretched upwards and every gully seems deeper cut, every boulder gains weight, every ridge sharpens it's crest.  It brings me such joy.
Mostly car bound joy of course, this was to be a tourist trek only, the big blue ankle made sure of that. So, Glen Coe cafe it was.
Soup and a roll of bacon. Angles sang, birds chirped, a hedgehog smiled at me from the garden and the spider spinning its web in a corner in the conservatory winked four of its eyes. We were hungry you see, it was early when we left. Imagine that.

The road was a joy. Linda had never seen much of this and I must have been on the verge of being knocked unconscious from Spean Bridge to Shiel Bridge as I fired interesting stories and facts at her every time I saw a peak or loch that sparked a memory. Bless her for grinning and bearing it.
The colours were glorious through the waves of icy rain, the views came and went but the smiles stayed as the miles passed and I was in the mountains that I love so much.
My time at Trail Mag saw me here a lot, I wrote routes for most of the Kintail, Cluanie and Affric hills I think, easy after 20 years of frequent visits.
That familiarity hasn't lessened their pull on me.
Oh to be back, to breathe the air, to fill my soul and let my heart fly to the summits.
And then you make the mistake of going to Eilean Donan vistor centre.
What an arsehole of a place. The sign to ask for hot drinks at the food counter is above your head on the ceiling it turns out and is completely invisible if you wear glasses unless you have superhero peripheral vision. The torn faced wummin at the till was very disappointed in us and sent us back to where one poor boy struggled on his own doing everything while five staff stood and watched from the till. Five.
The gift shop lady was nice.
But, the car park attendant stood by his guard box glowering at us and everyone else from a cloud of cigarette smoke. Just past him two other operatives merrily shouted at each other with delightful C and F bombs as families, kids and other visitors wandered around.
Totally unprofessional conduct throughout (other than nice gift shop lady) and I'm embarrassed that this is what's representing my country to visitors.
Horrendous.
I once upset Visit Scotland with my slogan "Welcome to Scotland, Bring a Packed Lunch". It's as relevant as ever.
Bastards.
Skye at last though. Linda loved the bridge and we have to go back and walk it, you know, once she can walk again.
In total contrast to our previous stop the staff at The Dunollie Hotel were uniformly helpful and friendly. The place is clean and a bit bland but we got a sea view so I don't care about any of that.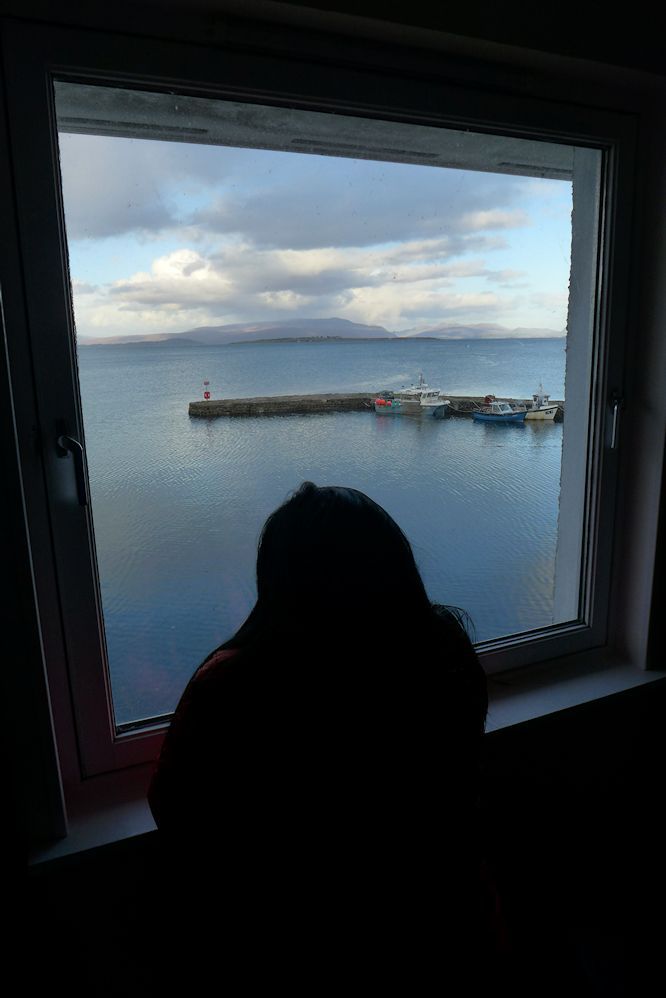 No time to rest though, we were straight back out and heading… Where do you want to go?
Don't Know.
Okay.
The sun was going down and I had visions of a glorious sunset over Bla Bheinn so we headed west.
Ah, no. It was lovely though if bitterly cold.
It wasn't too far to Elgol, we'd keep going, see what we could see.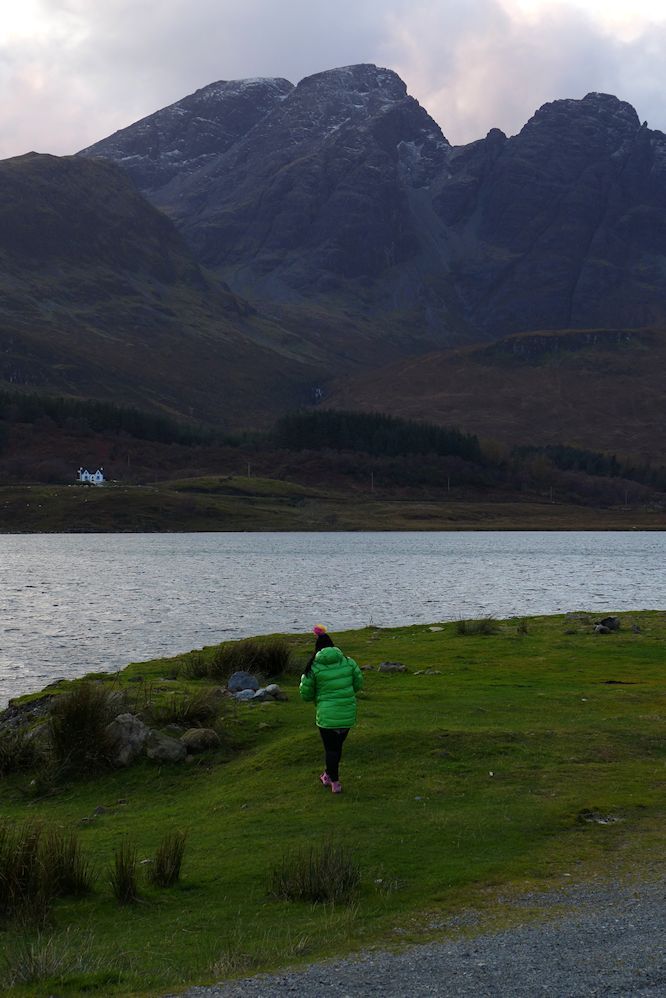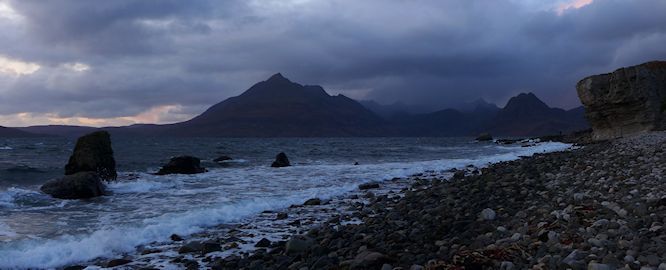 It is undeniably picturesque here and even in the softening grey murk the Cuillin projects a wicked outline.
Linda's mobility for the day had been used up in the soft grass at Torrin so I skipped down to the bouldery beach as the sky darkened and waves crashed onto the shore.
Quite beautiful.
The honeycomb crag contrasts so much with the beach of fat pebbles and the rock outcrops that break the waves. It's like the place was designed to be explored and photographed.
Indeed, snappers had gathered in numbers for their evening feed, but today there were only morsels and many went home hungry.
I mean, look at the poor sod below.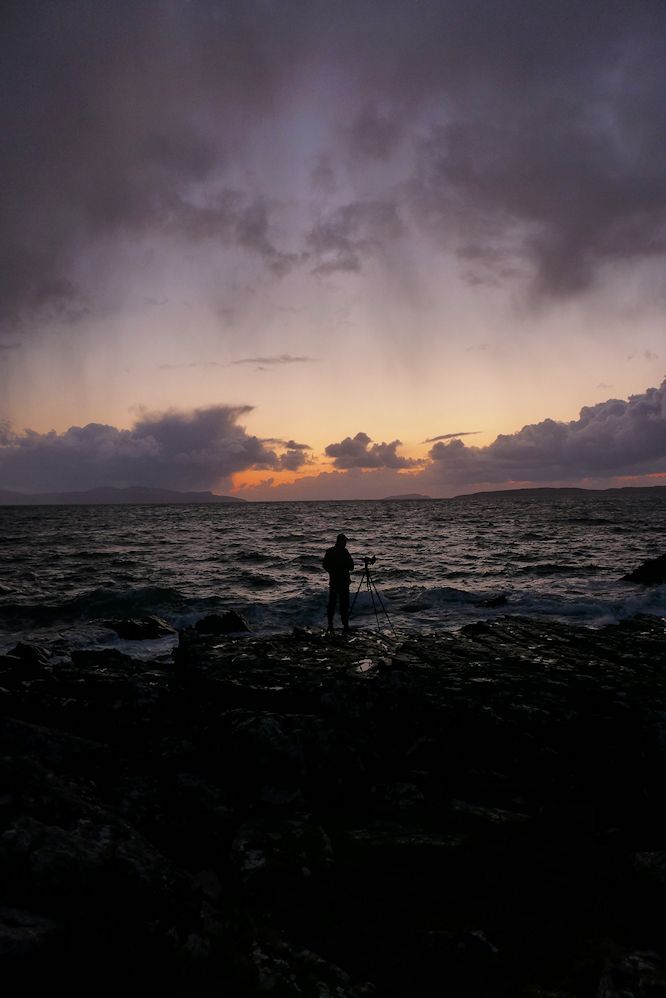 I felt a mix of joy and guilt, poor Linda. At least I got photies. And a pebble. And big bit a seaweed. Which she wasn't frightened of. Dammit.
Bla Bheinn was now bleakly and darkly atmospheric as we rushed back for dinner in the fading light. Starvin.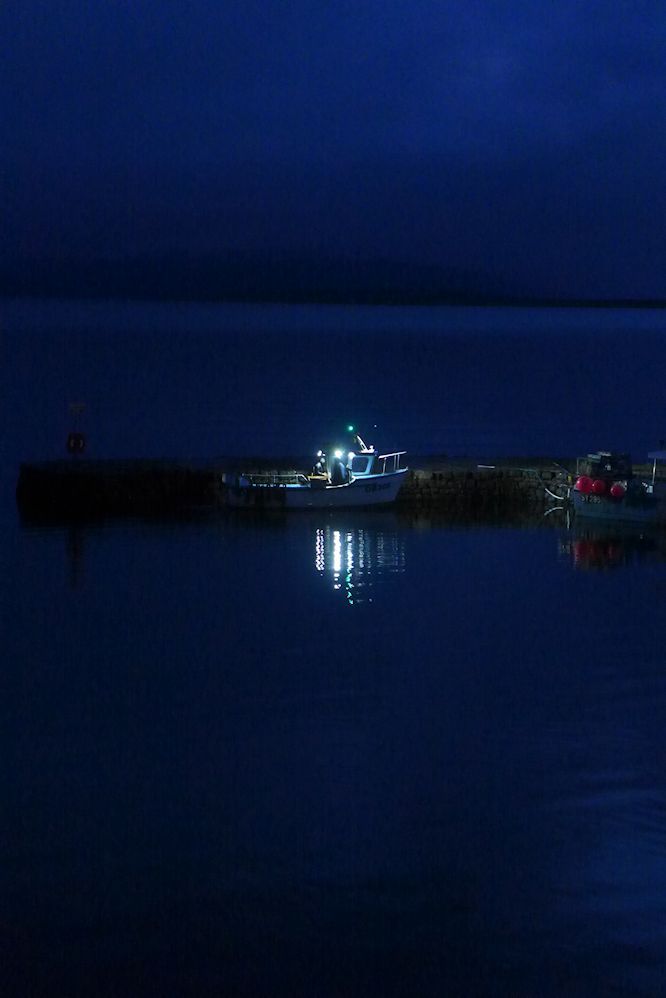 Dinner had the added amusement of a coach party having arrived and milling around the hotel bewildered and in slow motion. They looked at us with sad, lifeless eyes, "Are they one of us… ?" Must have a been a long journey.
The food was great, much to my surprise I have to say. The dining room is bland and soulless though, it's like they went for low maintenance rather than interesting or even cozy.
But what do I know, I went to the 24hr CoOp for snacks for the movie so maybe I'm not the best judge.
We were woken by fishermen rattling around shellfish cages and setting off on the high tide. Really rather pleasant.

It's stunning regardless of how many calendars or mugs it's printed on. And today where the weather churned out one season after another, including another dump of snow during the night, just made it better.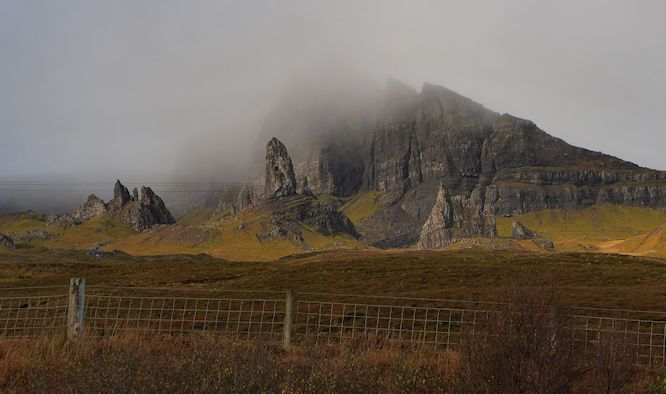 The roadside views are still inspiring and the chilling rain was falling so hard at times we were glad to be near the motor most of the time.
Lunch in Portree was very fine indeed and the hills were dark and mysterious as we spun through them. This is actually Skye as I've usually seen it, blue skies and views have always been the exception and that's fine, it works perfectly.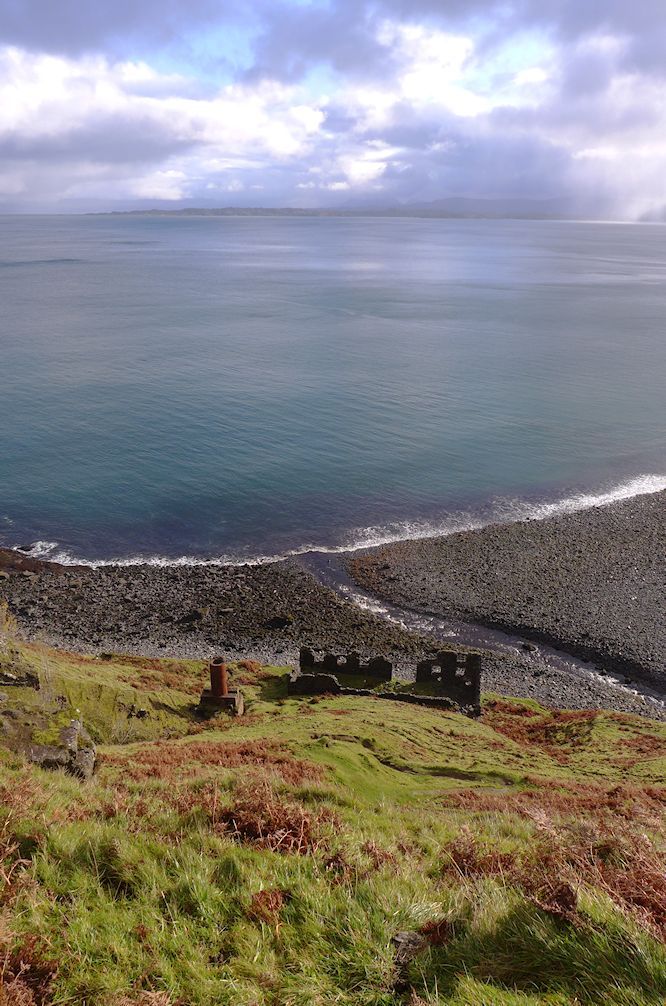 We made the most of it all, rolled over many miles and seen a lot that we want to go back to and we even squeezed in a cuppa in Plockton on the way south.
A great wee trip. I guess if Linda had been mobile we'd have been on a hill or a track somewhere the whole time so it kinda worked out and we've come home stoked for more.
I need these refuelling trips and Linda amplifies that, so much is new for her and I'm seeing it all as new again because of that. I love it. More thanks.