It all started with a delicate little pudding bowl in the sink. It was underneath everything else, under dishes, bubbles and when I found it it split like a childhood dream under peer pressure (no idea where that one just came from, was I remembering or worried about the girl…) and the thin finely edged shards took a slice out of my finger like a bite out of an apple. A small apple mind you, probably the one from Annoying Orange.
The basin went red like a cheap special effect and I just shook my head as it started to sting. Damn that cheap Aldi washing up liquid, I was right, it is battery acid in it.
I looked at the clock and I looked the other way at my packed rucksack by the door. Looks like I was going to Skye via Mother, retired nurses rock.
One stop at Fort William for cream cakes and I pulled over the hill above Torrin to see a dark and choppy Loch Slapin and Bla Bheinn beyond, a mass of dark crag ribboned in grey as the cloud streaked over it. My finger throbbed on the steering wheel, I was getting hungry, I had around four days of stuff to do on the island and I was throwing in the towel before I'd even parked over the loch courtesy of John Muir.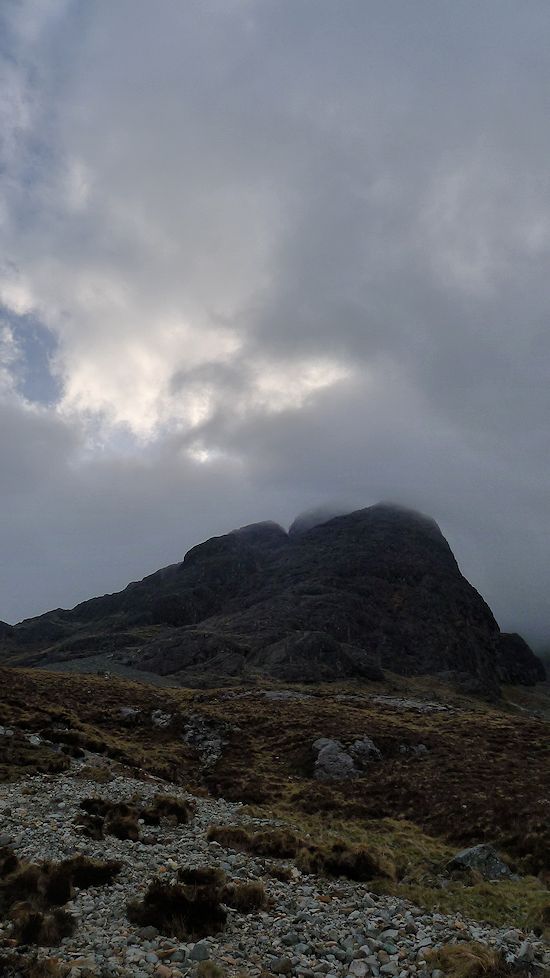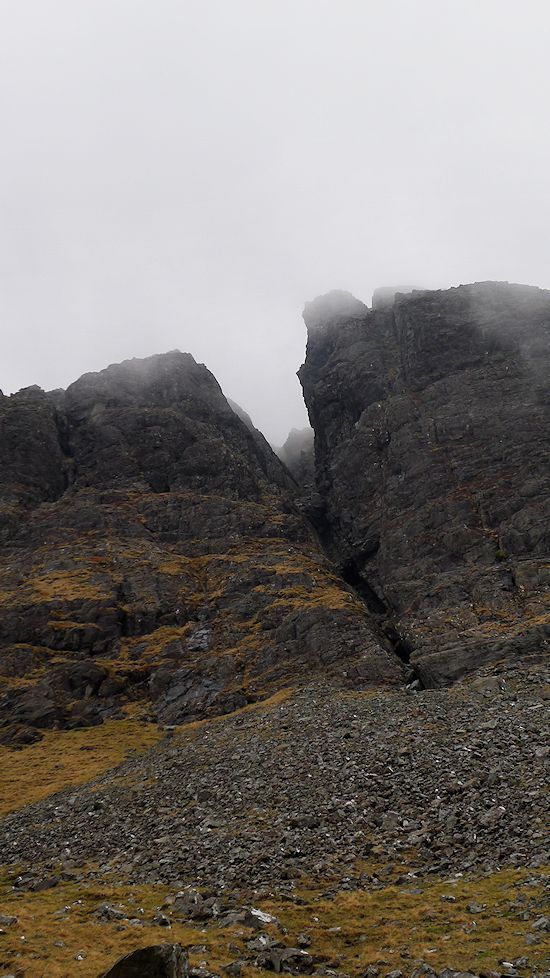 The finest mountain on Skye, it was the last time I was here anyway. As I climbed the track, hints of the buttresses flashed into view as the wind picked up. At the coire I looked for a B&B, but there was none, I was going to have to camp. By the lochan I struggled to stand, in the coire bowl I was blown around and staggered like 70's drunk ( they staggered differently, maybe it was the bunnets and moleskin trousers, but they were better at it in those days), the calmest was a grassy shelf on the ridge of Bla Bheinn itself, so I pitched on the grassy last resort.
It wasn't miserable, I was well equipped, fed, warm and dry, it was just, uninspiring. I don't need character building shite like this anymore, I've done all that when I was young enough to revel in it and now while wind, rain, snow and a sideways tent doesn't faze me at all, all things considered I'd rather be sitting on a rock at midnight looking up at a starry sky with a hot chocolate in my hand.
The tent was indeed sideways, and with some style too, but I was safe and warm all night and I didn't go back outside until morning. I had peered out but the cloud was everything and everywhere, my tweet from camp summed it up "The Misty Isle" my arse, there's nothing romantic about sitting in a cloud half way up Bla Bheinn. As the tent billows alarmingly. Sigh.
The morning was brighter, I could see detail, I could see the sea and my porridge and cuppa lightened the mood further.
The ascent was a joy. Steep, loose with sheerness appearing out of the mist to stop your feet and capture your eye.
Blue burst through above me a few times, black rock thrust into sharp relief and then it was gone again. It was like being adrift in a little jagged floating island, blown by the wind and tossed by a playful rather than cruel sea.
A heave up over a damp boulder and the wander to the summit revealed nothing. What a view there is from here. I closed my eyes and I looked at the Cuillin Ridge, a black crown of drama and seeming impenetrability, glorious. I opened my eyes and looked hard into the reality of the cloud that swirled around me. I turned towards the descent.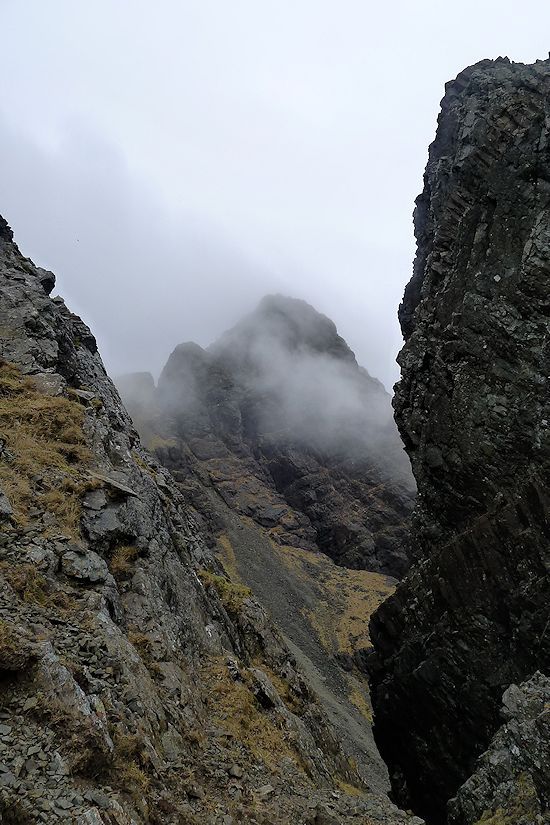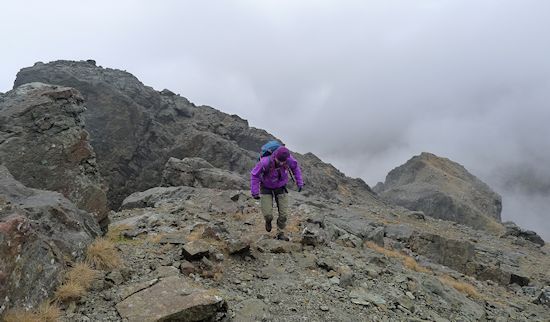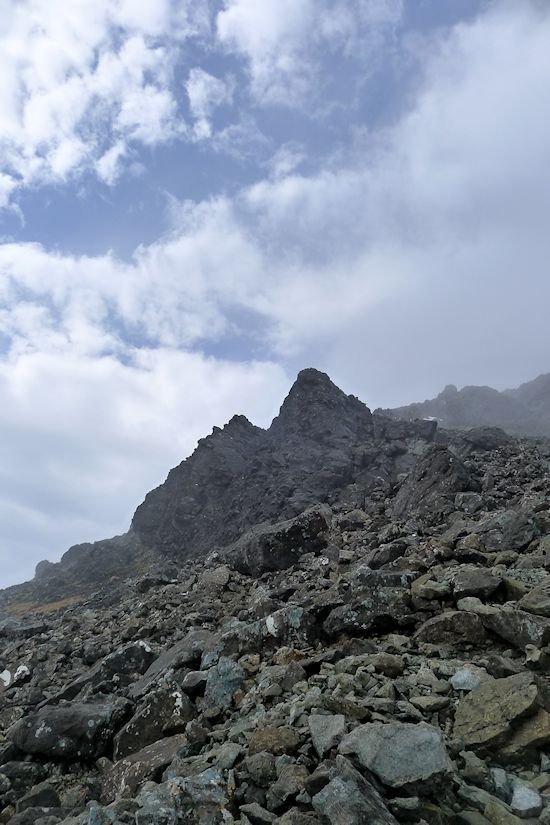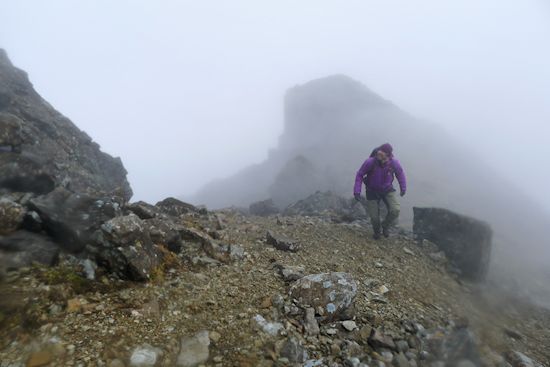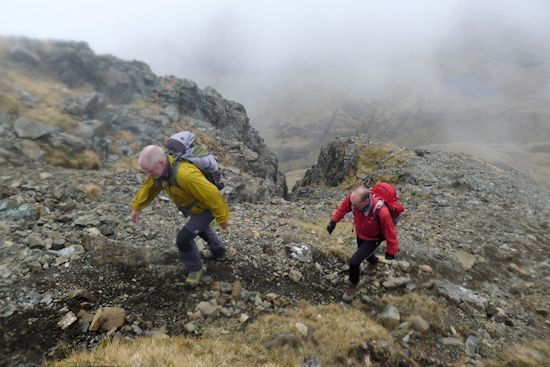 Cloud dragged over my feet as the wind tore it out of the gullies and compressed it into a slithering carpet on the ridge. You'd have to be a joyless bastard not to smile at that. What a place this is, as the sun burst through above me for a second at a time and shone a spotlight on a pinnacle, a crag or gap in front me with nothing but fresh air far below. Now I was having fun as I slid on the damp scree towards lunch.
I met three parties on their ascent and every person there was cheery and had time to chat. It saved my day, it really did, it was the final nudge my joy switch needed to stay in the on position.
But the cloud, the wind, my still bleeding finger, I was going home. The day was saved, but over a fine lunch under brightening skies and blackening crags I thought I take what luck I'd found and keep it for next time. Skye business remains unfinished.