The girls thought I was working this weekend and had booked a day oot with Holly's wee pal and her maw. After they left I sat on the couch and thought about editing up some long overdue gear reviews, but the weather through the window hadn't totally crapped out yet so I stood straight back up and went rummaging for bike gear. I'm really enjoying when I'm getting out at the moment, I'll get around to the gear in a minute.
I feared for my legs and lungs, it's been a while. I'd prepped the bike last week so it was ready to go, the weak link in my chain of events is always me. It felt just the same, the saddle's the same distance from the bars and my legs are still the same length.
There's no real demands on handling skills on the ascent to 1000ft but the few downhill passers by I met smiled at with either sympathy or amusement as toiled sweatily uphill in the granny ring. The rain came on before the top, oh blessed relief it was too.
Now that all the stones and rocks were as slippy as fish-juggling in mitts, handling became a factor. Lack of practise bleeds confidence, but it dripped slowly back as the ride rolled on. I kept the pace up as much as I could too. Stopping for one proper wee break for a drink and a photie or two.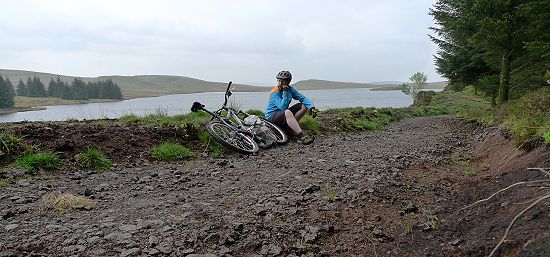 The dry trails of a few days ago have been slimed. Cornering was tentative and tension was high, especially passing where I crashed a while back, but with the cool rainwater being blown off my hot face as I charged downhill it was really just pure joy.
When I got back to base I was muddy, tired and wired. I've missed working so hard, it's nice be going a little faster than normal too. It's just a bugger that being off the bike for a while needs so much catchup time. All my own fault.
Epilogue
I thought Doctor Who versus the Pirates was great, but it's all gone wrong as I've just written this while we watched Avatar for the first time. It's the biggest budget movie written by a five year old I've ever seen.