I was on my way to a meeting, a little earlier than planned, a rarity for me. The fog hung heavy over us all, but I knew it wasn't a long swim up to the surface, I swapped lanes st the very last second and diverted to the Kilpatricks. A quick shufty and I'd be at my meeting right on time.
Snow tyres are a joy on actual snow, I recommend them to everyone sitting on the hard shoulder, in fact anyone who fits them should get an insurance rebate as the likelihood of a winter accident is definitely reduced, I really had to get the speed up to do a 180° spin in the carpark…
I rummaged in the boot, found a pair of Keens, my muddy building site gaiters and a bottle of Irn Bru. I was already wearing outdoor gear on my top half, and the Snickers canvas workpants with kneepads would be fine with the gaiters. I was away.
A met a fella coming down the trail, his were the only set of prints in the fresh snow "Please tell me the Lang Craigs are above the cloud" I ventured hopefully.
Wasn't looking good though, the cloud was bubbling up and there were no views to be had when he'd been up there, just occasional portholes to gaze through. Bugger. What the hell, I'll head up anyway.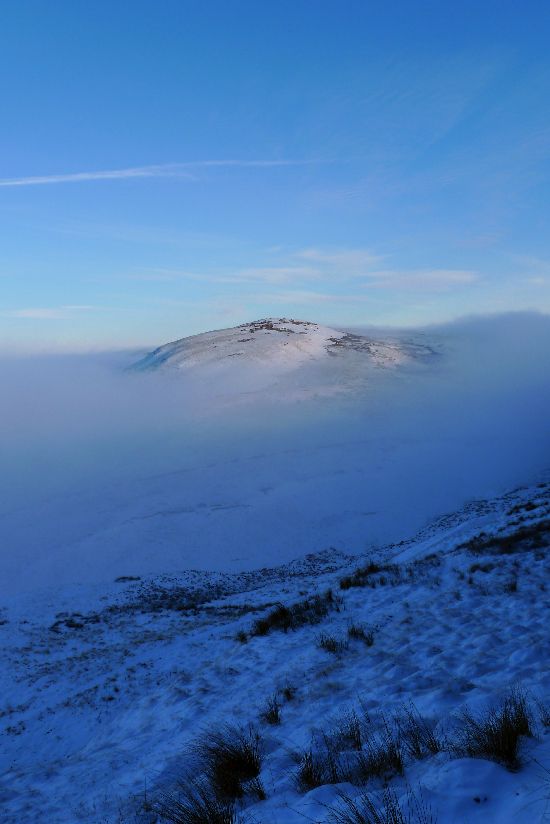 Good plan, as I got nearer the forest, the cloud drew back and I saw sharp edges and blue sky. Doughnot hill looked like a fat belly sticking out of a bubbly bath (I know what that looks like…), and with a grin I slipped my way up onto the crags.
Glorious, every time, nature just slays the opposition.
It was a scrappy inversion, a trowel run over the top would have smoothed it out, but over Loch Lomond it was smooth and unbroken by holes or waves. Conic Hill would have been the place to see it, the Ben is too high above it all, Conic was just poking out and no more.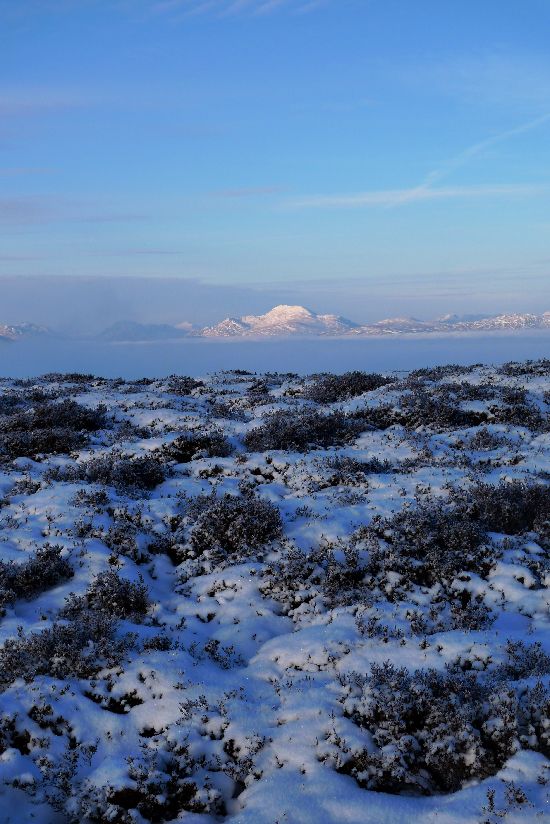 I wandered around, trying to keep the height, and time just ebbed away. The cold air, the cold sun, a little escape for me, something I think I needed without realising it.
I saw sheep, all very mountainous looking they were too, shaggy buggers, they're evolving to suit our new climate or something. One stood at the top of an icefall, having just soloed it without protection, it mocked me with a toothy sneer, "I could do that any day of the week" I fired back "I'll be eating you in a pie next year…". I felt bad saying that, do they put mutton on pies that I eat? No idea, I like my insults to be accurate, so I may find the sheep again and am,end my remarks with something better. Of course I couldn't do it, I haven't done that stuff since the 90's, but Petzl must have heard our conversation and reacted, I had a brand new GriGri 2 waiting for me on the mat when I got home ?!
I saw half a sundog on the way down, just before I fell back into the murk. It's a frozen world below and a g0lden one above. Both make my heart glad today.
The meeting? I had to go back and pick up Holly early and never made it. I am a dick.