This is the first of my reviews of some gear that I've had in the works since my sadly brief time with the much missed Outdoor Enthusiast Magazine.
Silverpoint was a new name to me and there's more to come from them on here too. First up though is a pair of headtorches, the "How much XL120?" and it's bigger sister  the "Really, how much XL230?".
I don't know how much these two torches are in-house spec or a branding exercise from generic models. I found other Silverpoint torch models with other brands on them after a quick search but not these two and to be honest it doesn't matter. I'd like to think that any brand worth it's salt puts their name on kit they will happily stand behind, so it all comes down to performance, reliability and price.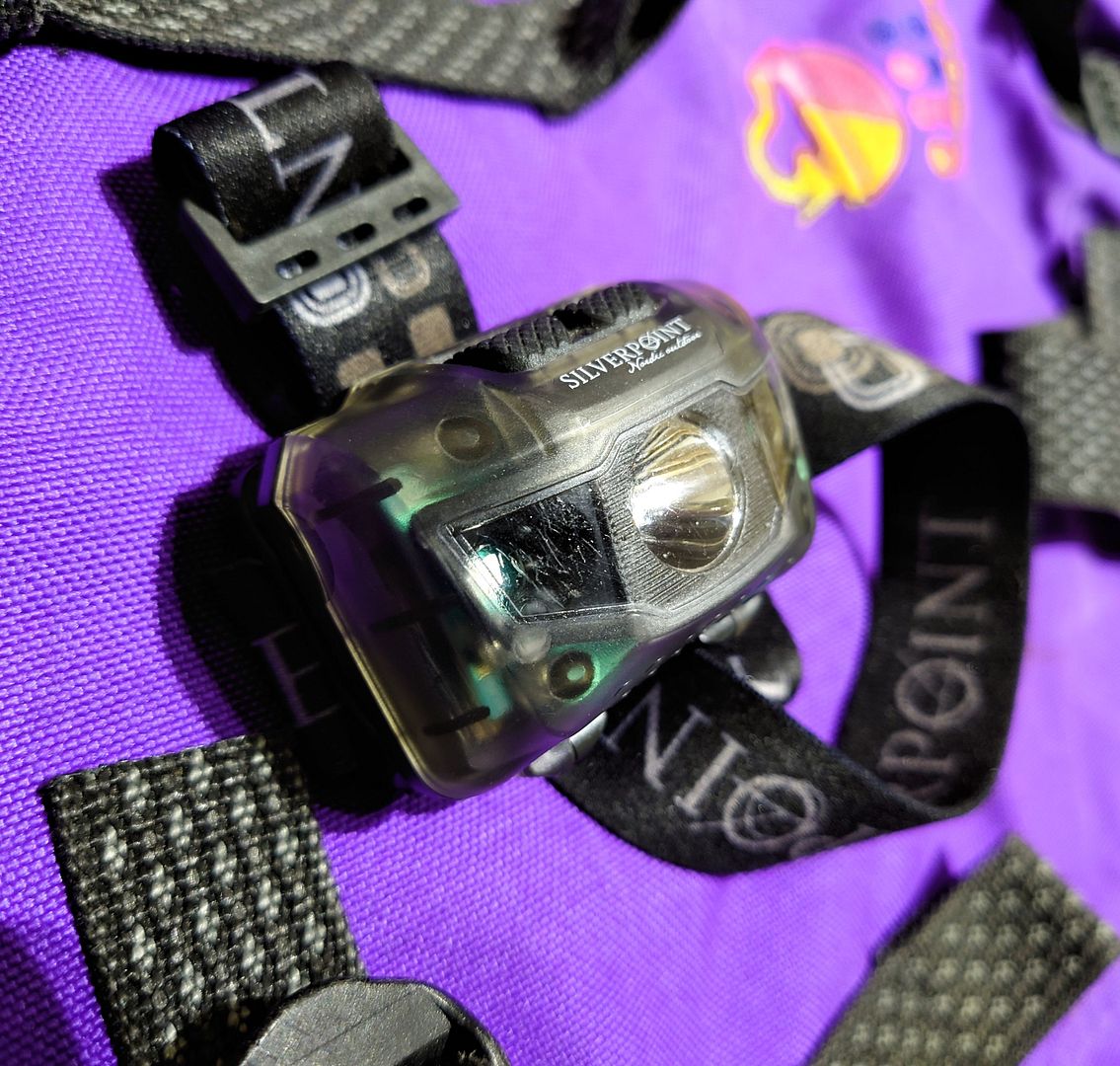 First up is the Hunter XL120. It's just under 100g, takes three AAA batteries has decent sized white LED and two wee red LEDs at each side with an output of 120 lumens.
The headband is smooth with just enough stretch to keep it secure without feeling constricting and with almost a year of regular use the elastic isn't showing any signs of aging. The amount of adjustment is great too, from bare head to over hats and hoods has been no problem.
The torch part is standard format stuff with a backplate attached to the headband and the rest hinged off of it with the battery compartment backing onto the backplate with the usual thumbnail breaking clip to open it.
The hinge gives enough movement to focus the light well ahead or for detailed shoe gazing as you amble depressed through the dark forest because your flask is in the truck.
The two rubber buttons are quite big, around pinkie nail sized, sitting reasonably proud of the torch housing and have a pretty positive click for scrolling (I'm not sure that's the right terminology, I might edit that if something better comes to mind) through the light settings.
You can have red on or red flashing with the right button. Right when it's on your head that is, even if you're left handed. The left button does full, dimmed and flashing of the white LED. You can have both on at the same time if you want to a) have a disco in your tent, b) drain the battery, c) think the cops are coming, d) have a seizure.
Waterproofness is IPX6 ( for both torches) which is fine for rain and snow, and dropping in a puddle etc. I've used them plenty in wet conditions and had no issues.
In use the Hunter is plenty bright for safe navigation on lightless terrain with a nicely sized and bright centre spot with a focused halo around it.
I've found battery life to be fine, I've not been worried by surprise fading after a few trips up the crags without fitting new batteries.
But that stuff probably as much dependent on whether you buy good batteries as much as anything. I've never been able to properly scientifically track this over the years. I think if any torch was really bad it would be immediately obvious as it would dim on it's first use.
The casing is getting scratched over the lens which might start to diffuse the beam if I don't watch it, although I can polish this out and likely will.
This is because I give the Hunter a hard life, it's been loose in my toolbag a lot and has been under quite a few church floors looking for leaks as well so it's had more abuse than any headtorch just kept for night hillwalking would ever get.
It's just a tool really and it's done what I'd expect of any tool, it's done it's job reliably and without fuss.
Bigger and brighter is the Scout XL230. Superficially they look something the same but there's actually a lot of differences.
We're still just under 100g, still three AAA but we have a big fat main white beam from a Cree 3 watt LED, two small white LEDs and a single red. 230 lumens for owl stunning joy in the nighttime forest.
The headband is a softer more stretchy fabric here which is aging a little, no more than I would expect for the use it's had so I'm not too fussed. Same good adjustment and comfort whatever.
The torch body is different as well. The backplate and hinged battery cover are attached to the headband so that when you open the cover the torch comes away free in your hand. And can still work as well as the the batteries stay in it.
It hasn't happened but I do worry about dropping this and getting water inside, or if my luck was really bad losing it if I'm forced to do a battery change in less than ideal conditions.
Not a fault, just unusual.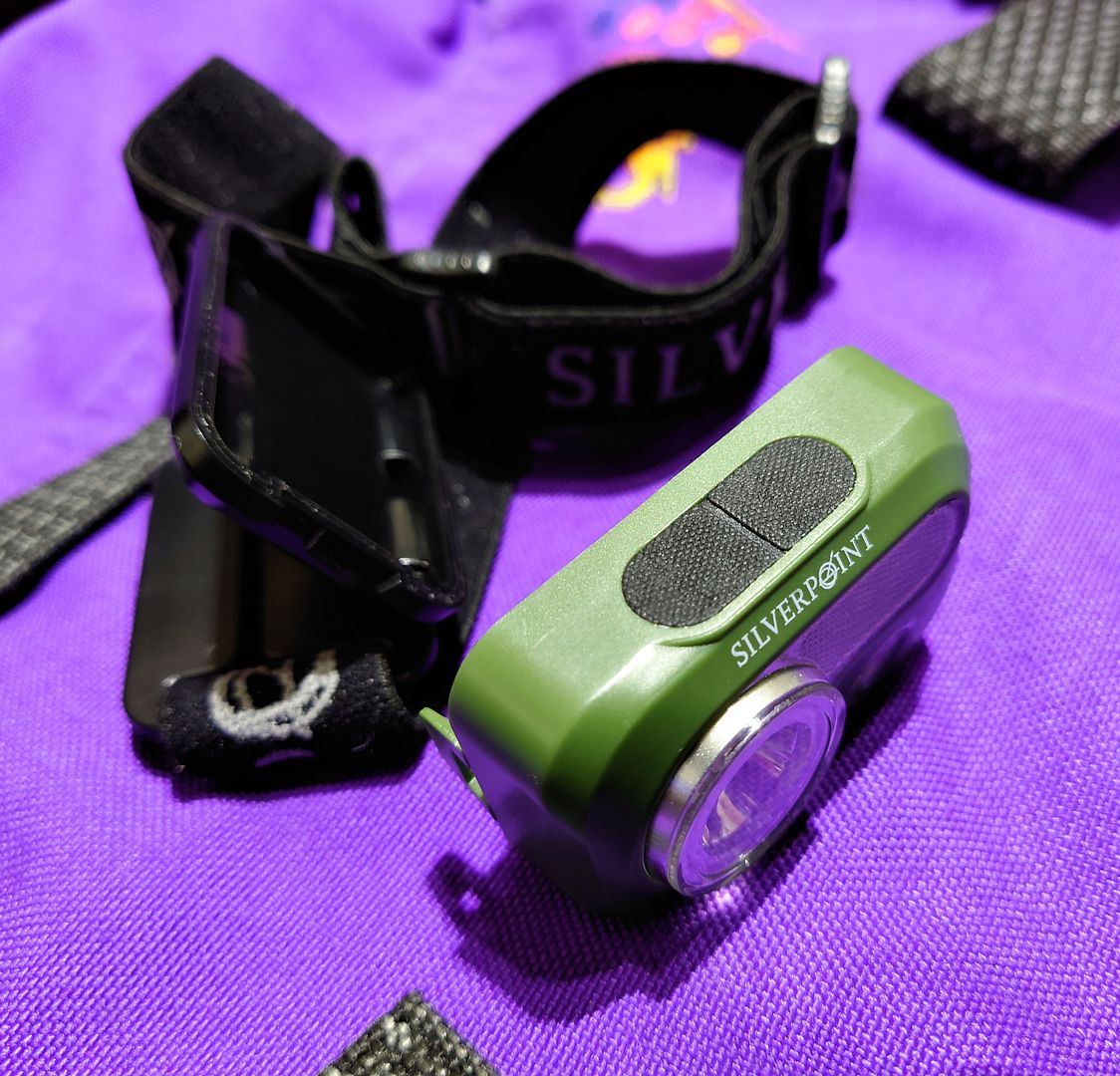 The big two function rubber button is pretty much flush with the torch casing and while this is fine with bare fingers they're hard to just find with any gloves on never mind operate. I've found myself taking the Scout off to change the settings at times.
The settings are red on and off with the left button and full, dim and flood for right button. I don't have the flash settings. To be honest I don't know if I ever did. It's been nearly a year since I did my initial shakedown and I never use flash at the crags, sure as shit someone will see it and phone the polis. So, I dunno.
The white light is superb though. The main beam projects incredibly far with excellent brightness and the flood is perfect for difficult terrain, setting up camp or crossing flowing water at night. It's a brilliant mix of functions, in fact an ideal mix.
The casing seems to be tougher on the Scout, it's taking the same regular abuse as the Hunter with far less scratching appearing on the lens.
Battery life is again an unknown, but I do know that using the big fat main beam means I've changed the batteries more on the Scout, but as I'd expect. That big beam is worth it though.
The Hunter is £12 and the Scout is £25. That's scary cheap for what you get.
Neither is perfect. The Hunter should have a tougher material over the lens and the Scout has the hidden buttons and that puzzling lack of flash mode which I should have noticed and asked about so I'm leaving that one open.
They're both still in regular service, when I went to get them to take the photies for the review one was in my tool bag in the back of the motor and the other was in the lid pocket of a rucksack at the door.
They are currently still the go-to lights, that's probably a recommendation to at least have a look at them.