Now here's a thing, the Silva ADC (Atmospheric Data Centre) Summit. Silva I already know from all the compasses I've ever had, but they do a lot of other stuff as well and I was keen to have a look at some of it.
The ADC Summit is and outdoor geek's Tricorder, a small, light device with the capability of supplying a lot of information. The most important one for me is the wind speed indicator, which you'll see displayed on is screen above. There's a lot of mince spoken about the relative merits of tents "Oh the windiness, my tent didn't shift at all", "Really, how windy was it?", "Very windy…". Aye, very good. Well now we'll see how windy it is in MPH, KMP and M/Sec. I think this will be an important tool for tent use and testing (especially lightweight tents), and I'll be using it from now on in reviews and reports.
It has many other functions that I'm still working my way through. Barometer, timers, altimeter and more plus a mechanical compass as well. The wind speed gauge's impeller is magnetic and the red blade points north. It come with a mini disc with instructions and a wee Silva man who sits in your computer and waits for the information you can send to it from the ADC via infra red. I'll cover it all in more detail later (it only arrived today), but it's going to be interesting to see both how it performs and what results it shows.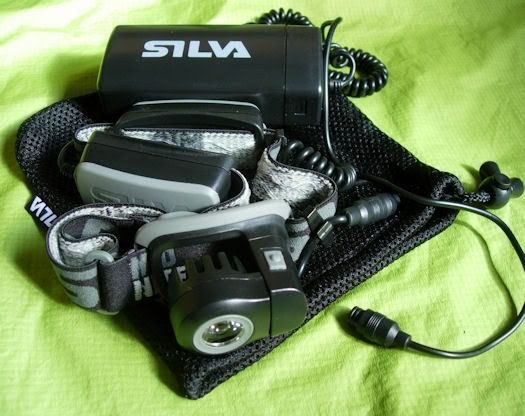 That there above is the L1 MidNite headlamp pack. It's a 3 Watt single LED with twin battery packs on the headband, but also it comes with a remote battery pouch (with the big logo at the back of the photie). This means you can use it for winter night hikes as you'll have power for the long term use of a full beam and the battery life will be extended as you can keep it warm inside your clothes. It's a simple connector swap-over and the headband batteries are easily removed and refitted. It comes with a storage pouch and more impressively it comes with Energiser batteries, not the KratosPower SuperElectroBox squibs that you usually get in your finger defeating heat sealed plastic packaging. We've passed the halfway point of '08 so darkness will be returning and I'll get a night hike in with the remore battery pack asap and report back.
Below is the rather natty L4 Camo. It's in an area where there's a lot of competition, it's pocket sized, with four small LEDs, switching options of increasing brightness with an SOS flash and a single red LED option. Now, what I like already is that it's the red that comes on first, the low white and then the brighter options follow. Great for keeping your night vision and not going all "Aagghh….my eyes!!" in the tent at 0400 when you need a light to find biscuits. Again we've got a pouch and it came with Energisers. It's the free tank of fuel with a car, or a set of strings and plectrums with a new guitar. I like that. Testing of this will be imminent, it looks bright enough for hill use so it'll be getting packed shortly.