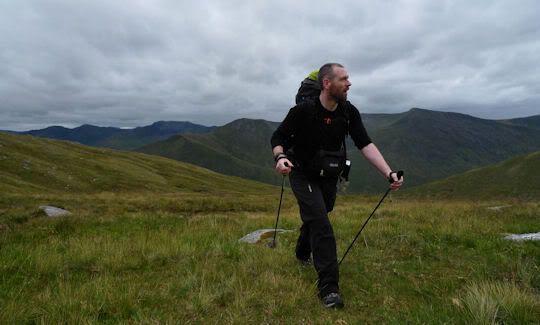 I was ready and packed. I left in plenty of time and sped up a remarkably trouble-free A82. I stopped in Ft Bill for a roll on bacon and a cuppa and didn't even go into Ellis Brigham for the usual mild confrontation.
The road further north was fine, the only pause in my progress was the Laggan swing bridge being open for a couple of boats to pass through in either direction. That was nice to see, folk using the canal, holiday's at home indeed. The "No vacancies" signs that were very much in evidence on all the B&B's and guest houses is also a healthy sign. I wonder where this lead? Will Scotland rise to the challenge and provide better service to keep folk coming back, or resent being asked to work so hard and make sure folk are heading for the airports again when they feel more financially secure.
The bridge swung shut and I was off again, ticking off these now very familiar miles. Passing Loch Cluanie in it's half empty state made me sad. The horrendous scar of its unnatural shore line imposed by the dam is a very big warning to anybody that thinks environmentally friendly power production is without cost. Save our planet by ruining our landscape? I don't think so.
I pulled into the Shiel Bridge garage to get me a Capri-Sun. My quest for a tasty drink with my dinner at camp has led me here, it's small and has the flattest packaging out there, plus it's very nice. The cafe was closed though, and I don't know if I've even written about it? We called in the "I Hate You Dad Cafe", it was bought by a couple from down south who moved up and brought their teenage daughter with them. She worked in the cafe and dressed very much like a stripper nearing the end of her shift, we could never work out if it was to directly piss here dad off or to unsubtly apply for a pillion ride back south from a customer, either way the name seemed to fit. I often wonder how that story played out.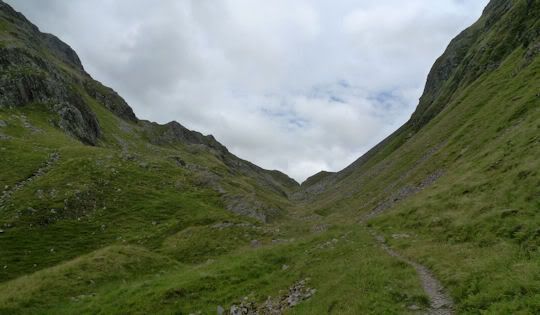 I parked at the same spot as the last time at the Kintail Countryside Centre and set off on the same path. It was still morning, I was well ahead of the game, I felt fresh, my pack was light and I was in a base layer and boonie hat. Not my denim one though, I think its retired now.
On the meadowy slopes before Gleann Chòinneachain I met some folks working on the path. They were mostly volunteers and they were building a couple of channels for water to run through rather than pool into an erosion accelerating quagmire. I wanted to take their photie, as this was for a Trail Route I thought that even a wee thumbnail of folks working, and especially young folks as these were, would be great. But I wasn't allowed as some of the youngsters were under 18. 16 is the age of photographic consent, but I wasn't going to argue. Young folks out there covered in mud, swatting away midges and having a great time doing important work. I really wanted to show that, youth is too readily demonised.
It was overcast and humid, and I was working up quite a sweat as I climbed up the glen. I stopped at the same water spouts as I did two months ago and cooled my hands and neck. It's odd how familiar this area has become.
I met a couple at the big waterfall before the zigzags up to the Bealach an Sgairne. They'd been camping out the night before on Sgurr nan Ceathreamhnan and were having a great time, they were now down to their last four Munro's. We chatted about this and that and I talked about my last trip there and how we had to cut it short as we were getting killed by the heat. That must have rung a bell, their map pouch came out and in it was a print out of my Trail article pages with the wee map. The words were out before I even thought about it "Hey, there's me! And I'm wearing the same trousers…". What were the odds on that happening? It was funny for sure anyway. I like meeting folk that are enthusiastic and happy to be in the hills, there seems to be an awful lot of po-faced bastards up there at times. I left the folks behind to enjoy their lunch and climbed up to the bealach on a wave of positivity.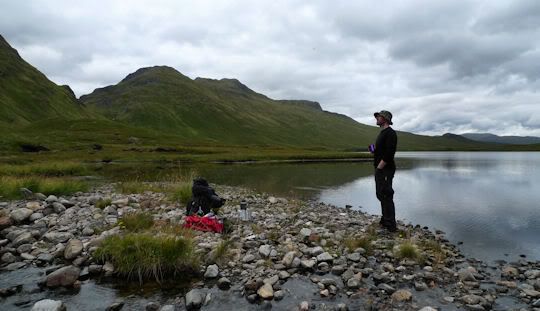 It was just as good as it was last time, less blue sky, but no less dramatic. And looking down to Loch á Bhealach had my wearing a grin fueled by a mix of pure joy at just standing there and happy memories too.
I stopped for lunch at the same spot as last time. It's worth just going there for a picnic, what a spot. I lingered, I'd made very good time and I felt no pressure. The cloud cover was above the tops and the day was still young.
I took a different line up this time, a rising traverse across the side of Sgurr Gaorsaic which was great fun, it's steep and there's gullies to work round but the ground and height were eaten up and I was at the little plateau between Sgurr Gaorsaic and Sgurr nan Ceathreamnan's south ridge soon enough.
I had a drink and noticed that it was getting darker, the distant shapes to the south were a little less well defined than a little earlier and there was definitely more of a breeze.
I walked by the old fence posts that I'd followed on my descent months ago and found the edge of the coire. I looked in and saw it for the first time in close up. Wild and rocky. Time for some photies.
The southern indistinctness had crept a little closer. I watched the Loch Quoich hills fade away and turned to move the tripod and set the timer, in that time the South Glen Shiel Ridge too had become washed out and I could see the pulses of rain fold over the ridges of Beinn Fhada only a mile away, pulling with them cloud cover that looked somewhere around 500m.
I pulled on my waterproofs and stowed the camera as the first drops started hitting the back of my hood. I looked at the summit ridge as the rain moved it further away from me, the north top dead ahead was wiped out as the growing wind blew sheets of rain across my back. I pulled on my shell mitts and crept up the rest of the way to the north top.

I stood there and looked around, visibility was maybe 20m, the rain was constant and I had to run through my options. I wasn't going to Mullach na jerrycan in this pishy horror.
I looked around for a flat spot and found one just at the start of the ridge to the summit proper, my stomach and watch said dinner-time, and the weather said get-indoors. I pitched the tent.
I was admin-ed pretty quickly, even using a lot of unfamiliar gear. I lay there eating my dinner staring out of the open door as the rain ran down the flysheet. I wasn't annoyed, I wasn't tears and snotters like I'd been before, I was actually quite content. Lying there with my face on my my wee Ajungilak pillow I slipped into sleep for an hour and a half. I woke up and had another cuppa, nipped out for a pee and a wander around. There really was nothing to see, I was pitched on a moss-covered coaster thrown into the middle of an ocean made from grey loft insulation.

I got into bed and stuck on "The Comic Strip Presents: More Bad News" on the iPod and laughed away for an hour. I followed that with some music and after a last hopeful head-out-the-door after midnight I decided that there was nothing happening out there and went into sleep mode.
I still wasn't upset, maybe I was having a Zen-like moment of peace, detachment and acceptance. I worked out my whiny demons ages back and slapped them like they deserved.
I lay there in the gloom, warm and comfortable, well-fed and tired, composing the email I'd send when I got back.
"Dear Trail,
I've tried on four occasions to get photies of this bloody hill and it's just not happening, I have failed.
It's like Sgurr nan Ceathreamnan's the tall and gorgeous girl in my year at high school, I'm just the skinny wee nyaff in the Motörhead t-shirt that she doesn't even know is there.
Regards
PTC"
I drifted off lying there in the rain at 1100m, not even near half-way through the planned distance. What the hell was I going to do tomorrow.