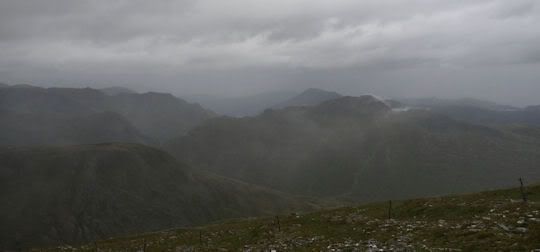 Pit it apt at at atap it apat tat… the rain was still falling, and with my eyes still shut I was warm and I didn't want to move. I knew it was brighter, and no screwing up of my eyes could shut it out completely. Putting my head into the sleeping bag just made me want to pass out from lack air or heat stroke. I pulled my arm out and found my watch in the pouch above the door, 0836 it said. I'd had at least six and a half hours of completely undisturbed sleep. Outstanding.
I unzipped the doors and made a face at the world outside because it was rubbish looking. I lit the stove and lay on my front watching the rain gather on the long grass outside and run down the stalks when the drops got to heavy. The wind was from behind, I was sheltered and really quite happy as had a cuppa and some porridge.
I thought about my options as this weather was now the deciding factor. I could descend again and be back in the motor in a couple of hours, carry on and retrace my similarly cloud-covered steps of a couple of months back or find something else that was new and would be fun, maybe descend NW and circle around Sgurr Gaorsaic to find the other end of the Loch?
At 1000 I finally got out of the tent for a pee and a stretch of the legs, feeling under no pressure. I even thought about just sitting there and waiting for something to happen, for the weather to either get better or worse and give me a nudge, I had plenty food to sit it out.
The nudge came, and it was like walking along a darkened corridor, opening a door and stepping into a brightly lit room and finding a table with Irn Bru and doughnuts on it. This would also be accompanied by an audible "Boof!".
A hole in the cloud appeared, I saw the summit, the ridges and into the coire to the north. I just got the camera set up to get a shot as it filled itself back in. This gave me as much a dilemma as the constant rain, what would happen now, would the cloud lift? 
I packed slowly, constantly watching all around. Once, the sun burned fiercely and briefly through just thin cloud cover, the corries on both side revealed themselves occasionaly, light playing on their boulder strewn slopes as the sun penetrated elsewhere unseen from my high campsite. I was grinning with optimism as I set off towards the summit over the wonderful knobbly ridge in an ever brighter atmosphere, I could see detail, distance and a chance of doing what I came here for.
Standing on the top this time was fantastic. I could see the north top where I'd just camped and I could see the ridge leading to Mullach na Dheiragain. Too far, too late, not enough water. Right now, I was still walking away from the motor, day two even without the Mullach was twice the distance as day one. I did give several second glances that way as I descended eastwards, I thought about contouring over there via a lochan to pick up water, but as patches of blue appeared and distant slopes and peaks became sharp and clear, I decided not to push my improving luck and just set off with the renewed purpose of finishing a route that had been on my mind for months.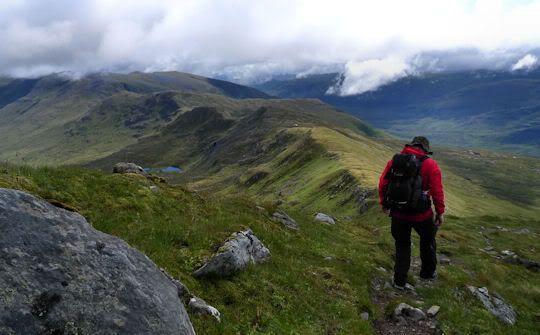 It was still a little windy, still cool, so I kept on my waterproof. The air was fresh, the light was clear. The ground felt good under my feet. These are the hills at their best, standing tall, chest out, hands on hips, very much alive, and today, feeling benevolent. Every footfall was a total joy.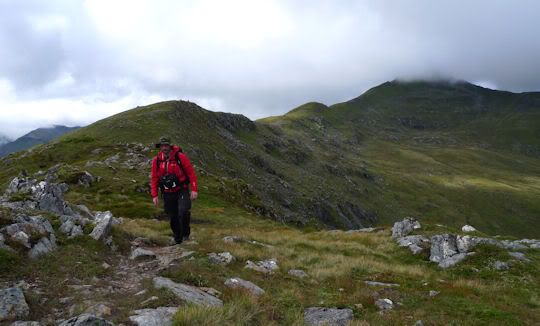 The summit clouded over again, just a wee wispy toupee. But the broken cloud added scale, the notion of the mountains touching the sky, of all nature feeling as one, even I felt part of that for once. Not a visitor or a viewer, but a participant as the day unfolded around me without another human in sight. Spend the night up there and you'll never see the hills the same again, I hope this never wears off.
It was getting warm as I descended towards the youth hostel, I stowed my jacket and filled my bottle at a little waterfall. The path here is clear and well maintained, but still narrow and unobtrusive. A good model for elsewhere.
I met the hostel warden out for a wander and spoke my first words for 24 hours, always interesting as I feel like I'm shouting.
I looked south at hills I've climbed and actually saw them, rather than cloud for the first time from these slopes.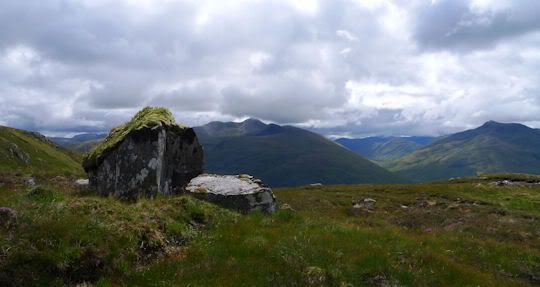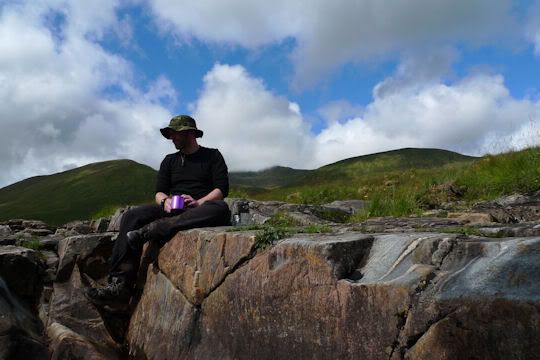 I stopped for lunch by the river, well in the river I suppose as I sat on the warm rocks and had soup as the cool dark water flowed and gurgled around me. I sat for a while and soaked it up, mountains all around me, empty land, miles to go and everything I needed right at hand.  Do folk know accessible this stuff is? How easy it is to get into these places, how safe and enjoyable it can be? I wonder how many folk get put off trying by TGO making it look dull and Trail trying to sex it up? As ever the truth is in the middle somewhere.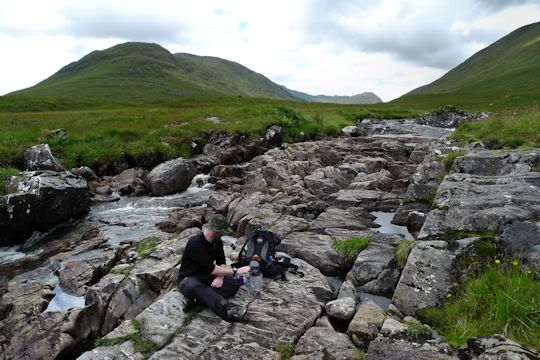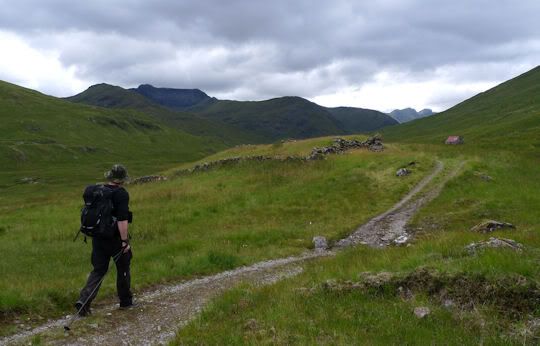 Not far from Alltbeith you find Camban bothy, and a cracker it is too. Two big rooms with two-level bunks and I found it in a pretty clean condition. No sign of folks having been there and the fireplaces were empty, but in its wonderful position between Beinn Fhada and the north Cluanie hills it must be well frequented.
The track from Camban to Gleann Lichd is wonderful, and the very reason I wanted to do this route. There's a gap in there that I'd never walked, only seen from the summits and walking through there on its lovely, twisting track surrounded by high tops, I found myself also surrounded by memories of trips and friends now long distant, of a younger man exploring the highlands for the first time, and also an older man who's found that his love and simple joy of placing one foot in front of the other in this beautiful country has never faded.
The mists of time and the misty eyes of a sentimental auld eejit? Maybe, maybe. But my heart swelled just to be there, and to be there on a such a day as this where nature never rested, never stopped trying new ways to set itself in a new light, and with every attempt found something just a little more special.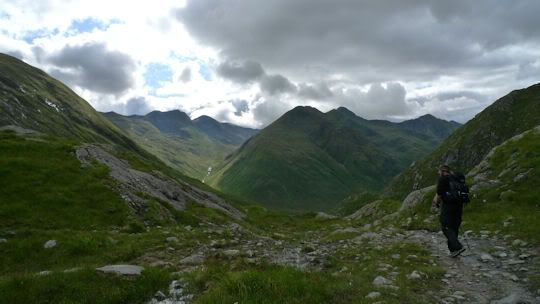 I'd never seen the waterfall. The path contours round the deep gorge, and I kept looking around to say to someone "Isn't this just stunning?". But this was a very solitary trip, I think it had to be. Unfinished business, not with the mountains, but with myself. The mountains don't care, they just are. You can't expect or demand, but what you come away with is all the better for it.
The walk out behind the Five Sisters of KIntail is long and on a landrover track. The further you get the more the land changes its character from wilderness to countryside.
I stuck my iPod on, and the first track that shuffle mode found was Slayer's Jesus Saves. I laughed out loud at the surprise of its genius choice and immediately started playing air-guitar on my trekking poles. It was on good form and fed me one cracker after another and I slipped out of the glen in into the motor on the crest of a metal wave, beaming from ear to ear.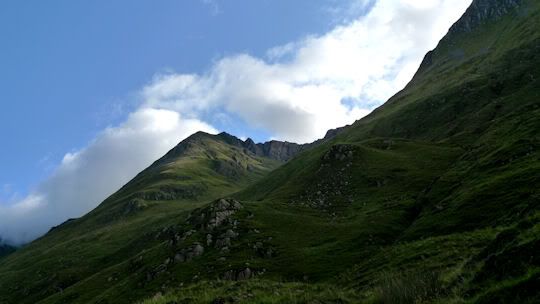 I stopped in Ft Bill, and a MacDonald's never tasted so good. And an ice cream with a flake in it was never so appreciated.
The sun sank behind the Ardnamurchan hills and bathed the Glen Coe hills in a pink light, the traffic was light late on a Monday night and I sped through the velvet landscape, eager to get home and see the girls.
My one stop was to get the camera out near Loch Ba. A wonderful spot which never fails to surprise me with how many moods and colours it can find.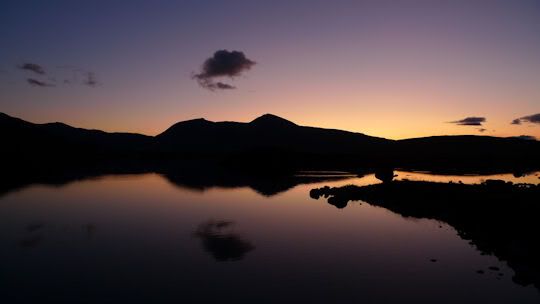 This was a trip that I will hold dear in my memory. The hills, the trail, the weather, my head, it was all right.