I'm probably about done with it. It's too time consuming, the results are patchy and when I clean them up I'm starting to make them look like Looney Tunes might have drawn them. That also might be because it's 0200hrs.
But I got some crackers tonight, I put most of them on photobucket at 500 pixels wide to use to brighten up the text on here. but there's a couple I'm just desperate to see on a black background.
This is the approach to Ben Chonzie early on Hogmany 2003
Sitting somewhere round the back of Ben Lawers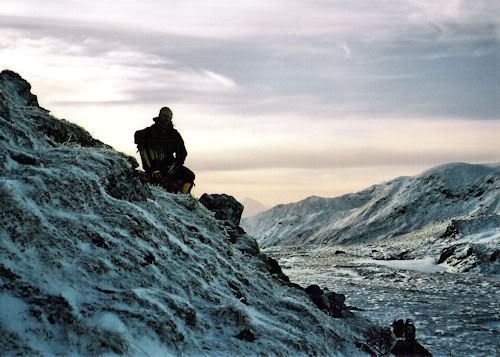 The proof that Scotland isn't all heather and mountains
I've been looking at cameras. The Ricoh's are spoken of favourably, then there's the familiar names. I don't know, they're all aluminium boxes with thick manuals that'll annoy me and get tossed. I really have no interest in it at all. I love the photies, but I can't be arsed with the camera. I imagine it's how customers feel when I debate the relative merits of pipe systems with them, "Yes, yes, very interesting I'm sure Mr Macfarlane. But I really don't give a monkeys, just make it warm/cold/pressurised".