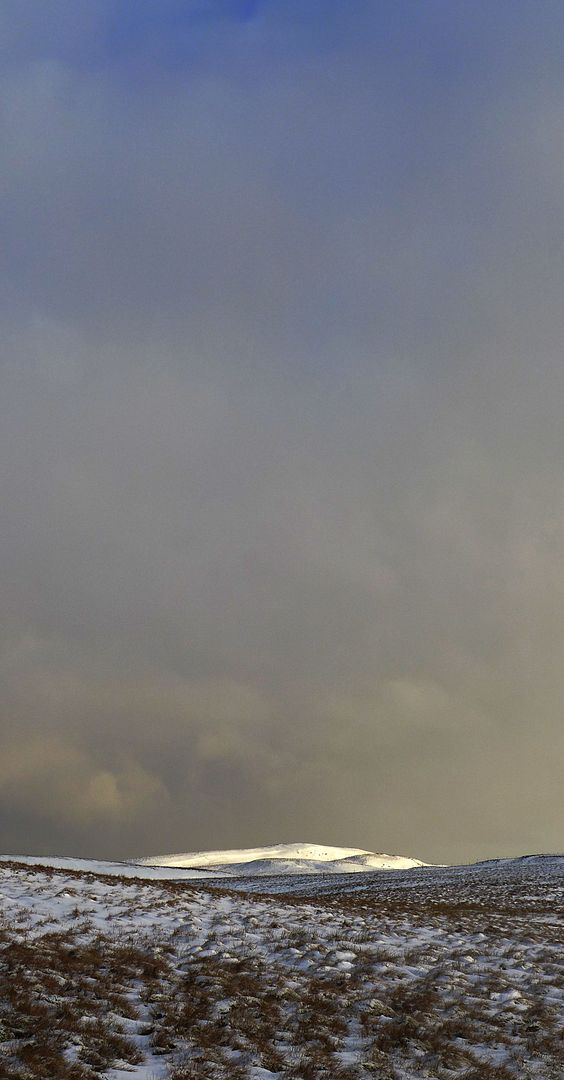 I had to get out for a bit, even if was just for a round of golf with the girls. No, that's Sybil from Faulty Towers isn't it. Crags it was.
The new snow had been taunting me, not a directly personal way, but in a passive aggressive dismissive way, it didn't care if I could get there or not, but it was enjoying my pacing and clock watching I'm sure.
I was already packed, all my favorites were right there to be grabbed, I just needed a wee flask and getting from front door to the Overtoun gate wasn't even long enough to hear a single song on the stereo en route.
It was pretty grey lower down, I was initially a bit disappointed thinking I might have missed the best part of the day where the snow clouds were mixed with startling blue sky patches.
There were groups of people happily breathing germs on each other all around the accessible lower grassy bits so I just motored on, even if my chassis wasn't ready for it.
The ascent was fast and occasionally breathless but I did hit my stride after a while and I felt actually, surprisingly rather good. The paths were powder on ice and I had my spikes on pretty early on which made the going even better. I had a warning from one gingerly descending pair and funny looks from another lot on their way down.
Don't care, good luck to ye, I'm all about solo uphill today.
I took a shortcut from the top of the crags, which as always were looking fine, into the nasty cleared forest area to get to the reservoir and onto the plateau so I could sneak up on Donut Hill from the back. It was here the sky started to mix things up a bit and I thought: Oh, I'd better hurry up.
I charged on as patches of light skittered across the moor, picking out the rounded tops to the east as well as the little rocky crown of Donut. The sky was split so many ways, deep and dark, clear splashes of blue, shards of pink and orange and always the fuzz tones of the snow streaming from the clouds which were distant, then definitely getting nearer. Aye, they were racing me to the top.
Naw, ya bugger. This is mine.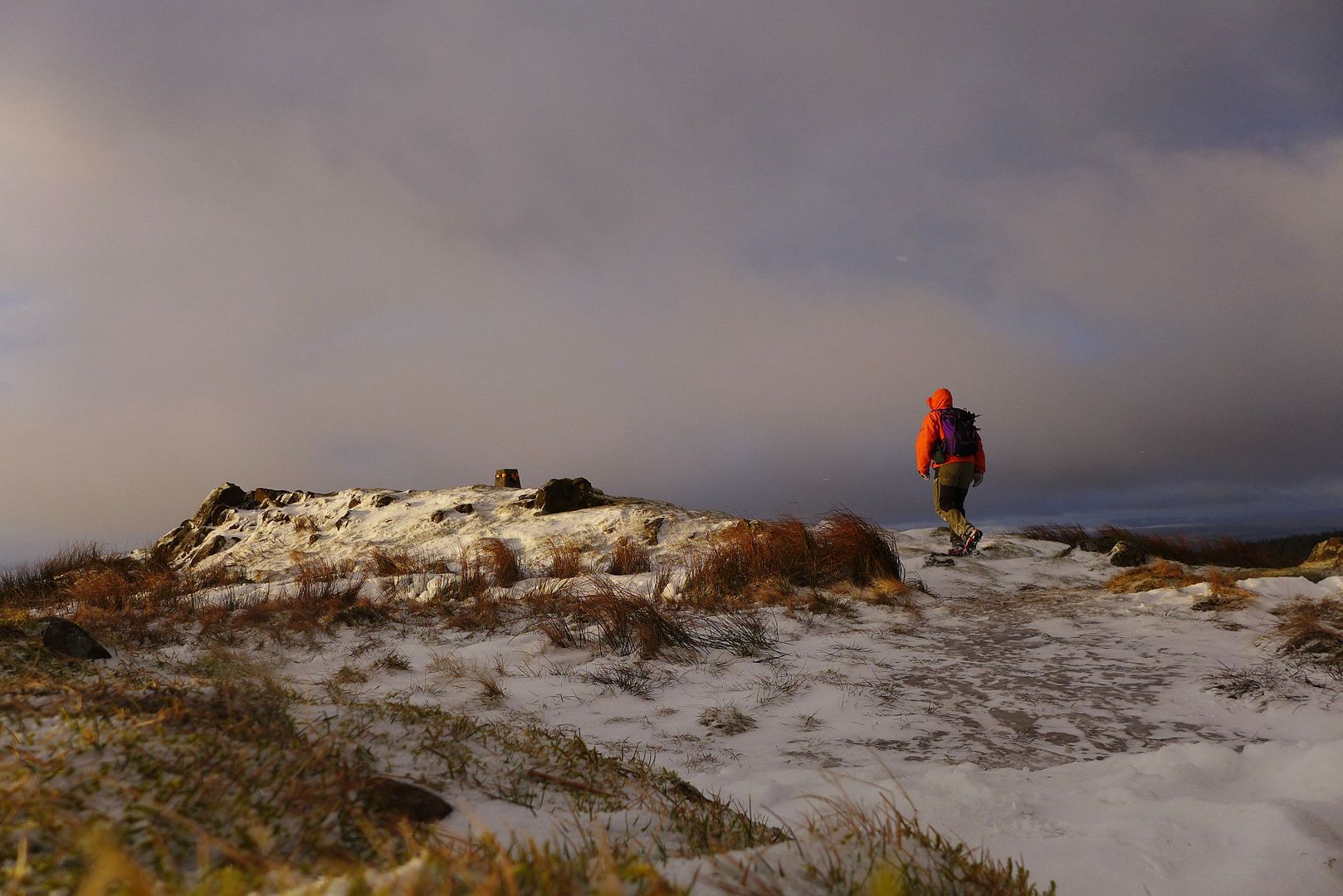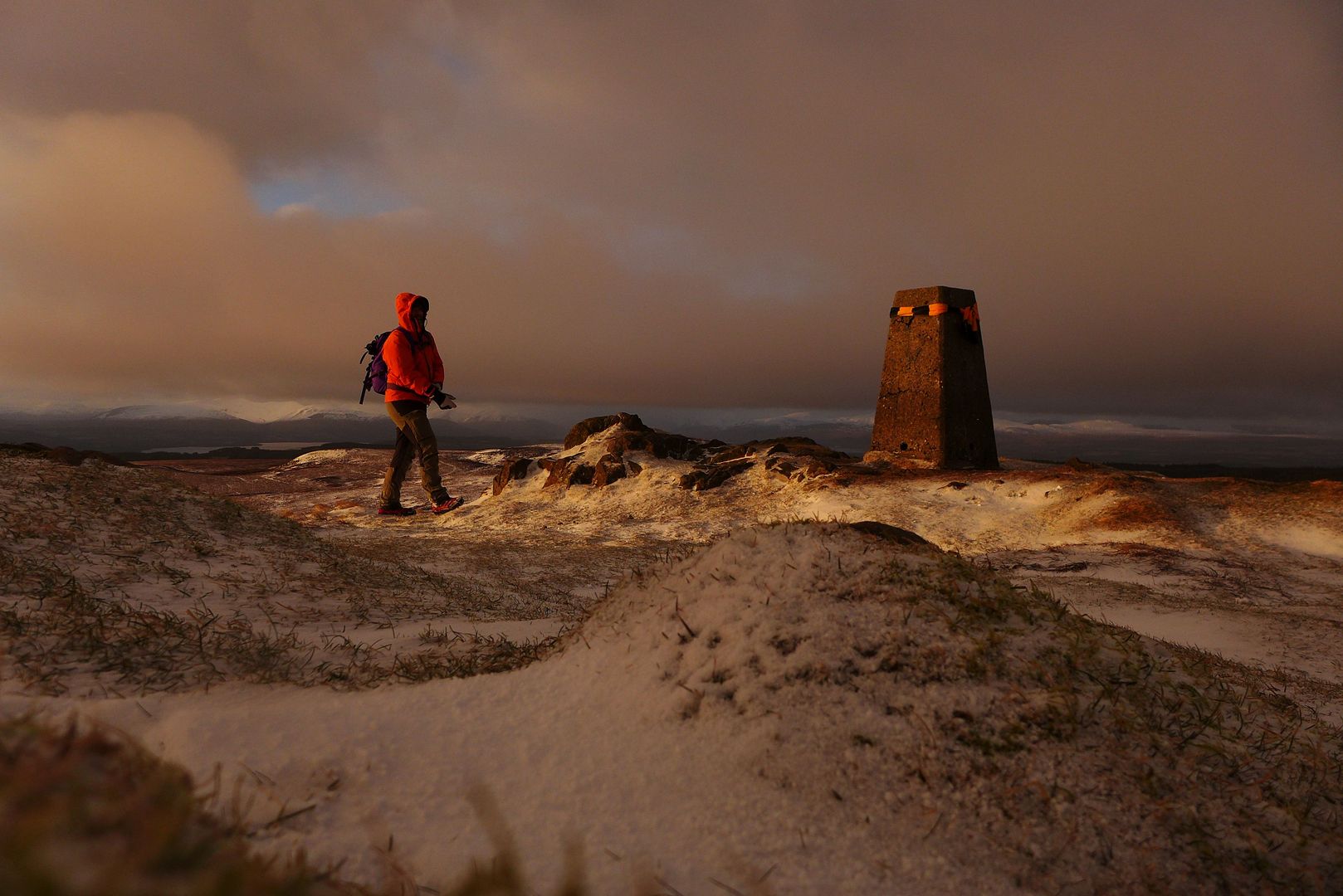 I won. And the reward was light like I've never seen up here. The textures and contrasts over what I will admit is not the most dramatic of landscapes had me open mouthed and laughing, even saying "Look!" to absolutely no one.
The wind was strong here too and I pulled on my down jacket (review later this week…), hid in a rocky corner and poured some 3in1 Kenco latte from my flask.
The snow flew at me horizontally while the sun burned through as best it could. I was caught between the elements and the machinery of nature but it was fine, as engines go, it's a smooth runner and an easy ride.
I was warm, I was comfy, my eyes were wide and my head was light. I really needed this. This wasn't making do, this wasn't an alternative or a replacement, I was full up.
I could even happily say when and leave before it was completely dark.
Epilogue.
I was in a fine eclectic mix of gear which did make me think several times as I walked. '98 shell, '94 rucksack, ten year old repaired trousers and a brand new fleece and test down jacket.
It all works together perfectly.
I've got a better perspective on this stuff that ever since I'm up here so often at the moment. How far has gear actually come in the past 30 years? I mean, really, design, not fabric and construction.
I'm enjoying fit and features on clothing that are clunky to look at but perfect to use. My pack is not very user friendly from a storage and accessibility perspective but it's more comfortable and stable that anything new I've used in years.
I know what I'd like to do with this, but I don't think I can. Well, it's been done once with my Karrimor Whillans pack right enough, but I want to do more.
Who will make me old gear from new fabrics? Anyone? Contact form at the top or the side depending on what your screen is, give me a shout.