Lot's of my trips revolve around routes for Trail. Now whatever folk may opine on forums, the routes are all-new and equally importantly, not imposed upon the writer. So when I'm back in Kintail in a few weeks it's entirely my own fault.
But first: The Easains, or This yin and That Yin.
I had to stop and take a photie of Bidean, it was dark and angry under a bright blue sky. That's just the way it is, and I wouldn't have it any other way.
The road up had been no fun, stuck behind a wind generator (I hate them both in the landscape and on the back of a truck), a 15mph bus and people looking at the scenery while relying on the rocks at the roadside to keep them on the tarmac rather than their hands on the steering wheel. There was a cycling event travelling south, an avalanche of lycra on skinny tyres, and the southbound traffic appeared to be trying to kill each one of them as they passed. Bastards.
Ft Bill was reached and scotch pie and coffee was purchased from the Nevis Bakery, I was also tempted by a Ben Nevis t-shirt from the tourist shop, the pointy alpine-style peak on it appealed to my ironic side.
I got a few bits and pieces and hit the road to Fersit (which is gaelic for "Where is it?" Hmm, might need the right accent to make that one work…).
The road down to Fersit is lovely, it's like a little model-railway diorama with it's twists and turns, little houses placed just-so and trees dotted around. The bridge over the river Trieg is always a bit like the lift doors opening and the lift not being there, such is the drop, but An Dubd Lochan soothes the nerves with it's little bubble of perfectness.
Of course, the car park is also where all the local bins are kept, so it's back to earth with a clatter.
I haven't been on the hills on the west side of Loch Trieg for years, the last three visits saw me take different routes to the east. So it was with a mix of nostalgia where I thought back to my day in the rain with my old pal Jimi and the same excitment I always have when heading out, especially when the sky is clear and the day is long. Although, that longness is wasted on me as I was leaving the carpark at 1500hrs. "Petesy, Petesy, your feet are on fire!" "Okay, I'll get it after this cuppa…" Aye, that's the way to schedule stuff.
Over the bumpy moraines behind me and I was onto the old railway line next to one of the forlorn bridges. I headed north to curve round the ridge and spit in the eye of The Munro's book route, I wanted to stravaig Coire Làire.
The railway line is fun, I like spotting the remains of the line hidden in the undergrowth, some like the bridges are obvious, but the old wooden sleepers in some places stick out of the bog like a zombies fingers reaching from the grave to steal my new hat. The industrial infrastructure has all softened over the past 60 years, it looks oddly natural, weathered stone, rusted metal, bleached wood. Nature is creeping over all of it.
When the railway curves away the track tries its best but it too gives up and fades away and as I passed what looks like an ancient cairn, it felt like I was walking into wilderness.  The coire is wide, the side are high, birch clings onto the crags above, but ahead are peaks and ridges, sharp and defined, with the rubust shape of Sgurr Innse checking names at the door.
In fact, as I climbed level with it later, it looked exactly like Pieter Brueghel's Towel of Babel.
My toes got wet as I bimbled through bog and heather, a nice feeling indeed as the sweat soaked into my hat at the other end. The high-stepping through the heather was hot work, I was warm. Every stop brought a cloud of midges around my head as if by magic, so I pushed on. My water bottles were being emptied fast. I paused at a little waterfall and held my hands under it to cool down, I filled my hat and threw it over my head. Didn't fill my bottles.

I climbed onto the north ridge of Stob Coire Easain via grassy ledges and chunky outcrops, all the time in the shade. I stopped and had a snack, and I poured a cuppa from my flask. Cold rancid coffee. Oh how I missed the easy convenience of the instant quality joy that is mobile cookwear.
I stepped into the sunshine to a view that knocked my (damp) socks off. The horizon and everything on the way to it was there to be seen. Apart from where the big wedge of rock ahead of me blockng a bit of it, so I set off up it, crunching and squeaking my way through the tumbling slopes of gleaming scree.
There was a light breeze now, just enough to make it comfortable, and all I wore today was a t-shirt. Summit in a t-shirt, you've got to like that.
Stob Coire Easain is a great viewpoint, Stob á Choire Mheadhoin doesn't really block anything but it's own NE ridge, so there is a brilliant feeling of space and distance. I found myself triangulating my position from familiar distant shapes, but with nobody there to hear their names I just smiled and felt for those who have to suffer my helpful supply of facts when we're out.
It's a silent peak, and very still. The coire had been alive, big fat dragonflies chuntered past me, butterflies danced a jig over the tops of the heather, tadpoles leapt for cover as my shadow crossed their little pools. Here was barren, here was clean even. Freshly dried by the summer sun after the rains of the day before.
The climb to Stob á Choire Mheadhoin had sheep, so my last-man-alive notion disappeared, and as I left the summit so did my views of the jagged wildness to the south. The dark swooping shapes of the Grey Corries stayed with me as did the dappled slopes of Stob Coire Sgriodain. The ridge levelled out and the light took a golden tinge, birdsong drifted from near and far, I stopped for a drink. 100mm of Nuun in one bottle, 100mm of water in the other. Damn these summer ridges are dry.

I slipped my bottles back into their pockets, and as I set off a little voice spoke to me from just a few feet away. I whistled back and a little head popped up from behind a rock. I suddenly felt guilty, it was like I was ordering food in a foreign cafe and mangling the language while looking at the listener like they were an idiot for not understanding.
I sheepishly slipped away, the whistling followed me. I looked round, it was a golden plover, standing up straight, right there, quite happily singing to me. I grinned from ear to ear and whistled back again. It looked at me like I was daft and replied nonetheless. We played our little game all the way along the ridge and I ended up laughing out loud while trying to whistle. I reached the cairn at Meall Cian Dearg and it left me, its colours disappearing perfectly against the ridge as it swooped gently home.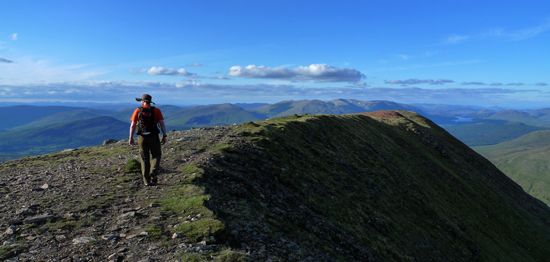 This buttress is better climbed that descended, it's pretty steep, the dirt is dark, peaty, slippy stuff and I used my arse as leverage on a couple of occasions. Great fun though, and when I was down, the straighforward onward trek to the end of the ridge just didn't appeal, so I hung a right, straight down the hillside towards the loch.
The first thing I did was send something wee with brown feathers and a white bum into the air, and not long after I did it again but it was a dotterel, it tumbled across the grass feigning a broken wing to lure me away from it's nest. I beat a hasty retreat. I'm always thoughtful when walking off-track: what am I standing on? Not the herd of deer I nearly fell on as I  crested a crag anyway, they swept away to the north, their many hooves flitting across the long grass with a sound like rain falling on a tent's flysheet.
It was a descent to delight the heart and soul, crag, heather and birch, layered and intertwined until I hopped across the burn to reach the hydro road.
Loch Trieg looks half empty, but my bottles were completely empty. I arrived back at the carpark not having repeated a single step of the route which always makes me happy. And, for once I'll give away the title, the route looks very much the same shape as the San Marino race track.
Welcome to Scotland, ye'll have had yer tea. Indeed, but no one told Oceans take-away in Ft Bill that the policy was to close as soon as possible, preferably while people were walking your way. It was not only open, but clean, friendly and making the food fresh for me was no hassle, even at 2200hrs on a Monday. I'll be back, often.
It never got completely dark on the way home, and after an artic waved me by outside of Glen Coe I never saw another car (on my side of the road, the boys pushing the petrol-less Astra at Crianlarch were going the other way and were hopeful of a mate rescuing them soon) until I got to the roundabout near Duck Bay at Balloch. In fact, so used was I to sailing down the empty road, music and full-beam on, when I should have been giving way to the car there, I was thinking "Why is he on my road?" as I shot onto the roundabout right behind him like a pinball onto the table.
The next car was actually a camper van. He was doing over 70, on an empty road in the early hours. See, these bastards can drive normally, they just drive about at 25mph during the day to maintain the myth.
It was well that I was home, my mind was wandering.
0200 back at base, a good day indeed.