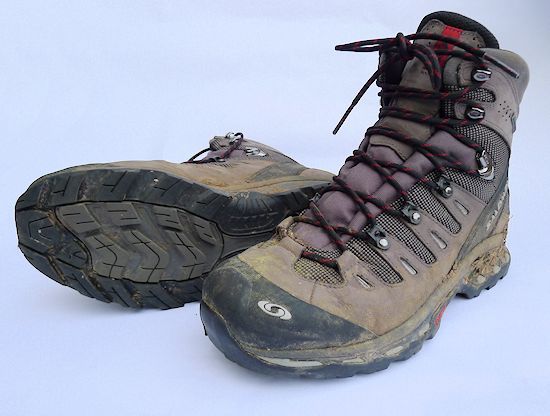 I got a shout from Snow and Rock's media folk about reviewing some boots and as it was Salomons that were on offer I thought is was a good chance to update myself as the last Salomon's I got sent up were the gripless Fastpackers.
Salomon XA trail shoes are still one of my all-time favourites, so it was with an open mind and tentative first step that I took the Salomon Quest 4D GORE-TEX on test.
1325g for a pair of size UK9's with a bit of mud on them. Whatever that looks like on paper, they feel light in the hand and on the foot. There's an unexpected feeling of the substantial about the Quests when you pull them on too, the upper is layered, but to my extreme joy there's great flexibility as well.
That high ankle cuff is misleading, it looks like a shackle but it's actually a water and crap repeller which matches up well with a softshell pant and has made the Quests my #1 choice for rangering in the Kilpatrick Hills. The flexibility around the ankle was okay out of the box and has loosened a little more with use, no feeling like my trail-shoe loving feet have been boxed into a corner of shin splints despair. The Quests are fit and forget, long days have been rub point and ache free as I've got just enough free movement to keep me upright and grinning.
The flexibility carries on to the sole unit, or at least the front half of it. The heel and arch are stiff-ish and the toe flex area is soft-ish which is perfect for me, just like the Montrails of my youth. We'll, ten years ago anyway. I think this is a good balance between stability and control, the heel is cupped and secure and the toe can feel the ground as well as you'll get in a boot. It makes for a comfortable long day rather than the desire to pull the boots off and wiggle my toes at every rock I pass. That stuff I will not do any more.
The outsole is surprisingly grippy. Really. It's still a Salomon, so wet rock and the like is never going to be your best friend in the Quests, but compared the Fastpacker I mentioned above, these are so much better.
The sole pattern is quite open and deep cut while being quite flat at the same time, so they suit both hardpack and soft ground quite well and they clean on the move well enough. There's a decent heel breast for downhill grip too, it's a mountain sole for sure.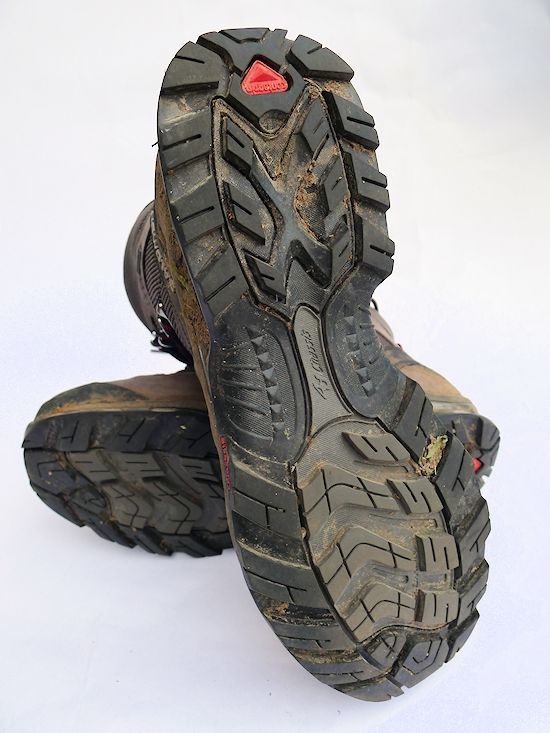 The upper is a mix of suede and fabric cut into trail shoe-esque go-faster aesthetics which does seem to assist a nice close fit as you pull the laces tight. This design also aids the flexibility of the upper, it moves without wrinkling or concertinaing (yes, I spelled that right).
The laces run through nice slidey lace hooks with bigger gripper types at the ankle pivot to stop the lace sliding. I was a bit worried about this at first as I had visions of the lace at this point crushing my foot, but it hasn't happened and the laces just seem to stay secure. The full height gusseted tongue is well padded which is maybe part of it, padding is evident elsewhere too, it's like pulling on a fluffy slipper in some ways as the light padding molds around your ankle. Kinda like they're thinking of trail shoe users with whiny ankles?
Or dainty hill walkers.
There's a Gore-Tex liner, the clue is in the title, which is still waterproof at the moment after maybe three months use. I really hope it lasts, we'll just have to see, of all the other lightweight waterproof boots I've been sent none are still waterproof, the membrane is just too vulnerable in a constantly flexing boot or mid.
Maybe they should just give us replaceable form fitted Gore-Tex socks free with every boot which they could keep selling us through the life of the boot. But, I digress.
I love the shape of these, it feels very like the XA and below the profile of the toe looks very similar. The toe is rubber-randed (as is the heel) and pretty robust, these should make a useful light winter boot with spikes or light and bendy aluminium crampons. The ankle height definitely lends itself to snow repellency.
The footbed is Salomon's own Ortholite variety which works fine, they're light padded, subtlety shaped and take a good kicking. All of my Salomon's have their original footbeds, nothing else ever seems to work for me, a sign of joined up thinking in the design maybe?
There's a lot different influences in the Quest, I can see elements of trail shoe, alpine boot and trekking boot, but rather than trying to sit on the fence and falling between two stools, the Quest gets it just right for my feet. I was half expecting to be lacing two greased piglets onto my feet, but I found lightweight mountain boots that are comfy, definitely not gripless and I'm chosing them all the time.
All we need now are some bright colours, I mean have you seen some of Salomons trail shoes? Ach.