I seem to be spending a lot of time stressed out of my nut at the moment which makes every joyous moment found and held a wee bit bigger. When I was caught by the electronic snare on Monday all I could see was a washed out and clear winter sky reflected in the screen. It was a question of when not if I was going to break.
We're out so much just now I just dressed from the drying pulley out the back and the pile on the chair. A flask, some pieces wrapped up and I was away.
The A82 before the Balloch roundabout was the decider. Conic Hill is close, but I was a little early maybe, I'd be frozen waiting for the sunset of down when it was still light. Ben Lomond, it's been a while, was I ready for the longer ascent today which I would have to be quick at to catch the best of the evening? Or Luss with its middle-sized bowl of porridge, not too much, not too little and just a few minutes down the road. Aye, that'll do.
I parked in Luss Estates new and shiny car park which used to be a field where migrating geese used to rest, hundreds of them. I guess money talks and the geese can walk. I hope they enjoy my £6.
Over the footbridge and onto the track with a now uncertain sky all around me, some cloud, a weak sun but some patches of warm light. Gloves on, fleece unzipped, I took to the endless grass slope at the jauntiest pace I could manage.

I was fairly warming up, the slope is consistent and is always very boggy anyway, but after so much rain it was grabbing onto every footfall and it felt like progress was slow. The views here always keep me cheerful though, one side the empty gloomy glen which is actually very pleasant to walk down, the other Loch Lomond with its islands, mountains, roads, people and ach, I'll keep my eyes higher up.
My wee vintage LX5 camera was struggling today. It just wasn't focusing so I juggled its constant beeps at not being able to latch onto something to wiping condensation off my phone's lens to use that instead. This has meant I brought home a joyfully eclectic selection of photies in both content and quality. They're making me smile as I scribble this inbetween them.
Ben Lomond was catching a bit of cloud although Conic was clear. The Ben's summit looked awesome as the pale ribbons streaked over and around it. I chose my destination wisely, it was glorious to watch.

The angle doesn't change much and the path is pretty straight, just because of the terrain which is a rounded ridge of sorts. It was getting dull above me and I was running out of steam.
There's a break in the uniformity not too far from the top. The way ahead narrows to the flat summit and to the right is a little ridge that heads out towards the loch. I generally don't care about summits anymore, I just wanted a comfy spot to get fed and watered and this looked likely.
I took the hard right turn and set off to find some complex topography that I had no idea existed on this hill. The ground fell away steeply to my left as the views opened up over the loch and to the north. I could feel my grin widening as I saw bare broken rock and then a deep black lochan that I had no idea even existed. It's not on any map I've got. And I've got a lot of maps.
So, I'm claiming it and shall name it at a later date.
A herd of deer scattered northwards just below me and I had a definite spring in my step now as I explored this new secret world. The sky seemed brighter too and I was contouring upwards as I wandered north. Aye okay, I'll see what's happening on the top.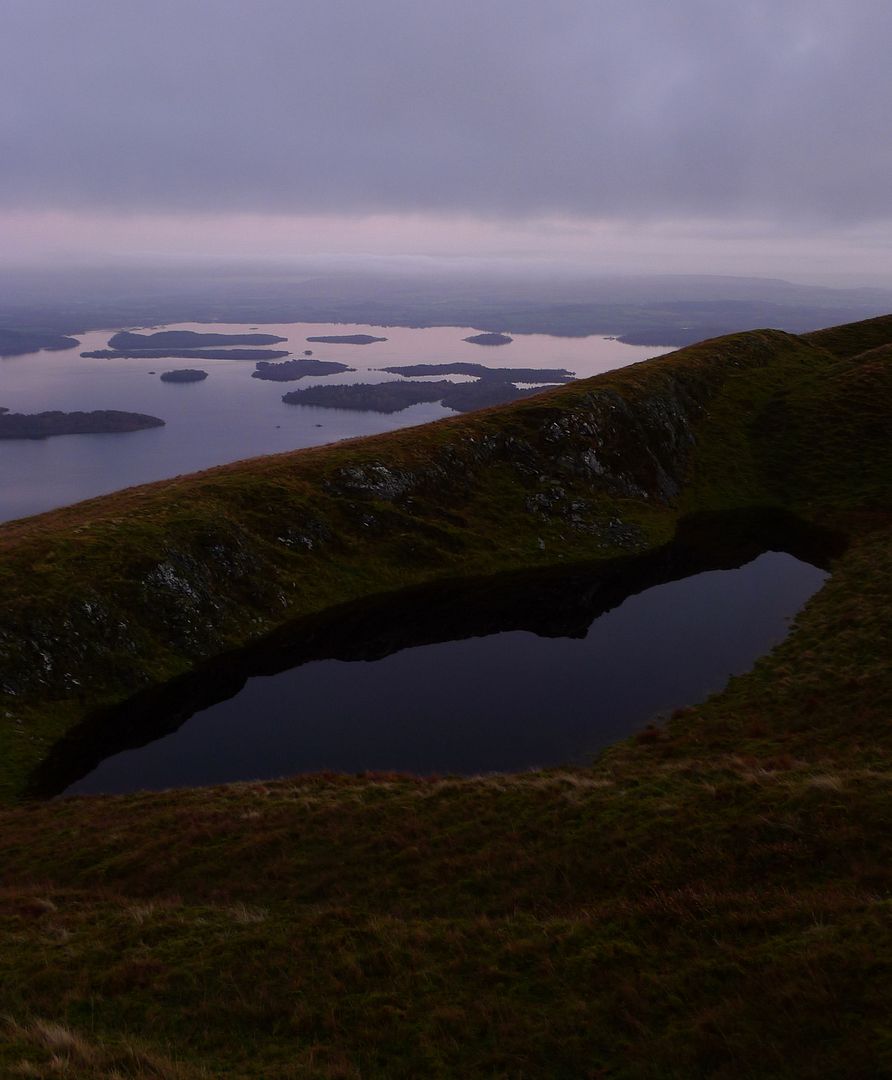 A lot of the cloud had cleared by the time the western horizon was back in view. The colours were lovely and the natives were friendly if mildly surprised. I could feel the temperature dropping as fast as the light was fading and as sprightly as I was now feeling with the lochan discovery second wind syndrome, my plan of sauntering round the horseshoe and walking back along the glen was dropped in favour of layering up, breaking out dinner and fannying about the summit for a while.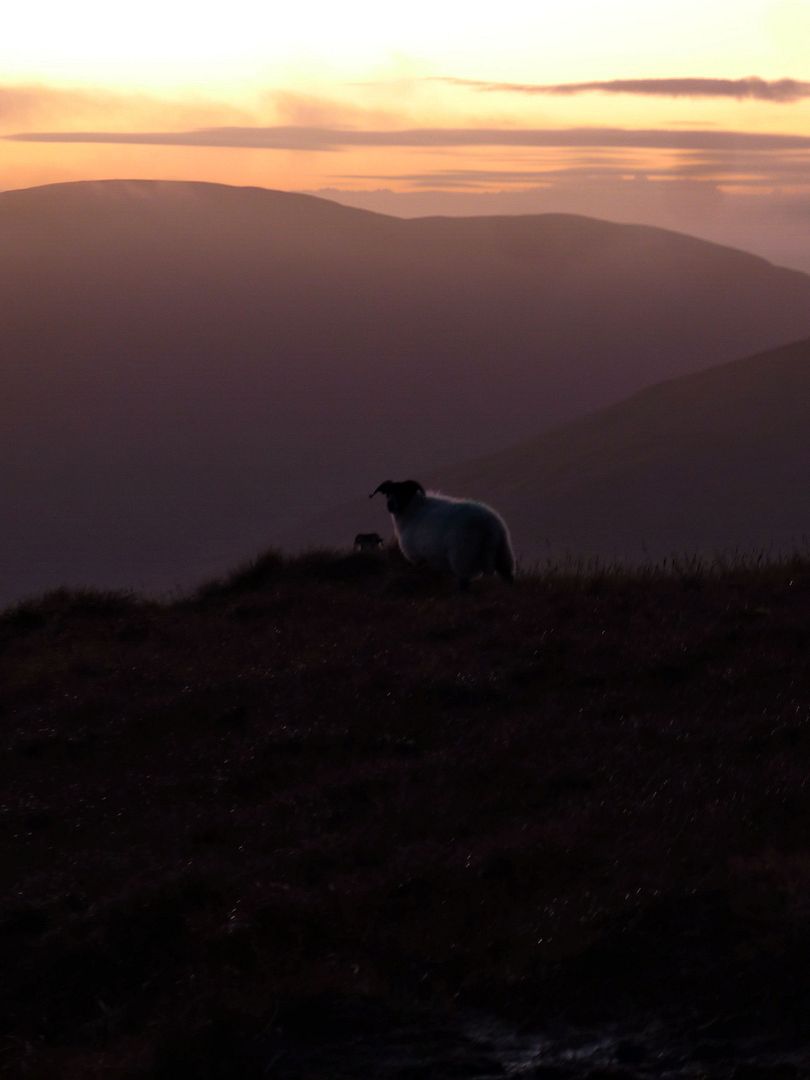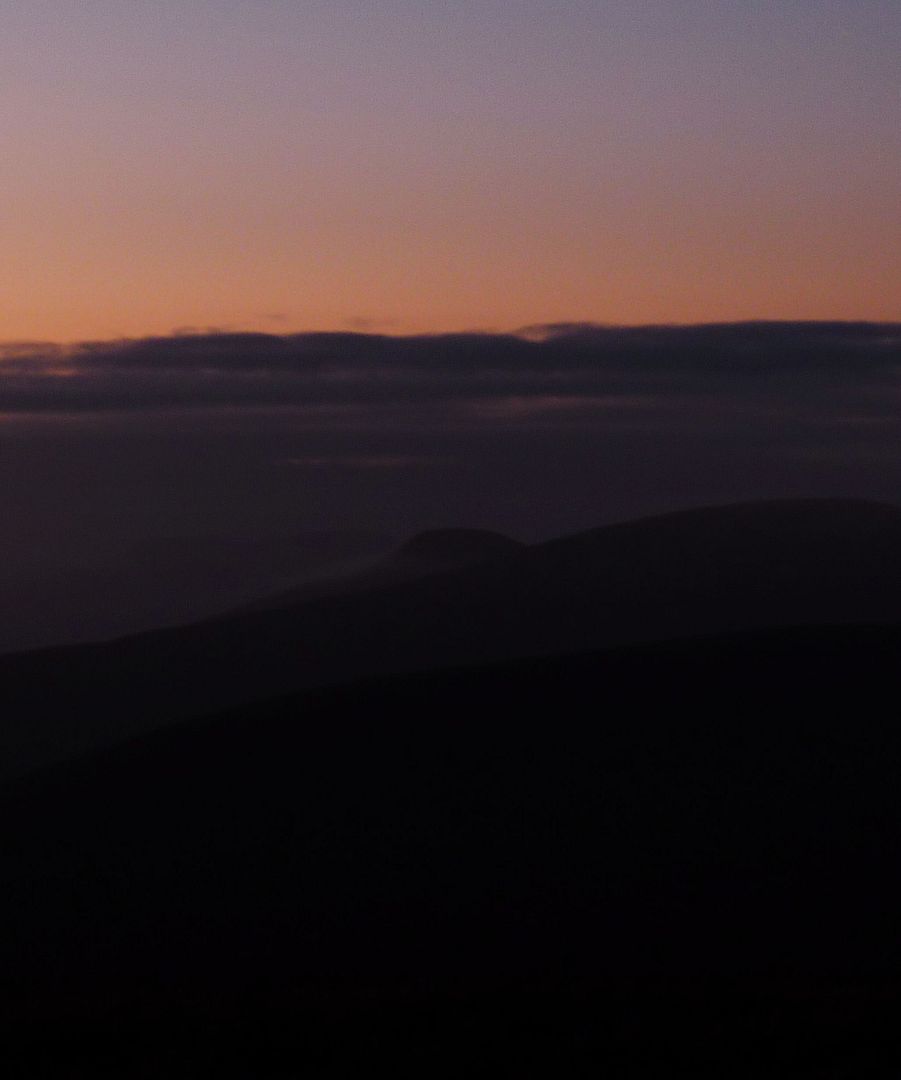 I am completely at home here. The darkness comes quickly and even if it nips at my fingers it warms my heart and soothes my soul. You're never really away from the troubles of life but you can fill your senses so that they are very much pushed to the edges and out of sight for a while.
I sat on a rock, wrapped up warm with a cuppa in my hand looking at the day disappearing and all I could see, all I could hear, all I could feel in that moment was happy.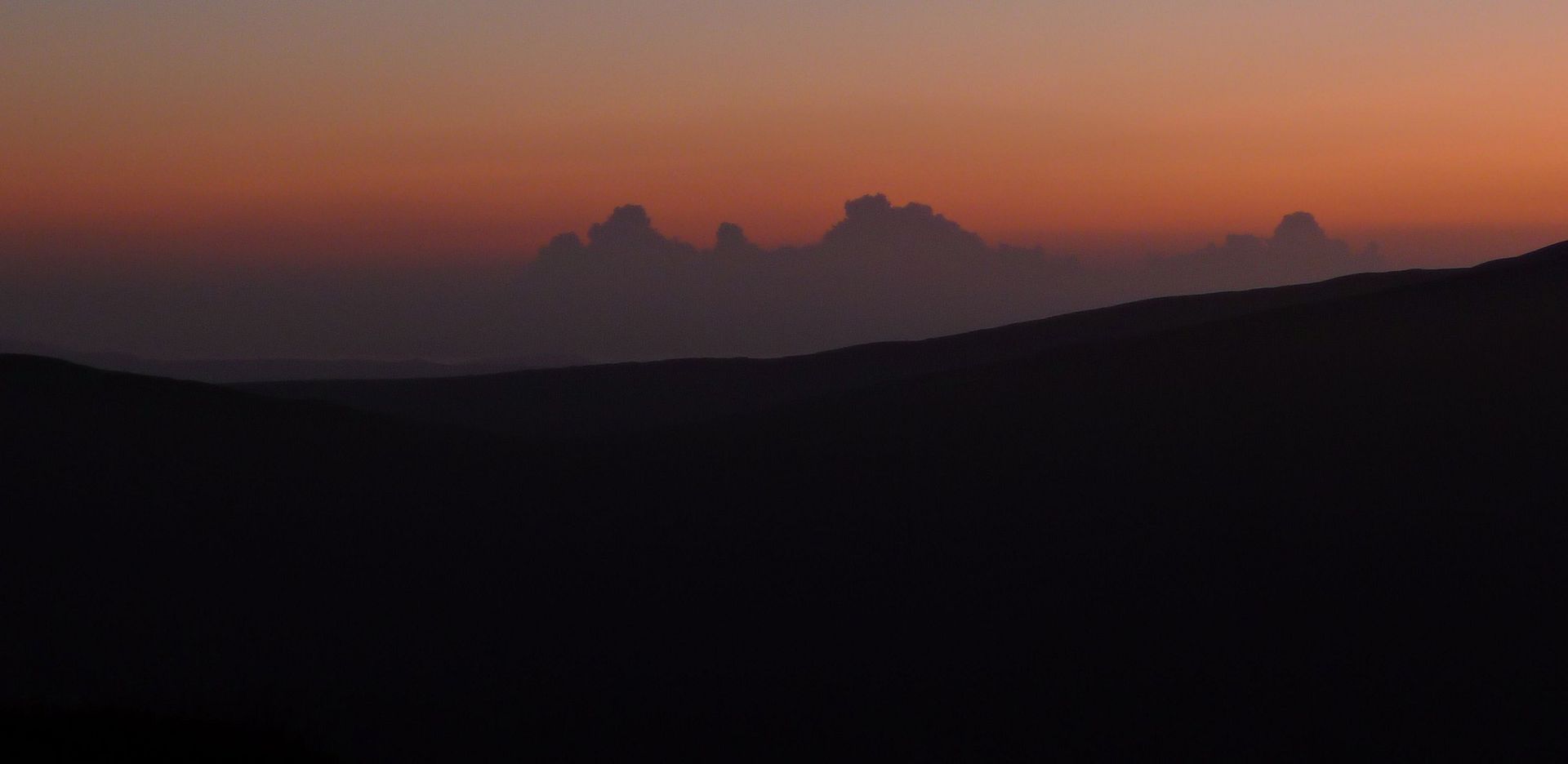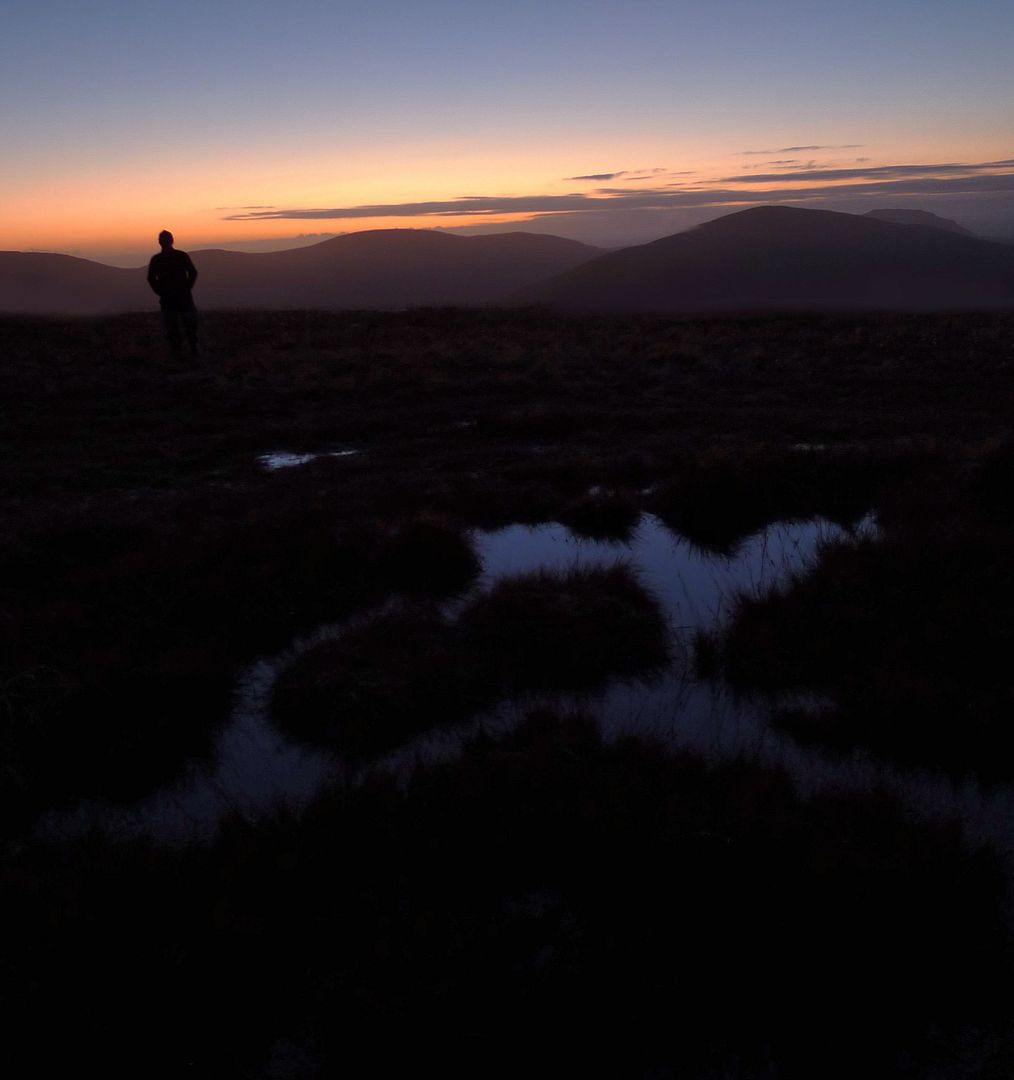 I did get a bit excited about this fence as well though and I took many photies. It's so wonderfully and pointlessly situated cross the hill and has an air of going somewhere but nowhere. It's a bit like an arrow pointing to the Arrochar Alps, the familiar shapes of the Cobbler, Ben Ime and Beinn Narnain lying dead ahead.
Fog was forming in the glens and streaks of cloud crept from nowhere onto slopes and summits around me and although I was thinking "inversion in the morning!" it all came to nothing.
That's okay, there's always next time.
et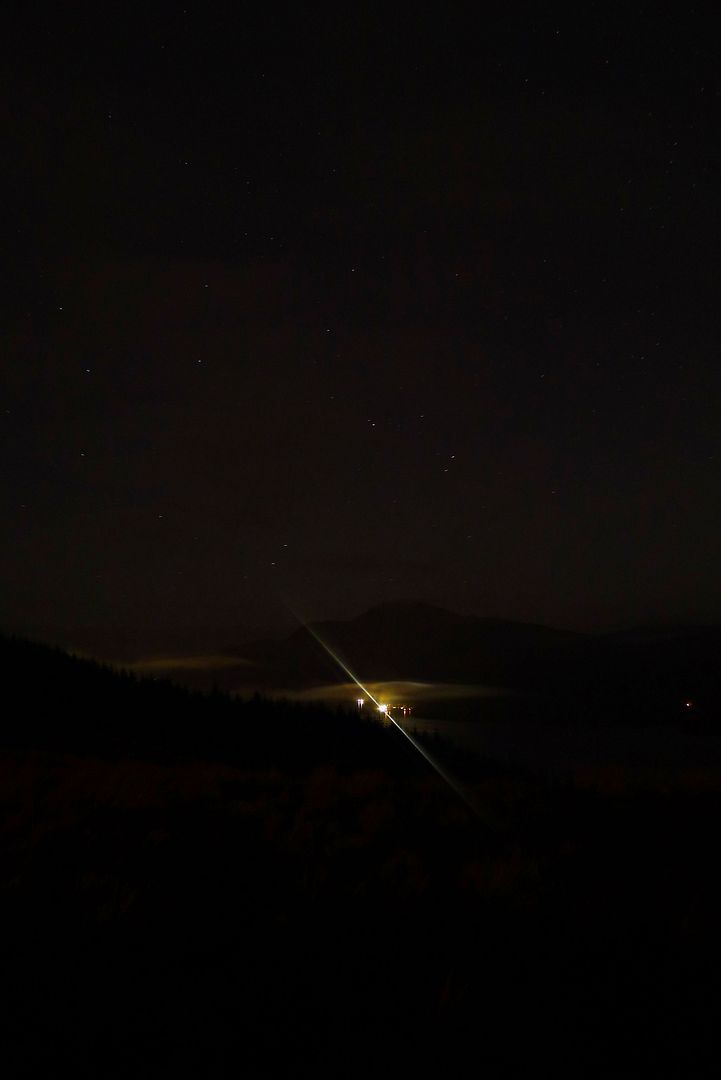 Complete darkness was only two coffees away, aye that's fast. I got to see some stars as I wandered down towards Luss, wet to my knees on this grassy waterslide. Didn't land on my arse once though which is a miracle.
Night time descents are so very pleasant. Well, if the terrain is good I suppose, so many near misses in the past. Now though it's easy mode and the lights in the distance aren't houses and streets and shouting, they're just pretty.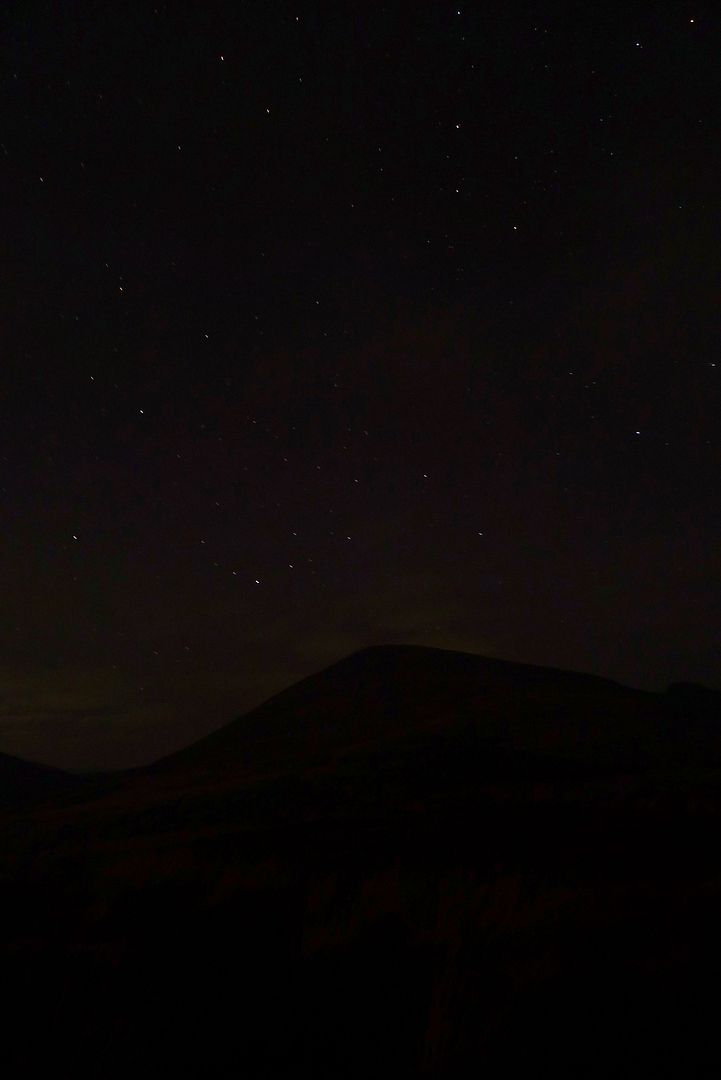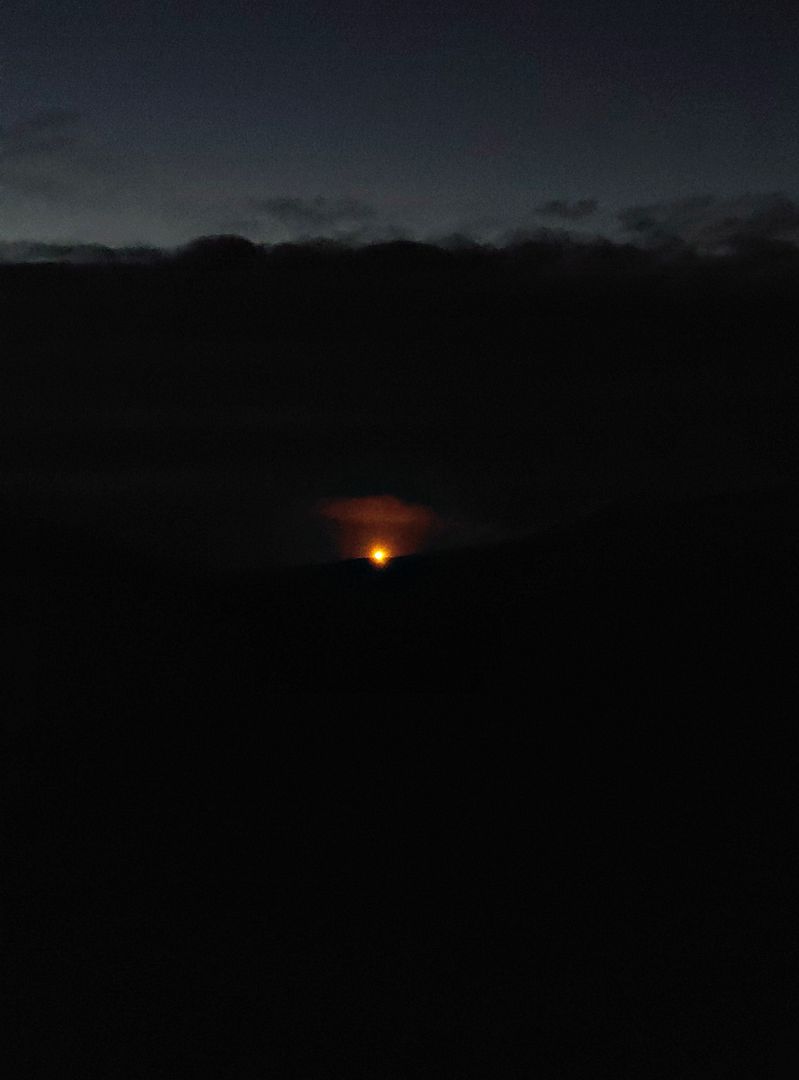 The moon wasn't the only other inhabitant of the hilltop night, I saw flares going up at the military base over by Loch Long. Wargames?
Ach, the fence was better, I like this fence. One day, we're going to follow it to the last post.
Which might be in that military base. That's ironic or something maybe.