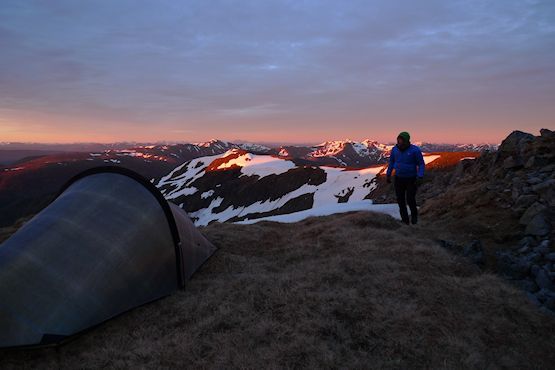 It was sunny and warm when the wee shop in Cannich proved to much to resist and I sat outside it with my too-hot-to-drink coffee feeling quite happy about it all. I had been packed the night before, ready to go, away early and up the road like a bullet.
I had planned a wandery route, missing the familiar and visiting the bits inbetween and I'd packed as light as I could to give me a chance of keep my mind on the view and not my breathing.
I put my still boiling cuppa in the cup holder and got back on the road.
Glen Affric was a riot of green, the dark hue of the ancient pines spattered by the fresh bright leaves of the birch. The pine forest is what defines the glen most times you read about it, but it's what else is living all through it that gives it its natural air, a living landscape rather than a glen in a bottle.
The road swoops (swooping was available once I'd cleared the 15mph Fiat 500) and meanders and every foot of it is a joy. Just having a picnic here would be worth the drive.
The end of the road costs £2 which is fine as it's nicely presented and looked after with a toilet block. No midges either. Imagine that.
The road into the lodge has been well worn in recent times, the lodge and its surroundings having been converted into a rich folks hotel hideaway. It looks very nice, clean and tidy with white horses running around the garden and the signs for walkers are polite, but.
But what? I don't know exactly, empty glens I'm used to, ruined cottages, abandoned shielings, homes converted to bothies, it's all very picturesque but the glens should be living places, not abandoned or made exclusive.
It's always good to see investment anywhere outside the central belt, but how much is helping the local economy to fly in your kitchen staff from abroad when there's guests to feed.
I'm not naysaying, I'm not being reactionary, I'm just not sure about stuff. I was probably still thinking about all the Balfour Beatty signs and earthworks I had to pass on the way here.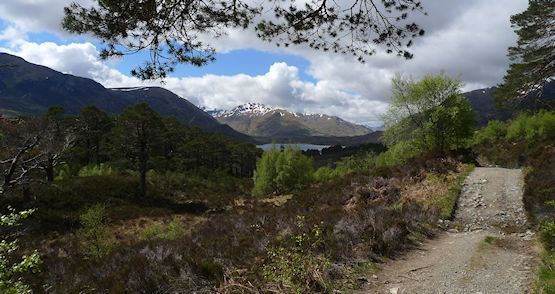 My line of thought was broken by a dogfight. An aerial dogfight. The big brown bird made big circles, the smaller black one seemed to be taking shots at it, nipping in towards it, turning quick and darting away. The big brown bird seemed not to want to engage its tormentor, but if a wee dug pulls are your trouser leg enough at some point it's going to get launched into the garden and not necessarily politely. The big brown bird wheeled fast and took the black bird out of its flight path. The two spun out of the sky, spinning into the heather out of sight.
I'm saying it was an eagle and a raven. And, there was only going to be one outcome.
Past the lodge compound it quickly feels wilder and I was just getting in the zone when I was passed by a film crew on a wee buggy, those things that are half way between a quad bike and a tank. They were a delightful mix of posh voices accompanied by pointing index fingers and a pissed off Glaswegian cameraman who had had enough by the time I caught them back up.
Then, I was free.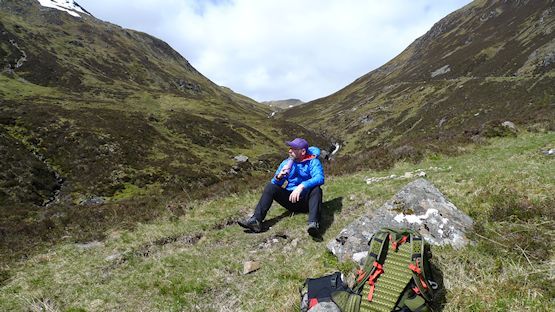 The trees thinned but what was there bore witness to long years in the glen in every twisted bough or broken branch. The mountain shapes around me are dramatic but feel to me like a comfort blanket. To the west ahead are the shapes I know very well after 30 years of visits, to my left peaks I've woken on to find my tent an island on a golden sea as a lazy sun rose over an unexpected inversion, to my right I was reaching my junction, a branch onto to a track I'd never walked.
It was a nice track too, pleasant walking and there was a nice spot to sit for a snack. Ridges towered over me, gurgling water was the only sound and the sun felt warmer here, the high ground kept the wind to itself. It would have been so easy to snooze after my early start.
Maybe I did.
Higher in the coire there's still huge chunks of snow. The burn disappeared under it at one point and I was nearly under it too when I slipped trying to get a better look at the snow tunnel that has formed.
Always a good test for the heart that stuff. But the snow was also banking out my route out of the coire and I decided to take the safer option this time and climb onto the ridge. It was a good call, I sat on some rocks high up and watch some psychotic deer trace a line across a steep coire and over the cornice onto the ridge. Good effort, I wouldn't have done it.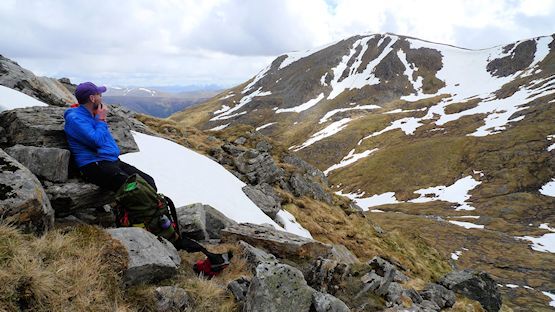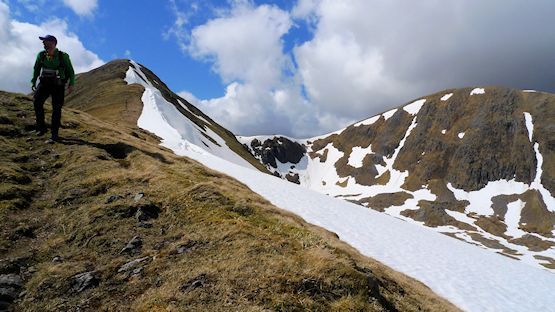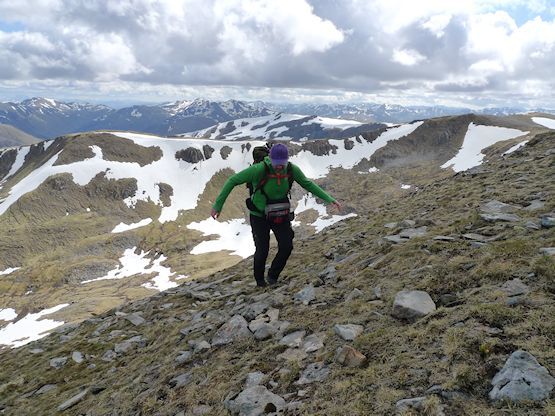 Arriving on the ridge opened up a new world, like pulling down the hood of a duffle coat, everything was suddenly clear. The trek to the top put the last just sharpened it up a little. What a place this is.
The tops are mostly rounded, the ridges are long so the drama is in the scale and the details are hidden here and there like it was natures sculpture park where the best mountain features are placed on the longest route around the park before you get back to the gift shop.
Mam Sodhail's top was windy, too windy to stay the night which meant Carn Eige next door would be the same. Dinner was creeping into my mind now and I started turning over my options in my mind. Far to go, not so much time to do it and get camped where I wanted to. Exploring the inside of the huge cairn on the summit gave me some thinking time out of the wind.
Aye, there's an inside, bet you wish you'd looked now.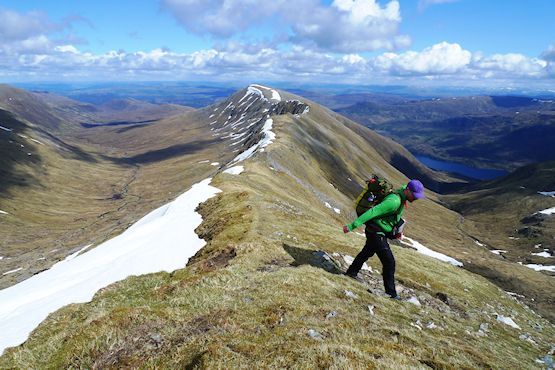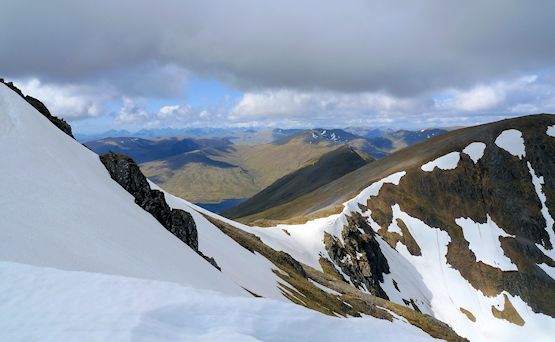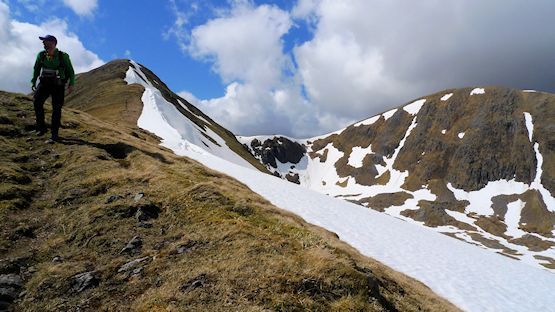 Sgurr na Ceathreamhnan looms large now. It still pulls at me, the hill it look me longest to get to know and left the clearest memories. Maybe I should go back.
The terrain up here is nice, just pleasant walking, nothing too much or too little and it give you time to enjoy it. I sat on Carn Eige where the stone shelter had a little memorial inside for a son who left a family too soon. I picked it up and read it then put it back safe where it was.
It was a melancholy moment. Folk piss and moan about memorials on hills without taking a moment to try and empathise with the heartbreak that puts them there.
I felt alone, hungry and a little tired now. I had to cut a day from this trip as it was and there was no way I was hitting all the marks. It was time to find camp.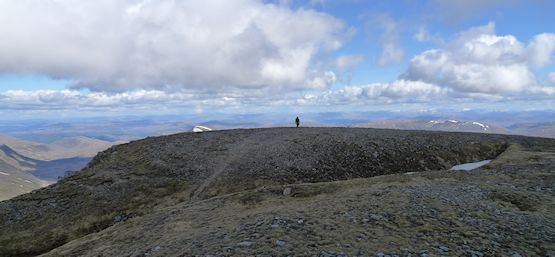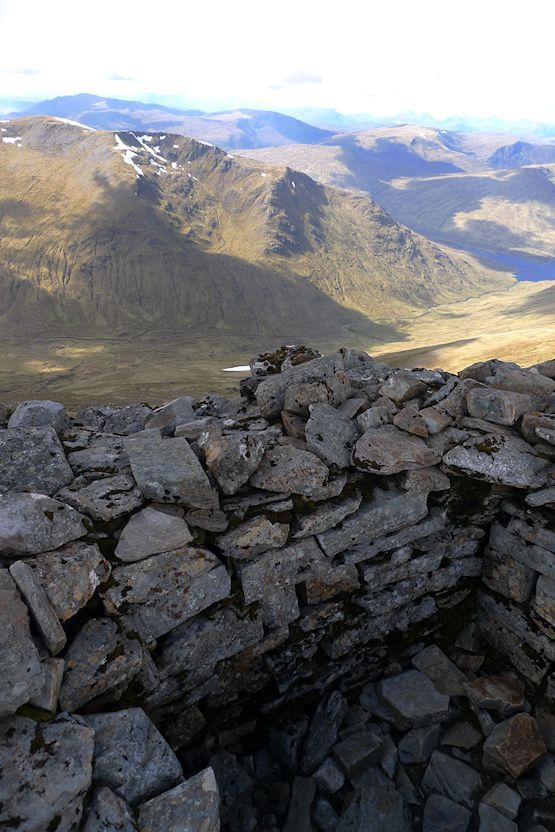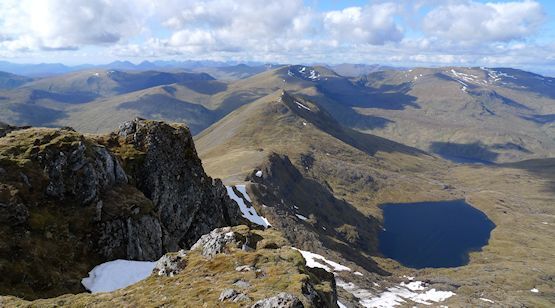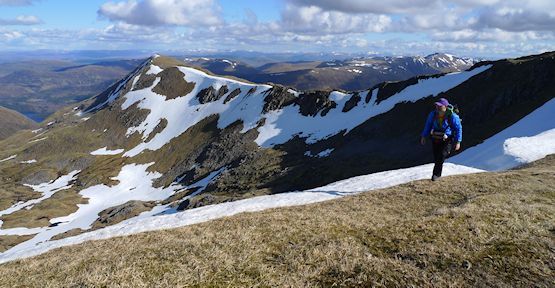 Off the beaten track, where there are no pink lines on the guide books I felt my energy return. The height stayed the same, it's a land at 1000m here and there was no escape from the wind. The ground was rocky, the roughest it had been and I was having fun. I was also starving, all I could thing about was food and that there was no where to set up the stove.
I reached a rocky top with a big deep cleft below it full of snow, I climbed past the cairn and peered down, a grassy shelf just below the ridge line.
The sun was getting lower, time was getting on, it was here or descent.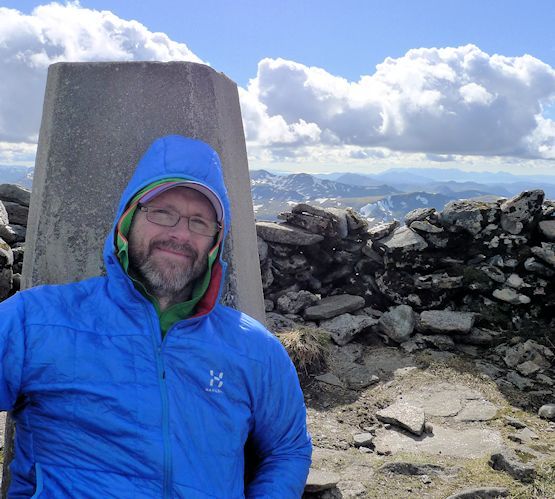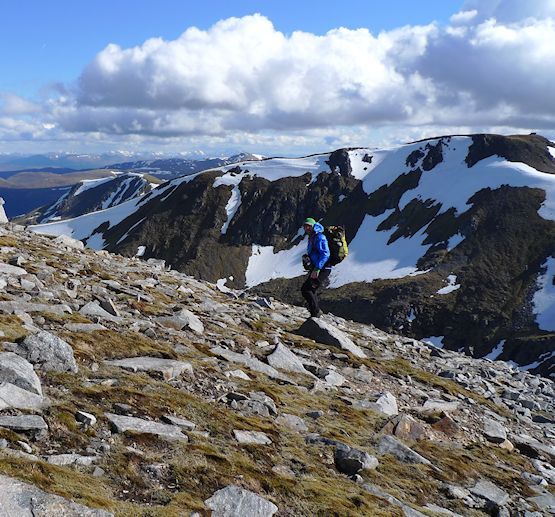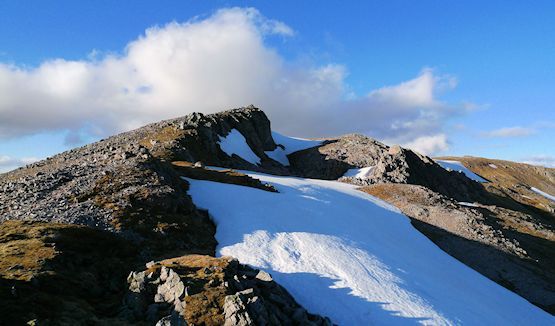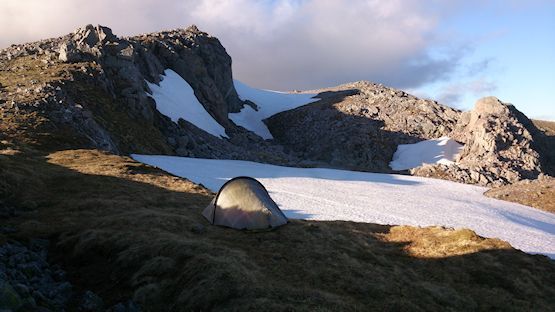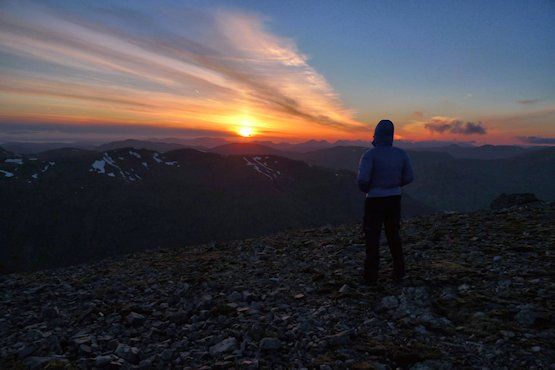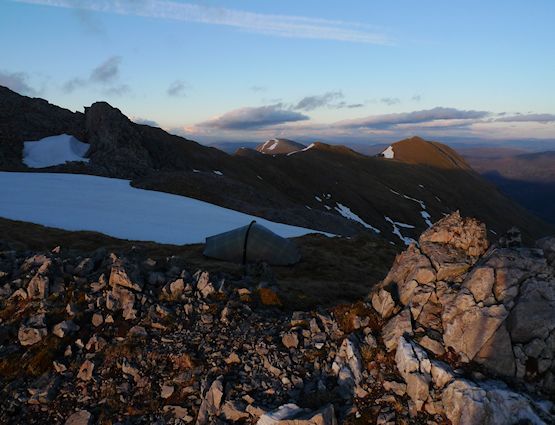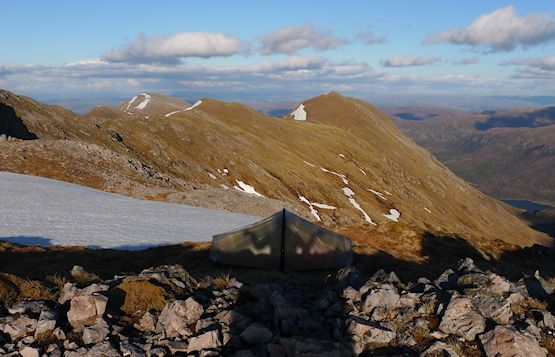 Perfect, absolutely bloody perfect. The wind was broken by the rocky crest right behind me, I had uninterrupted views from my door and a snow bank a few feet away. I could have been persuaded to change my address details if I knew what the postcode was.
Dinner was a joy. Macaroni and cheese, fruit pastries and cuppas. I watched the full moon rise and chase the sun towards the far horizon. I walked the rocky slopes until the colours had drained from the sky and I was too tired to stand.
It had been a long day and I was so happy as I slipped into my sleeping bag, the temperature had dropped and I snuggled down into the bag, pulling the drawcord in around my head.
Then I just got colder and colder.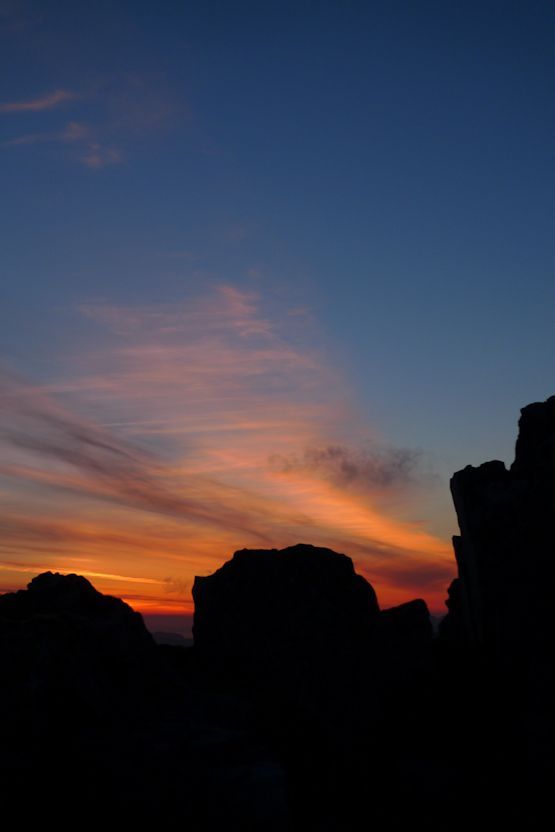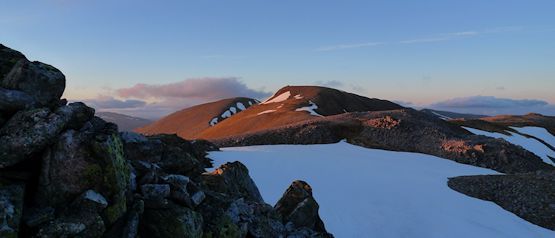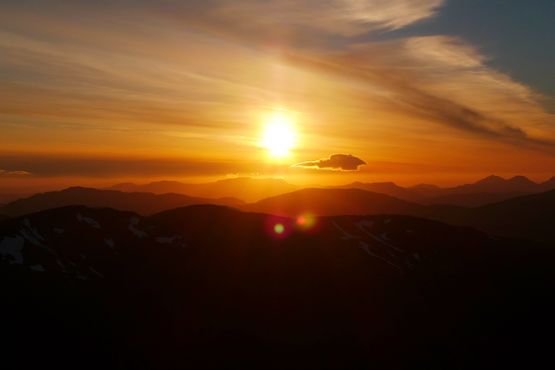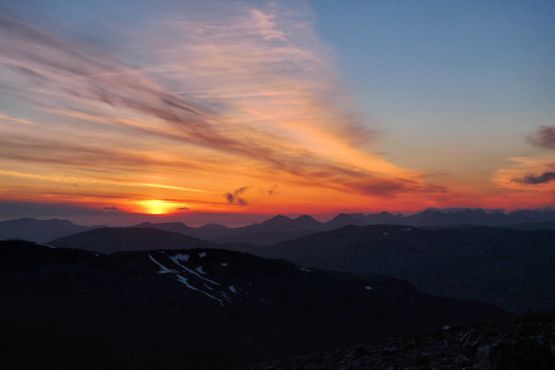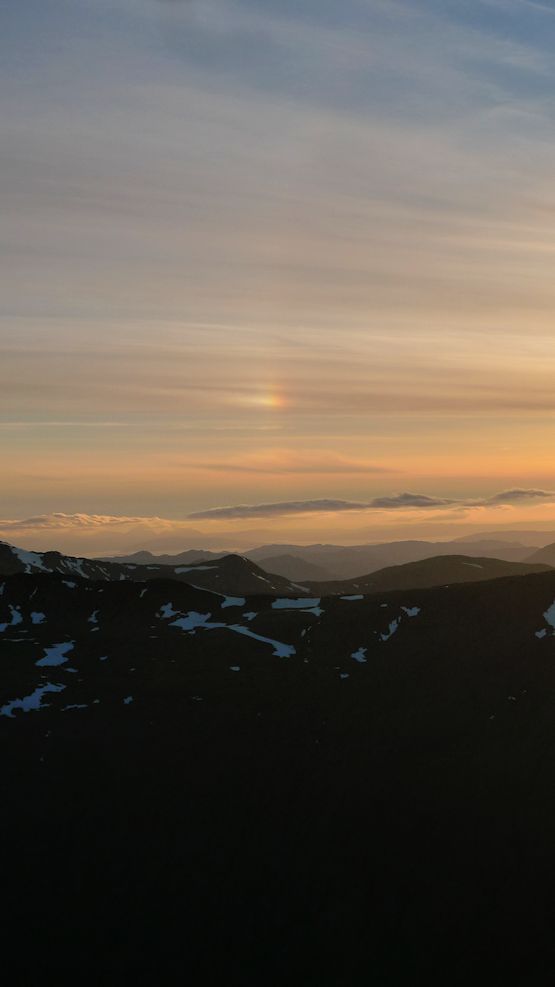 My music was on, the moon was shining bright through the skin of the tent as it climbed higher above me. I was wide awake and shivering.
I had two light insulating jackets with me, one I wrapped around my legs, one I spread over my torso and I started to feel a bit better. Then I shifted my position and the cold cut through like I'd opened a door. I put the jackets back and I started to dose until I moved again and shifted the jackets.
I puled the bags drawcord tight as I could to trap air but it was no good. I lay there cold listening to my music. Hopefully I'd either get to sleep or dawn would arrive.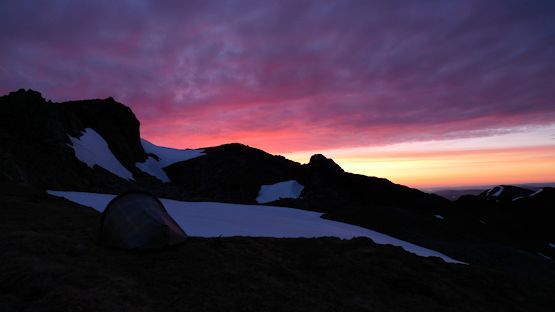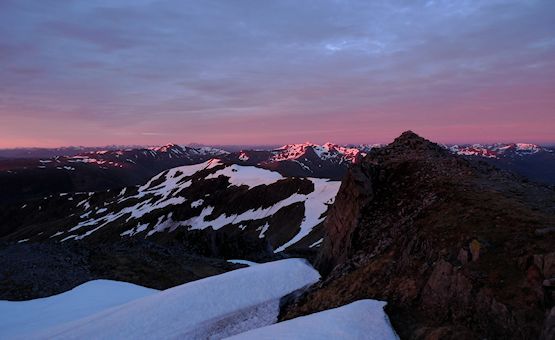 Dawn won the slowest race I'd ever watched, like every lap was a safety car lap where the safety car was a toddlers big wheel. With flat tyres.
I crawled out of the tent, it was icy cold. The snow bank had re-frozen solid in the night and I had to hack my cuppa out of it in chunks.
Bleary eyes, wandering footfalls, but at least I was warming up. "Zero degree" bag my arse, there was more down fill in my socks than there was in some of the baffles of that sleeping bag.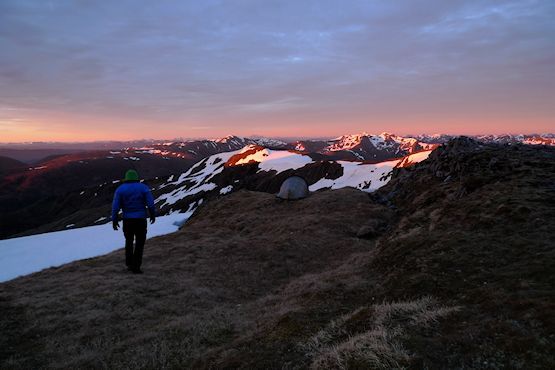 When the sky lit up all the pain went away. I felt fresh and awake, breakfast stoked the boiler and it didn't matter that is was just after 4am. Right here right now is why I do this.
I could have stayed, but the flashes of magic that make dusk and dawn special sparkle briefly, it's nature's way of telling you to get your shit together and move on.
That's what I did. Nice it was to, I headed west and found another frozen snow bank that made for a 150 descent to bypass rather than the potential slide down it on my face.
The bealach is where the change is, Glen Affric turns into Kintail. It's a subtle thing at first but past An Socach it's pretty stark and I was now torn between one of my favourite places and having to be in Glasgow later that day.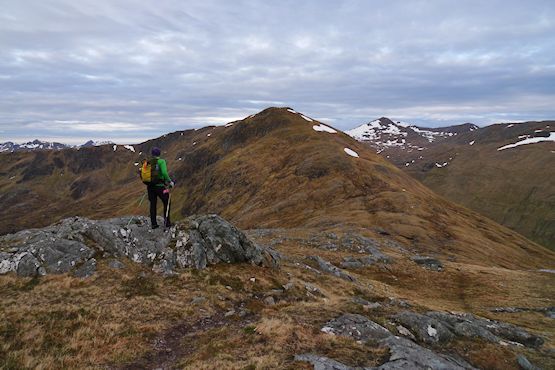 I met some young folks just before I hit the main track, they were heading for a peak bagging day from they wee circle of tents by the river. I said there was plenty of snow patches for melting for a brew, but they wouldn't have time. Jeez, I was young once, but there was always time for a brew.
I hope they had a good day.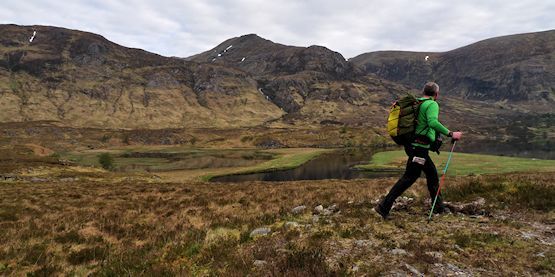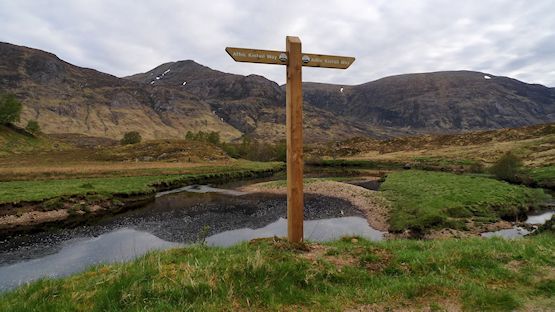 I was really far from the carpark, but with easy walking all the way I wasn't worried. The scenery, the thin layer of cloud that kept the sun off me and a long chat with the local ranger all helped me onwards.
The trees on the south side of the loch are fantastic, some very grand and twisted pines cling on here and I met a few folk heading west, some on bikes which looks like fun. It's part of the Affric Kintail Way which has some lovely signage and in principal sounds great but like most of the newer long distance paths in Scotland it's needing some work to make it viable and attractive to pull in the punters I think. What a walk though, it knocks the nearby Great Glen Way flat on its arse.
I started to jog on the flat and on the downhills, time was getting tight but not desperate yet and it felt like the thing to do anyway. My pack was light and my k**e felt good and it was fun.
Ah, how many times have I thought about running again. I need discipline though, not just good intentions.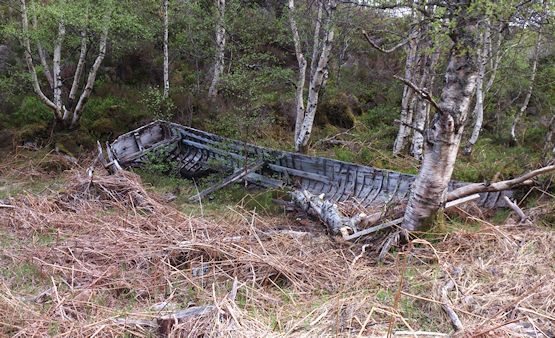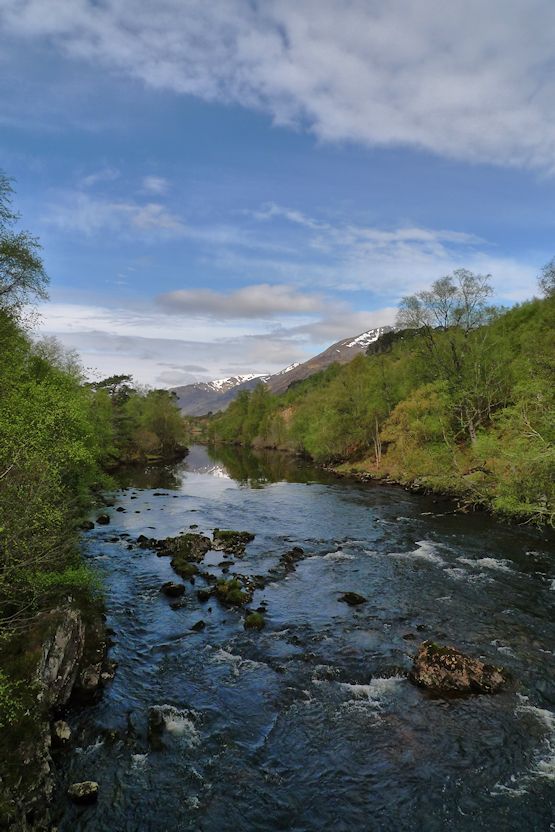 The Ka was where I'd left it, a quick change and I was gone. The road was clear and I made my meeting in town. After that I wasn't much use, I need my sleep.
The downless culprit is still compressed in a stuffsack and lying in the garage. I'm not sure what I'm going to do with it.
It won't be pretty whatever.