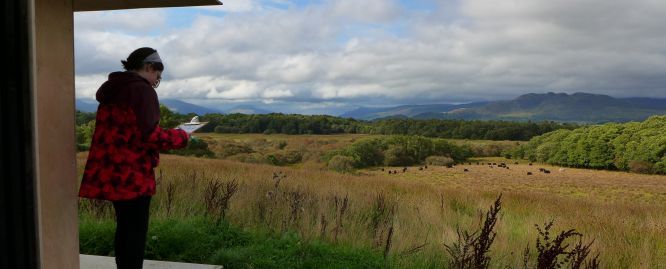 The weather was a bit crap on Sunday morning and we were lounging around with snacks and Steven Universe reruns.
"Want to go out?" I asked halfheartedly.
Nah, I'm good.
However, the window seemed to be getting brighter. Hmm, look… ?
Hmm, maybe…
I pulled up the map on my phone. Where could we go wasn't the question, where haven't we been was the tricky thing. Every quickly accessible track and trail has been well worn by us in recent times.
"Here, what about the RSPB thing at Gartocharn, burds an' that? We've actually never been."
A flurry of thrown pyjamas, a filling of water bottles and we were on the road.
In my mind I'd assumed their car park was a muddy layby that the truck would get stuck in, but to our surprise there's a nice car park not too far from the main road with a wooden ranger station and a pop up marquee complete with a ranger and a volunteer ready to greet us.
We stopped for banter and information. Holly signed up once again having lapsed for a year and immediately found herself with arms full of RSPB stuff, which I later discovered is all really rather useful and interesting.
Armed with a leaf checklist and a big marker, we headed onto the first trail, detouring into the den building area first of course. This was a theme through the site, get involved, reach out and touch, leave the path, all messages that visitors might find unusual and it shows how things are changing for the better, "Keep off the Grass" is definitely a thing of the past.
The little trail reaches a lookout point that's in the photie right at the top, a plywood hut that frames the view, will no doubt shelter a pensioner or two and provide kids with hide and seek opportunities.
The view is outstanding of course looking north to the Loch, Conic Hill, Ben Lomond and beyond, But it's all a little far away. Some folks will love that, it just makes me want to get closer, and you can do that if you want to. The RSPB site extends right down to the lochside and it's just asking to be explored.
We weren't kitted out for that and it was getting late, the ranger station was locked by the time we got back, but we'll be back sooner rather than later.
There's some dry stone stumps here and there and some beautifully carved benches as well as some hidden sculptures in the woods, just keep your eyes open.
The signage is home made feeling, very unpretentious which I like. Everything feels new and shiny, the structures and the path, but it's not obtrusive and it'll weather quickly here.
The little pond had Holly whooping with joy as she ran out on the boardwalk. You can kneel and pond dip with bug identifiers posted nearby and there's open edges by the water, they're relying on people to get it right. I absolutely love that attitude.
We sat in the little shelter and had lunch. We did indeed see some of the creatures on the guide, in fact that really is another theme here. The place is bursting with life.
Birds swoop down to a feeder by the hut, all colours and shapes, songs in every key. You really could just sit here and spend your time just sitting.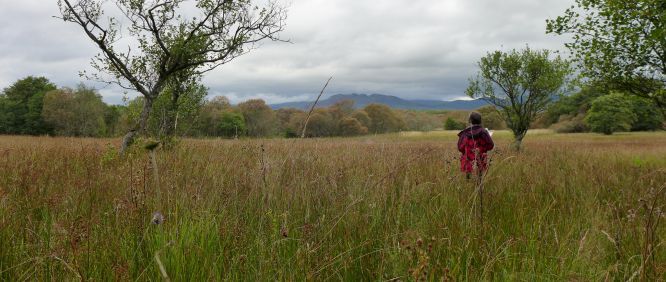 It was getting grey again and was that a few spots of rain? But we headed into the open country to see what was doing and within a couple of minutes you've left the path and huts behind and your in the wilds. All it really takes is a step or two off the surfaced path, do it people, you'll love it.
A little group of trees had the wackiest fungal infection I've seen with this clump home to some spiders. Just so sci-fi.
The ground dweller below was colourful but likely deadly? I might be a Woodland Trust ranger, but I do the fence, don't ask me about the greenery.
This longer loop through the woods and past the pond is excellent, accessible and atmospheric, it subtlety feeds you the feeling of the wilds and lets you escape to them if you just step off that path.
We loved it. The short trails will be great for folks looking for their country park fix, but I think it'll plant a seed of wanting more, because of where it is and how they've set it up. For us though, the possibilities for going further are actually kinda exciting. Rucksacks packed for next time.
I'll tell you though, we never did find a chessie tree, I think it's a trick question on the checklist so you can't win the prize.