I've being using these tops for a long time, quite a while and a good bit respectively, all of which are standard imperial testing measurements, as you know I don't do metric.
Having such long term use, coming back to them after big gaps has cemented my opinions, especially as I'm using synthetic base layers as much as merino now.
Merino versus synthetic isn't as clean cut as it once was for me, lots of synthetics I've used have caught up in terms of smell control which was merino's winningest feature, so merino for me has to better than ever for me to wear it. There's more too it of course, and I've pointed out what in the reviews.
Clicking on the names above the photies takes you to the brands own product page.
Smartwool Men's NTS MID 250 ZIP T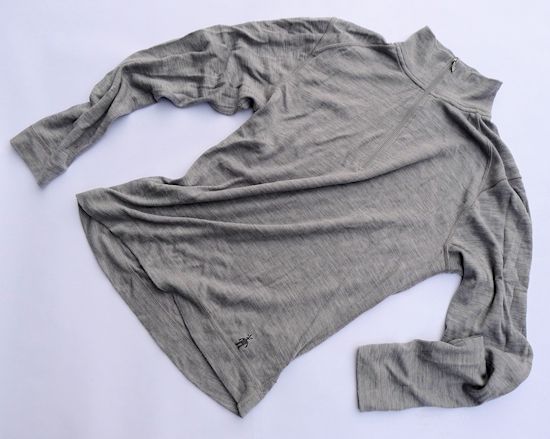 Smartwool use some nice fabrics and 250 weight used in the Zip T has a close knit, very smooth merino that is soft against the skin and a joy to pull on. There's good stretch to it and an excellent return to shape even after extended use.
The collar is tall which I like and stands up well with its double fabric construction, The collar has a neat wee zipper garage to keep my beard from getting tugged at and the zip itself is around 1/3 length with a smooth inner face which doesn't need a baffle for me.
The cuffs and hem are plain, nice and wide with flat locked stitching, as is the whole shirt, and the cut is slightly tapered on the body with just enough length on the arms and body in a US medium which usually works fine for me in Smartwool.
The fabric weight here is the thing I had to adjust to, I like light faster wicking and drying baselayers but on cold days under softshell or 100 weight fleece the Zip T found its happy place.  If I pushed myself too hard or overlayered it too much the thicker merino would just get saturated and take forever to dry, I noticed a big difference here to 200/190 weight. When it's wet, it's not too bad feeling, but steaming away in a tiny tent is something to be avoided.
A cold weather winner, excellent build and fabric quality and good longevity too, it still looks great after many washes and wears.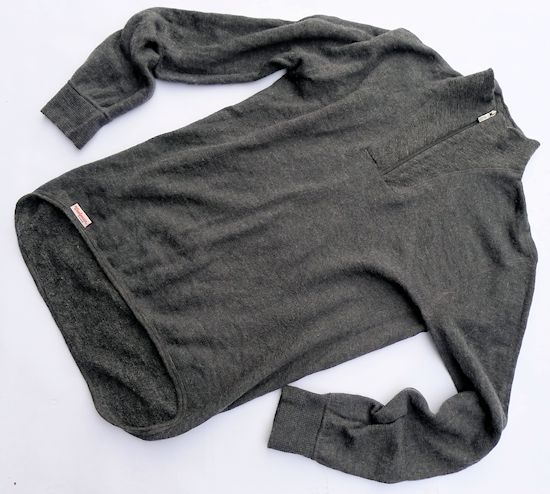 The Woolpower Zip is something a wee bit different both in style and fabrics and I've had a very on/off relationship with it. I've got a size medium which is fine on me, the body is long at the back where a huge scooped tail covers your whole arse and at the front it tuck into my trousers okay, but I'd have it an inch or two longer here. The arms ate a good length and have nice big cuffs which are low profile, layer well and don't cause problems with gloves.
The collar is a medium height and  there's a short neck zip for venting.
The fabric is a merino, polyester, nylon and elastane mix which should be the combination of justice as all four offer something ideal and the fabric has two very different faces too, a smoothish outer and a terry loop style inner. It's quite an open fabric, lots of light getting through, also something that says good things about moisture management and drying performance too.
The fabric does perform very well in use, it keeps my skin dry and it dries fast itself. The merino content keeps the stink down and it's very pleasant to wear.
But, it stretches quickly in use and after a couple of days it goes from slim fit to big and baggy which is annoying and can be faffy to layer under anything slim fit. After washing it returns to shape pretty well, so it's not permanent.
The zip collar construction is an old-school style with a big patch of double fabric at the front to keep the chill out of a vulnerable area: you can open your jacket to breath and your doubled base layer still keeps you warm. But the inner surface here is the outer face rather than the terry softness and it it irritates my skin, I find myself scratching around the zip area.
It's a fantastic fabric, the 200 weight is perfect for almost everything but I'd like to see more lines of stitching to tighten the shirt up and give it better form over extended use. The irritation issue won't affect everyone, and if I'd known how it was going to go I'd have got a crewneck to test, because there's a lot right about the Woolpower kit.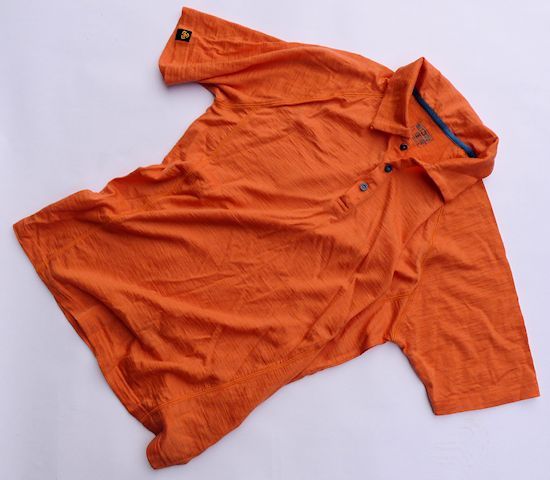 Polo shirts are for logo-ed workwear and golfers yes? No, I've a few outdoor specific polo shirts and they're a fine alternative to whatever else you might usually wear and EDZ have stepped in with some nice colourful models.
The polo is 200 weight merino with a slightly relaxed and tapered fit with some nice paneling to give it form and a nice drape. The sleeves have a bit of extra length to them and there's a tall collar with a three button neck. The neck is reinforced bu a taled seam like the Smartwool Zip T.
The cuffs and hem are neat and like almost every seam in this whole review we've got flatlocked stitching. The fabric has a good bit of stretch to it, but it's not the softest here and it always takes me a minute or two to tune into it but I've never had any irritation while on foot or on my bike, with or without a pack.
Fabric performance is fine, stink free with the trade off of relaxed pace drying that you make with pure merino. The slightly relaxed cut is great in warmer weather and it does actually layer up okay, the big collar doesn't get in the way at all. This is aklso one of the faults, the collar is a bit too soft and doesn't stand up well which is one of a polo shirt's best features, the collar keeps the sun off your neck.
The buttons feel friendly and there's plenty of venting, the looser cut helps waft heat out the opening too. The polo's been washed and dried many times and it's still looking good.
It's a great top, decent fabric which has many miles on it and more to go. Polo shirts are stealth outdoor wear, you don't look odd in them in the cafe or pub later on and buttons are nothing to be afraid of at all.
Conclusion
There is a perfect baselayer in here, but I'd have to get my scissors and sewing machine to make it. The fabric performance of Woolpower in either of the other two styles, the Smartwool collar on the EDZ, the Smartwool softness on the Woolpower zip panel, the EDZ orange on everything…
They're too different to have a winner. The EDZ polo is an almost perfect summer hill shirt for me, if I want merinos smell destroying performance with quicker drying I'll pull on Woolpower and if I want to be warm, cozy and go oooh when I pull it on I'll reach for Smartwool.
So, you can have it all, just not all at the same time. Bummer.