ROKS, the Reliable Outdoor Kit Show, is a new outdoor trade show which ran last month at the same time as KORS (write-up this week). There were a lot of familiar names there and it made a good contrast to KORS. Next year the plan is to run the two shows with even more integration which would probably give us the biggest UK outdoor trade show.
Phil was looking to order up kit for work and I was doing my usual tyre kicking, here's a quick spin through some stuff that caught my eye.
Above is a Keela Pinnacle, it's in its last season and I liked it because it was just so old school. It's that classic two chest pocket, badass hood design with a poppered storm flap over the zip. Ah takes me back.
Keela's range is a mix of old and new, the long standing kilo+ Munro Jacket mixes it up with the kit below, women's Nikita softshells in a grid-backet fabric with two full length front zips for some extensive ventilation options.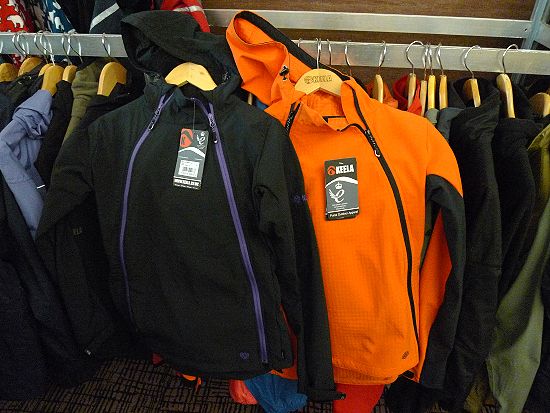 That's the woman's Belay jacket below, pretty light with a Primaloft fill, no one was sure just what Primaloft is in the samples, but it feels midrange masybe 60g or 40g.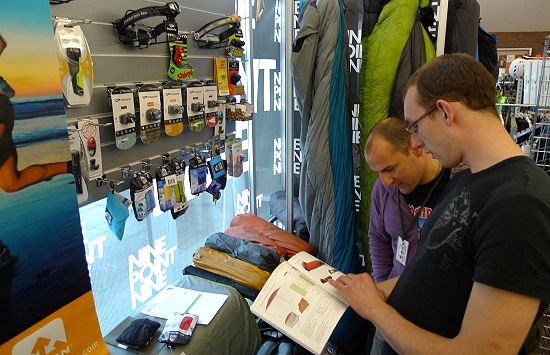 Nine Point Nine are a new distributor taking on some familiar names, that's Ollie from the company talking to Phil above. On the wall in front of them are Princeton Tec torches where there's a bunch of nice looking stuff, been using my first test sample recently. You can see Nathan squeezing in at the side, some nice accessories for fast moving types. 
A brand with a long history on these pages will be getting a new lease of life, Big Agnes. There's a host of new kit for the next couple of seasons including insulated mats that are both fat and light (ha, I like that phrase with no 's' in it).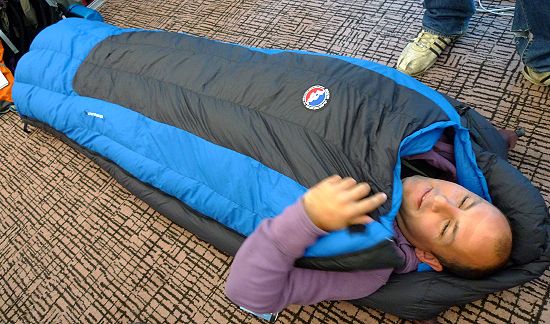 The sleeping bags stick with the programme and remain topbags, we're just seeing some fabric upgrades and model evolution. Tents too, new and lighter models to look forward to, all of which seem to be keeping the quirky individuality that folks seem to like.
Test kit coming along when it's available.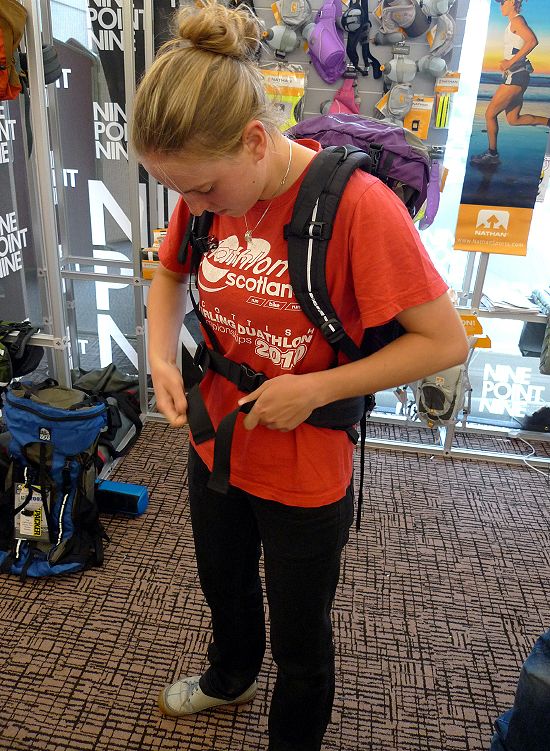 One brand that 9point9 are testing the waters with is Granite Gear, some pack stuff above and below. They make some great lightweight stuff as well as more regular packs for general and multisport use but are tricky to get a hold of. If the buyers reaction is good maybe we'll get to see a bigger range in the UK.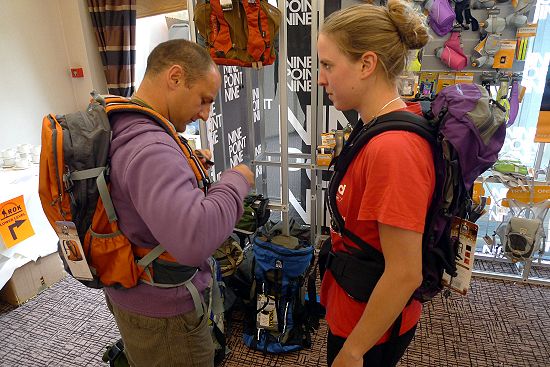 That's Phil in some Polaroid Eyewear shades above. With proper distribution these are becoming easier to find for active users which is a good job, firstly because they're great kit, I wear different models all the time for driving, biking and on the hill, but also because the lenses are made here in the UK, five minutes from my house in fact.
Imagine that.
The Walsh display was interesting, there is some evolution in the designs and some good detailing in there. I think my point of reference might be out of date, worth a look maybe.
The BicBoats stand was interesting, some of the inflatable kayaks (that's the two-seat Kalyma below) shrink right down and look nicely portable for exploring quite hills across remote lochs and the like.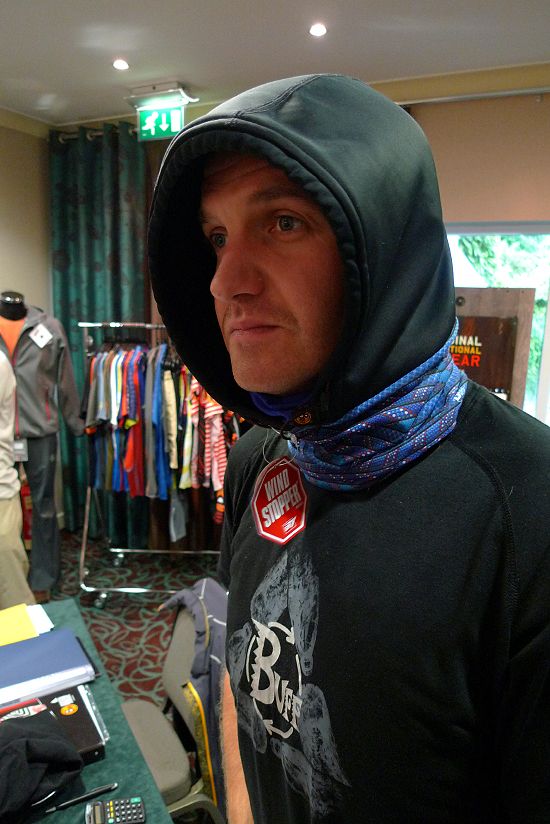 The Buff stand had quite a few new bits and pieces, the new softshell hood above is going to be the one we hear most about I'd imagine. It looks good, adjustable and practical if you bought a softshell jacket without a hood. Well, did you?
There's printed merino Buff swhich look great and there's the Bandana Buff below. This is sculpted to be a proper facemask for robbing trains in the wild west, but will be great for winter biking and running as well, it'll keep the chill off but let you vent with your main jacket zip.
There's some nice looking clothing too but Alan Hinkes wandered over to the stand and the bloke explaining about it stopped mid sentence to go and see him and never came back so we never got to know any more about it.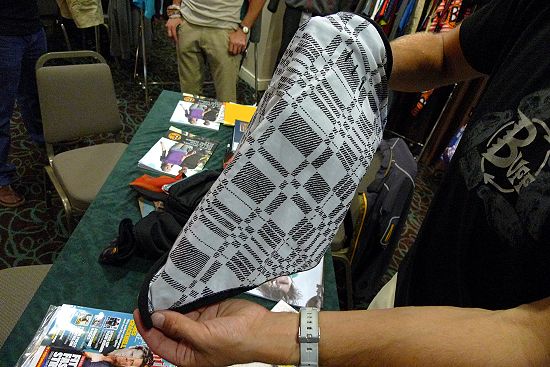 Zombies? Autons? No, Spotty Otter. They had a great range of kids kit, simple and focused on the essentials of waterproofs, fleece and down.
The shot above shows the genius way they've worked around the hood drawcord problem, it's a captured toggle inside a backwards facing pocket on each side of the hood.  Easy for parents to operate, kids with bare hands will manage too, but it won't get caught on a door handle or machinery as the government fears if you put adjusters on a hood.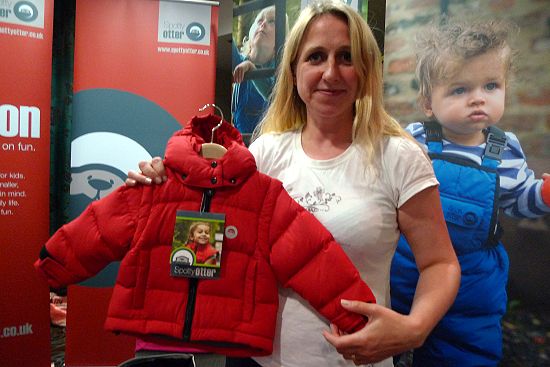 Above is the down jacket which is lovely on its own, but it's modular so the hood and arms come off. Adaptability for kids is juat what you need.
They're doing some boots too, padded winter versions below with the lighter option at the back.
All the kit comes in simple colours for boy/girl equivalents. I was impressed.
The Mountain King stand was a joy, not least because of the forest of Trail Blaze poles in five colours. The Trail Blaze have been a huge success, now distributed and sold all over the world. The range is wider than just those skinny guys though, their Expedition Carbons are excellent and would you look at that below, those jazz colours are on other models too. Nice.
Thumbloops on a baselayer had to be worth a look and the Terramar stand had plenty of interesting kit. There's various weights, several different sythetic fabrics as well as merino and cotton, they've pretty much got it in all there somewhere.
The syle is quite understated which is fine, fancy baselayers can expose ones lack of physical tonality, fit looks good, good lengths and neat cuts.
The gloves below are liner weight with a very fine grip print on their polyester/spandex baselayer fabric, very soft and comfy, it's a nice fabric.
Aye, sythetic isn't what is used to be, I like this new world of possibilities.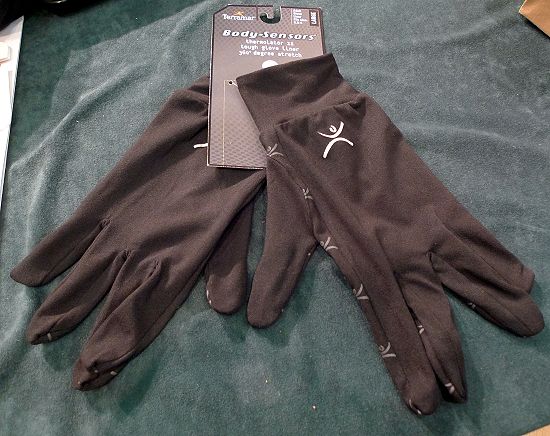 The girls kit has its own look, designs and indeed website, so they're taking both flavours of people seriously which I like.
There was plenty more stuff, but folk were either already busy or didn't want to talk to us, and this was with Phil wanting to place orders.
The outdoor trade is in trouble, current figures and forward orders are down and both here and next day at KORS we got a very interesting insight at how the different  distributors are reacting. More of which shortly.
Last shot goes to Buffalo, they haven't had a new idea in years and seem oddly happy with it, but damn they know their way around purple Pertex.