I woke up freezing cold around 0400, I seemed to be crawling out of my sleeping bag for some reason. I squeezed back inside and pulled my down vest inside around my shoulders and flaked out again.
I woke again a couple of hours later and it was quite light, I panicked and scrambled to get an arm out of the bag to open the tent and look outside, always a recipe for a jammed zip. After freedom was eventually won, I stuck my head outside to see that the east was on fire. Deep crimson flashes pulsed on the edges of the clouds like CGI gone wild, the sun was firing up for it's journey overhead. The display lasted ten minutes or so, a silent but beautiful ten minutes, then the light warmed to gold and then to a clear pure daylight. A long line of geese (or ducks?) flew past me at eye level, skimmed the west end of Suilven and carried straight on out to see. Looking for cooler climes I dare say.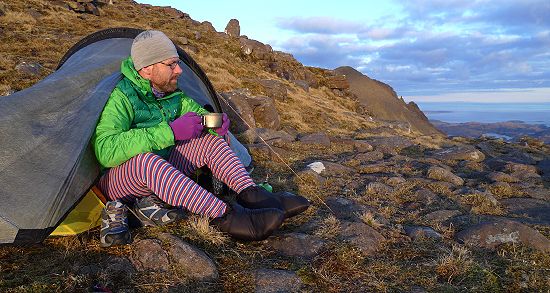 I lit the stove and had a wander in longjons and unlaced shoes. The cloud was well-broken and patches of light and shade cavorted over the patchwork of water and earth all around. Na Tuadhan, Conival and Ben More Assynt drew my eye more than once, happy memories.
I picked up some more water from a little lochan below me and sieved it through my Buff to make one last cuppa before packing up. A process which was not rushed of course, it was around 0800 when I left camp.
I'd been to the summit already, but with the ridgeline above me clear and the promise of new views, it never occurred to me to not climb up again. I took a different line, still as steep, but with an interesting drop into the coire behind me this time instead of cloudiness. I popped up right at the trig point this time and walked straight by it, of what new wonders there were.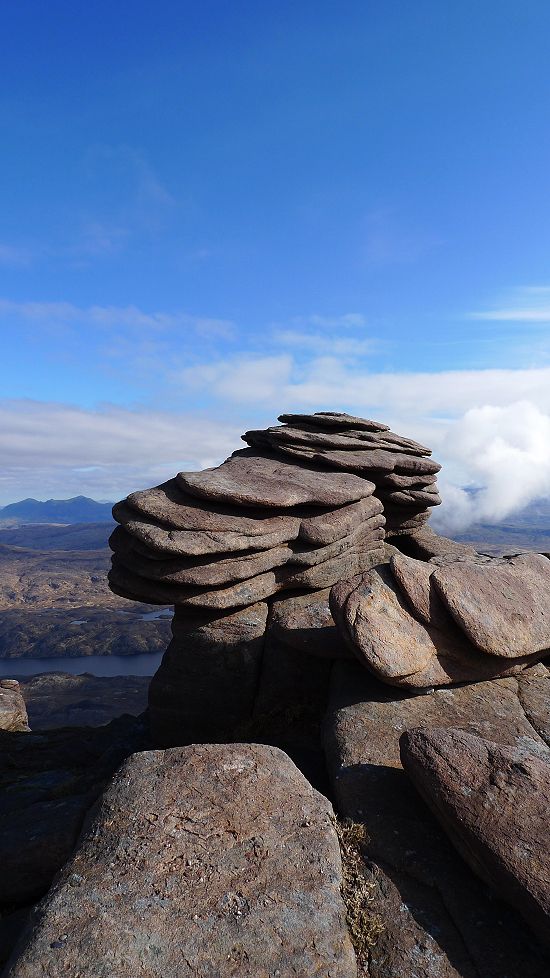 It's just stunning. Cul Mor is both central and the highest point in Inverpolly, and as such it's a hub of wonder in a wheel of joy. There's no Munro's here, they're all inland, what we have instead is mountains that are stars because of their character, not because they pass a contour line. The spaces inbetween are just as glorious, lochs & lochans, rivers, beaches, rolling moorland and crag. It's a perfect landscape.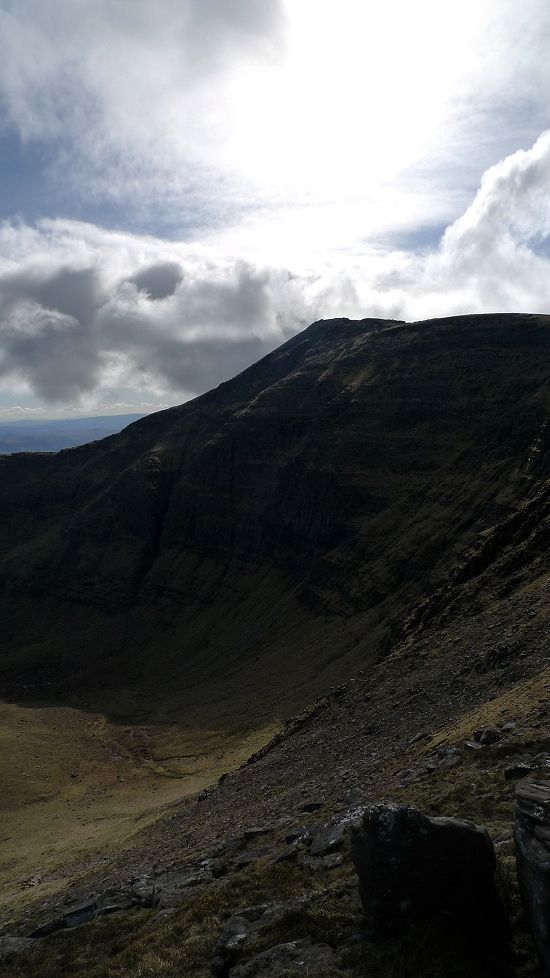 I walked towards the sea on Sron Garbh, weird sandstone pavement underfoot. The hidden cliffs of Coire Gorm to the north are an intimidating presence, once at the rounded top of the little ridge and looking back the near-verticality and height are enough to make you take a step back from the edge. Any edge, just in case.
Stac Polly looks like a little toy far below, Cul Beag looks a little tougher that you'd think. There's just so much steepness around here.
I could have stayed there for hours, but my legs were fresh and I was enjoying exploring in the sunshine. I enjoyed a brief visit to a sandy beach at 700m and contoured around towards Creag nan Calman. Steep crags tumbled away here too, gullies cutting deeply into the block-textured walls.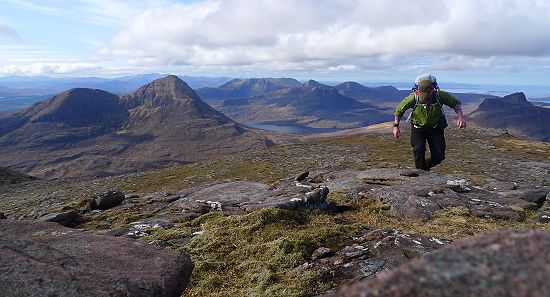 A little top sticks out to the side before the final pull up, like a landing pad, or a beer garden. There's room for a tent, but what misery there would have been in the previous night's wind. I might have been the viewpoint of the trip, sheer cliffs to one side, ocean to the other, and in front space before your vision is caught by peaks chattering away one after the other to the south.
I sat on the little summit of Creag nan Calman and had a drink and a snack. I would be leaving the sea views behind now and I wanted to make sure they were fixed in my mind. A photie is one thing, but when it brings back a memory or a feeling, that's something else altogether.
I get asked why I put myself into the shots so much. Partly it's for the routes I write, but mainly it's so my older self can remember my younger self. When I'm no longer able to do this stuff, I can look back at these pages and smile, see that big grin and those bright colours and know that there were those occasional days that I made the most of. The views might be beyond my legs in future days, but with a little prompting maybe I can visit them again with younger eyes.
Taking photies can be anything you want it to be, me I like making memories.
I skipped down the grippy plates of sandstone and found myself in the bowl of the coire, near to my ascent route. I could see a couple of folks climbing up, what a day for it.
Back on the rounded shoulder of Meallan Diomhain I felt like I'd been on a proper adventure, climbed mountains and trekked for miles. I suppose it's what's packed into a day on Cul Mor that lifts and expands it, the views, the rock, the constant interest and diversion that comes with every step. It was only lunchtime, and I couldn't believe it, so much had been going on that I just had have been out longer.
I was on a high when I got back to Knockan Crag, I was also ravenous. The Wayfarer All Day Breakfast went in the pot for ten minutes and then went down perfectly with a bottle of Irn Bru (the cool bag in the motor worked a treat). Brothers and sisters I'm Born Again boil in the bag-ah (say that in a southern accent, US not Cornwall).
I wriggled my bare toes in the sun and put on cotton and sunglasses. I wasn't sad to leave, I was glad to have been. Some days are epic, some are a battle, some are an experience, some you want to forget and some days are just right.
My cuppa and scone in the Gallery Cafe in Ullapool set me up for the road home. I was in no hurry, I knew I'd be tired later on after my early rise, I'd stop at Perth for something to eat most probably.
Oh, if only I could bottle that feeling of "just for now, everything's fine".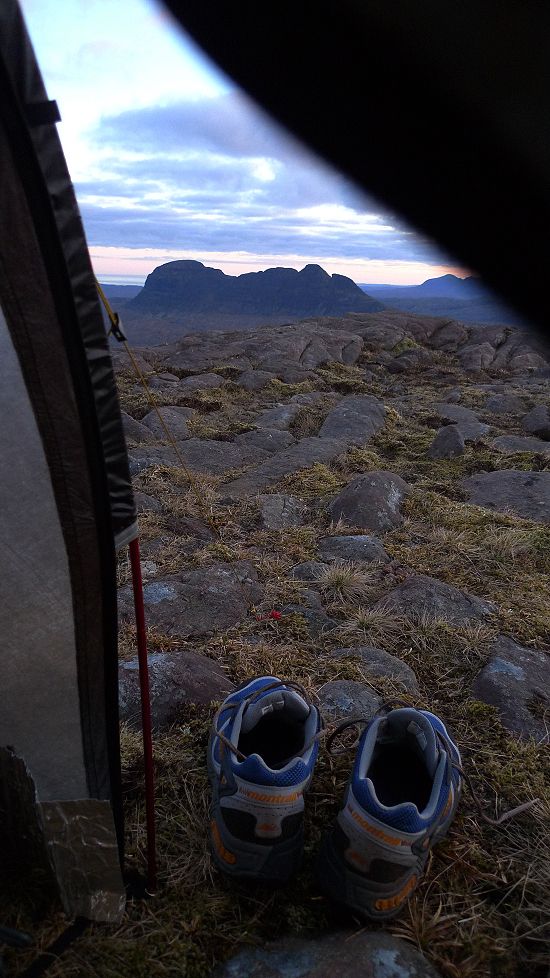 Epilator
I live in a little village that serves as an inconvenience to motorists who want to get to the A82, but the 30mph speed limit is there to protect my family and everyone else who lives there, I know that village life is affected by stupid inconsiderate bastards from elsewhere speeding through the only street, and it makes me seethe. I'm very conscious of this when I'm up north, so if there's a 30 limit through a little village, I'll heed it, I won't erode the quality of someone else's life for the sake of arriving at my destination a few seconds earlier.
So, the motor behind that had been attempting to cling onto my tail in the open country was now right on my arse in the village. I could see that the old prick behind the wheel was all annoyed that I hadn't kept up the pace as we passed by the families out walking in the sunshine, pensioners navigating pavements unsteadily etc. I knew he was going to try and pass, and I wasn't keen on that from a point of principal given the environment. A little straight section came up, no one in sight on either pavement, just a shop on the right with a parking space outside it coming right up… He pulled out all dramatically with a big swerve and a bootfull of throttle, as I indicated right, braked lightly and pulled over towards the shop's parking space.
Some folk need their cage rattled until they're sitting sideways.