As fatigue's leaden grip slackens on both my feet and my enthusiasm I find myself looking at the weather forecast several times a day. It's always been my first thought when the vapours rise from my adventurous spirit to be lit once again.
Then I'd have a wee shufty at Geograph to see if anyone's caught a shot of the unlikely spot where I might stick a tent.
I did all that. but this was for a wee bit of a lesser challenge, we just wanted to get to the mountains, but without having to climb one. Not just yet.
When mountain rescue comes for me I want my explanation to be better than "Sorry, I'm still gubbed, thought I'd be fine though, can you carry me a bit more gently thanks".
I thought along the roads north, visualizing branches off to either side and the many laybys where we might start our wee adventure. Getting a loop to walk was turning out to be difficult without hilarious distance or actually going over a summit, so then I went for out and backs and a wee trail I'd never set foot on came up.
From the A82 at Loch Ba there's an unmarked and unfrequented track that leads straight westwards into the West Highland Way not far from Ba Bridge which means it's a track to the very foot of the mountains.
Wardrobes coordinated, food sorted, we were up and away at a frighteningly early mid morning the next day. Yay for going places.
We missed the track completely and started out day wandering around the heather until I actually looked at the map. Ah, it's there I said looking up, and indeed it was on the other side of the wee lochan by the road. Reverse gear…
It's very subtle at the start for such an accessible path but does become more worn into the landscape as you go. It's Rannock Moor here still, so it's also very wet in places and it wasn't long before feet were wet. Didn't dent those grins one wee bit.
The last glacier was a messy bugger, there are the boulders it dropped everywhere you look. It's a subtly beautiful landscape and completely empty of people. that's not something you get much in the hills these days.
The Black Mount is always ahead though, snow flecked ridges that grow closer every minute. I had a little flutter inside as I walked and looked up, oh this is the stuff.
A little cloud started to drift in and catch the tops and ridges. It just gave an added air of drama. I could feel myself standing there, the chill as the mist enveloped me and cut off the sun and check on my ice axe leash on my wrist before I stepped into it.
Before that our own little real life drama was a river crossing of sorts. There was once a bridge here, maybe an access to Ba Cottage if it was still occupied after the old road shot in the 1930's. Now it's just fallen timbers and some remarkably intact stonework.
Linda's not a natural water crosser and these times are always a source of fun, well for me they are. We did it though, and lets face it, feet can only get so wet.
We stopped on the bridge just short of the cottage on the WHW. It was out of the cool breeze and was a brilliant sun trap. We sat on folded out OMM Duomats (55cm, the one they don't make any more, glad I stocked up, they only make gear for short and skinny folk now apparently) and had soup, cuppas and pieces on cheese and ham.
As moments in time go, this could easy be described as perfect.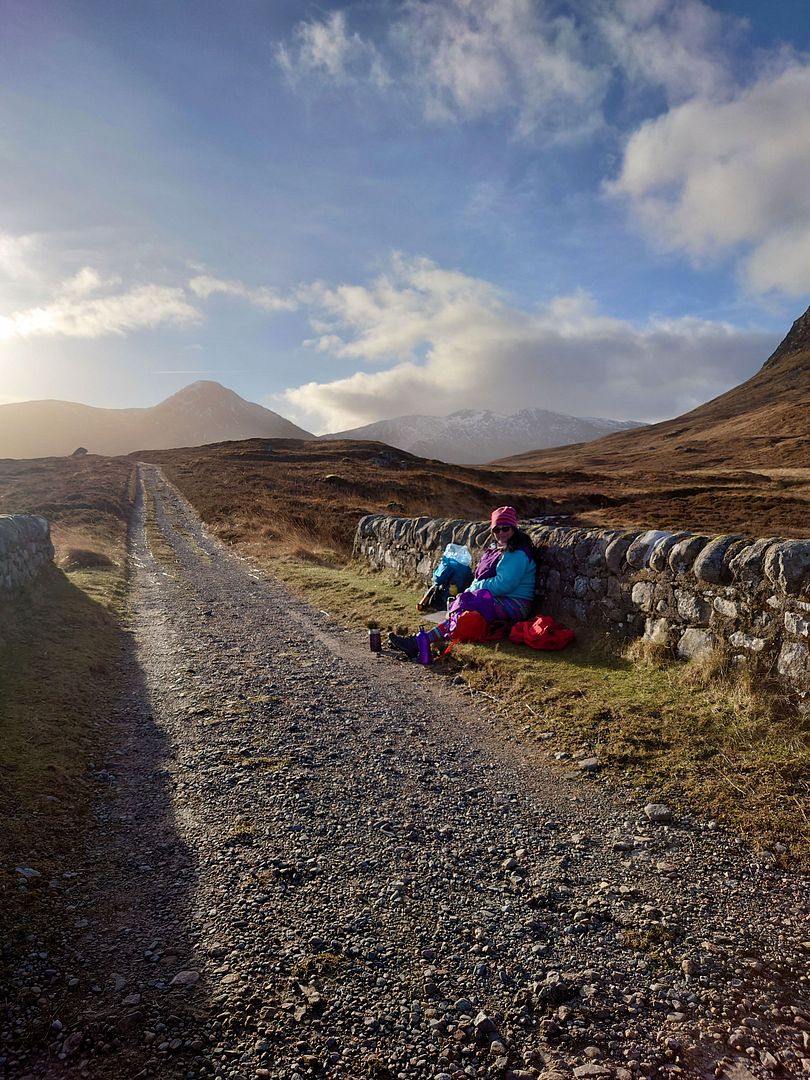 We saw people too, tow on mountain bikes, two on foot. As West Highland Way traffic goes, that was very light. It's not far to Ba Bridge, a familiar place but one I haven't seen in a long time.
I tried to redo my stitched together photie from the post below, we marveled at the water below and watched the clouds come in heaver as the temperature dropped enough for Linda to hide in her down jacket.
I'm sure my historical lesson about the Telford cobbles that start here and lead on to Inveroran was just as valuable though.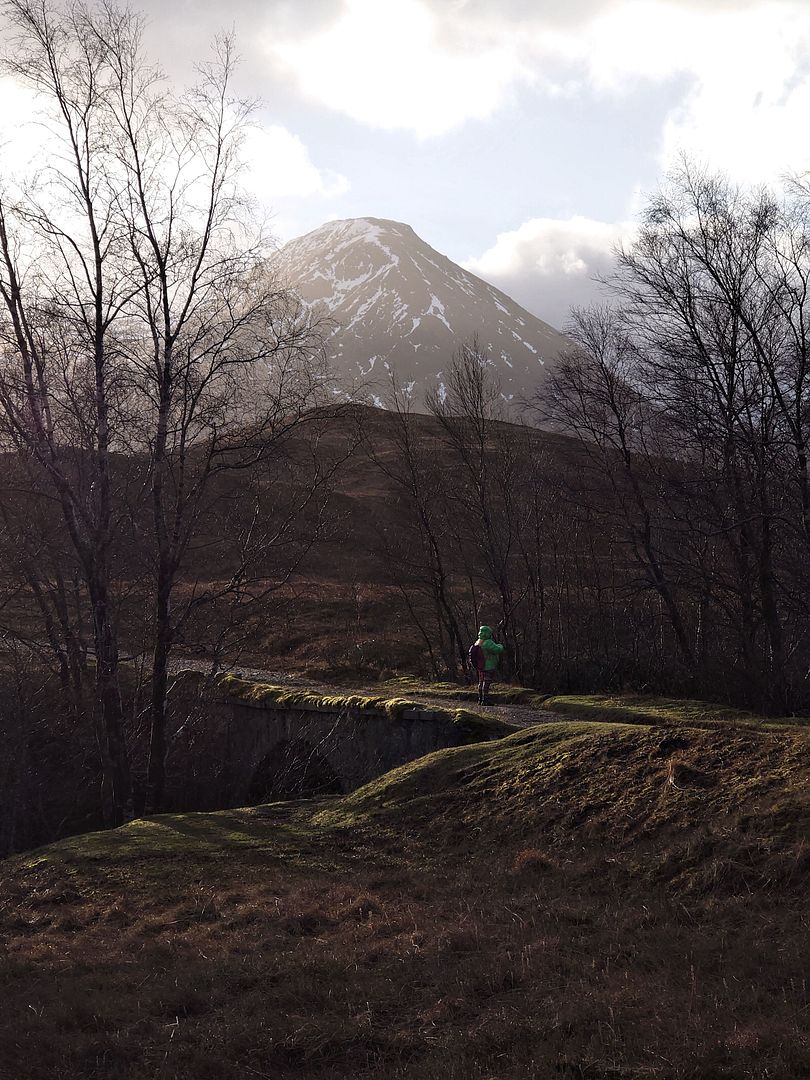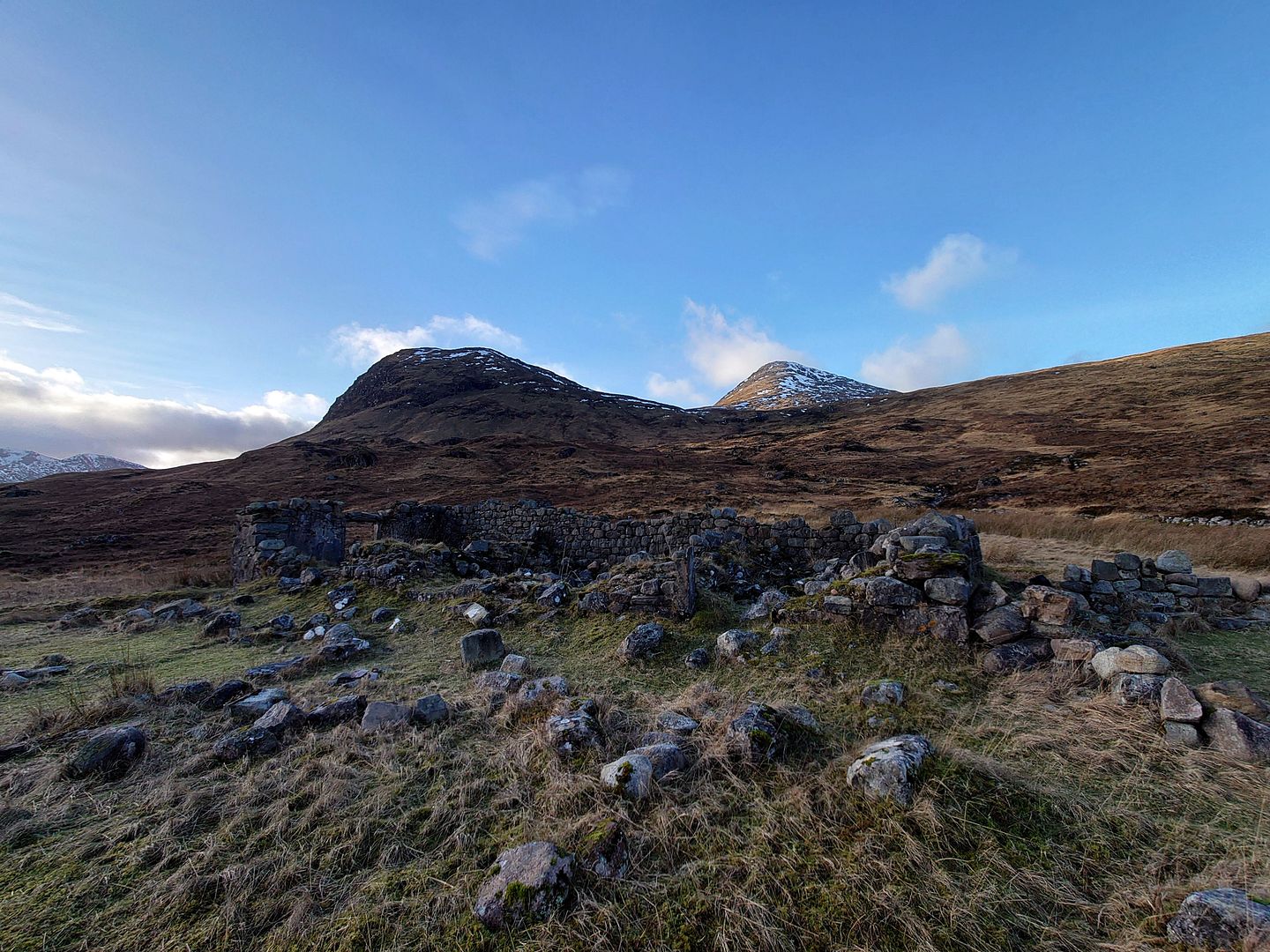 The cottage walls are thick and strong, it looks like it was deroofed rather than it being a victim of natural decay. How much have I seen that in the Highlands.
There's not much I can find written about Ba Cottage, it seems that it might have been a travelers rest, by design or opportunity taken by the occupants is unknown. There's plenty flat, short grass round it now, it would be a great camping spot.
It's sad though. Mind you, I'd probably rather it was like this than the unoccupied holiday home of a wealthy Londoner.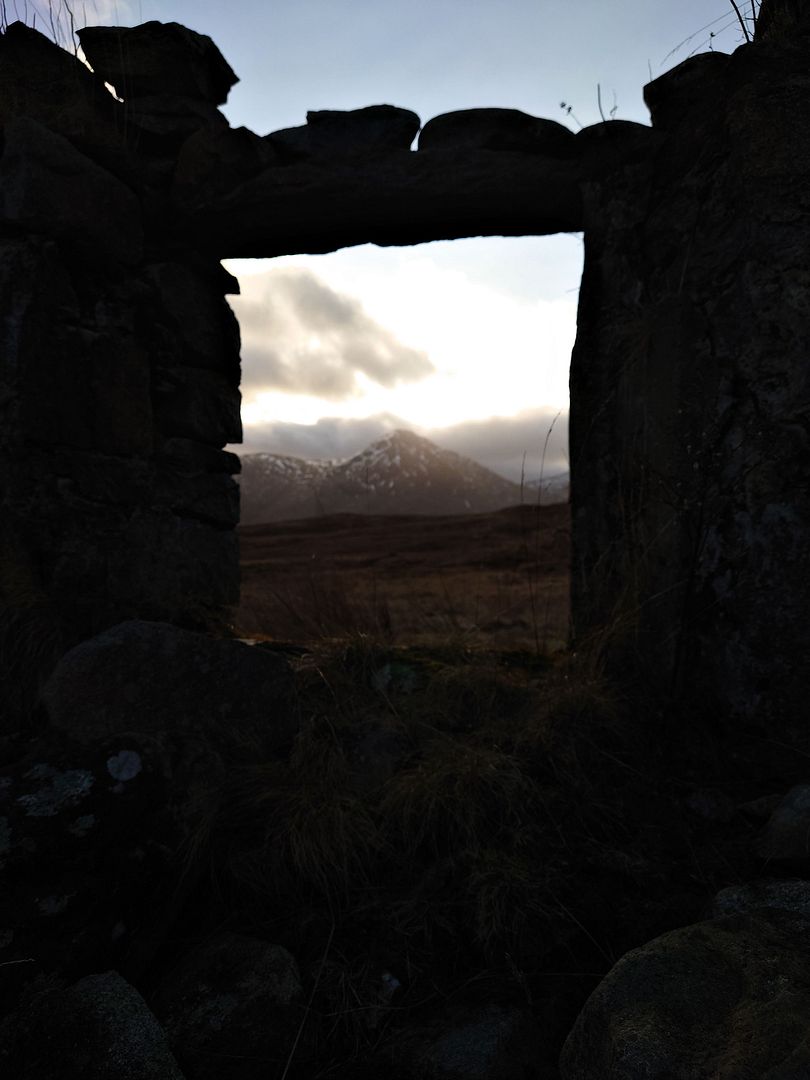 I'll use my poles to cross the river again. Wait where's my poles… ? No idea Linda, where did you put them?
1km from the road is where it turned out. That's a happy ending I think.
We sat down to have the last of our cuppas and see what the sky did. It was threatening some colour as we lost the light but the cloud was thickening and it was definitely getting colder.
The landscape was flattening with the lack of light, we were both tired and I'll admit sore too, my feet haven't work this hard in weeks.
It was nice to be in the car with the heater on.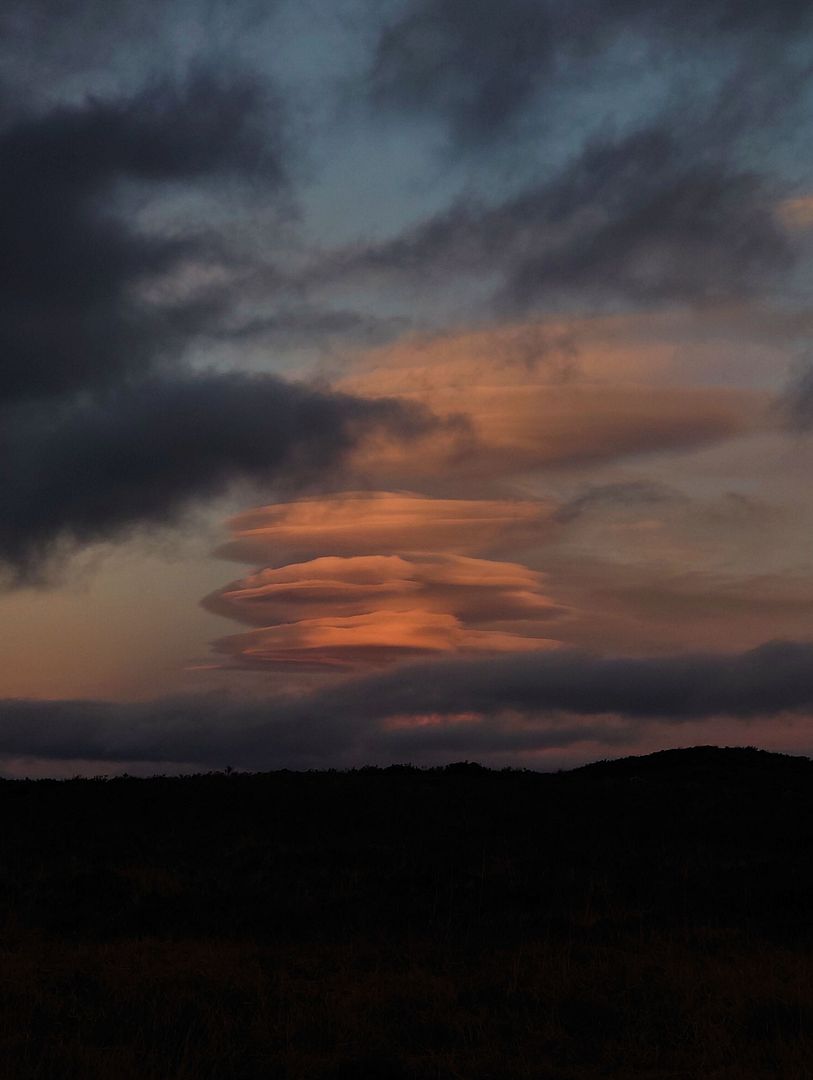 We sat twitching our toes as the heat built up inside. Cars flew past at alarming speeds and the the dark clouds occasionally split to reveal beautifully lit lenticular clouds of pink and orange.
That one below, I really should have go out of the car to line the tree up better with the cloud but it was too warm inside to risk it.
This is all on my phone camera too. My proper camera chucked it on the walk in, the lens wants to stay in now. I think it might curtains for it this time. Bummer.
We stopped for some Black Rooster takeaway close to home and sat at home happy after our wee excursion.
I'm definitely improving, I can feel it. Just in the nick of time too, I'll be testing gear shortly, I'm going to be back in print later in the year. We'll get to that though.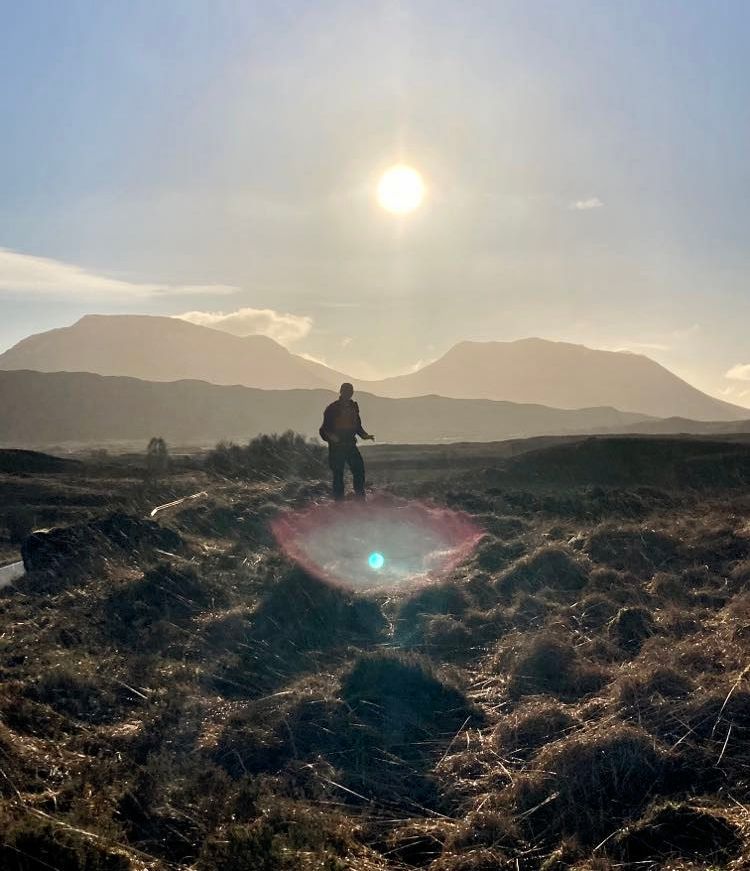 Linda's getting very fancy with that phone camera.