The report came back that to repair my LX5 would be £180, it was the wee motor that operates the lens, I can hear the broken part rattling around inside the camera. In fully operational condition they're going for less than that on ebay. The LX5 has further part to play in my story.
I still needed shots, so I was looking for a previously undiscovered box of cash under the bed to fund my long planned camera upgrade or I was taking my intermittently functional LX3 to Torridon.
What the hell, the old camera fit the zeitgeist, I was going in the Ka. The Ford Ka came about when the truck was off the road for repairs earlier in the year and the hire charges for wheels for a couple of weeks were far more than the cost a neighbours old car which was otherwise headed to the scrappy. The £100 Ka has ran faultlessly for two months with some running repairs by Jimmy who likes that kind of thing.
So with a boot full of kit, and I mean full as the boot's the same size as a rucksack, a poly bag full of old tapes for the cassette player I hit the road with time to spare.
Imagine that.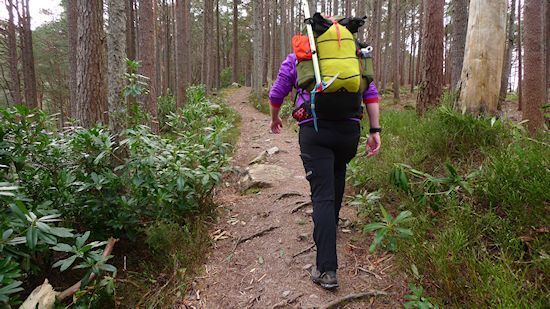 I was blasting out an old Saxon compilation I'd pulled out of the bag, it was a lottery as none of the tapes were marked. I even found some tapes of gigs from my band back in the early 90's. I was a far better guitarist back then but a much worse singer, I'll lay part of the blame on the smoky clubs we played in back then which shredded my voice pretty quick. Must be great singing in clean air these days.
Saxon took me to the Glen Coe cafe where my ringing ears – a combination of back axle noise and heavy metal – needed a rest and breakfast. The clouds had been light and mostly high on the way up, it looked like it would clear.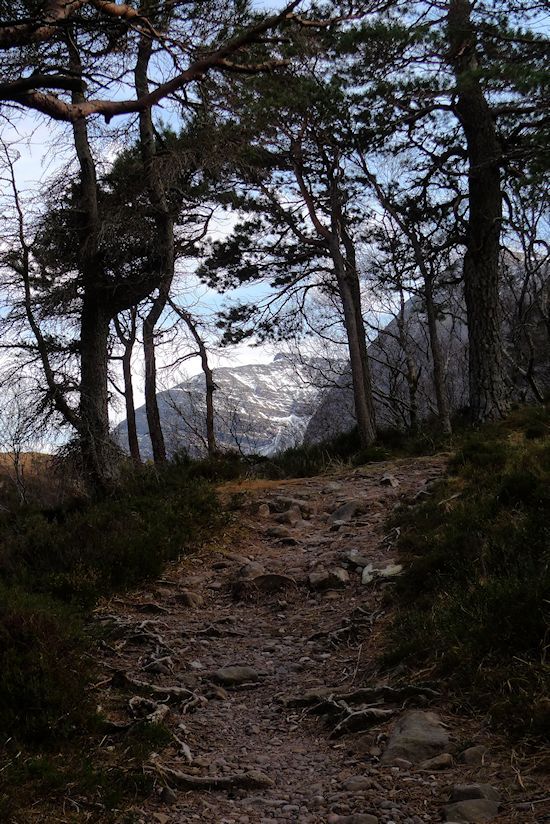 A quick stop at Ft Bill for food was amusing. A pastry and a wee bottle of Banrock Station Chiraz fro Morrisons was easy, getting some dehydrated food from Ellis Brigham wasn't.
"Hi, I was looking for some camp food…" I asked as I rooted around the camping kit shelves looking confused.
"Tinned food? Morrisons?" Was the reply.
"Freeze dried, dehydrated, dinner in a bag, just looking for a main meal?"
"Eh…" Said the wee lassie who joined us "I think there's a box of that stuff in the corridor…"
There was. Awesome.
Every visit to the Ft Bill EB feels like I'm caught in a hidden camera stunt.
The road ahead brought more joy. Kintail will always be special to me, memories and the hills too, today it was crowned with a little cloud and looked spectacular. Beinn Bhan was clear, unlike when I camped on it a wee while back, dammit.
Torridon was draped in high cloud, the light was grey and the hills were flat and my heart sank a little, even the discovery of Judas Priest's Sin After Sin album on a tape didn't suppress the feeling of joy trickling away. Of all the places to have crap weather.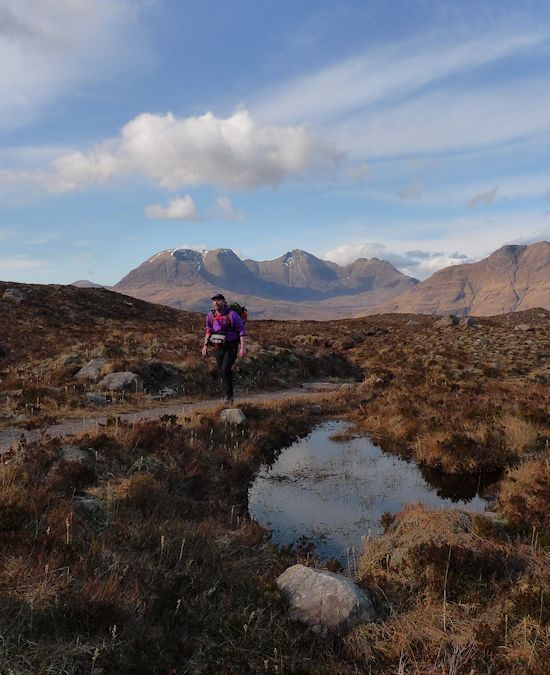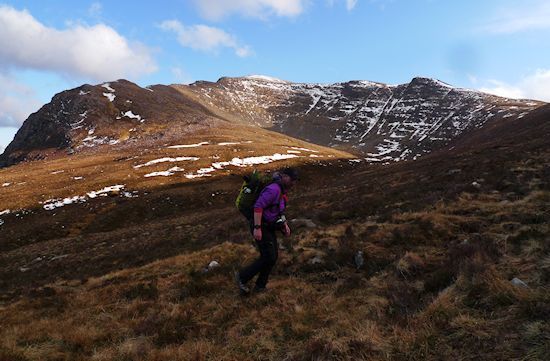 But, as I fannyed around choosing socks and chocolate, grey or tan, Bourneville or Terry's Chocolate Orange? – nightmare – the sky cleared a little, the cool breeze that threaded through the trees was blowing the grey away.
The initial climb is through Scots Pine where the rhoddies are being cleared. The tall branchless trunks are punctuated by fire pits where the rhoddie roots have been dug up and burnt, blackened craters with rising wisps of smoke. It was every inch a scene from the First World War. Unsettling.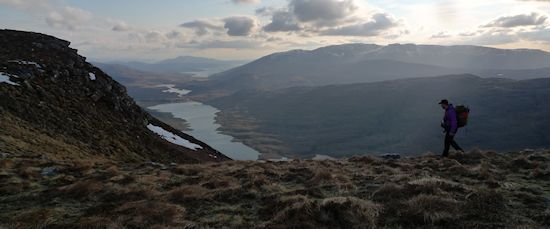 It all goes fairy woodland quite quickly, a waterfall, a really nice one too, frustratingly difficult to see unless you want to take a machete to the shrubbery, the pines take on a more twisted shape as they become higher and more exposed to the weather. The path swings effortlessly through the magical scene as snow streaked slopes are glimpsed through gaps ahead.
Suddenly the forest slips off your shoulders and in clear air you are ringed by mountain shapes. Behind are the giants, Beinn Alligin, Liathach and Beinn Eighe. Almost cloudless now, their slopes glowing in the afternoon light. Ahead seemed more thrilling, Maol Chean-dearg's seemingly unattainable summit looming through the bealach while my ulimate goal poked it's buttressed snowy nose past the ridge ahead. Beinn Damh was a good choice.
The sun reflected off the snow and lit the still autumnal coloured slopes in a flash of warm tones. I couldn't feel the cold wind, I was moving as fast as I could and my brain didn't have space for it anyway, too much to look at.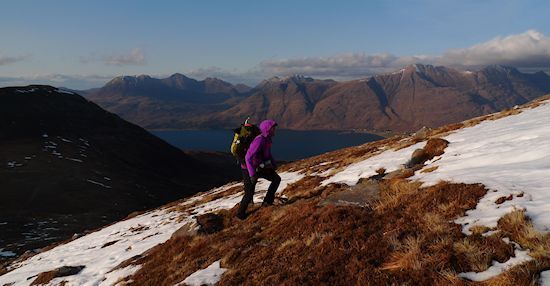 The ridge arrives sooner than expected and a wander to the far side is worth the extra steps. Little broken pinnacles and steep slopes tumble down to the loch as Beinn Bhan dominates the view. Light shimmered on the water which is everywhere, sea, river and loch to the little summit lochans which sparkle into life from miles away. I always want to visit them, more than distant summits, something special about sitting by a high lochan at dusk, the lapping water is soothing, it slows you down and makes the sunset slower, and I'd even say it makes the colours brighter.
But not today, I still had a wee way to go, not steep, but rocky and in the early evening's golden light utterly glorious. I pulled up my hood as the fast passing air cooled me and headed into the boulder field.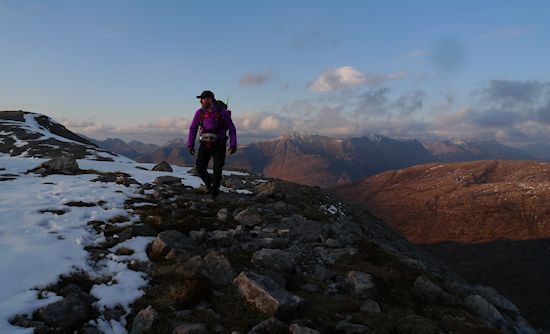 I watched my feet as they picked through or over the rocks and it's something I've watched all my life. But now and then, when I don't feel pressure, when my mind's not elsewhere, when it's all about where and when I'm at, those feet could be from 1992, 1975, 1986, the simple timeless pleasure of walking in the mountains, it's a thread running through my life and every trip makes a knot that when I run a finger down the thread and feel that knot it triggers a memory or a feeling and I'm there again. 
When I'm not able to do this anymore and I close my eyes and think of my countless days in the hills I'll see my feet taking the next step before I see any of those summit views or sunsets.
The summit was just over the coire, short descent, stiff climb and what the hell, I'll do it tomorrow. I'd added over an hour to the ascent stopping and looking, taking photies and grinning, all very tiring so I was ready for dinner.
There was a grassy spot between a snow bank (water supply, yay!) and the rock garden with a shallow angle and sea views from the door. I got to unpacking and pitching.
Pitching was interesting, the grass was no thicker than a shagpile carpet, but my titanium nails got hammered in and there they stayed too.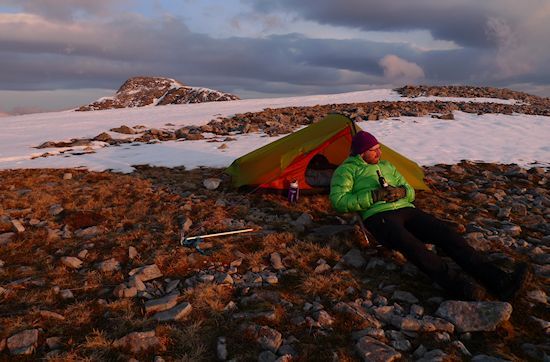 Everything got sorted, the stove went on, I sat in my chair and watched the sun slowly sink through ribbons of cloud turning from orange to rust to crimson to purple. The Torridon giants glowed pink behind me and as the sun slipped away, fingers of low cloud crept over their ridges from the north and east, looks like the cloud invasion had been waiting for darkness, and as you know that's when clouds are at their most dangerous, their night vision is even better than an owl.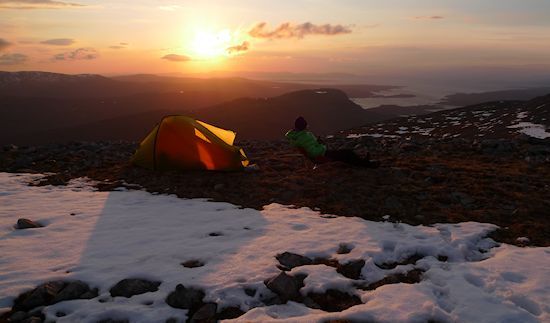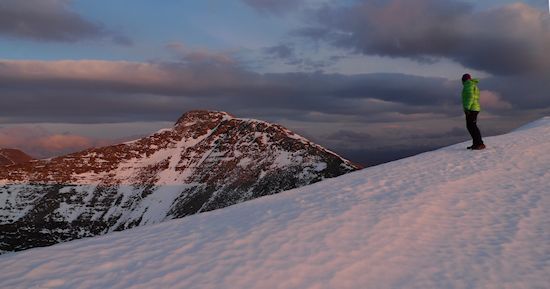 I opened my wine and toasted the world with a Wish you were here via twitter. I'm used to being alone in the hills, but somehow it didn't seem right that I was alone on this night, it had been a beautiful evening and it deserved to be shared.
But it was getting colder and windier, a moonless sky had its stars muted by a light haze and it was time to retreat inside, get cozy and listen to some music, it would be a long night.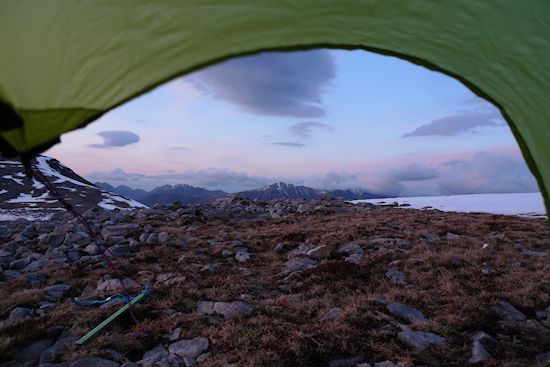 A wee snooze was just right, but I woke dry mouthed and hungry so I had a drink and a snack, then I thought I'd better nip out for a pee. It was very cold now, the tent was frosted and the twinkling lights on Skye and along Loch Carron seemed awfy far away. I turned back to the tent and something on the northeast skyline caught my eye. I watched for a while, it was hazy and very dark but a green shape slowly fluxed in the far distance. My eyes got sharper as my night vision kicked in, still never as good as the cloud soldiers of course, but I watched for a while. I set up the camera and stood beside it to shelter it, the wind was strong enough to blow the tripod straight over. The 60 second exposure looked completely black on the camera screen and under coercion by editing back at home it looks like a psychedelic experience, but after checking with Aurora Watch it had indeed been a wee flash of the Northern Lights.
Nice.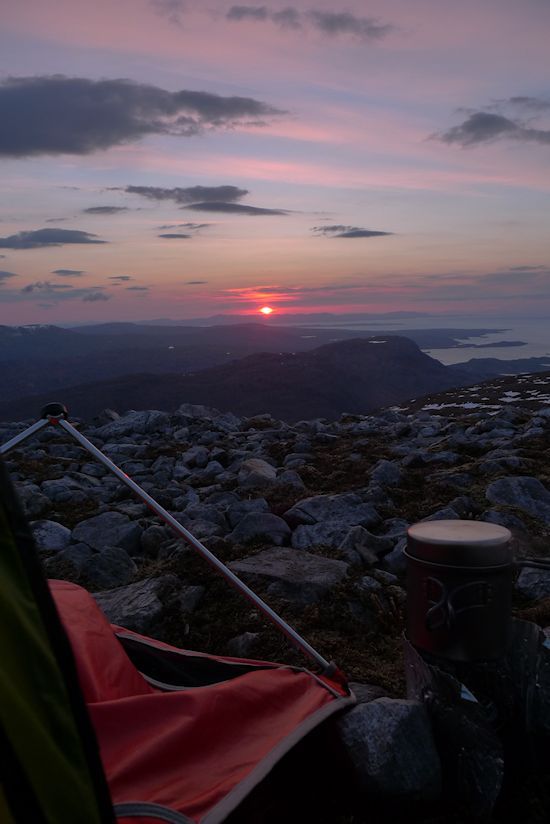 The wind picked up. The tent rattled, it shook, nothing I'm not used to, I snuggled down into my bag, the music would win over the rattling. But on it went, it got louder, the tent got more mobile and while not worried, I was getting resigned to having less sleep that I needed or wanted.
I have no idea what time it was when it happened, I was too busy trying to stand up outside and attach an extra guyline to keep the tent on the ground to look at my watch. The pole had snapped clean through and then came through the fabric channel on the outside. The tent rippled at high speed making it hard to keep a hold of, but to my great relief the pegs held it firm to the ground despite the pressure from above trying to tear it away from the hill.
The wind was ferocious.
My lash up kept the tent where it was but it was in bad shape, I lay by the door and counted the minutes until it was light enough to pack and run like hell.
It got lighter outside and with it came the snow. I jammed the broken pole across my shoulder to give me enough height to pack inside but my legs and pack were sticking out the open door and that let the snow blow inside. What a difference a day makes.
I ate some cheese and oatcakes and drank some chilled water, with no hope of getting the stove on it was as good as it was getting for breakfast. Everything packed, I just had to get the tent down.
I could barely stand up, the wind tore past me, desperate to rip the tent from the ground and throw me face first into the boulders but I kept low and mostly in cotrol of my direction. I pulled the pegs out one at a time and stuffed the tent into my pack as best I could.
There was no question of going on to the summit, that was asking for trouble and I wasn't waiting it out up here to see if things got better, it was time to go.
It got better as I dipped down to the west, but I never looked back and second guessed my decision on trying for the top. I could see how fast the cloud was still moving.
I got back to the coire rim and it all seemed better, I was out of the wind, it was brighter to the west and I had warmed up. I took off some clothes and went back to my plan, descending the ridge on the east side of the coire that no one seems to know is there.
Happy again, I clambered the rocks and enjoyed the views, a spring back in my step. Liathach was crowned with cloud, to the east was deep grey, almost dusk like, but I was in a pool of brightness that took in Loch Torridon and Beinn Alligin.
I was hungry though, I could have stopped and unpacked for breakfast, but the cooking gear needed cleaned after rolling around the tent porch getting full of heather and grit and then getting stuffed away haphazardly. I'd be at the road in an hour at most and then 30 seconds from the inn and some sit-down hot and tasty. It was all good.
I met various folks of their way up and they all had time to stop and chat. They were all smiles and enthusiasm and it brightened me further, any thoughts of my trip being cut short and somehow being a failure were left behind. There was too much good found and being taken home for this being anything but a win.
A change of clothes and I suddenly didn't smell like sweaty damp down anymore. I turned the corner into the Torridon Inn and smiled at the lassie, "Do you do breakfast?" I knew they did, the sign said food all day, but it's nice to be polite.
No she said, breakfast finished at ten. Lunch wasn't for two hours and that was that.
Oh well. Can I have some info on the inn and the hotel, telephone numbers, what kinds of accommodation do you have? I'm writing a wee piece on the area.
Sudden change in interest level.
Oh, I could have a word with the chef, get you a roll on bacon?
Hmm.
I hit the road to Kinlochewe looking for fuel and breakfast. Having to drive by the sunkist slopes of Liathach and Beinn Eighe was no great hardship and the former goal achieved with a smile and some banter, the latter lay just around the corner at the Whistle Stop Cafe.
I went in the door and looked around hoping that the place was open and fully functional and that the format was obvious, counter service/table service etc, these things should be written large when you go into somewhere so you don't shuffle awkwardly looking for inspiration. But I had no time to think about any of that, a jolly faced lassie at the nearest of several tables full of folks immediately piped up "Hello, how are you?" Hungry was the honest one word answer I couldn't stop from coming out, but it was at least delivered with a smile.
The lassie was the owner, she stood up with a laugh and orders of "Let's sort this man out!"
I was sat on the couch at the back next to the log burning stove and I was so relieved I could have sobbed into the sleeve of my purple hoody. I had porridge with honey and sliced banana, a scone with cream and jam, orange juice and a cuppa. I had time to relax, look through my photies and wish I had got the sensor cleaned on the old camera, that dirt spot is going to take ages to 'shop out when it's in the sky. I just adored the place and the breakfast I had there.
It's nice to know the good folks are still out there, the Highland welcome is alive and well.
It was a long way home, but I had plenty time and took a different road. It's interesting driving the old battered Ka, no matter how fast you're going, folk will not sit behind you, it's as if it's a personal insult to their social standing and character that they have to sit behind my burgundy bubble car. I lost count of the suicidal/homicidal moves folks made to get past me and then drive at the same speed or slower – their nerves shattered but honour satisfied as they were no in their rightful place.
These dumb bastards made the afternoon fly by. As did Bobby Harrison's Funkist album that I found a tape of. Where the hell did that one come from?!
It didn't go as planned at all, it went better. I wouldn't change any of it and I'm now watching the forecast again.
I suppose I will have to change the tent for that right enough.