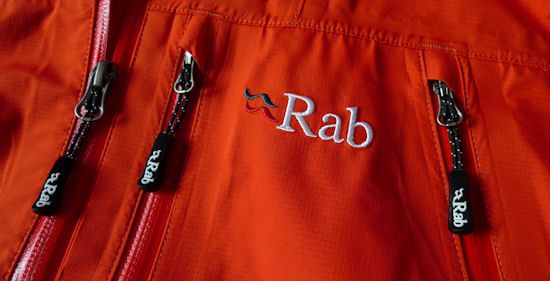 I tried on a 2010 Super Druat the KORS trade show and immediately tried to remember why I'd sold my original on ebay.
It's a lightweight mountain jacket, cut from the king of waterproof membrane's: eVent. We have three chest pockets, the centre one of which is huge, a multi adjustable and roll-away protective hood and there's good length on the body and arms. The fabric is in two flavours, the abrasion resistant grey panels and the lighter, more breathable orange. The new eVent fabric is much better looking too, no shininess in evidence here at all.
It looks and feels like a winter jacket to me despite its weight (400g), there's room for a decent midlayer, and there's a snugness about when you wear it and batten down the hatches. Mobility is great, the pocket access is clear from hipbelt (I should say harness as well, but with me these days it's unlikely…) and all the adjusters are glove friendly, including the chunky zip-pulls.
It hits all the classic feature markers for a winter jacket, but its got low weight and good looks too. I'll be getting this out and about rigt away. Hey, it's the weather for it.
More in a bit.