WHW Kit Review
This was one of the last things I decided on packing as I kept an eye on the weather. Snow and 200g of down, would that be a bed of roses or would I be leaning on a cold shoulder all night?
Well, the answer is a rather dull "It did fine". On the Sunday morning I woke and looked outside and the bivvy was completely covered in snow, but I was quite warm and comfy. I did keep some clothes on as well. This bag is designed for adventure racing, those guys will keep their shoes on and maybe take off their rucksack before getting in it. A coating of merino upon your person does boost its rating and not your odour next day, always worth bearing in mind the clothing you'll be wearing before buying that 1.3kg bag.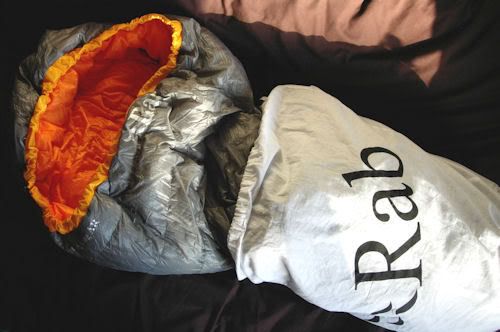 The design is very basic. It's a top-bag (no insulation on the bottom), the top has a narrow box wall construction filled with the best quality down, under the head and feet there's Primaloft synthetic insulation which will resist the damp if you're only using a short sleep mat. The fabric is Pertex Quantum which is soft and comfortable, very down proof as well. I haven't seen one cluster floating about since it arrived. This new version of the bag has a hood of sorts which works fine. You can cinch it right in withy the single drawcord to stop heat escaping or leave it open for venting, as there's no zip it's your only option. The fit is slim as well, again the racer angle so fat folk are out. The shape leaves not much room around your shoulders for heat to escape. I'm happy with it, but there will be folks who find it restrictive. The sleeve on the insulation-free back takes your mat. The choice of mat can make or break a top bag system.
When I unpacked it from it's compression sack it lofted very quickly. I was pleasantly surprised using it and also happy that I didn't struggle getting in and out of it. I think in the snow it might have been on it's limit, but as we get into summer I'll try it higher up and see how it does.